The Holiday + Winter Inspire(d) is about Looking for the Bright Spots in every day – even through the darkest days of winter. Inside, you'll find tons of inspiration to make the most of this time of year – and lives:
Focus on Mental Health • GrandPad • Make the Most of Winter • Pete Espinosa • Adrian Lipscombe • Cross Stitch Gnome Card • Q&A with Dr. Michael Osterholm • Ferndale Market • Moxi + Riedell Skates • End-of-Life Doula • Probit – Ruth Woldum • More!
Read the whole thing online here!
A note from Aryn: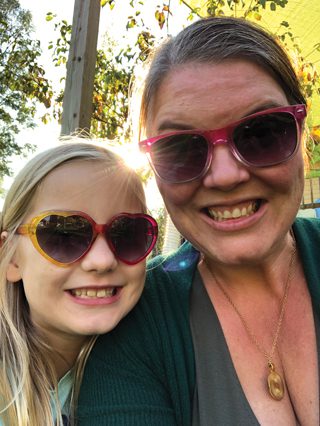 You know those winter days when you head out for a walk and the sun is shining…and you tilt your face up to meet it and it feels like everything is going to be alright?
This is feeling we'd like to encourage you to find in your day-to-day lives – even when the sun isn't shining (and everything doesn't feel alright). We want you to Look for the Bright Spots everywhere.
2020 has been a year where we've had to frequently reinvent ourselves.
How we communicate: We found platforms like Zoom to stay social, something that is more important than ever, according to nationally renowned epidemiologist Dr. Michael Osterholm. I got to chat on the phone with him for 15 minutes to talk COVID-19, Zoom, and how his path took him from Waukon, Iowa, to his current role at the Center for Infectious Disease Research and Policy at the University of Minnesota. See the interview on page 29. For our relatives who have a little more trouble with tech, or needed a little more help on a regular basis, we turned to devices like GrandPad, based out of Wabasha, Minnesota. Decorah native Scott Lien and his son created a tablet purposefully sans complicated features – but with large, easy-to-use buttons and instant access to online help (pg 14).
How we think: We have had to dig deep to find positivity this year. And we'll have to keep digging. Learn some strategies from regional mental health counselors like Olivia Lynn Schnur, who joins us as a new contributor this issue, plus tips on staying positive from yours truly, too. I've spent more than 13 years running Inspire(d), and it's offered a great foundation for keeping on the sunny side of life. I'd love to help you do the same (pg 33).
How we find joy: Contributor Erin Dorbin found it in a pair of super colorful and totally awesome roller skates – Moxi's Lollys. Then she discovered they were made right here in the Driftless Region at Riedell Skates Co. in Red Wing, Minnesota. It led her down a path of a pretty darn cool collaboration, and the story of how roller skating popularity has surged across the nation during this pandemic.
How we live: We carry on, Building Community, like Pete Espinosa and Adrian Lipscombe. And how we die: Kristine Jepsen takes on this important topic about choice and comfort, end-of-life doulas, and how we need to be having these conversations.
Through it all, we find the Bright Spots. Making the most out of winter and holidays, cozy reading, cross stitching, kits in the mail, cooking a big fancy meal just because, and small town charm.
Speaking of, every issue, we hope to get suggestions for probituaries. This issue, we got a few from a Decorah resident, and we reached out to one: Ruth Woldum. She agreed to be featured, and not long later, we got an email from her granddaughter…Britney Bakken! The same woman who interviewed her grandfather in the Summer/Fall issue! We had no idea that Ruth was her grandmother (on the other side of the family), and we all laughed at how perfectly "small town" this coincidence was!
Finding creative ways to overcome the challenges of the year has definitely highlighted bright spots for me. That said, I am looking forward to next year with…what else?…hope and optimism! As we come to a close with 2020 and take tentative steps into 2021, let's keep looking for the Bright Spots.
Looking forward,


Aryn Henning Nichols