Hazel was interviewed by her daughter: Connie Sabbann
Hazel Grotegut (born Hazel Telford) has lived in Decorah all of her 90 years with the exception of two years in Waterloo after high school. She has endured the loss of two husbands, Marlyn Rasmussen and Rollie Grotegut. Cloey, a Yorkshire Terrier, is now her faithful companion; the two of them are great company for each other. Every single night before bed Mom can be found sitting in her chair praying for each of her 3 daughters (Deb, Connie, and Denise) and their husbands, 10 grandkids, and 20 great-grandkids – all by name. She faithfully sends birthday cards to all of them as well as many other friends and relatives.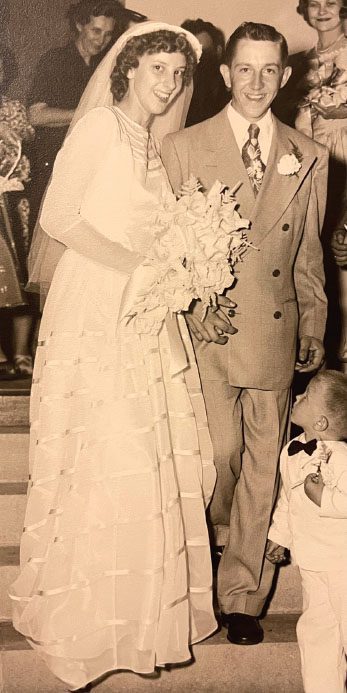 Mom has a great sense of humor and a quick wit. She's creative, and has always been good at organizing and planning things. Years ago, she created a list of the "Seven Wonders of Decorah", listing sights for our family to visit in the area. Each Christmas she writes (and reads) a story about everyone in our family for her "Left-Right" game.
Mom's passion is sewing. She started the craft as a child and has sewn countless things since then – including matching dresses for her three little daughters and many square dance dresses. For many years, she has sewn quilts, many of which were patterns she developed after seeing a picture of one she liked. She has made well over 100 quilts (most of them queen-size) that she has shared with her family and donated for fundraisers. She now also makes Quilts of Valor to be given to veterans.
Mom has always had a lot of ambition, and she gets things done. She taught us to work hard and honor our commitments.
Some of mom's other interests over the years have been making ceramics, tole painting, rosemaling, drawing, making woodcrafts with a band saw, camping, square dancing, and wintering in Arizona. She is on Facebook and manages her cell phone and iPad like a 60-year-old! She meets regularly with friends for coffee at McDonalds and is known by name when she calls the library to check out a new book.
Sadly, when mom turned 90, she was denied the renewal of her motorcycle license!
What's the best advice anyone ever gave you?
Live within your means, pay as you go, and always be honest.
What did you want to be when you grew up?
An art teacher. I would liked to have gone to college to study art, but money was short.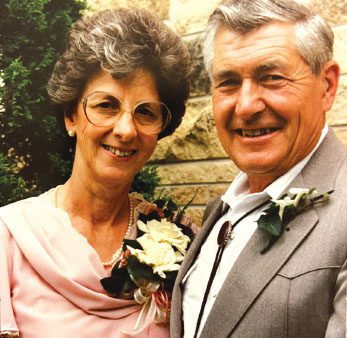 What did you do?
Each place where I was employed, I worked in the payroll department, figuring by hand at first and later with the computer. I spent most of my career working for the District Auditor of Interstate Power Company. I've now been retired longer than the 25 years that I worked there. I've always liked numbers and really enjoyed bookkeeping. I was usually the treasurer of every organization I was in, including 11 years as the treasurer for Decorah Lutheran Church.
If you were stranded on a desert island, what three things would you want with you? My Bible and daily devotions, my loving husband, and my sewing machine.
Try to describe yourself in one sentence:
I like to think of myself as someone who has worked hard, saved, and raised three wonderful daughters.
If you could eat anything every day for the rest of your life, what would it be?
Lefse, with plenty of butter and sugar
Name one thing you could not live without:
My family
Tell us about your first job:
When I was 12, I got a job as a waitress at the Springer Hotel dining room because I wanted to earn money to go to Clear Lake Bible Camp. I wasn't very good at waitressing and wasn't very mature then, so I quit as soon as I earned enough money to go to camp!