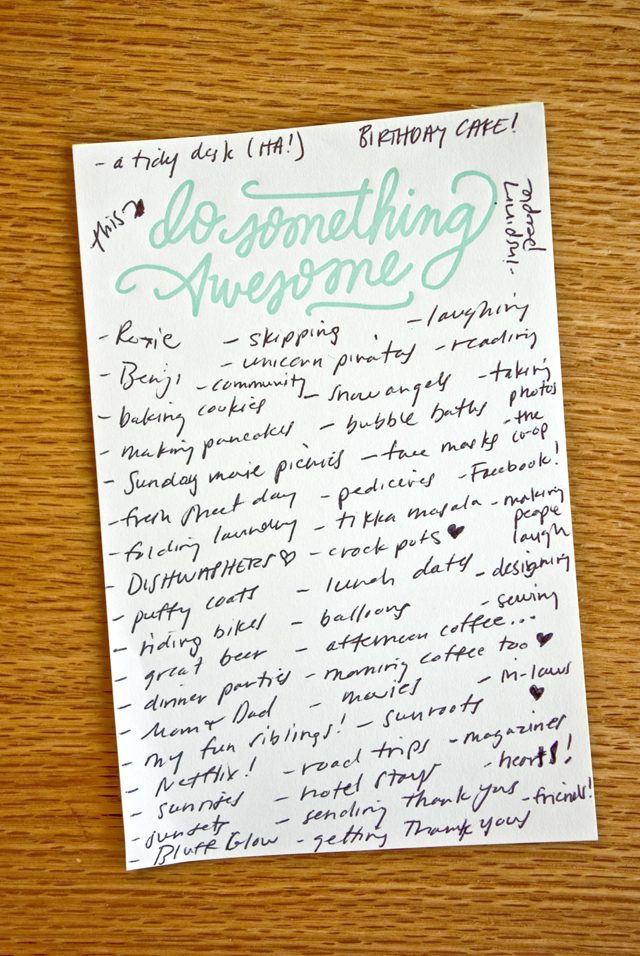 Some days (days like today, when you get 10 inches of snow in the middle of an early spring), it's hard to feel upbeat about everything. Or anything. Life can feel overwhelming, unlucky, and, honestly, kinda crappy.
BUT! But! There's always a sunny side waiting for you, and always a way to realize "hey, I'm more fortunate than I think!"
Enter Happy Lists. This is something I started doing in college when I felt a little down or (shhh, don't tell my parents) homesick. I would take a piece of paper – it can be big or little – and absolutely cram it with things that made me happy. From coffee to best friends to fancy sheets to scarves to the first tulips to chocolate to, yes, even fresh snow. Usually by the end I was feeling…gasp…happy! It's a great habit I continue to this day (I just made the above list this morning, 'cause I gotta admit, I wasn't happy about all that pretty snow out there. I love a March spring.)
Sometimes I will also tuck the lists away in a drawer or folder or coat pocket. It's fun to happen upon them randomly later – (almost) as good as finding a long-forgotten $20 in a spring jacket!
Anyway, we thought a happy list might be a good activity on this snow day! Put together your list, get happy, and then gear up and head out for a little frolic, because, c'mon: This has gotta be about it for winter, right?!?
Bonus: If any of the things on your list are things you can actually DO, go on and do some. This greatly increases the happiness factor. I'm going to make my tikka masala right now!
Happy happifying!
XO,
Aryn
P.S. Excuse my terrible handwriting! I don't write with a pen these days nearly as often as I did in college!
P.P.S. "Do Something Awesome" paper by Iowa letterpress designer Meg Gleason of Moglea.