Community Builder: Greg Wennes – Sunrise Care Facility, Spring Grove, Minnesota
Story and photos by Kristine Jepsen • Originally published in the Fall 2017 Inspire(d)
It's a sunny Thursday morning, and Greg Wennes is waiting in a plastic lawn chair, under the mature trees shading Sunrise Care Facility, just "Sunrise" for short. It's a farmhouse on the outskirts of Spring Grove, Minnesota – known by locals as the Gilbertson place. As many as 10 men, all recovering alcoholics or addicts, can eat, sleep, work and find community and support here. They may stay weeks, months or years as they transition between formal rehabilitation treatment and regular, productive lives.
When Greg, owner-operator of Wennes Communications Stations, helped found Sunrise in 1988, it was among the first of its kind in this part of the Driftless. And while these days he's a guy who has the glow of wintering in warmer places and who drives a glittering burgundy motorcycle, among other classic rides, he needs you to understand this about him first: He's a recovering alcoholic, a lifelong condition.
There was a time when he himself came home from residential treatment to find his house empty but for a mattress and a dying spider plant, his wife and kids gone. He's been to the depths, and he knows what it takes to climb out (and stay out), one handhold at a time. Sunrise was founded to provide the footing.
"Drinking is a lonely occupation," he says, "but 'sober lonely' is incredible. It's one of the most difficult parts of recovery."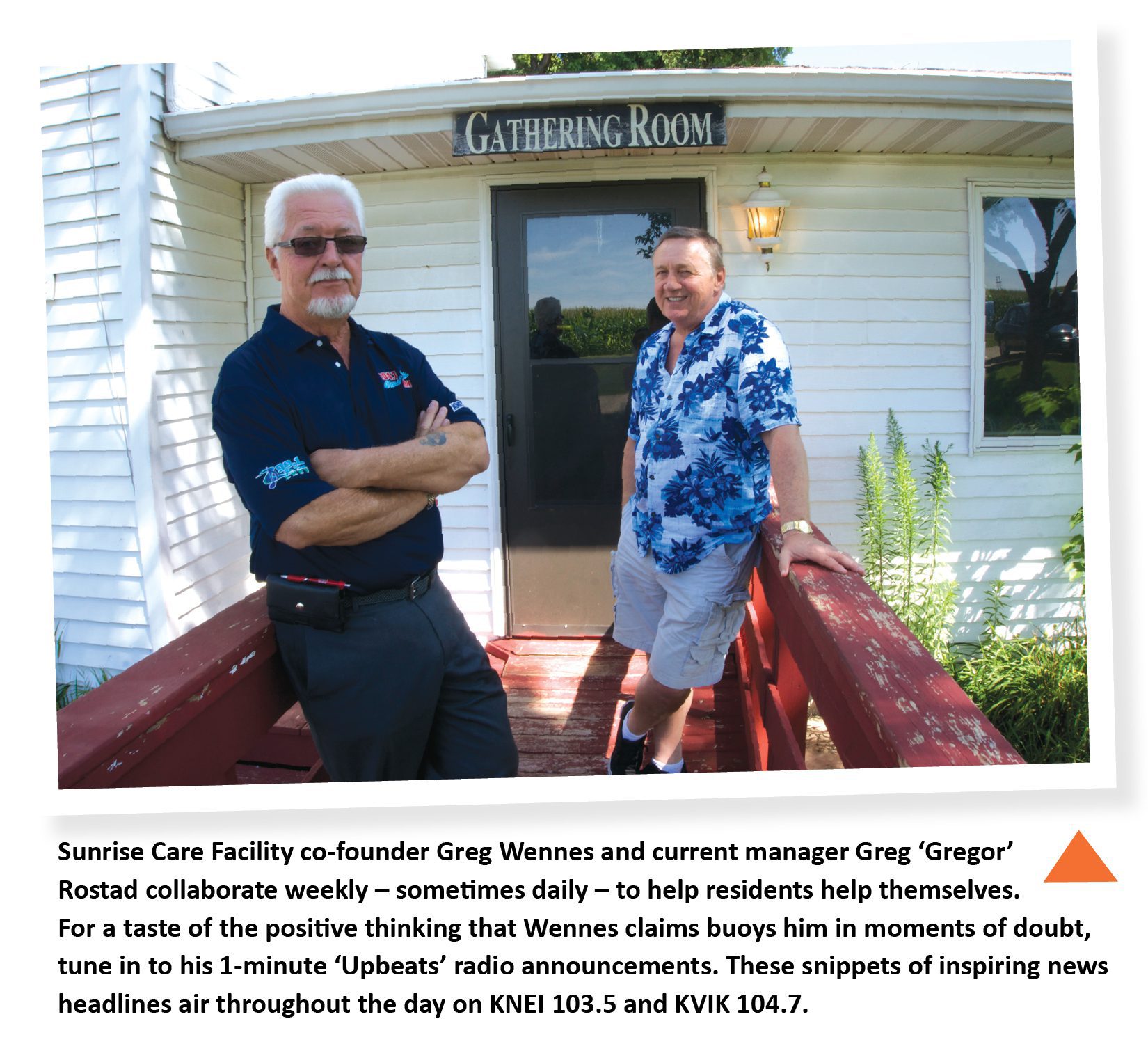 Opening a care facility isn't the easiest thing in a tight-lipped Scandinavian community, where people keep problems to themselves, but beneath any public stigmatization that existed, Greg and other founders quickly assembled a broad base of support, across medicine, recovery treatment policy, public health, law enforcement, and ministry. The home opened as a non-profit with significant help from the Tweeten Foundation, previous owners of the local hospital. Renovated twice to date, Sunrise operates with resident fees paid privately or subsidized by state and federal public health systems. Supporters aspire to add a private wing for women soon, too.
"It takes an alchie to know and help an alchie," Greg says of his friend and colleague Greg 'Gregor' Rostad, using recovery slang for an alcoholic, as opposed to a 'normie' (an un-addicted person). Gregor, also a successful business owner, is in his fifth year as administrator on-site at Sunrise, a job layered with management, mentoring, discipline, and compassion. "It takes being both an achie and a business person to make this place work," Gregor says. Above all, he has to keep inevitable social challenges from trampling the bottom line.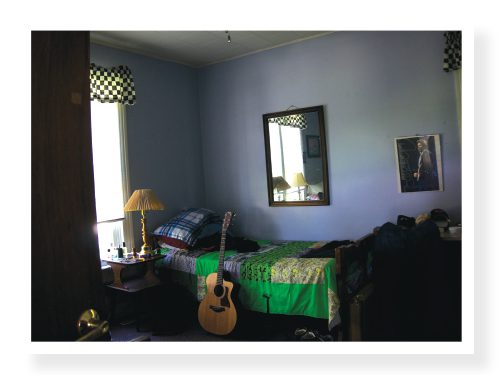 Residents, each with his own private room in the stately farmhouse, make meals together in teams. They coordinate clinic and therapy visits, run errands in Sunrise's two shuttle vans, and perform all the maintenance of the house and five-acre grounds. They also host and attend recovery meetings, both on-site and at other meeting spaces around the region. Friends and family can sign in to visit, and it's common for residents to walk the mile or so into downtown Spring Grove to shop on their own, enjoy the view of neighboring pastures, and get a breath of normal, small-town life.
"Anyone can quit drinking," Greg says. "The question is, 'How do I learn to live and function in society as a sober person?' Our goal is to provide a sober, safe sanctuary."
 ——-
To join the conversation, Greg and Gregor recommend Facing Addiction (facingaddiction.org), a resource hub for those living with addiction or wanting to support someone who is. To learn more or support Sunrise Care Facility, visit sunrisecarefacility.com.