The GrandPad tablet delivers telehealth for homebound, and creates an innovative spark for rural entrepreneurs.
By Maggie Sonnek
When Scott Lien and his family traded in one adventure for another, leaving behind their beloved sky blue Victorian house in Wabasha, Minnesota, they silently promised they'd be back.
And 25 years later, they were. In March 2020, the Liens shuttled back to the Midwest from Silicon Valley, where Scott had taken the leadership helm at a handful of corporations. Returning with a newfound perspective gained from travel and experience, he was surprised to find storefronts along the town's main corridor empty and boarded up. That's when he decided to combine his love of rural America with his knowledge and innovation for entrepreneurship.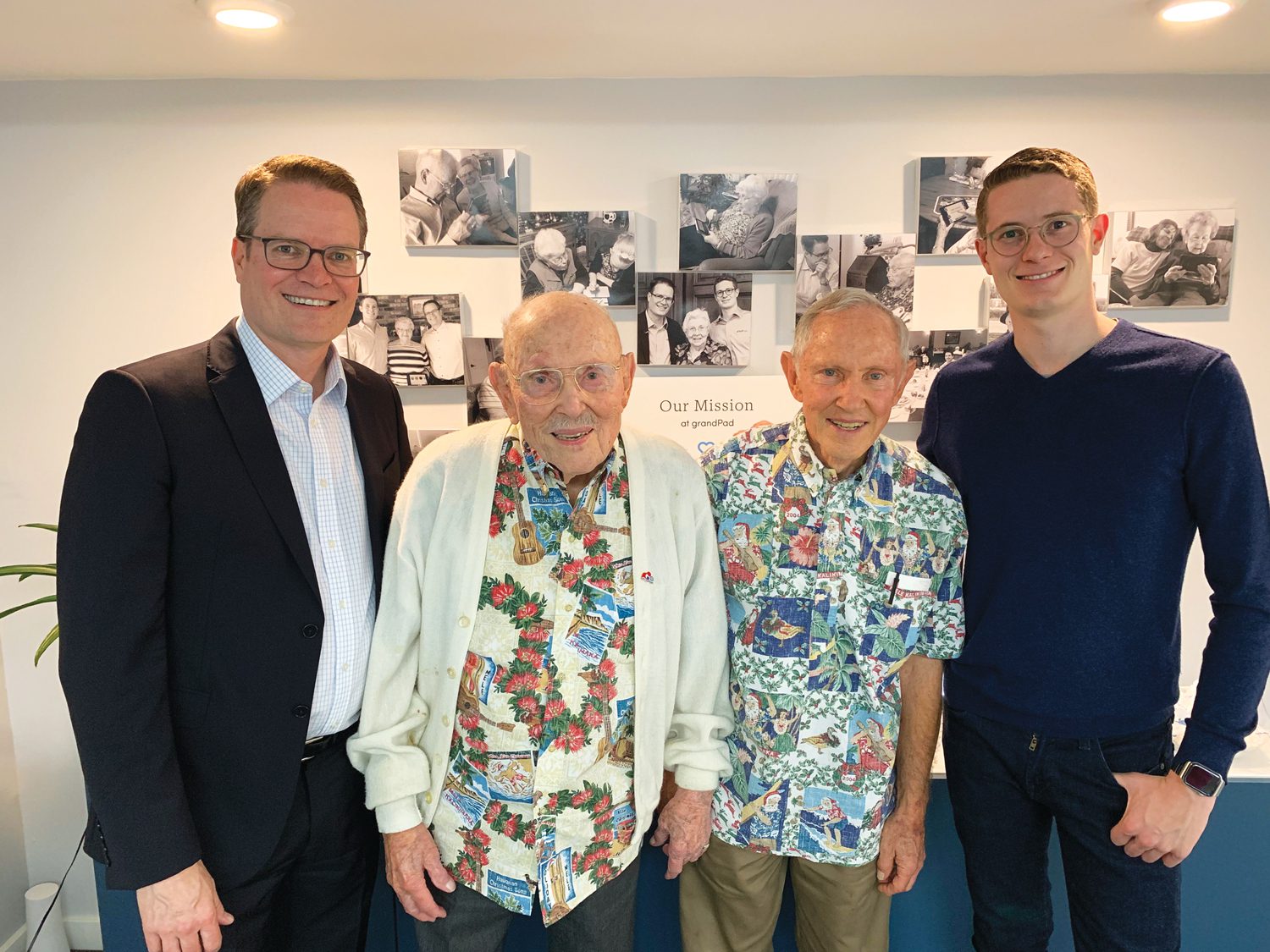 In 2013, Scott and his then-college-aged son Isaac wanted to stay connected to Marlys Lien, the duo's mother and grandmother. While Scott and Isaac were in Silicon Valley, Marlys lived 2,000 miles away in Decorah, Scott's hometown. GrandPad, a tablet sans complicated features, was born. Designed specifically for seniors, the tablet has fun games, customized music, and apps, plus large buttons paired with an intuitive interface to make chatting with friends and family a breeze. But, Scott, who now splits his time between Silicon Valley and Wabasha, learned that in the Midwest, attracting funding from investors is anything but a breeze.
"The Midwest is quite risk adverse," he says. "And, because nearly 90 percent of startups fail in the first three years, local investors don't jump on board right away. The majority of capital comes from the coasts."
The data backs this up. According to the Center of Rural Development, less than one percent of all venture capital goes to rural startups. And, in 2017, five metro areas (San Francisco, New York City, Boston, San Jose and Los Angeles) accounted for nearly 80 percent of all venture capital investment nationwide. While innovation has concentrated in major urban hubs, rural economies have lacked the entrepreneurship to spark economic growth.
But, with remote work on the rise – this trend has grown by 173 percent since 2005, according to the Center on Rural Innovation (CORI), a national non-profit that aims to foster sustainable economic success in rural America – more families are swapping crowds and congestion for chickens and country roads.
Families like the Olsons. Two hundred miles straight north of Wabasha, Jon and Hallie and their three kids spend time playing in their rugged, homemade treehouse and feeding their cluster of chickens. In 2019, Jon, an engineer, began working remotely. That allowed the Olsons to trade in their Minneapolis bungalow for a custom-built home in northern Minnesota that sits on five acres of wooded beauty.
"We feel so lucky to be where we are. The kids can spend hours outside," 38-year-old Hallie says. "And, with COVID-19, we don't feel as restricted in what we can and can't do."
Mark Rembert, Head of the Rural Innovation Network at the CORI, says while it could be months before we know the pandemic's impact on urban and rural areas, COVID-19 is fundamentally changing the appeal, necessity, and feasibility of living in a big city.
"We don't know yet if an increase in remote work will result in people leaving big cities," Mark says. "But, surveys have shown that many people who live in metro areas would actually prefer to live in rural spaces. Remote working could create opportunities for more people to make that move."
Obviously, it's much easier to bring a job with you – like Jon did – than to hang out a shingle. But entrepreneur and business leader Scott says now is the time for innovators to open up shop small towns.
"This is an opportunity for rural America to shine. We need to ask what we're doing to make our small towns attractive," says Lien, who, during his career has held leadership roles at Best Buy, Bank of America, and Intuit. "In Minnesota, we can't change the weather, so instead, we celebrate it. Let's soar with our strengths and try to turn the downfalls into positive attributes."
Taking risks and forging ahead with entrepreneurship and innovation, especially in rural areas, is key to creating dynamic, progressive small towns.
"There is a fantastic labor force in rural areas," Scott says, noting that even though GrandPad was founded in California, he specifically engages employees from Midwest towns. "Lots of the employees we've hired have been out of the workforce for a while and aren't necessarily looking for a job; think empty nesters and stay-at-home-parents. They've made the assumption that fulfilling, well-paying jobs are only available in large cities. And, because they don't want to commit to a long commute or relocate, they assume their choices are limited."
That's where GrandPad really shines. Employees are hired – by referrals from current team members only – to work a flexible schedule from home.
Member experience agent Lori Lechtenberg, who lives outside of Decorah says, "I can be in my home chatting with people across the globe. It's the best of both worlds."
"We're creating long-term, durable, high-paying jobs," Scott explains. "And, most importantly, these positions are family-oriented."
Indeed, family is the main reason why Anna Arens applied to GrandPad after receiving a referral. Anna worked in healthcare at Mayo Clinic for 12 years when her husband, a Sergeant First Class in the U.S. Army, learned he'd be deployed overseas to Syria for one year. With three young kids at home, Anna knew her current schedule wouldn't adhere well to her husband's absence.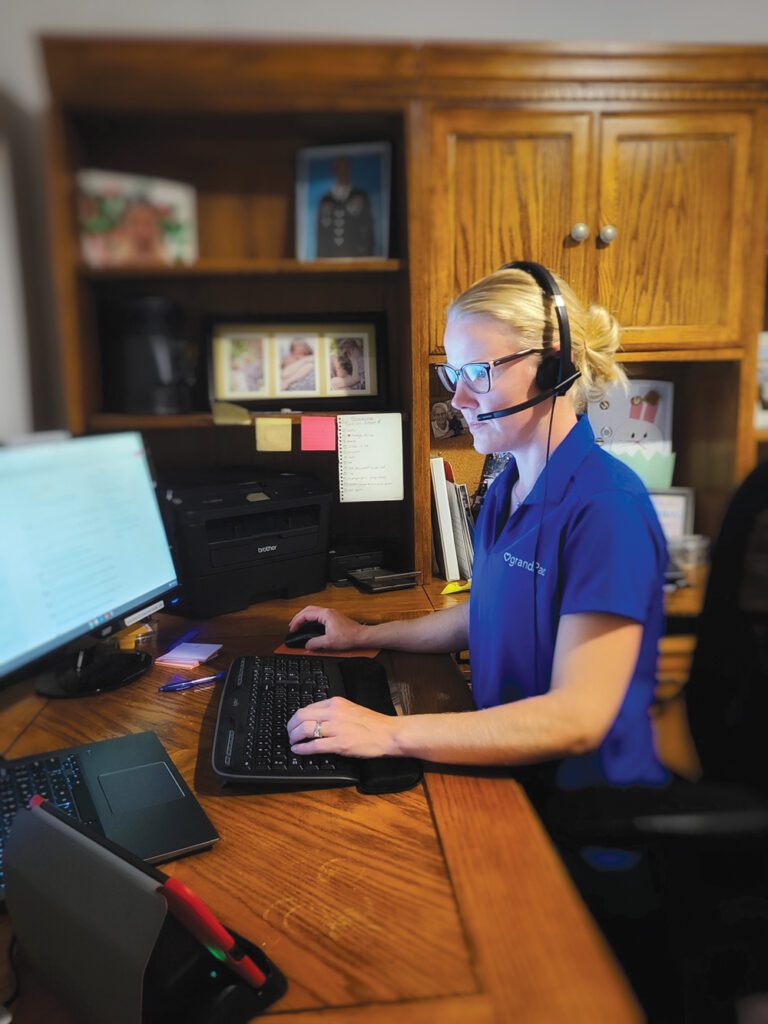 "I needed to find a job that offered flexible hours without a commute," Anna says, noting that the options are limited in a small town. Since accepting her role as member experience agent at GrandPad three years ago, she's been encouraged to put her family first.
"Scott expresses to us that when we're able to take care of our homes and families first, we do our jobs better. Because of that mentality, I'm able to be more present in my life."
Anne Meurer, also an agent at GrandPad, accepted her job just before the global pandemic surged across the country in the spring of 2020.
"I was able to be home with our kids and help them with online learning," she recalls. "I would sit at my desk and they'd sit on the floor next to me."
After working in government administration for several years, Anne craved a job that better aligned with her life. More than just a steady paycheck and paid holidays, she wanted meaning and mission from her employer.
"I wanted something more rewarding. When I learned about GrandPad, I was all-in," says Anne. "I was born into a family of five living generations and was fortunate enough to grow close to my Great Grandma Jean. I truly learned the importance of our elders and grandparents."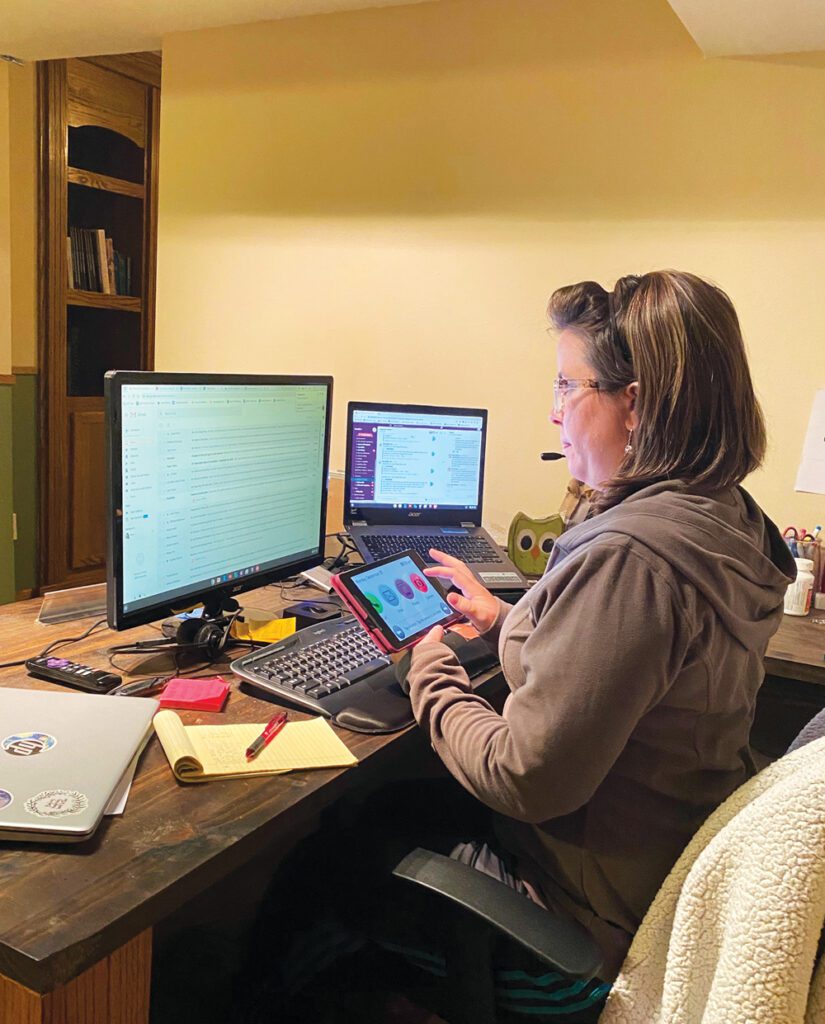 Member experience agents like Lori, Anna, and Anne develop deep and substantial relationships with GrandPad users. Like, calling seniors on their birthdays type of exchange.
"Our clients rely on us when they need help with a specific app on the tablet or when they're lonely," Anne says. "And, there's always someone there…always a friendly voice on the other line."
Throughout the global pandemic, several home health agencies and healthcare companies have turned to GrandPad to facilitate video visits. The company began offering expanded capabilities, like GrandPad Daily Connect. This remote care solution delivers data – like blood pressure and heart rate – to remote caregivers who can detect abnormalities and coordinate further care.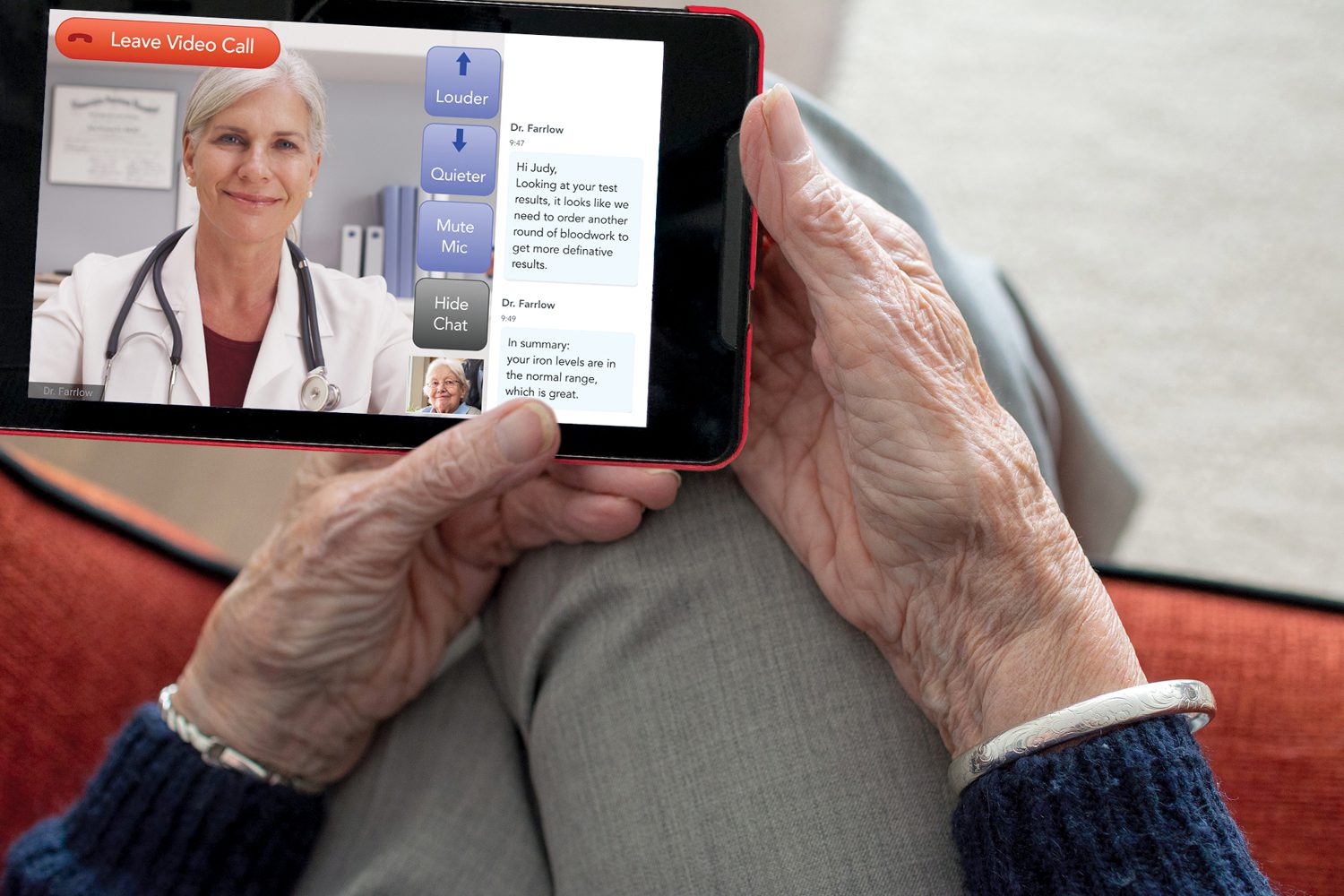 Meanwhile, GrandPad users – and their families – continue to express their gratitude to agents for this tool that not only keeps them connected during COVID, but staves off loneliness too.
One family member notes, "Mom could no longer use her computer with passwords. The GrandPad allows her to stay in touch with her contacts. It has been a lifesaver for our family!"
We asked Scott how other entrepreneurs and innovators can take hold of this pivotal moment for small towns.
"Keep investing in your communities," he encourages. "Read the local paper. Talk to your neighbors. Be kind."
Investing in his own community, Scott leased a space, bought some paint and fresh carpet, and hung a bright, shiny GrandPad sign in the window. Used for demos, videos, training sessions, and as an optional shared workspace for employees, this is Scott's way of shining a light on rural America. In the small town of Wabasha, in the Midwest, in the U.S., GrandPad is open for business.
---
Maggie, her husband Eric and their three kids love living in their small town of Wabasha. When she's not writing, Maggie is packing lunches, helping kids with homework, or (after bedtime) binge-watching shows on Netflix.