Norma Esther Schmidt Henning's
Magical Potato Salad
Photos & text by Aryn Henning Nichols • Illustrations by Lauren Bonney
Originally published in the Summer 2016 Inspire(d)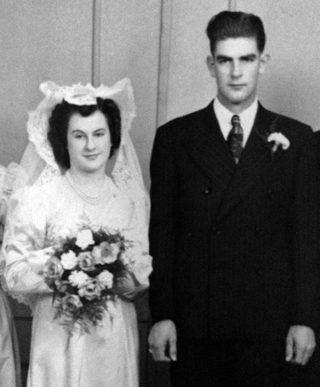 Grandma Henning was one of the hardest-working women I've ever known. She and her husband, Irvin, raised six kids – 20 years spanning between all of them – on a farm in Ludlow Township outside of Waukon, Iowa.
The big white farmhouse was where grandma grew up – her parents bought the property in the early 1900s. It had five bedrooms, a food cellar, apple orchard, and big garden filled with potatoes, onions, asparagus, and other vegetables. There were cows, hogs, and chickens – my dad and his brothers and sisters grew up eating their own eggs and drinking their own milk.
"We didn't buy much at the grocery store," my dad, Ron Henning, says. "Back then, most of the farms were that way – a little bit of everything."

But it was mainly a dairy farm. There was a great big kitchen – it had a couch on one side next to a rocking chair, and a great, big, well-worn wooden table that would seat at least eight. The chairs were a mis-matched mixture of metal and different shades of wood.
"It was kind of an all purpose room," my dad says.
"Did grandma like to cook?" I ask. "Ha, well.. I don't know…" Dad says. "She liked to cook certain things. She really liked making bread – it was sort of therapeutic. Once a week she had one of these big metal bread pans and she would knead up the bread and make eight to 10 loaves and some sort of sweet rolls."
"Eight to 10 loaves of bread a week?!" I ask.
"Yeah, we'd eat one loaf of bread at breakfast alone. We'd cut it up and put it on the grill – we didn't toast it – and eat it with eggs and fresh milk. For dinner, everybody's favorite meal was mashed potatoes, some sort of meat, and some sort of vegetable. We rarely had dessert."
All of that was before my time, of course. When I knew Grandma Norma, she was living in an apartment above my dad's auto shop in downtown Waukon. I'd go to work with dad (in lieu of daycare), and when I got too annoying for his crew, I'd be sent up to Grandma's. I'd ask her about all her plants – she had a ton. She'd tell me the names of each, one-by-one, and then she'd fix me something for lunch. It was always simple, served up on her round, flowered cloth-covered table in her eat-in kitchen.
After, we'd go back on the patio to check on flowers out there, or for a quick walk around town. Walking was Grandma's only mode of transportation, besides rides from friends and family; she never wanted to learn how to drive. Finally, she'd send me back down to my dad – usually because she needed to get going for a volunteer shift at the Senior Site in Waukon, or with the ladies groups at Zalmona Church.
For church events and at Henning family reunions, Grandma would often bring potato salad. I remember the first time I tasted her recipe. I raved (like I do), "Oh my goodness, Grandma! This is the most amazing potato salad I've ever had! What magical ingredients are in this?"
My introduction to this potato salad happened to coincide with my college efforts at becoming a cook, and Betty Crocker had been tutoring me in the potato salad genre that summer.
Grandma scoffed a bit, just like my dad does these days, their German heritage shining through, "Auck. It's nothing special."
"No seriously, Grandma! What's in this? Is it a secret? Is it illegal?!" At this point, she's either starting to get a little miffed or totally embarrassed at my gushing.
"Well, there's potatoes, you know. And eggs. And salad dressing. I put a little evaporated milk in there too," Grandma says.
"Evaporated milk?! That's it! I must get this recipe," I exclaim.
I asked grandma about it a few times after that, but we both always forgot to follow through on it. Grandma Henning eventually moved into an assisted living apartment, but still walked and volunteered quite a bit. The reunions became less frequent, though, and by the time she passed away in 2008, I had never gotten the recipe.
So when we decided to write about generational recipes for this Inspire(d), I immediately thought of that magical potato salad. And I pestered my dad, aunts, and uncles to get the details for me. There were calls to family friends made, and some digging through recipe files, but eventually, we found it! You can imagine my excitement! It was one of those "as many potatoes as you can fit in your pan" sort of recipes, so I've nailed it down a bit more for you here. I truly can't wait to bring this to family reunions for years to come! Enjoy!
———————–
Aryn Henning Nichols loves cooking and telling stories. How lovely to do it all at once!
——————————
PRINT RECIPE HERE
——————————
Norma Henning's Potato Salad
(Says Aunt Kim: "This was probably her take on the Schmidt family recipe. She made it from memory and didn't have it written down.")
Boil 6-7 medium red potatoes in well-salted water, drain and allow to cool
Boil 3-4 eggs and cool
Cut up potatoes and boiled eggs (smaller pieces are my preference)
Mix 1/2 cup mayo (or salad dressing) with 1/4 cup evaporated milk
Add 1 tbls plain yellow mustard
1 tsp sugar
2 tsp white vinegar
Finely chop 1 medium onion and 2 stalks celery
Mix all together and enjoy.
Tip: Really salt the boiling water well – you can add salt to the finished potato salad, but I find adding extra salt makes the potato salad runnier the next day.