Ever wanted to spend the night in a silo? Get closer to nature, but not so close that you're actually sleeping on the ground? Or maybe you'd like to see what tiny homes are all about?
These days, there are more options than ever for overnight stays in the Driftless – from amazing hotels to B&Bs to glamping-esque experiences (like the aforementioned silo). We caught up with three Driftless locals who have worked hard to reclaim materials, buildings, and properties, bringing new life to forgotten pieces of history, and, ultimately, creating fun and innovative spaces for guests to lay their heads for the night (or longer!).
The Driftless Region is a unique mix of landscapes and ecosystems, artists and farmers, cheese shops and pizza farms all living and existing in harmony – so get out there and explore all there is to offer! The adventure lies in the journey, AND the destination.
---
Not your average roadhouse
At The Chocolate Escape overlooking the Mississippi River in Wabasha, a group of third graders sit outside, licking their dripping chocolate and vanilla ice cream cones. They hoot and holler when an eagle flies overhead. At another table, a couple enjoys a cup of coffee. And, across the street at the local pub, a group of bikers clad in leather jackets, black boots, and sunglasses drink a cold brew. Time seems to stand still as three unlikely troops congregate contently on Main Street. Such is the vibe in towns along the Mississippi River.
As you head north out of town onto Highway 61, the sweeping green valleys and rolling bluffs overlook the wild yet graceful river. And there, perched on the side of the highway, sits a handful of tiny homes, campers, and cabins. Welcome to Bending River Cove, a resort with a cottage and five tiny homes, founded in 2017 by co-owners Mike Burke and Denay Kelly.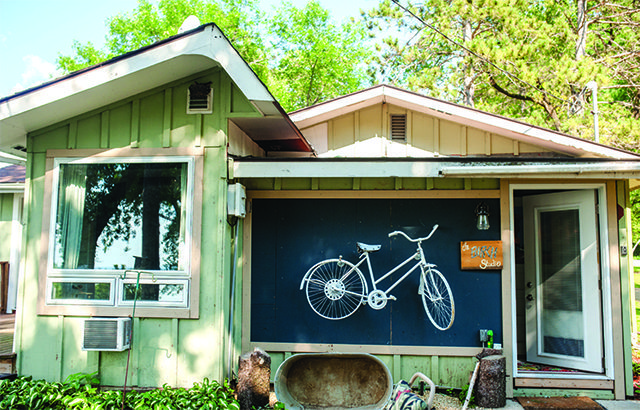 Mike is a treasure hunter in overalls. He – along with four friends – manage Barndoogle Productions. They travel through small towns across Southern Minnesota "barndoogling" – their word for finding treasures and history in old barns and buildings.
"All barns have a story," he says. "And each one is unique. We believe it's important to save and preserve not only the boards, but the stories too."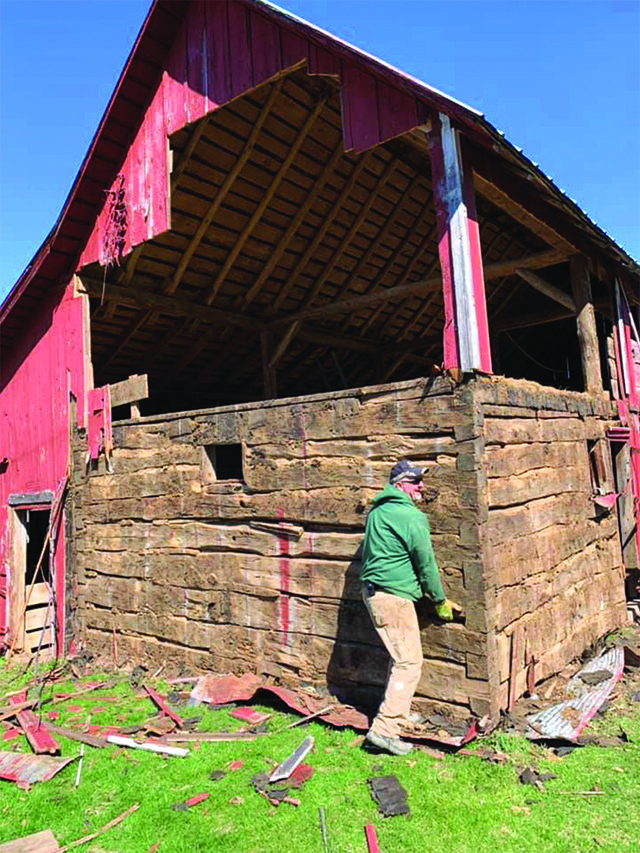 When Mike was approached about crafting structures for a tiny home resort between Lake City and Wabasha using his reclaimed treasures, he jumped at the chance. It took Mike and business partner Denay Kelly two years to gather materials and build the tiny homes. But now, Bending River Cove is open for business, sitting just above Lake Pepin on the Minnesota side of the Mississippi.
The handcrafted tiny homes – between 200-400 square feet each – contain a kitchenette, a bathroom, a bedroom outfitted with luxury linens, and a fire pit outside.
"I use as many reclaimed boards and wood as I can," Mike says. "With those materials, I find I can create intimate and cozy spaces." Mike uses the term inglenook – a 17th century Scottish word that means chimney corner – to describe the feeling they're going for at Bending River Cove. Before central heating, the fireplace was used for cooking, and the inglenook – or enclosing alcove – became a natural place for people to gather and stay warm. Looking at the river below while nestled on a comfy couch, with a mug of coffee in one hand and a book in the other, you catch a glimmer of that contentment.
"This area is near and dear to my heart," Denay adds. "As a child, one of my favorite things to do was camp. Through these tiny homes, we're trying to recreate that same experience."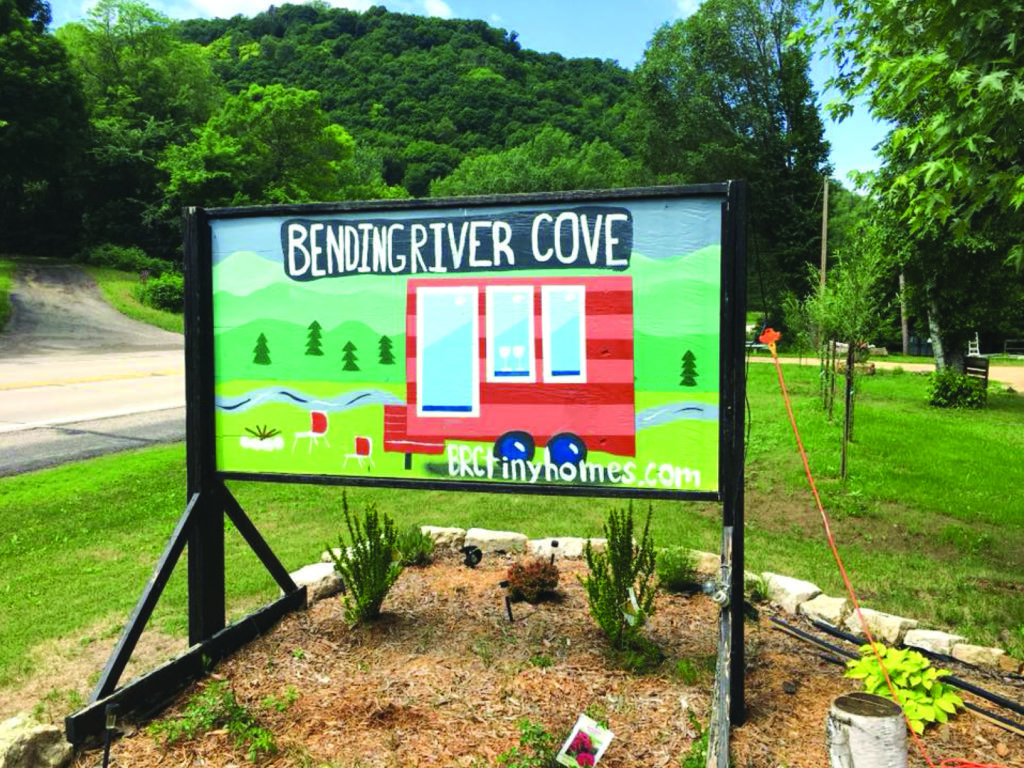 Bending River Cover "tiny house nation"
Each tiny home is nestled between the bluffs of Southeast Minnesota and the breathtaking Lake Pepin. Nightly stays range between $75-175.
• The Birch Studio. Sleeps 2. Includes twin daybed and trundle
• Fat Bottom Girls. Sleeps 2. 1950s camper-turned-glamper
• Homegrown Honey. Sleeps 6
Includes loft and lake-facing outdoor patio
• Bohemian Rhapsody. Sleeps 4
Includes private bedroom and fire pit
• No Shoes, No Shirt, No Problem. Sleeps 4
Includes outdoor hot tub with lake views
• River Queen. Sleeps 6
Includes two separate bedrooms and outdoor deck space
For more information, visit brctinyhomes.com or search Bending River Cove on airbnbn.com.
---
From pizza farm to glamping
Maren and Tom Beard have been busy. In 2013, they bought their 133-acre farm just outside of Decorah, now known as the beloved Luna Valley Farm. They hosted their wedding ceremony there in the valley, two years later. In 2017, they harnessed Tom's skills as a farmer and chef and Maren's passion for sustainable food systems and procurement (she's an excellent chef, as well) and kicked off their pizza farm. Then, last year, the couple decided to introduce glamping. What's that, you say? Glamping, AKA glamorous camping, is a way to experience nature with the added bonus of real beds and other plush offerings.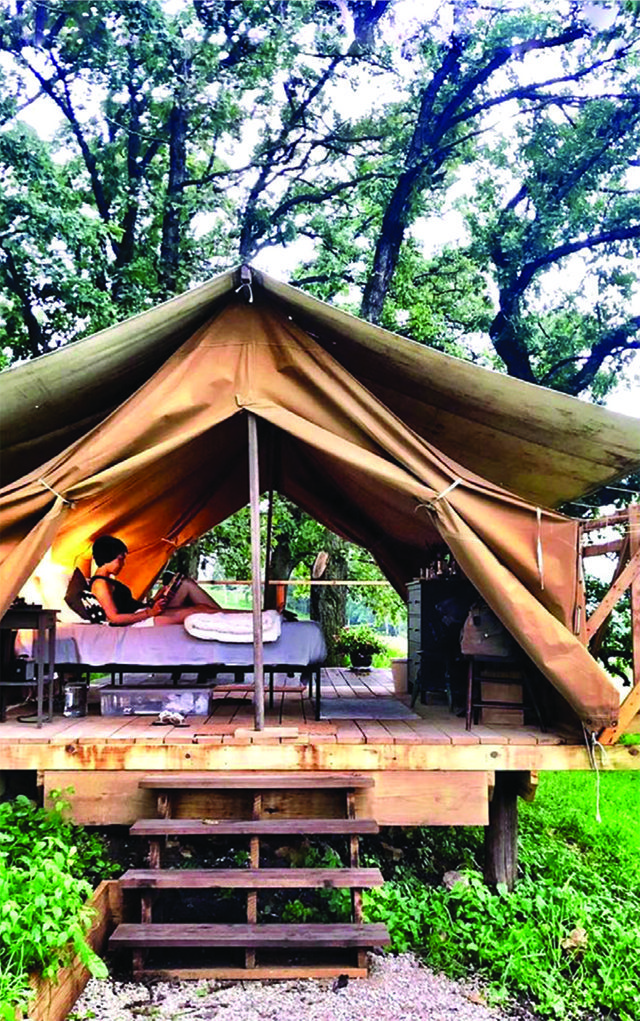 At Luna Valley, the glamping happens in two 12 x 14' canvas wall tents, which were once used at a Camp Tahigwa, a former Girl Scout camp located north of Decorah. For years Camp Tahigwa hosted groups of girls for week-long camps in the summer, some of which were in wall tents in the woods, overlooking the local trout stream. When the camp got sold a few years ago, Maren and Tom purchased a few of the tents with the dream of someday pitching them on their farm to welcome guests for a farm stay. "We have a passion for breathing new life into remnants of the past and doing what we can to repurpose things of deep history and profound beauty," Maren writes on their Airbnb listing. "A local Amish tarp repair shop helped us fix up the tents and they have found a new life on our farm, where we hope they will be enjoyed for many years to come."
The tents are situated in a beautiful oak savanna and feature king-sized beds, whimsical lanterns, rough-sawn hardwood floors, and spaces to read, write, and relax. Set up on a platform that extends into a deck, each tent offers a stunning view of the farm.
"This is a chance for people to unplug, connect with the land, and spend time on a working farm," Maren says. In addition to pizza and glamping, Luna Valley grows organic crops, and graze sheep and cattle on pasture. "There's something magical about waking up in the woods in a comfortable bed. It's so quiet and peaceful."
In the morning, down at the barn – a three to four-minute walk from the tents – glampers will find local coffee waiting for them, plus lovely bathrooms and a luxurious shower (with room for two). You can even add on glamping extras – mason jar mimosas, anyone? The barn also houses Maren and Tom's commercial kitchen and pizza oven. Bonus for glampers: On Friday nights, you can take your Luna Valley wood-fired pizza up to your own private patio.

Tents are available on Friday and Saturday nights throughout the summer. $150/night, 2 night minimum
Pizza nights: Fridays, 4-8 pm • April – October
For more information, visit lunavalleyfarm.com
---
Reconstructing history
Five miles north of Decorah, you'll find a barn silo and a 1973 train caboose, both lovingly restored by Jim Dotzenrod, a Decorah native who proudly welcomes visitors to his land – and the region.
"We are super laid back and friendly up here on The Ridge!" Jim writes in his Airbnb profile. "I grew up in this area and know lots of folks, so no matter your interests, I'd be happy to help you find what you're looking for during your stay with us."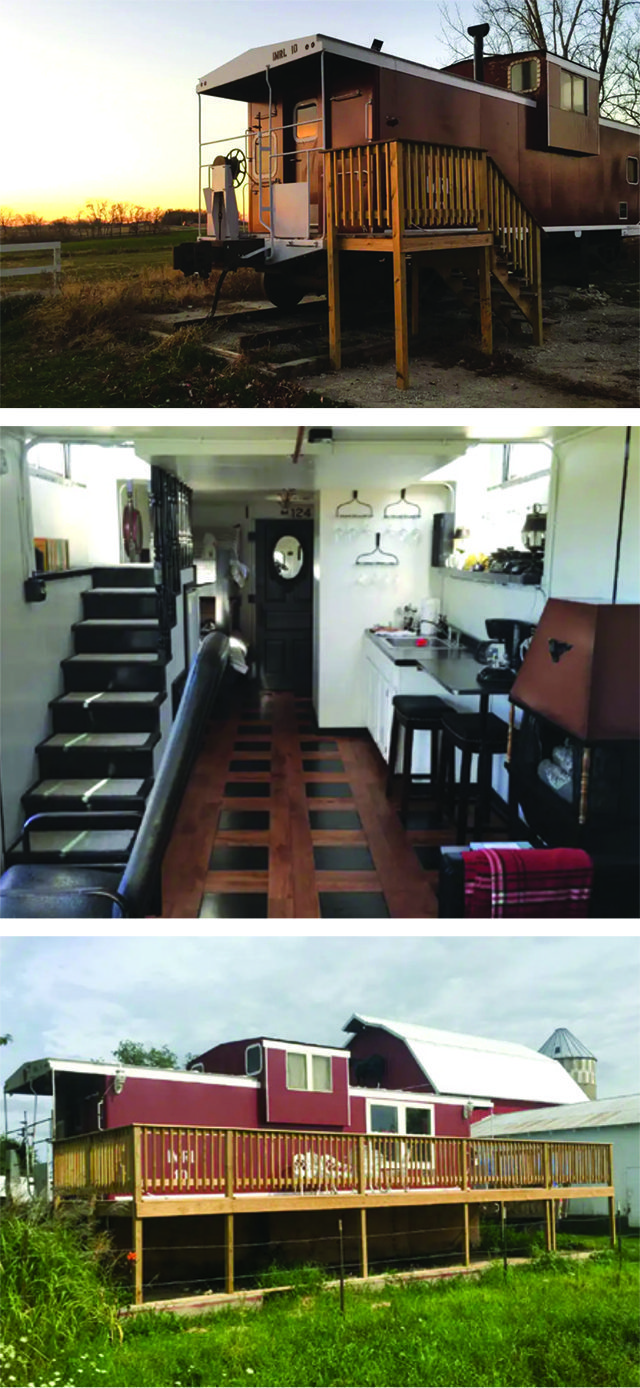 Jim says lots of his renters come from the Twin Cities looking for something different.
"They don't want to stay in town. They'd rather enjoy an experience," he says. "And out here, they can pet the horses in the pasture, pick raspberries and apples, and watch the sunset."
The silo came first. Jim – with the help of his brother – restored the structure, adding a roof and building bunk beds and a bathroom on the second level. They even incorporated a grapevine that was originally wrapped around the outside of the silo – the horses had chewed it off, so it was fair game. It now acts as the handrail leading upstairs to the sleeping area. A sofa and kitchen space fill the main level, and a large deck wraps around the entire structure.
After seeing the silo book up frequently, Jim decided it was time for another reno project. That's when he found the CR Station train caboose — one of the last of its kind, according to Jim — sitting on a set of railroad tracks at a local recycling center. Although a carpenter by trade, Jim wasn't set up for the ironwork inside. But, with the right tools and help from his daughter, the two of them went for it, gutting the train car – repurposing the original conductor chairs and handrails in the front room, and fitting a queen bed and bunkbeds in the loft. The main level holds the kitchen and bathroom. With help from a crane and semi, the 52,000-pound train car now sits 200 feet away from the silo.
Prices range from $75-$121/night. For more information, visit airbnb.com and search Silo on the Ridge and CR Station Train Caboose.
---
When Maggie Sonnek isn't spending the night at unique and cozy destination properties like these, she can be found sipping an iced coffee with her husband, watching their three kids play with Max the puppy.
---
Looking for more out-of-the-norm spots to spend the night? Add these to your list:
Little House on the Farm & The Guest Barn – Postville, Iowa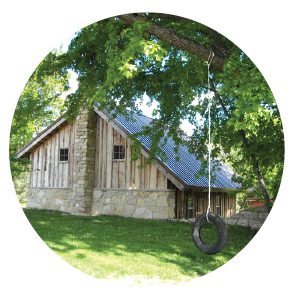 The Little House on the Farm – a 750 square-foot cabin located outside of Decorah – was built in 2009 on the foundation of an old barn that was once located on owners Donna and Dave Dull's farm. The cabin has the look and feel of an authentic pioneer cabin, but with modern touches. The Guest Barn was built in 2012 with materials salvaged from a nearby barn and corncrib. The pieces were used to build a smaller 700 square-foot "new" barn. The space is cozy, but open, with exposed original barn beams and high ceilings for an authentic, yet modern farm stay. www.littlehouseonthefarm.com
---
Elkader Jail House Inn – Elkader, Iowa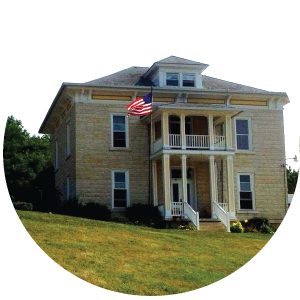 Hosts Julie Carlisle-Kane and Dr. Tim Kane have transformed the old Clayton County Jail – located in Elkader Iowa, and originally built in 1870 – into three spacious suites. Nothing like a jail cell, these suites are beautifully renovated and outfitted with luxurious beds and baths, while still retaining the historic character of the stately old limestone building.
Guest can hang out in the "cell block" – a public space that was once actually the cell block of the jail. These days you can play a game of shuffle board, watch TV, or just relax there! www.elkaderjailhouseinn.com
---
Trout River Log Cabin – Decorah, Iowa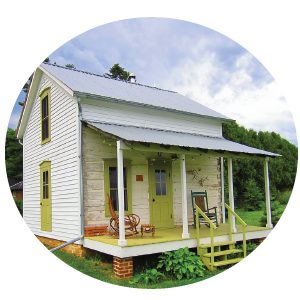 The Trout River Log Cabin was built in the mid 19th century as a Norwegian-Lutheran parochial school, then taken apart in 1898, moved across a field, and rebuilt as Norwegian immigrant Peter Losen's home. Then, Decorah residents Paul Cutting and partner, Nathan Thompson, come into possession of the cabin. They stripped it to the logs, numbered everything, and once again moved it – to its new location on the Cutting family farm seven miles from downtown Decorah, perched on a bluff overlooking Trout River valley. It took three years to piece the house back together, and the results are stunning. The cabin is small, simple, and beautiful, with everything you need to make your stay comfortable and relaxing. www.troutriverlogcabin.com
---
Historic Tobacco Warehouse – Viroqua, Wisconsin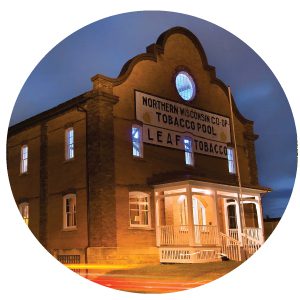 The Northern Wisconsin Co-op Tobacco Pool warehouse – listed on the local, state, and national registries of historic places– is one of the most unique and recognizable buildings in Viroqua. The owners, Valorie Schaefer and Richard Bock, bought it in 2008, and have been slowly renovating it to include their family home, several offices, a photo studio, and now a private guest suite that folks can rent through Airbnb. And that only fills about half of the 24,000 square-foot building! To book, search "Guest Suite in Historic Warehouse" on Airbnb.
---
Trempealeau Hotel – Trempealeau, Wisconsin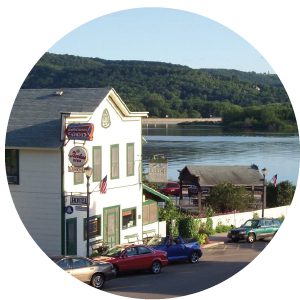 Directly above the Trempealeau Hotel bar and restaurant are eight historic sleeping rooms. Take a step back in time – there's no TV or air conditioning, but each quaint room has a comfy bed, dresser, chair, and window. Two restrooms with showers are shared with the other lodgers. There is live music most Thursdays and Saturdays and many days in between, so if you need a quieter experience, you may want to book one of the other Trempealeau Hotel lodging options (suites available!) or choose a night without music. Book ahead of time for Reggae Fest, Cajun Fest, Memorial Day, 4th of July, Catfish Days, Labor Day and all weekends in October. www.trempealeauhotel.com
---