Free Range Exchange is a little bit café, a little bit market, and a whole lot wholesome.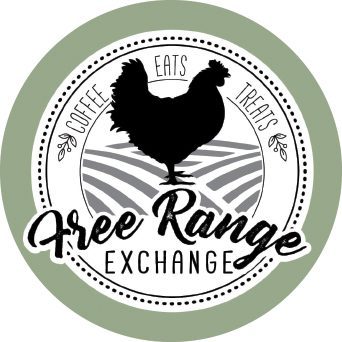 It sits in a charming building right on Main Street in Hokah, which is also a busy thoroughfare for travelers heading to and fro in Southeast Minnesota. Run by Minnesota natives Ben Horn and Cambria (Cami) Kolstad-DeVaney, the Hokah, Minnesota coffeeshop / market is a welcome stop for locals and tourists alike.
Inside, you'll find delicious grab-and-go items – housemade soups and salads, wraps, sandwiches, flatbreads, quiche, an amazing variety of baked goods (Sticky buns! Pretzels! Cookies! Muffins!), and much more – for carry out, curbside pick-up, or to be enjoyed on their cozy patio.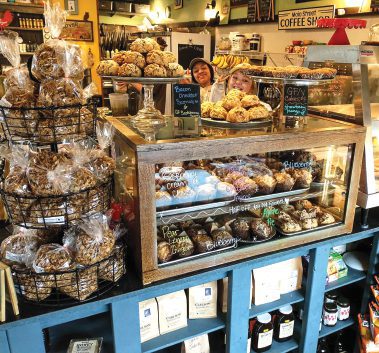 Or if you're looking to stock your fridge and pantry, there are lots of great items from local farmers and producers – cheese, meats, mushrooms, fruits and veggies, flowers, cider, and more.
Ben and Cami originally met in college in Ely, Minnesota. After both traveling and living in various locations, and meeting their now-spouses, they settled in and started putting down roots in the Hokah area. "We decided working together would be a good fit based on our mutual goal and blending of skills," Ben says. "Being from the area and my background, networking and customer service came easy to me. Cami has a complimentary background from working in delis and bakeries."
Ben and Cami started selling products at the La Crescent Farmers Market – Ben from his farm, Happy Horn's Farm and Orchard, and Cami with her baked goods. When the opportunity to own their own building came up, they jumped. "With that possibility, I felt more comfortable with renovation and the blood, sweat, and tears that go with it," Ben says.
Once renovations were complete, they opened their doors and fired up the ovens. Cami's passion for baking and cooking has led to some of Free Range Exchange's most popular offerings: their many bakery choices, breakfast sandwiches, and delicious salads. Coupled with the partnerships they've fostered with local farmers and producers over the last two and a half years, Free Range Exchange is a true champion of community and local love.
Driftless folks (and visitors) loving this model are in for a treat (maybe a fresh sticky bun?!), because Ben and Cami are planning to open a second Free Range Exchange location in La Crosse, Wisconsin, this fall. Watch for updates on Free Range Exchange's Facebook page. And in the meantime, stop by in Hokah and grab a meal or a snack. Or maybe some picnic fare? Fall in the Driftless is the perfect time to stop and enjoy nature and the abundance our region has to offer.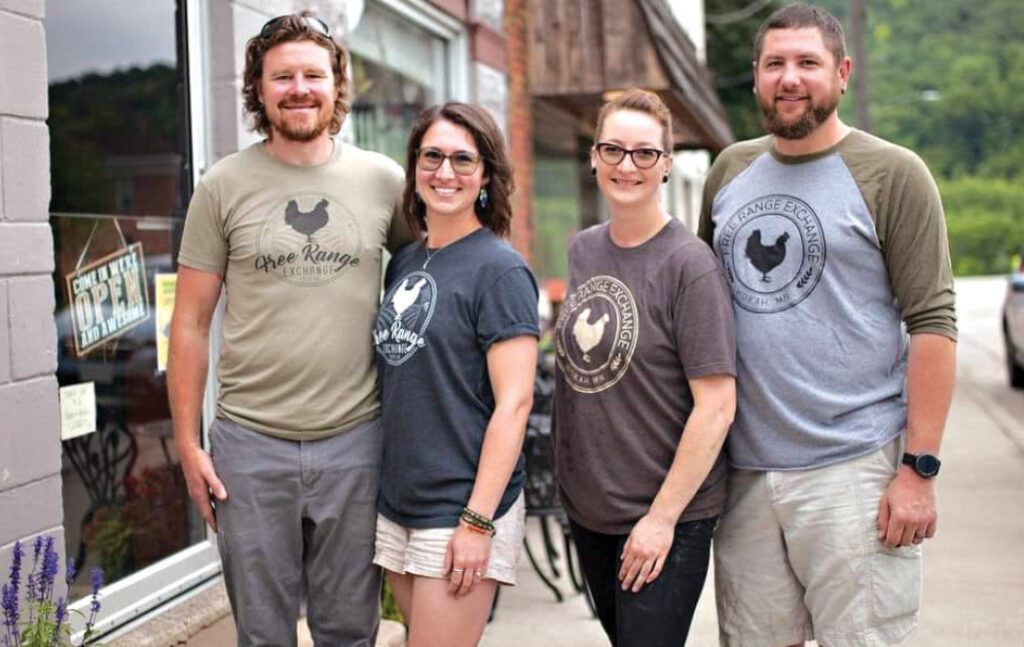 Name: Benjiman Horn
Business: Free Range Exchange
Age: 40
Years in Business: 2.5
Business Address: 46 Main St. Hokah, Minnesota
Website: facebook.com/freerangeexchange
1. Tell us about the "leap" moment. When/how did you decide to jump in and become your own boss?
My leap moment was a culmination of events or should I say small jumps that led to a final big leap. While juggling life, education, and jobs, I was busy chasing a career in natural resource management. During that journey, I met my wife Ava and we had a baby. My employer at the time offered unpaid daddy leave which I gladly took and that started the new path. During that time, my garden became a whole lot bigger and I had time to reflect on career decisions. We decided Ava's job as a R.N. paid better so I became a Home Daddy while working part time restaurant jobs and selling produce at the La Crescent Farmer's Market. A few years later, my longtime friends and future business partners Cami and Dan DeVaney, moved to La Crescent. Cami also had a background selling goods and bakery items at markets near her previous town. We then teamed up at the markets here and started brainstorming of a place of our own. Then one day, a potential location opened up and we started the process of the big leap!!
2. How do you describe Free Range Exchange to people who have never heard of it?
It can sometimes be difficult to describe Free Range Exchange without seeing it. However, I often tell people we are a coffee shop bakery and a mini farmer's market everyday. Something for everyone and somewhat of a one stop shop.
Working with vendors is a favorite part of our job. We specialize in local so that is a major stipulation to sourcing our products. Are you local, do you grow it or make it yourself? We look to small farms, small business and spread the love among many vendors to fill our needs. Many vendors are our customers as well and many connections made through friends and family that connect the relationship seeing a perfect fit.
3. What's the best thing about being your own boss?
The best thing about being my own boss is the pride that comes with the hard work of creating something from nothing. Building an asset that betters myself, my family, and my community is rewarding.
4. How about the worst?
For me, the worst part of being a business owner is my inability to shut off my brain during time off. Days off and sleeping can be difficult as I juggle work and personal life.
5. Was there ever a hurdle where you just thought, "I can't do this?" How did you overcome it?
Overcoming hurdles and thoughts of defeat is not always easy. Reminding myself to take it one day at a time and that everything will work out can help ease those overwhelming thoughts.
6. Any mentors/role models you look to/have looked to?
My role model that I aim to please is my grandfather. A question I often ask myself as I navigate life is would my grandpa Horn be proud. He passed on many years ago but I remember him being a wonderful family man and a hard worker. He had a full time job, owned a farm, and was involved in the community. He was always happy. I even named my own farm business after him. Happy Horn's Farm and Orchard. Over the years, many family members and his friends have told me how proud he would be of me. That makes me happy.
7. What's the one thing you wish you had known before you started?
Getting started, I wish I had a background in business development and operations. Self teaching and finding those around me to help is working out, but a head start would have been nice.
8. How do you manage your life/work balance?
Managing life/work balance is difficult. For me, work doesn't seem to end. However we are still in the building blocks of development and growing our business so I knew there would be long hours for the first few years. I am getting better at being present when I am at home with family. We also are growing our staff with trusted individuals and learning to delegate some tasks, which eases the work burden a bit.
9. What keeps you inspired? Any quotes that keep you going?
My inspiration comes from a couple different angles. First, working hard to support my family and being a good role model to my children helps me stay focused. Secondly, being thanked and appreciated by general public for the work that we do. Our community commitment to promoting local love has not gone unnoticed and that makes our work worthwhile. A quote I often refer too that can often be applied to many things in life is, "every thing happens for a reason." Sometimes it is difficult to understand, but what is the lesson learned and the ability to move on from a situation has helped me many times.