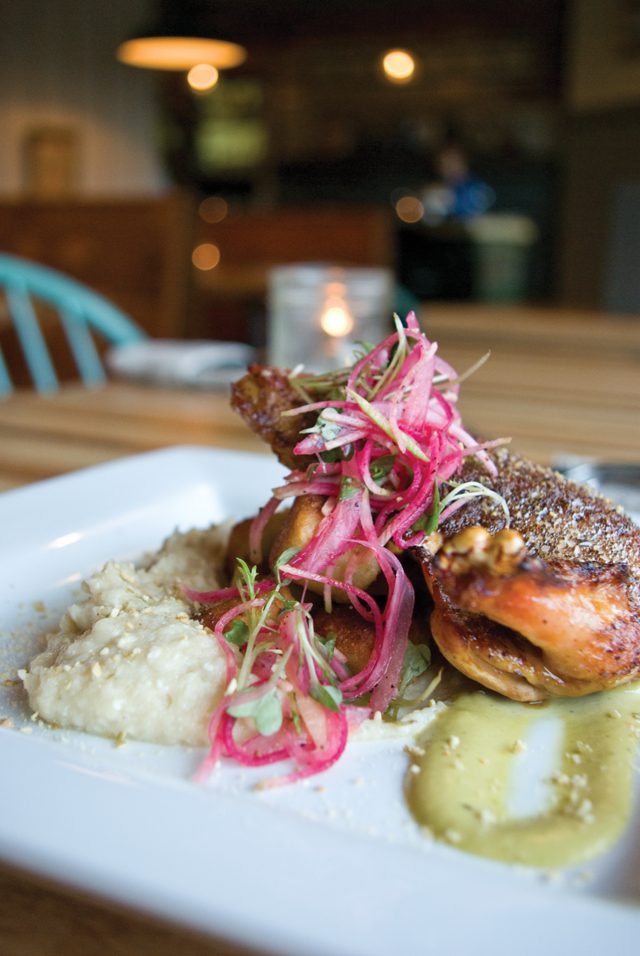 Introduction byBenji Nichols • Photos by Inspire(d)
The Mint in La Crosse sits on a snug little corner of State Street – just across from the UW. It's a cozy home for one of the Driftless Region's freshest restaurants – literally. Specializing in farm-to-table fare, the food couldn't get much fresher. From local pheasant ("I used to drive past the farm where it was raised on my way home," says Chef Anthony Swartwout) to oyster mushrooms to, of course, lots of in-season produce.
Add to that exquisite craft cocktails – think cayenne and cinnamon on the lip of a tasty tequila concoction or house-made marinated cherries in a yummy Manhattan – plus amazing homemade desserts like the best-ever angel food cake made by Mint pastry chef Jen Barney, and you might never want to leave.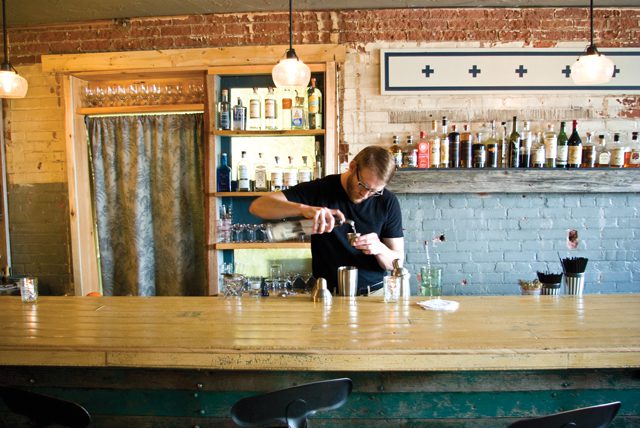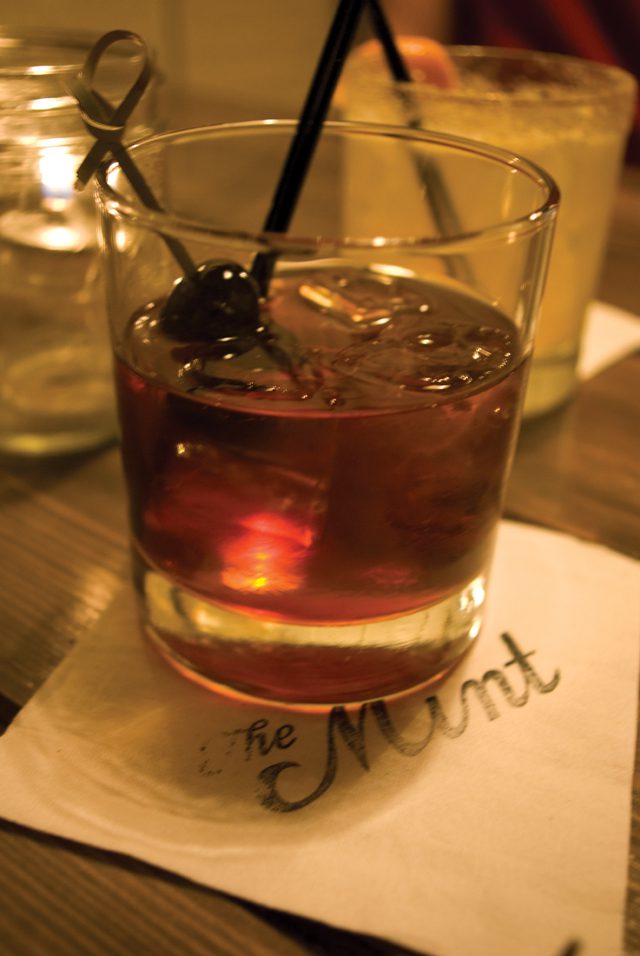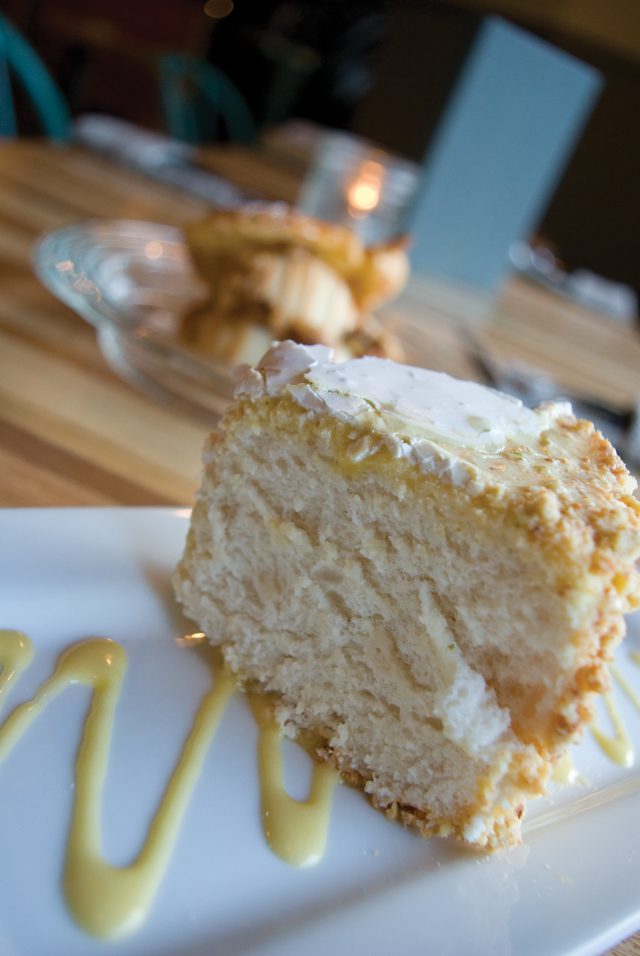 Plus, the place is pretty darn charming. This button of a building and dining patio (previously home to Kate's On State) is rustic, country, and modern at the same time. Bright blue dining chairs, brick walls and chalkboards, and metal barstools bring together an ambiance that feels just right.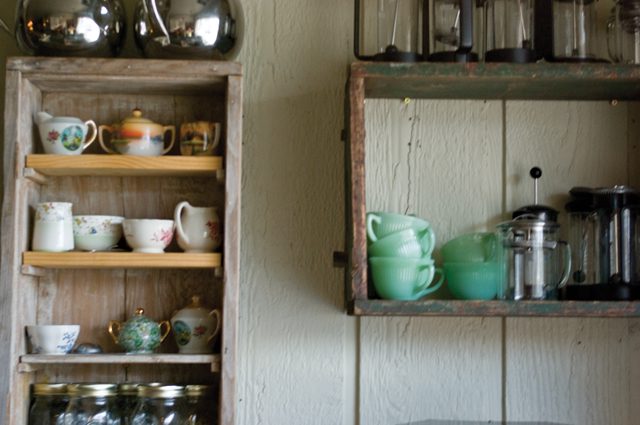 Behind that magic? The dynamic duo and management team of Corrie Brekke and Dane Gonzalez. (They've also brought the downtown creperie / coffee shop / craft beer bar stronghold, the Root Note, to life!) They've also joined forces with Cody Cottrell of the Ground Up Coffee Shop as part of the "Driftmore" group of establishments. All three of these joints represent grassroots businesses that have done their best to serve amazing products in fun environments – which Inspire(d) loves!
But this feature is about chefs – and Chef Anthony Swartwout (pictured below on the right) of The Mint is the real deal. Coming from haunts like Lucia's in Minneapolis and The Waterfront in La Crosse, Swartwout and his sous chef, James Foreman, have fully embraced the local concept, connecting with producers like Hoch Orchards, Second Cloud on the Left, Driftless Meats, River Root Farm, Willow Creek Ranch, Driftless Organics, and more.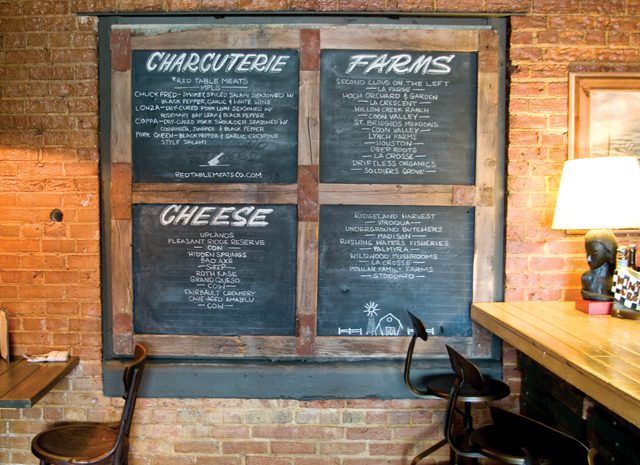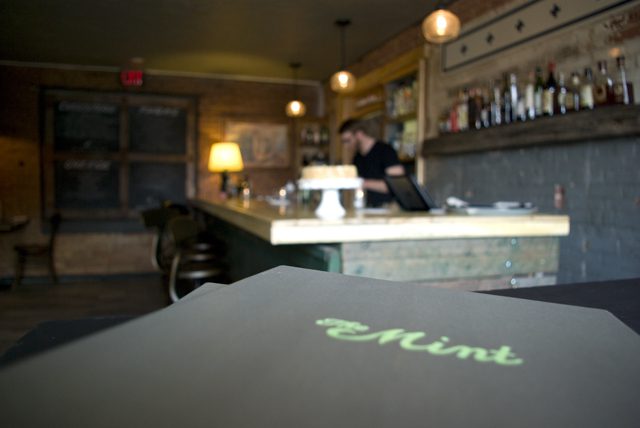 The menu often features fresh trout, local poultry, incredible vegetarian options, as well as locally raised beef and pork dishes – and the beauty is that it changes seasonally – heck, sometimes weekly depending on what it fresh, fun, and tasty.
We suggest you check it out for yourself. If you're lucky, the lovely Caite will be your server – tell her Inspire(d) sent you!
Plan your visit:
1810 State Street
La Crosse, Wisconsin
(608) 519-5011
www.facebook.com/TheMintLaCrosse
Lunch: Tues – Sat / 11 am – 2 pm
Dinner: Tues – Thurs / 5 – 9:30 pm
Dinner: Fri – Sat / 5 – 10:30 pm
Sunday Brunch: 10 am – 2 pm  / Dinner: 5 – 9 pm
Reservations for parties of 6 or more – otherwise just walk on in!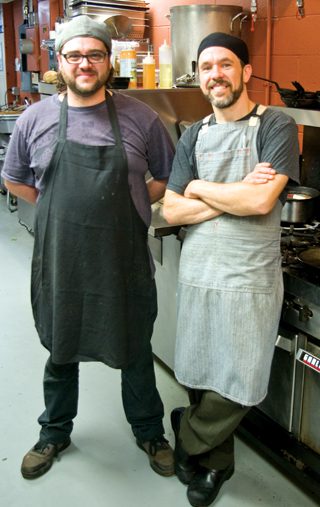 Name: Anthony Swartwout (pictured on right; sous chef, James Foreman on left)
Age: 41
Restaurant: The Mint
Number of Years Cooking: 18ish
Formal training or live-and-learn?
Both. Live-and-learn for the first seven or so. Then Culinary School at 30.
What's your earliest or most significant memory of cooking or being cooked for?
I don't remember exactly how old I was, but it was when my mom was teaching me how to make oatmeal for my sister and myself. I would make it for us before we went to school in the morning. I was getting bored with plain oatmeal and started playing around with the spices in my mom's pantry. I came to the realization that a little cinnamon and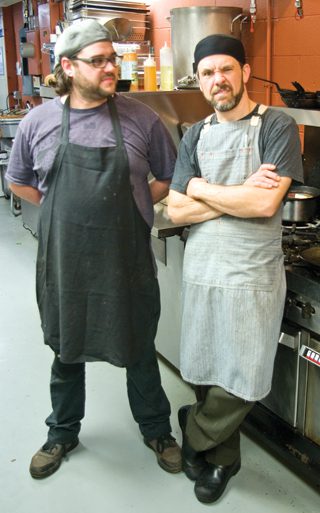 raisins can completely change the final outcome!!! Then I discovered cardamom and have been hooked ever since.
Why did you decide to become a chef?
To make a very long story short, I was way better at cooking then I was waiting tables. After bouncing back and forth between the two for years, I decided I was going to make one of them my life long career. So, off to Culinary School I went.
Do you have any monumental food fails you'd like to share with us?
The first time I ever tried cooking with ground cloves when I was a kid!!! I still remember how bad that tasted. I had no clue how little you needed.
How about secret food indulgences you don't normally talk about?
Sugar or Sweets in general… I have a horrible sweet tooth!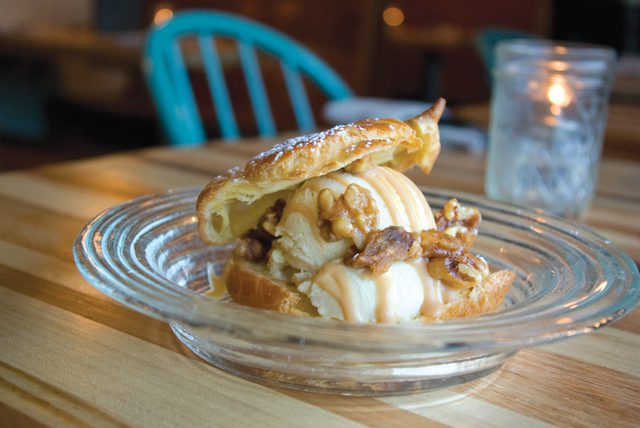 What's your favorite:
Ingredient: Pork. Anything that comes off of a pig.
Dish: Anything that I didn't have to cook for myself a.k.a. my wife's cooking.
Cookbook: Savoring the Seasons of the Northern Heartland by Lucia Watson
Random (or not so random) kitchen tool: Knife sharpening stones
Vegetable: Heirloom tomatoes
Fruit: Raspberries or perfectly ripe strawberries
———————————
Benji Nichols is a huge fan of local food – and, heck, most food. He has also been a huge fan of the style and tone of the Root Note in Downtown La Crosse for years, and can't wait for his next trip to The Mint to see what Chef Anthony and the crew have dreamed up. Cheers!