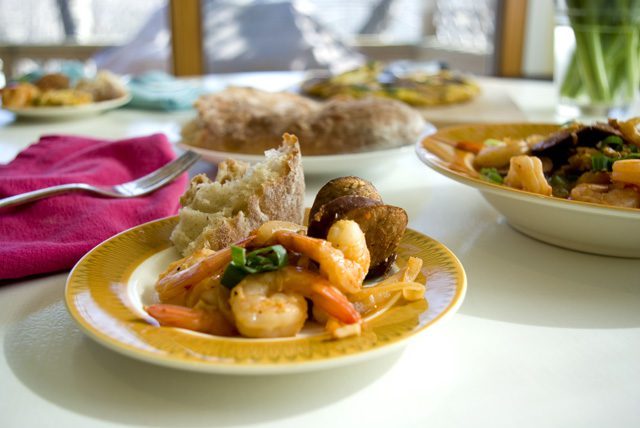 By Jim McCaffrey
In 1976 my childhood and lifelong friend, James Ronan, and I decided that in order to celebrate the 200th anniversary of the founding of the United States of America, we would travel to Southern Europe. We would immerse ourselves in some of the diverse cultures that have combined to make up our vast country. In other words, we were looking to party hearty. As opposed to working for a living, seven weeks of backpacking, traveling by train, and hanging out in youth hostels seemed like nirvana. So we both went out and bought ourselves a bible. Not the King James version. Arthur Frommer's version. Europe on Five Dollars a Day. No self-respecting backpacker would be without a copy.
However, it was almost the trip that wasn't. We were going to fly on Icelandic Airlines out of O'Hare. We caught a ride with our good friends, Bruce and Karen, and stayed overnight in the suburbs. In the morning we got up and got moving. All of a sudden I heard a "What the H…?!?" from James. It turns out that his passport and wallet were missing. They were conveniently sitting on Bruce's coffee table back in Decorah. It would be impossible to make a mad dash back to Decorah and return in time for the 5 pm boarding. James called Bruce's then-roommate Steve Matter (Quality Chicks) and somehow convinced him to go on a road trip. Dave Stanley rode shotgun. They made it with 10 minutes to spare. Whew, that was close! After profusely thanking our knights in shining armor, we boarded and headed toward Luxemburg.
We didn't have a clue of what we should be doing. We met a young woman on the plane headed to Paris. So we tagged along. In Paris we procured some cheese, baguettes, and wine at a little neighborhood grocery and headed to a youth hostel. There we ran into a young man from Australia named Sandy Aich. He had, unbelievable as this may seem, an ITINERY. In the morning we hooked up with him at breakfast and decided that an organized plan was much better than no plan at all. Sandy was headed to Boudreaux and on to the southern half of Europe. We left Paris without even checking out a museum, a church, or Pere Lachaise Cemetery (final resting place of the late great Jim Morrison). Like I said, we didn't have a clue.
After a great day in Boudreaux sightseeing and drinking delicious wine we headed to Zaragoza, Spain where our friends, Jim and Janice, were living. Getting there was, to say the least, a little bit hairy and scary. At the French and Spanish border we had to change trains. The train track in Spain was of a different width then that of the French. It was midnight and the train station is deserted, locked, and out in the middle of nowhere. The three of us sat on benches outside the station, smoked cigarettes, and try to be nonchalant. Definitely not on Sandy's ITINERY. Finally a passenger train backed into the station. We boarded. It had old wooden seats out of the 1900s. No heat but at least we were moving. Well, sort of. Two hours later at 3 am, the train stopped in the middle of another nowhere, surrounded by the La Guardia, the national military police. They were holding sub machine guns and ordering everyone off the train along with baggage. Our backpacks were ripped open and contents dumped unceremoniously onto the desert dirt. All we could do was just sit there and hold our breath. Finally, we moved out again to Madrid, where Jim and Janice picked us up. It was certainly good to see familiar faces.
Zaragoza was to be home for me for the next 10 days. We made our way there, where Janice had made us some supper and then it was time to check out the local bar scene. They lived in an upstairs apartment and around the corner was a small bar called the Cosa del Sol, open 24/7. Owned by three brothers, each worked an eight-hour shift everyday. Talk about dedication. Upon walking in I was struck by all the food laid out on the bar and smoked hams dried in nets hanging from the ceiling. There were seven or eight types of huge olives along with several different types of cheese, sardines, anchovies, crusty breads, small chorizo sausages, and shrimp. I thought I had died and gone to heaven. I wanted to try everything right then and there. So I pretty much did. This was one of the many tapas – or finger food – bars found all over Spain. You make up a small plate, order a drink and repeat, repeat, repeat. Sometimes the food is free, sometimes there is a small charge. The tapas differ from town to town and area to area. One of the best at the Cosa del Sol was fabulous homemade onion rings they kept churning out hour after hour. I've never had better.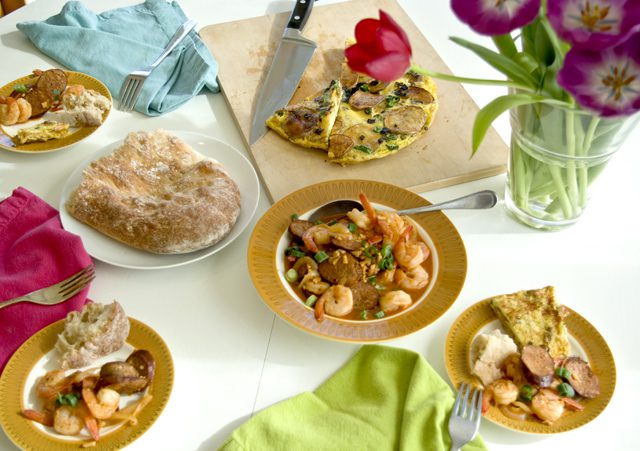 James and Sandy decided to go to Toledo and then on to Morocco for a few days. I wanted to take in the locals and hang out with Jim and Janice. So while Jim was working I spent time at the Cosa del Sol. I got to know the regulars. We shared a lot of laughs.
Most of them were retired and the Cosa del Sol was their social club. Turned out to be mine as well. They were all interested in the political scene in the US. I also got to know the bar owner brothers and their families. I had long hair down to the small of my back and a pretty good beard. One of the brother's sons came up to me, touched my hair and said "Boofalo Bill." That became my handle for the rest of my stay. On my last day, the regulars decided they wanted to show me the town. This involved taking me around to all of the tapas bars in probably a 12-block area for a small glass of wine and a small bite. There were a lot of tapas bars in that area. My favorite served one of the national dishes of Spain called the Spanish Tortilla. (Recipe to follow). It is simple and wonderful.
Clueless as James and I were, we had a wonderful experience and it is time to thank Steve and Dave for making it all happen. (I mean it's only been 35 years).
—————————
Jim McCaffrey is a chef, author, and co-owner with his family of McCaffrey's Dolce Vita restaurant and Twin Springs Bakery just outside Decorah. He is author of a humorous cookbook titled "Midwest Cornfusion." He has been in the food industry in one way or another for 40 years.
————-
TAPAS RECIPES (print 'em here)
————-
Spanish Tortilla
6 eggs, beaten
2 Yukon Gold potatoes
2 or 3 green onions, chopped until light green parts
1/4 cup olive oil
Salt and fresh ground black pepper
Slice potatoes into 1/8 inch discs. Pour olive oil into a nine-inch cast iron skillet. (Must be able to put under oven broiler). Heat it over medium high until a test end piece of potato sizzles when it hit's the oil. Work potato slices in batches, frying one layer at a time until lightly browned. Dry on paper towels and salt and pepper to taste. Drain most of the olive oil. Sautee the onions until just crisp. Turn off pan. Spread onions evenly around the bottom of the pan. Top with potato slices in a scalloped pattern. Turn heat back to medium. Add eggs along with salt and pepper to taste. Shake the pan so eggs completely cover potatoes. Cook until the edges begin to set. Cook under broiler for 5 minutes until top is browned. Remove pan. Let cool for 5 minutes. Place a plate on top and invert pan. Remove pan and you have a Spanish Tortilla. Cut into wedges. This can be served cold as well, which how I had it in Zaragoza.
Shrimp and Chorizo Tapas
5 Tbl olive oil
2 tsp salt
1 lb chorizo
1 tsp black pepper
1 1/2 cups thinly sliced onion
1 1/2 lbs peeled raw med shrimp
2 cloves garlic, minced
3 tbl lemon juice
1/2 cup dry sherry
2 tbl minced parsley
1 tbl paprika
1 crusty baguette
Slice chorizo into ½ inch diagonals. Brown in one tbl olive for 7-8 minutes. Add onion, stirring off and on until caramelized, 4-6 minutes. Add garlic and ¼ cup sherry and stir for 1 minute. Devein shrimp. Add along with paprika, 1 tsp salt, ½ tsp black pepper and cook until pink, 4-5 minutes. Add remaining ingredients, stir to combine, and remove from heat. Spoon on small plates with juices and pass the bread for mopping up.