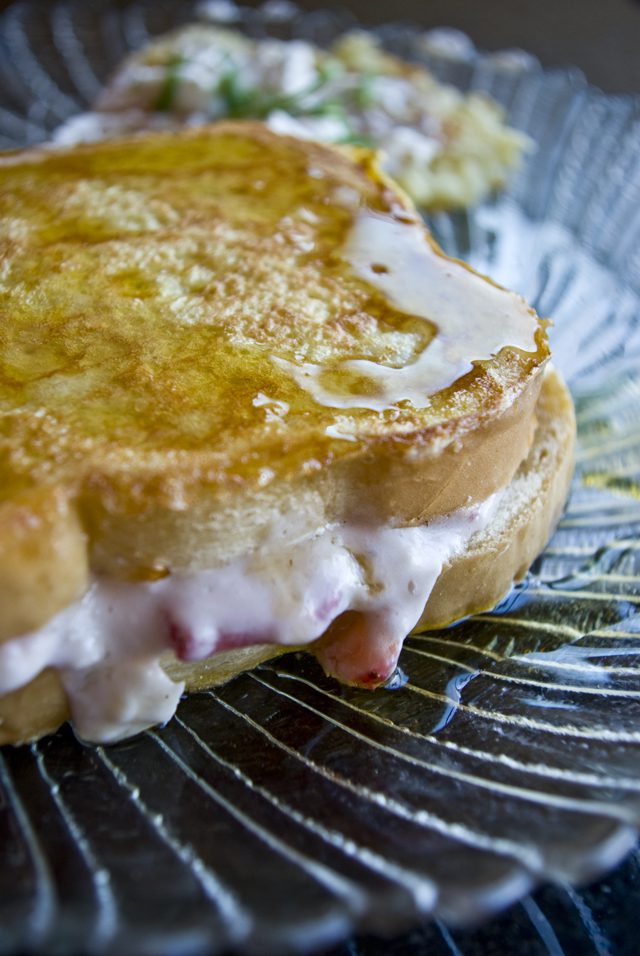 By Jim McCaffrey • Originally published in the Spring 2014 Inspire(d)
The grips of winter are behind us! Let's party! Church lutefisk and school chili suppers are so last season (literally) – but spring is the perfect time to invite friends over for a noon get-together of food and drink – maybe even outdoors!
Middle of the day parties can be highly uplifting and delightful. The great thing is that they can be so diversified – eggs mingle on the menu with pork loin. Coffee is served alongside cocktails. We tend to say if it's after eight and before noon, it's brunch! The rest is up to you, and the possibilities are endless!
We belonged to a group of five couples that used to get together every six weeks or so to have food and camaraderie. The hosts of the event would make the main dish and everyone else was assigned a side dish. Usually, there was a theme to work around. Everybody would dress up accordingly and group pictures were always on the agenda. I decided to shake it up a little and do a noon brunch.
We decided to go with a Hawaiian theme – a somewhat traditional luau. And I did what any shanty Irishman would do: Armed with a mere shovel, I proceeded to the backyard and promptly dug a hole. Well, actually a pit: A firepit. It just so happened that I had a partial hog grate on hand so I dug the pit so the grate could lie on top. Next step was to procure a hog. Actually, a suckling pig. Fifty pounds of pure pork.
Since banana leaves were nowhere to be found, I decided to buck tradition and cover the pig with a heavy-duty canvas tarp. On the day of the big hoopla, I was up at 6 am, filling the pit with charcoal and split hardwood firewood. In a couple of hours, we had a great pile of hot coals and it was time to let the games begin. After placing the grate over the coals, I laid the pig on top and covered it with a piece of canvas heavily soaked in water. Six hours later, our guests arrived and the party commenced. Things got off to a good start. A round of mojitos were in order, accompanied by an appetizer consisting of quartered red and yellow peppers topped with herbed creamed cheese and grilled chicken breast. Yummy! Next we dined on a mandarin orange and almond salad. The main course was, of course, loads of tender melt in your mouth pork, served with red potato salad and
gingered carrots. Everyone was drooling. Seeing that this was a Hawaiian theme, what better finish than a pineapple upside down cake? Oh boy! A few Mai Tais were passed around and we were good to go. It doesn't get any better than that.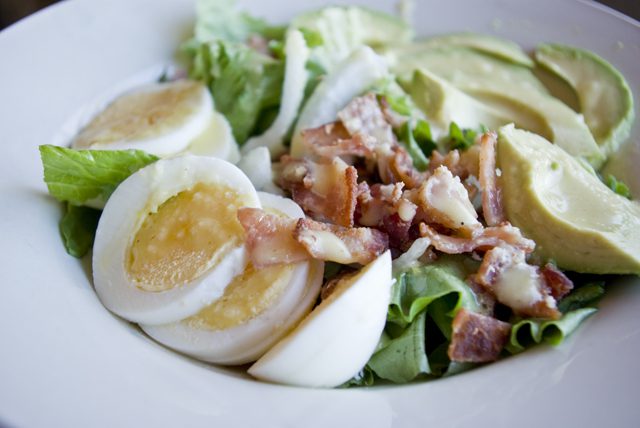 Most brunches that I have attended or been involved with, though, have at least some sort of egg component. So I decided for this diatribe I would focus on three different dishes that all use eggs but are totally different from each other. That is the beauty of brunch. I started out with a new salad that I recently created for our restaurant. We call it the Dolce Vita.
As a base, I am using a lettuce called charita, suggested to me by a local family we work with from West Union who are year-round growers of lettuce and herbs. They know what they are talking about. It is tender, sweet, and melts in your mouth.
However, if that is not available, a spring mix of lettuce would be totally acceptable. I then added one sliced hard-boiled egg per salad. Ok, ok. I will give you the secret to perfect-every-time hard-boiled eggs. Rule of thumb, the older the egg the easier it is to peel. That being said, cover your eggs in water by an inch and bring to a boil.
Boil for one minute and remove from heat. Let sit for exactly twelve minutes. Then drain and run cold water over in your sink until eggs are cool. Works all of the time for me, anyway. Back to the salad. I then added some chopped bacon, onion, pecans, and avocado. Topped with an orange balsamic and ginger vinaigrette and some grated parmesan, it's a meal in itself.
Next, I have a simple recipe for potato latkes. Traditionally, they are served in the Jewish culture for Hanukkah. They are simply a hash brown and onion that is fried and then topped with sour cream and chives. You are going to love it.
Finally, I'm including a recipe for a great French toast. Brenda and I spent a wonderful week camping at Cape Cod with friends a few years ago. On our way back, we stopped for breakfast at a small café. Brenda ordered a dish called French Kiss. "OMG Jim" she cried, "You just have to taste this!" It basically was French toast stuffed with cream cheese and strawberries. I've done an Irish interpretation and included it for you. We had an "Inspire(d)" bunch the other day. Aryn, Benji, and foxy Roxie were in attendance, along with James Ronan, Brenda, myself, Fawn and our lovely granddaughter, Stella. I served the following recipes and everyone was delighted. Brunch is a wonderful activity to involve your friends with. There is just a myriad of possibilities to put together. So get out there and enjoy!
—————————–
Jim McCaffrey is a chef, author, and co-owner with his family of McCaffrey's Dolce Vita restaurant and Twin Springs Bakery just outside Decorah. He is author of humorous cookbooks "Midwest Cornfusion" and  "Mississippi Mirth". He has been in the food industry in one way or another for more than 40 years.
—————————
RECIPES (click to print)
—————————-
Dolce Vita Salad (serves 4)
12 oz lettuce
8 oz cooked bacon, chopped
4 hard boiled eggs, peeled
2 avocados
½ onion, sliced
24 whole pecans
Fresh grated Parmesan cheese
Divide lettuce into four bowls. Add chopped bacon to each. Carefully slice and add one egg to each bowl. Slice each avocado in half  the long way. Remove pit. Carefully remove with a tablespoon the avocado meat from the skin and slice. Add to each salad. Place six pecans on each salad. Generously spread vinaigrette on each salad (recipe follows). Sprinkle with fresh Parmesan.
Orange Balsamic Ginger Vinaigrette
4 Tbl onion, minced
2 Tbl Garlic
4 Tbl brown sugar
6 Tbl orange juice
2 Tbl ginger, minced fine
5 Tbl white balsamic vinegar
3 Tbl course grainy mustard
5/8 cup extra virgin olive oil
1/2 tsp salt
Combine all ingredients except olive oil in a food processor or blender. Blend together. With the machine running, slowly add olive oil. If you can't find white balsamic vinegar, substitute regular balsamic wine vinegar.
Potato Latkes
2 cups uncooked hash browns
1 Tbl grated onion
1 egg, beaten
2 Tbl flour
1 ½ tsp salt
½ cup peanut oil
Sour cream
Handful of chives, chopped small
Place potatoes in a strainer. With a paper towel press as much moisture out as possible. Heat oil in a large heavy-bottomed skillet until hot. Use a large spoon to scoop hash browns and form four patties in skillet. Press down to 1/4 inch. Brown one side, and then the other. Drain on paper towels. Serve hot and cover tops with sour cream and chives.
French Kiss
8 slices of bread of your choice
3 eggs
1 Tbl sugar
1 tsp vanilla
Cream cheese filling:
8 oz softened cream cheese
2 1/2 Tbl cream
3/4 cup powdered sugar
1/2 tsp vanilla
8 oz fresh strawberries, sliced and diced
Mix cream cheese filling ingredients until smooth. Spread filling on all pieces of bread. Press two slices together to form a sandwich. Repeat. Mix eggs, sugar, and vanilla in a bowl. Dip sandwiches in egg mixture and fry in butter until both sides are golden brown. Top with your favorite topping. We used real maple syrup.
That's All Folks!