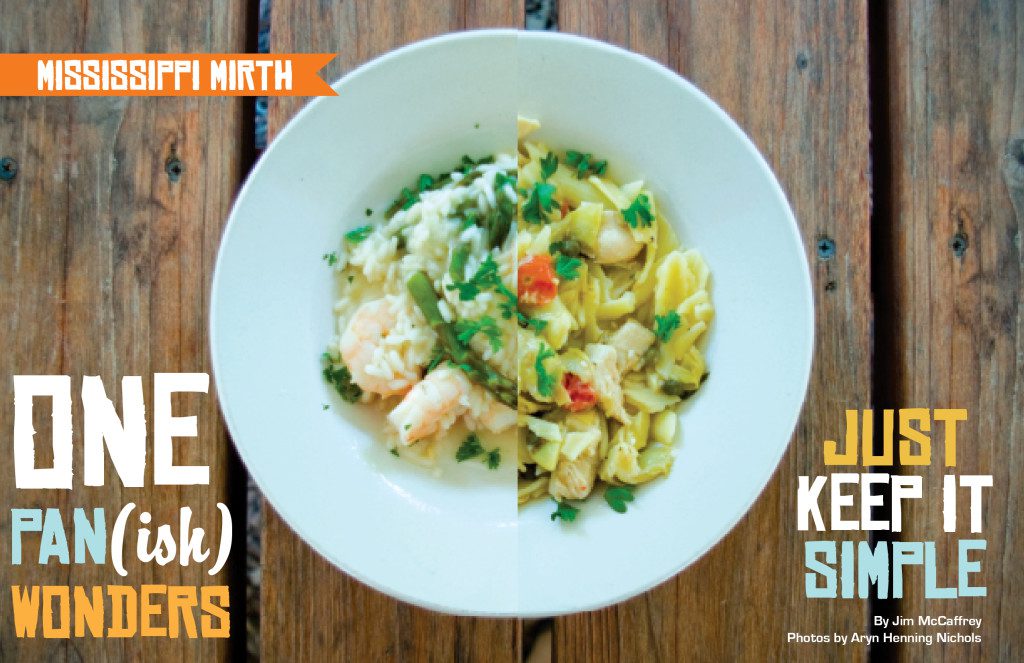 Just Keep It Simple
By Jim McCaffrey. Photos by Aryn Henning Nichols
My lovely wife, Brenda, and I have been hanging out together for nearly 36 years. Wow! Seems like only yesterday that we were making googly eyes at each other while shooting pool at the Cavern bar on Winnebago street. Now there's a blast from the past. Speaking of blasts, we used to entertain a lot. As a matter of fact, when I was writing my first cookbook, Midwest Cornfusion, there were people at our house every weekend for the better part of a year helping taste-test the recipes I had come up with during the week. Sometimes we would have 15 or 20 people show up on Sunday afternoon to indulge and voice their opinions. And perhaps partake in a favorite beverage or two. I have a friend, Eric, who was working on the road for three years. On weekends he would come with his son, Sern, and we would both cook for the kids and all of their friends for a couple of days. Young men growing up and having a couple of dads feeding and nurturing them: It doesn't get any better than that.
Now, because of our crazy schedules at the restaurant, entertaining is virtually at a standstill. In fact, just making something at home for the two of us on our scarce time off can prove to be a challenge. I suspect that we are not the only rowers of the upstream boat-of-life who do not have time to lift the paddle out of the water, take a break, and enjoy the simple pleasures of life. These days it seems everybody is working full time, raising two and a half munchkins, being soccer moms and dads, and – in other words –just being busy. So I decided we should look at making dinner a little less challenging. In other words: Let's keep it simple, baby. I happen to follow the food blog Iowa Girl Eats. Kristin, the blogger, is a busy mom with a one-year-old son… same age as my grandson, Rowen. Brenda and I babysat him the other day for about six hours. Whew! I don't know how young parents can manage all of that energy! One pan wonders to the rescue! Kristin posted a wonderful recipe called One Pan Mediterranean Chicken Pasta. Everything cooked in the same pan – no muss, no fuss. I will pass it on to you at the end of this column. By the way, Kristin was recently diagnosed as having Celiac Disease, meaning she is on a gluten-free diet. Her recipe used Barilla gluten free penne. I have been working on a gluten-free mac and cheese for the restaurant and tried Barilla elbows. I liked them better than wheat noodles. The gluten free industry has come a long way, baby. Well, at least Barilla has. Be adventurous, try some. You may have a new road to follow.
Back on the blasts from the past, Brenda and I traveled to Rome and Naples, Italy probably 10 years ago. We booked the trip through a company called Tourcrafters out of Chicago. The trip was for sightseeing but also to study making pizza in wood-fired ovens. So when Tourcrafters found out we wanted to stay in Naples, they got us a room at the Grand Hotel Oriental in the downtown area. Reasoning being we were coming in by train and apparently there was a lot of pick-pocketing activity at hotels near the train station.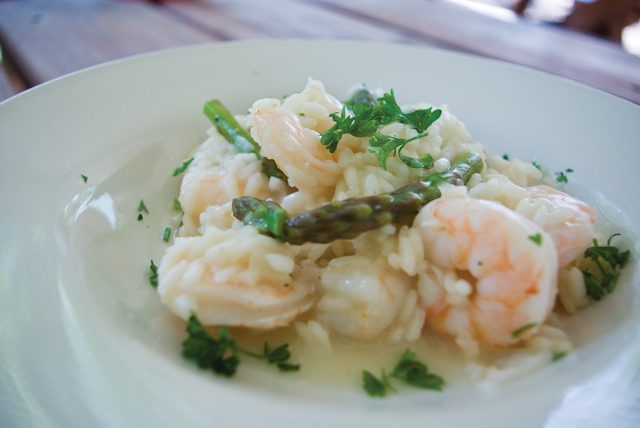 So, after we got settled in, we went to the front desk and asked if there was a restaurant that served wood-fired pizza for lunch within walking distance. "Sure: Bellini's." They gave us a map and out the door we went. Around the corner there was an old man standing on a doorstep with a single rose in one hand, ringing a doorbell with the other hand. All of a sudden, another man walks up behind him and picks the old man's wallet right out of his back pocket. So much for downtown Naples hotels. We decided to grab a cab instead. Now you ask where am I going with this diatribe? Let me assure you there is a method to my madness. After returning from a wonderful meal and service at Bellini's, we retired to our room to rest up for awhile. Later, when it was time to replenish our bodies with some Italian substance, we decided to try out the hotel dining room. It was stately, with fine white linens, plush white curtains, and the maître d' was dressed to the nines in a three-piece white suit. Something told me we weren't in McDonalds-country anymore, Dorothy. I honestly cannot remember what I ordered. And it doesn't matter. Brenda's discerning eye caught the hidden gem of our entire trip. It was a charming dish of risotto and asparagus tips. Neither one of us for some reason or another had ever had risotto. Brenda took her first taste and exclaimed "OMG Jim. You just will not believe this dish. Try it! Try it!" Who could resist that arm twisting? Ahhhh! Sheer bliss.
So this is what nirvana is all about. I think I could immerse myself in this type of pleasure for a very long time. Risotto is made, most commonly, from a short, fat rice called Arborio rice. It has the unique ability to absorb a lot of moisture. The choice for that is usually a good chicken stock, preferably homemade. The result is a luxurious and creamy entrée that certainly is in my top ten faves. And the best part of the whole dish is that it is extremely easy and quick to prepare. You will never use Uncle Ben's again! The Inspire(d) tasting-team comprised of Benji, Aryn, Brenda, Fawn, James Ronan, and myself. We had a leisurely lunch out on the restaurant patio – just what a busy crew needed. Do yourself a favor, keep cooking to a minimum, and just enjoy the experience of food, family and friends.
———————————–
Jim McCaffrey is a chef, author, and co-owner with his family of McCaffrey's Dolce Vita restaurant and Twin Springs Bakery just outside Decorah. He is author of humorous cookbooks "Midwest Cornfusion" and "Mississippi Mirth". He has been in the food industry in one way or another for more than 40 years.
———————————–
ONE PAN WONDERS
RECIPES (PRINT HERE)!
————————————
Mediterranean Chicken Pasta
¼ cup olive oil
2 large chicken breasts (cut into 1" chunks)
Salt and pepper
4 cloves garlic, minced
3 cups chicken broth
15 oz can quartered artichoke hearts (cut in half)
Pinch of red chili pepper flakes
½ lb penne pasta
2 Tbl lemon juice
2 Tbl drained capers
1 cup cherry tomatoes (halved)
1 cup parmesan cheese
½ cup chopped fresh basil
Heat oil in a large nonstick skillet over medium heat. Salt and pepper chicken. Sauté until golden brown, 2-3 minutes. Do not cook too thoroughly. Add garlic and sauté 30 seconds more. Add chicken broth, artichoke hearts, red pepper flakes, ½ tsp salt and pepper and bring to a boil. Add pasta and make sure it is all covered with broth. Place a lid on top and turn heat down to medium. Simmer for 2 minutes less than package directs. Remove lid and add lemon juice, capers, and tomatoes. Turn heat to high for 2-3 minutes to reduce sauce. Remove from heat and add in parmesan cheese and basil. Let set 2-3 minutes to thicken before serving.
Lemony Asparagus and Shrimp Risotto
5 cups chicken broth
¾ lb asparagus, trimmed (Cut into 1 inch pieces)
Extra virgin olive oil
1 small onion, diced fine
4 Tbl unsalted butter, divided
1 ¼ cups Arborio rice
¼ cup dry white wine
¾ lb medium shrimp (peeled and de-veined)
3 Tbl lemon juice
¼ cup grated parmesan
2 Tbl chopped parsley
Bring broth to a simmer in a medium saucepan. Spread asparagus out on a rimmed baking sheet, drizzle with olive oil and set under broiler at high heat for 4-5 minutes. Be careful not to burn. Set aside. Sauté onion in 2 Tbl butter in a 4-quart heavy saucepan for 5 minutes over medium heat. Stir occasionally. Add rice and cook, stirring constantly for 1 minute. Add wine and continue stirring until absorbed. Add ½ cup of broth and briskly simmer, stirring often, until absorbed. Keep adding broth ½ cup at a time letting each addition be absorbed before adding the next, until rice is creamy and tender but still a little al dente (about 18 minutes). There will be leftover broth. Stir in shrimp and cook until pink (2-3 Minutes). Add asparagus, butter, lemon juice, parmesan, parsley, and salt and pepper to taste.