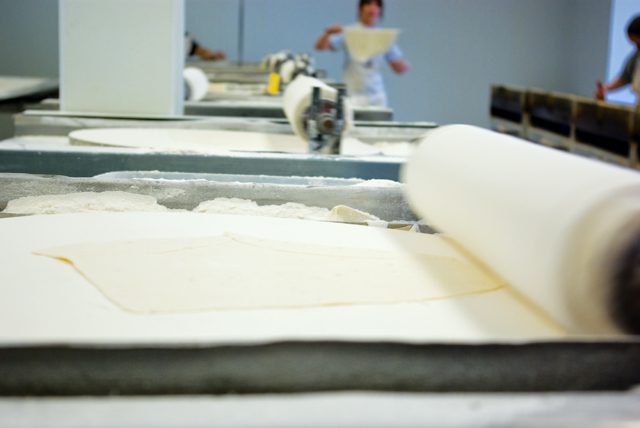 By Sara Friedl-Putnam • Photos by Benji Nichols
Lefse. For many Driftless Region folks claiming Norwegian roots, just hearing the word conjures up a singular fond memory: Grandma.
Specifically, grandma donning her favorite apron, pulling out that passed-down-through-the-generations recipe, ricing and boiling potatoes (Russet, of course!), and rolling and rolling ball after ball of lefse dough until each round reached a perfect paper-thinness.
Mark Johnson, manager and co-owner of Norsland Lefse in Rushford, Minnesota, vividly recalls his own grandmother toiling in the kitchen to ensure the lefse (or potato flatbread) always appeared on the holiday dinner table, piping hot from the griddle. It's that memory that drives the one-of-a-kind lefse factory nestled in the heart of Minnesota's scenic Bluff Country. "Our goal is to mass-produce lefse that's as good as, if not better than, the lefse grandma used to make in her own kitchen – and to do so year-round," he says.
That may sound like a tall order to those who grew up helping grandma make this popular Norwegian treat, but Johnson says he's up to the task ­– and no, preservatives and instant potatoes (perish the thought!) aren't part of the equation. The company, in fact, purchases more than 250,000 pounds of fresh potatoes each year.
"Our lefse is the real deal – dry Russet potatoes mixed with vegetable oil, flour, and salt, rolled out nice and thin," he says, gesturing toward the bright, spacious kitchen that's the undisputed centerpiece of the Norsland Lefse building. "We don't sacrifice quality for quantity."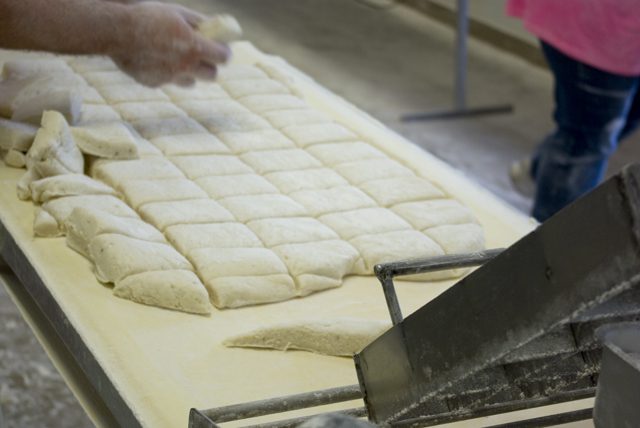 Visible through five large plate-glass windows, that kitchen offers inquisitive visitors a glimpse of finely tuned lefse-making in action most mornings of the year. As one employee prepares rounds of dough for rolling, another moves just-rolled dough to a flat, open-faced griddle, where yet another uses a thin, wooden lefse stick to heat those rounds for just over a minute or so before placing them on a cooling conveyor.
The highlight of the entire operation?
Nine automatic rolling machines, still humming along after more than three decades of use. "A roller alternately moves from the center to the outside of the dough while the platform rotates an eighth of a turn with each swipe," explains Johnson, who has clearly been asked about the machines many times before. "The repetitive motion flattens the rounds until they reach just the right size, about 16 inches in diameter."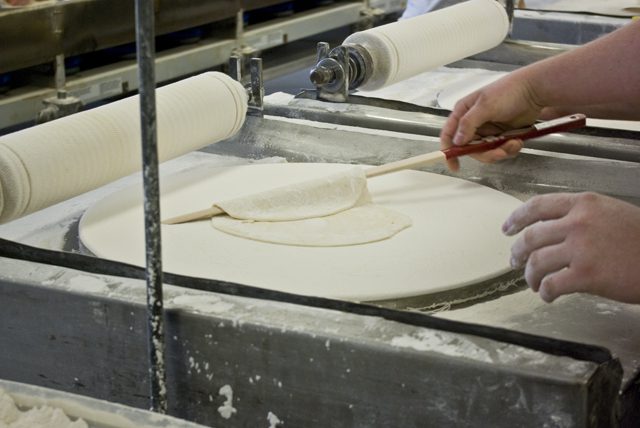 The machines, created right in Rushford, are part of the local lore. It was 1981 when a trio of individuals – including Merlin Hoiness, a local grocer looking to sell high-quality lefse in his stores –approached Jim Humble, a Rushford-based ironworker, with the prototype for a hand-operated lefse-rolling machine designed to ease the labor-intensive rolling process. Sensing its potential, Humble immediately set to work creating several mechanized versions, using surplus computer motors from IBM – purchased for just $10 a piece – to power the machines. "You don't just go out and buy machines like that," observes Johnson. "I'm sure it was a lot of trial and error."
That trial-and-error process produced a surprisingly successful result. By 1985, Hoiness was making enough lefse to supply not only his stores but also many others – more than 150 in all. Today Norsland Lefse employs the very same machines to roll some 500,000 rounds of lefse a year – including the 10,000 served up at Nordic Fest in Decorah each July. The factory produces "a couple thousand" rounds of lefse daily during its busy season (September through December), Johnson says. "There's really no other lefse-making operation quite like this."
That's abundantly clear from the moment you pull into the Norsland Lefse parking lot, where can't-miss signage proclaims "Parking for Lefse Lovers Only." The Norwegian flavor extends to the building's red, brick exterior (adorned with a Norwegian flag and a Viking-helmet-wearing mascot) and natural-light-filled interior, which houses not only the lefse-making kitchen but also a handful of side businesses.
A coffee shop and bakery, run by Johnson's wife, Carolyn, offer a mouth-watering array of baked goods (breads, muffins, cookies, bars, and other pastries) as well as sandwiches, soups, and a breakfast wrap served on – you guessed it – lefse. "Ninety percent of lefse is eaten with butter and sugar," Johnson makes sure to note, "but you can put most anything on it."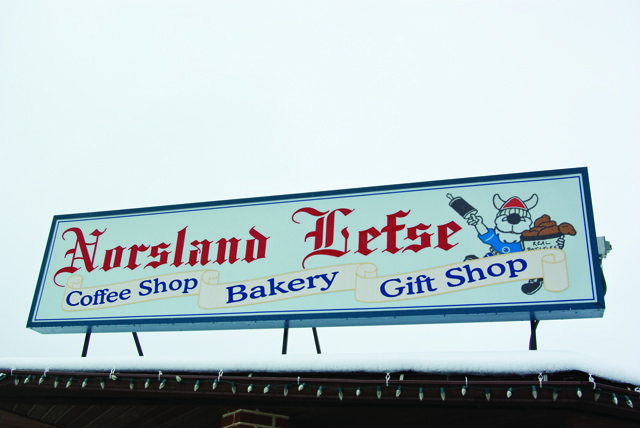 In the adjacent gift shop, that point is well made in "91 Ways to Serve Lefse," just one of myriad Scandinavian-themed products on display. Interested in a "99 ½ Uff Da Jokes" CD or a "How to Talk Minnesotan" guide? You're in luck! How about "Uff Da" chips (made in-house and available in two varieties) or "Ole and Lena" fortune cookies? You'll find those too, as well as a slew of other quintessentially Norwegian fare, from Glögg drink mix and Lingonberry preserves to rosettes and, yes, even lutefisk.
The gift shop, bakery, and coffee shop were all part of an effort to expand and diversify the business following the flood that ravaged Rushford in the summer of 2007.
"We were completely flooded," says Johnson, whose family has owned Norsland Lefse since 1997. "Although we were eventually able to get up and running again, we realized then that if we were ever going to grow the business, we needed to move to a larger location. This building is nicer, and it's newer, but, because of the increased overhead, we've had to be even busier."
And they have been, thanks in large part to savvy Internet, e-mail, and direct-mail marketing that has attracted customers from every state and many countries, Norway included. While Norsland Lefse still does a solid wholesale business – two-thirds of the lefse it makes is shipped directly to stores – the majority of its growth has come through individuals purchasing rounds that are vacuum-sealed and mailed factory-direct the day their orders are placed. Johnson expects that growth to continue as he leverages the as-yet-untapped marketing power of Facebook and other social media tools.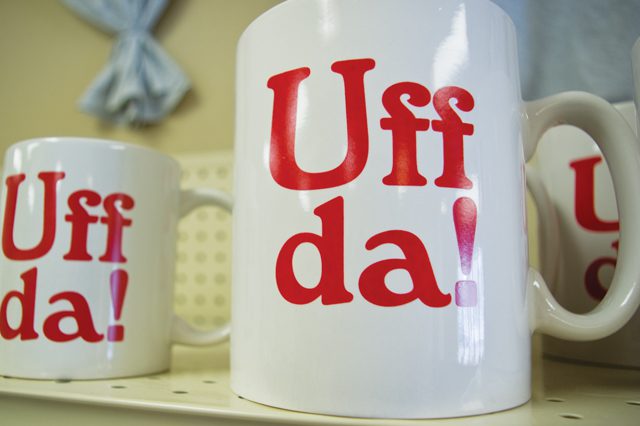 Like any good businessperson, Johnson is, of course, looking for ways to increase the bottom line – but he also sees Norsland Lefse as providing a service to countless "displaced Norwegians" scattered throughout the world who can't find lefse in their brick-and-mortar grocery store or don't have the time (or experience) to whip up a batch.
"People are busier today, and the family lefse-making tradition handed down through the generations is slowly disappearing," he says. "Our goal is to make sure that everyone who wants to can carry on enjoying grandma's lefse, whether it be during the holidays or at any other time of year – that's the niche we're filling."
Would grandma approve?
You betcha!
———————
Sara Friedl-Putnam claims no Norwegian roots but still looks forward to savoring a good round or two of Norsland Lefse's signature product (with butter and sugar, of course!) each July during Nordic Fest in Decorah.
Take a scenic drive to Rushford, Minnesota, on State Highway 43 to view lefse-making in action. Norsland Lefse is open weekdays from 7 am to 4 pm and Saturdays from 7 am to 2 pm year-round, with lefse-making occurring most mornings (If you want to make sure you get to see the action, call ahead to confirm they're rolling lefse that day, though.). To find out more about Norsland Lefse (or to place an order), call 1-800-584-6777 or visit www.norslandlefse.com.
See a video of the lefse machines in action here!