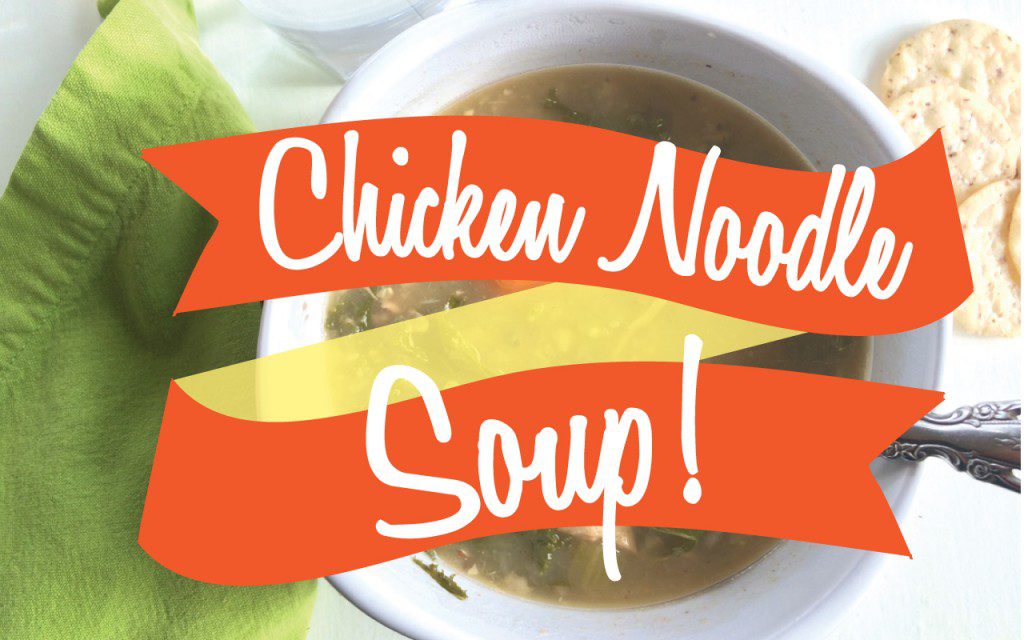 A Chicken in Every Pot
…Or the magical powers of chicken noodle soup
By Jim McCaffrey • Originally published in the Winter 2012-13 Inspire(d)
Which came first the chicken or the egg?
Honestly? Who cares. Both are delightful ingredients for a winter/cold/flu season staple: chicken (egg) noodle soup!
Chicken noodle is not just any soup. It's a soup that is cherished by many cultures throughout the world. Many different versions abound. Today ours is made from scratch with handmade egg noodles. Oh yeah baby, not your mama's Campbell's Soup, that's for sure.
So lets get started. Broth is the key ingredient. You can use canned or boxed chicken broth. NOT!! (Well, maybe in a pinch, I guess. NOT!!!) Using a homemade broth in soups is just so far superior to the store-bought versions. There are a couple of ways I make my own broth (and you can too!). At the restaurant, we bake a lot of chicken. And, consequently, we have a lot of pan juices that we save. Think of it as liquid gold. We let the juices cool, and skim off any fat that might rise. The juices are then poured into plastic containers with tight lids. These we date using freezer tape and store in our freezer for future use. We pull out as needed, oldest first. Since we are constantly using the juices for soups and gravies, we don't have to worry about shelf life, but if you're not breaking out the big pots as often as us, a year is the max to store and I personally would toss after six months. When ready to use, thaw your stock-base out in the refrigerator the previous day. This base is naturally concentrated, so all you have to do is add water and seasonings (salt, pepper, herbs to taste) to fill out your soup. This works well if you have leftover chicken that you'd like to toss into a soup.
Another great way to make broth is to take a whole plucked and thawed chicken, remove the liver and any excess fat, and put it, along with about three to four inches of water, in a large pot. Bring to a boil, reduce to a simmer, and cover. Cook for about an hour. Usually, when the chicken floats, you are good to go. To make sure, use tongs and grab a leg. If it becomes detached, chicken is ready to go. If not, simmer a few minutes longer. Remove the chicken and let broth cool. Skim off the fat and it's time to make soup, with your chicken AND stock ready to go.
Congratulations! You have just passed Chicken Broth 101!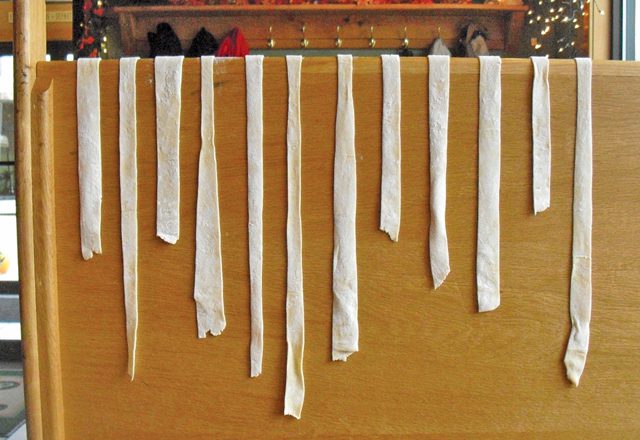 Let's move on to handmade egg noodles. Every good egg noodle has a story behind it. Mine goes like this: I was living in Iowa City in the early 1970s. Every few weeks I would come back to Decorah for the weekend. I have some great friends, Steve Olson (Ole) and Juanita Riveria (Goochie). They were living up by Burr Oak, it was winter, and I arrived at the door. "Come on in." I walked into the kitchen and here was Goochie covered with flour, rolling out dough that almost completely covered the four by six-foot wooden kitchen table. "What's going on, Goochie?" I queried. "Well, Barb Winter gave me a couple of chickens and I'm going to make chicken noodle soup. But first I have to make noodles and you can help." I reply, "Ok, I'm in, but I've never done this before." Fortunately, for Goochies sake, I am a quick learner and soon we were slicing the dough into long noodles and draping them onto any available space to dry. Backs of chairs, hung over counters, off of the table, etc. Man, noodle art at its finest. It would have made Andy Warhol proud. Thanks for the lesson, Goochie! If you have never had fresh-made egg noodles you are in for one of life's great treats. I guarantee it is bliss.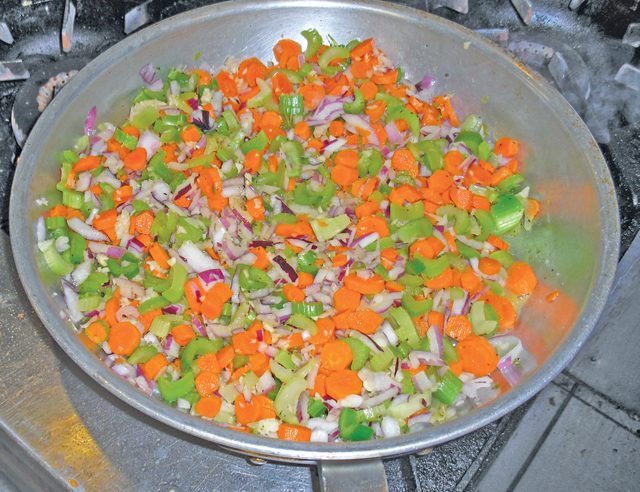 After all that noodling, it's time to really sweat. Veggies that is. Like your mother always said, eat your vegetables! I like to sauté the veggies that I put in my soups. When they start to get soft, they also start to lose their water. I find this accentuates the vegetable flavors. The unami of soup flavor. Add it all to the pot. Yummy, to say the least. Of course we still have to have seasoning. The key word here is fresh. Just remember fresh is best when it comes to herbs. In almost all of my soups I like to use fresh thyme. It is extremely versatile. Then I crank it up with additional herbs. My mom was a big fan of sage. Although she primarily used dried herbs, she always said sage should be a big part of poultry dishes. And I always listened to my mom. You should too. Your mom, I mean, not mine. So into the chicken soup the fresh sage goes.
Now that your chicken soup is seasoned, put it to use for another season: the giving season. It's all about sharing with your loved ones and friends, and a great way to start off this year is to divvy up a steaming hot bowl of chicken soup for everyone. Pass around some crusty bread and pour a crispy white wine. Enjoy the camaraderie and spread the love. This also works for the cold/flu season as you share the healing powers of chicken soup. It's truly a magical winter concoction.
—————————————
Jim McCaffrey is a chef, author, and co-owner with his family of McCaffrey's Dolce Vita restaurant and Twin Springs Bakery just outside Decorah. He is author of a humorous cookbook titled "Midwest Cornfusion." He has been in the food industry in one way or another for 40 years.
——————————–
PRINT RECIPES HERE
——————————–
Chicken Noodle Soup
1 3 1/2 -4 lb. whole chicken
Water
1/3 cup olive oil
6 stalks celery, chopped
4 large carrots, peeled and chopped
1 large onion, diced
4 cloves garlic, minced
Homemade egg noodles (recipe to follow)
1/4 cup fresh lemon juice
2 sprigs fresh thyme, minced
1 Tbl fresh sage, minced
Salt and fresh ground black pepper to taste
Remove liver and excess fat from chicken. Place in a large pot and cover with water by 3-4 inches. Bring to a boil and reduce to a simmer for about an hour. Meanwhile, pour olive oil in a large skillet. Sauté celery and carrots over medium heat for 3 minutes. Add onions and garlic and sauté 3 minutes more. When chicken is thoroughly cooked (see column directions) pull from broth and let cool. Let broth cool somewhat and skim broth off. When chicken is sufficiently cooled remove skin. Remove meat from bones and dice. Bring broth back to a simmer. Add sautéed vegetables and noodles. Add lemon juice and spices, adjusting as needed. Soup is good to go when noodles are nice and chewy.
Homemade Noodles
1 1/2 cups flour
2 eggs
2 teaspoons salt
Water
Make a mound of flour on your work surface. Make a well in the center. Whisk eggs and salt. Place in well. Slowly, by hand, mix flour and egg mixture until eggs are incorporated. If the mixture is to dry, add water a little at a time until you have a pliable ball of dough. Cover and let rest for 10 minutes. Divide in half. Roll out each half as thin as possible. Take a sharp paring knife and cut into strips, however wide you want your noodles to be. Hang off of counters and chair backs to dry, about an hour.
——————————–
PRINT RECIPES HERE
——————————–