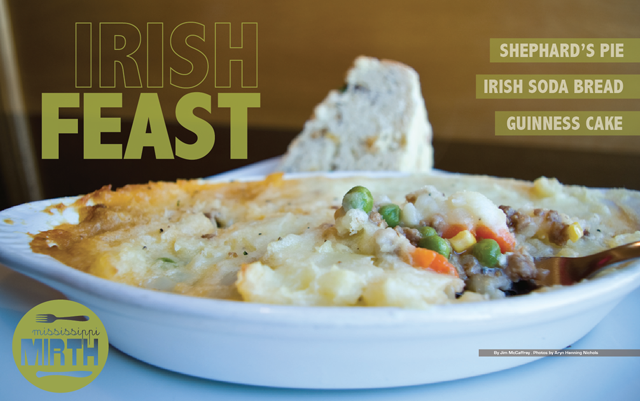 A Wee Bit of Blarney
By Jim McCaffrey • Photos by Aryn Henning Nichols • Originally published in the Spring 2015 Inspire(d)
I am going to buck tradition for St. Paddy's Day. Well, sort of. A traditional menu of corned beef and cabbage in America differs from what graces the tables in the old sod. When one visit's the Emerald Isle and asks the age-old question, "Where's the (corned) Beef?" He/she may be met with empty, blank stares. The closest applicable dish that comes to mind is probably back bacon and cabbage – two totally different animals. (No pun intended.) Okay, okay…they do have corned beef in Ireland, but it is not the headliner of Irish cuisine. When the massive potato famine led to the great emigration, many Irish made the long voyage to Ellis Island. Upon embarking into New York City, they encountered Jewish butcher shops churning out kosher corned beef at Godspeed. Almost divine intervention. It was a tasty cut of meat, prepared much like their beloved Irish bacon, but inexpensive enough for the impoverished immigrants. Paired with cabbage (cheaper than potatoes), it became a new household staple. Now you know the real history of how corned beef and cabbage became the beloved and traditional meal for St. Paddy's day. And that's the truth, (fingers crossed).
Speaking of traditions, I better share my all-time favorite Irish joke with you:
Patrick and Mary had been married for years. It was Patrick's birthday. When he got home from work Mary informed him that she had made his favorite meal.
"Oh," asked Patrick, "Did you make lobster?"
"Oh yes, Patrick," said Mary.
"And those little red potatoes?" queried Patrick.
"Oh yes" replied Mary.
"And julienned carrots?" asked Patrick.
"Of course," said Mary.
"And snails? Did you make snails?" Patrick asked.
"Oh my word, Patrick, I forgot the snails. I'll run right down to the market and get some," said Mary.
"No, no, no," Patrick replied. "You've been cooking all day, I'll run and get them myself."
"All right," said Mary, "But don't you be stopping by the pub on the way!"
Patrick said, "No, I'll be right back."
So Patrick runs to the store and picks up a sack of snails. On his way back, he comes across Mikey standing in front of the pub. Mikey says, "Patrick, its your birthday, let me buy you a pint." Patrick says, "No, I promised Mary I'd be right back."
Mikey says, "In the time we have been talking, we could have quaffed one down." Patrick says, "Oh, all right." So Mikey buys Patrick one and Patrick buys Mikey one. They keep at it for a couple of hours.
Patrick suddenly grabs his sack of snails and says, "Mary is going to be furious," and races home.
Just as he gets to the stairs of his house, the bottom of the bag breaks open and the snails fall to the sidewalk. Mary comes to the door and yells, "Patrick, where have you been?"
Patrick crouches down and gesturing to the snails says, "Move along laddies, move along."
Ok, enough of this diatribe. Back to the meat of the matter, so to speak. In this case, the meat is Ireland's beloved lamb. The Emerald Isle is aptly named for its abundance of lush pastures. This abundance has led to an abundance of sheep. Root vegetables incorporated with the lesser cuts of lamb became a favorite dish in the old country especially with the farming community. Better known as Shepherd's Pie and in our case, we used ground lamb. Not always readily available, I was able to procure some at the Oneota Food Co-op in downtown Decorah. This simple but wonderful peasant dish is just great comfort food anytime of the year. I made it in individual rarebit dishes but it can just as easily be made in a casserole dish for everyone as well.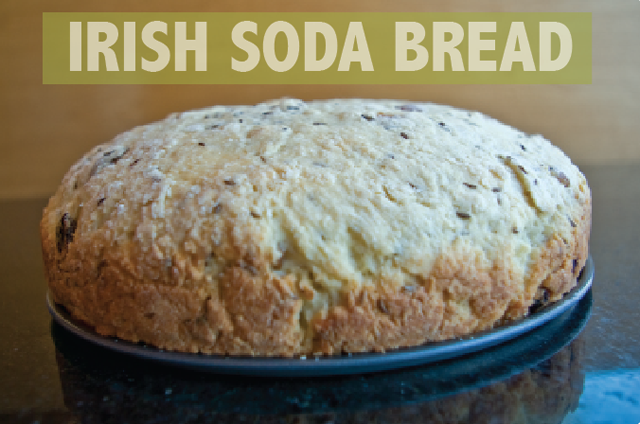 Next up is another fun peasant entry, Irish Soda Bread. I have to admit that until a year ago, I had never even tasted it, let alone having baked it. My eyes were opened when I dined with Joey Homstad at Dublin Square in La Crosse. We both ordered the fish and chips. Delightful! Accompanying was a dense wedge of bread that had raisins in it. I thought this is weird but slathered it up with softened butter and gave it a try. It was on a different plane than fish and chips with its sweetness, but it worked anyway. The recipe I have included calls for caraway, which I think I will leave out in my next batch. It tended to overpower everything else in the bread.
And one cannot celebrate St. Patrick's Day without a nod to Ireland's infamous beer, Guinness. A recipe for Guinness cake was procured and we were off to the races. We were going to test all of these recipes at our quarterly Inspire(d) lunch, so the day before I decided to get ahead of the game and bake the soda bread and the cake at the restaurant. All went well, and after both were cooled to room temperature I placed them in one of our refrigerators. I asked our two waitresses for the night to make sure that no one touched the bread and cake because I was serving them the next day. Morning came and I headed to the restaurant to clean up and finish making our meal for lunch. I hadn't frosted the cake yet, so I decided to get that accomplished first. Into the refrigerator I go and pull out the soda bread but to my dismay no cake was to be found. After going through all eight of our refrigerators three or four times, and pulling what's getting to be less and less hair, I started making phone calls. The waitresses were unavailable, Conor said he didn't see anyone move the cake, and when I called Brock he said he had moved it to the top right shelf. I told him that was impossible. There was an unopened box of avocados and an open box of salmon and that was it.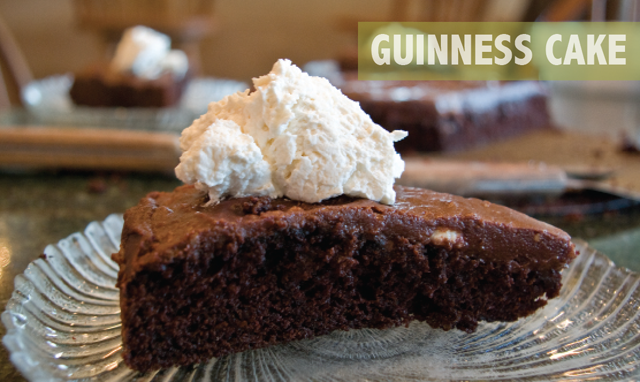 All I could think of was leprechauns. Those little rascals were up to their shenanigans and had pulled a fast one on me. Back to the drawing board. Make another cake, frost it and make the Shepherd's Pie. Whew, just in the nick of time. The Inspire(d) crew rolled in and we had a great leisurely lunch. Later, Conor and I were prepping for supper and he pulled out the box of salmon. "Look, Dad, here is the cake, buried under the salmon." he exclaimed. Damn leprechauns!
 ——————-
Jim McCaffrey is a chef, author, and co-owner with his family of McCaffrey's Dolce Vita restaurant and Twin Springs Bakery just outside Decorah. He is author of humorous cookbooks "Midwest Cornfusion" and "Mississippi Mirth". He has been in the food industry in one way or another for more than 40 years.
——————————-
PRINT RECIPES HERE
——————————-
Shepherd's Pie
Potato topping 
2 lbs russet potatoes
½ cup half and half
3 oz butter
2 egg yolks
1 tsp sea or kosher salt
Fresh ground black pepper to taste
Filling
2 Tbl canola oil
1 cup chopped onion
2 peeled carrots, diced
2 garlic cloves, minced
1 ½ lbs ground lamb
1 tsp salt
Fresh ground black pepper
2 Tbl flour
2 tsp tomato paste
1 cup chicken broth
1 tsp Worcestershire sauce
2 tsp fresh chopped rosemary
1 tsp fresh chopped thyme
½ cup fresh or frozen corn
½ cup fresh or frozen peas
Directions
Peel potatoes and dice. Put in a 2-quart pan and cover with cold water. Bring to a boil, decrease heat to a simmer and cook until tender. Mash potatoes. Add half and half, butter, salt, and pepper and mash until smooth. Thoroughly whisk in yolks.
Preheat oven to 400 degrees. Add canola to a large skillet. Set on medium heat. Add onions and carrots. Stirring occasionally, sauté until onions become opaque, 3 minutes. Add garlic, lamb, salt and pepper stirring occasionally. When lamb is browned, 3-4 minutes, sprinkle flour, stir, and cook another minute. Add tomato paste, chicken broth, Worcestershire, rosemary, and stir. Simmer for 12-14 minutes until sauce begins to thicken. Add corn and peas. Spread evenly in a 9X9 baking dish, cover with mashed potatoes, using a spatula to make sure topping goes completely to the edges and is smooth. Place on a baking sheet on the center shelf of the oven until potatoes begin to brown, 25-30 minutes. Cool for 15-20 minutes. Enjoy.
(This recipe is a variation of an Alton Brown recipe. If you can't find lamb feel to use ground beef in its place.)
Irish Soda Bread
3 ½ cups flour
½ cup sugar
½ tsp baking soda
2 tsp baking powder
1 tsp salt
1 pint sour cream
2 eggs
2 Tbl caraway seeds (optional)
¾ cup golden raisins
Preheat oven to 350 degrees. Soak raisins for 30 minutes in warm water to plump. Mix all dry ingredients together in a large bowl. In a small bowl, beat eggs and stir in sour cream. Add to flour mixture and stir well wit a wooden spoon. It will get thick. Drain raisins and add with caraway (if using) and knead with until incorporated. Place batter in a greased 9-inch spring form pan. Sprinkle a little flour on top and pat the batter so it lies evenly in the pan. Use a knife to make a shallow crisscross on top. Bake for 50 minutes.
Guinness Cake
Cake
4 oz unsalted butter
10 oz dark brown sugar
2 large eggs, beaten
6 oz flour
1/4 tsp baking powder
1 tsp baking soda
7 fluid oz Guinness
2 oz cocoa powder
Icing
4 oz semi sweet chocolate
2 Tbl Guiness
2 oz butter
4 oz sifted icing sugar
1 oz finely chopped walnuts (optional)
Preheat oven to 350 degrees. Grease a 10-inch spring form pan. Cream butter and sugar together. Beat in eggs. In a separate bowl, sift in flour, baking powder and soda. In another bowl, stir Guinness into cocoa. Alternately fold half quantities of flour and cocoa into butter mixture. Spread mixture into pan and bake 30-35 minutes until a tooth inserted in center comes out clean. Let cool 10 minutes before opening pan. For icing, melt chocolate with Guinness, beat in butter, cool a little and then beat in icing sugar.
Remove 1/4 of the icing and stir in walnuts (if using) to the remainder. When icing is cooled to being spread able, coat top of cake with walnut mixture and coat sides with the 1/4 chocolate mixture.