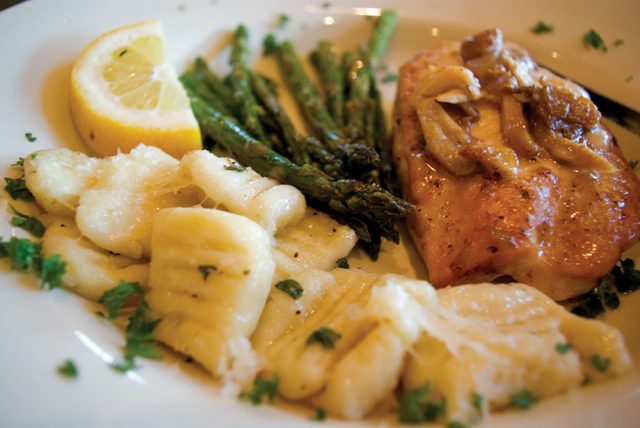 By Jim McCaffrey • Photos by Aryn Henning Nichols
I have been kind of enamored – okay, totally hooked – by the food and culture of Italy ever since my good friend, James Ronan, and I backpacked Southern Europe the fall of 1976. We spent three memorable days in Venice.
On our first outing we ventured down to the open-air fish market right near the Rialto Bridge. A plethora of freshly harvested sea inhabitants was set out on ice. The fishmongers used long water hoses to constantly spray their wares, keeping everything as fresh as possible. Well, looking fresh, anyway. The buckets packed with squirming live eels are indelibly etched in my mind even now, close to 40 years later. Eeew!
Being young men on the go, hunger was always just around the corner, so we moved down to the end of a pier to a little takeout restaurant. Clueless to what to order and being on tight budgets, we went with the least expensive item on the menu. OMG! Mind-blowing. That spinach gnocchi had just added a credit or two to our culinary credentials. We enjoyed it so much we repeatedly kept returning back for more during our three-day stay.
I've been back to that fair country a couple of times with my wife and current traveling companion, Brenda, and the food never disappoints. The meals are always simple and totally delicious. I decided for this month's column I would like to recreate this dining experience for you (or really, for a fun group of my friends – you will recreate it for yourself with these recipes!). For the main dish I would prepare gnocchi from scratch, pan seared in a brown sage butter. Add to the plate Chicken Marsala with organic oyster mushrooms. Raised by local food producers, Fred and Caroline Finch of Back Forty Farms. They're located just north of Harmony, Minnesota, and their mushrooms are to die for! I can't get enough of them. If you like mushrooms at all, you positively have to try these beauties. Great bold flavor and texture. They're available to the public at the Oneota Food Co-op in Decorah. Yum!
Anyway – back to the meal! Chicken Marsala is a surprisingly simple dish to prepare. Fifteen minutes from start to finish. Being a culinary genius is not a requirement here. Just bring your poultry to the kitchen counter, follow the easy instructions, and your loved one (ones) will be fawning all over you. Ok, maybe not quite fawning, but you get the gist. Finishing out the plate, I decided on asparagus drizzled with extra virgin olive oil and sprinkled with a bit of kosher salt and fresh ground black pepper. Simple. Delicious.
But that still leaves the best part: dessert! Every good Italian meal should have a scrumptious dessert. My choice was Torta de Mele con Pinoli e Uvetta. Translation: Apple torte with pine nuts and raisins. I found this recipe a few years ago in a Williams Sonoma cookbook called Savoring Tuscany. I'm usually not much of a dessert person, but this rendition is decadently delicious. (Don't forget the spring form pan; it makes life so much easier.)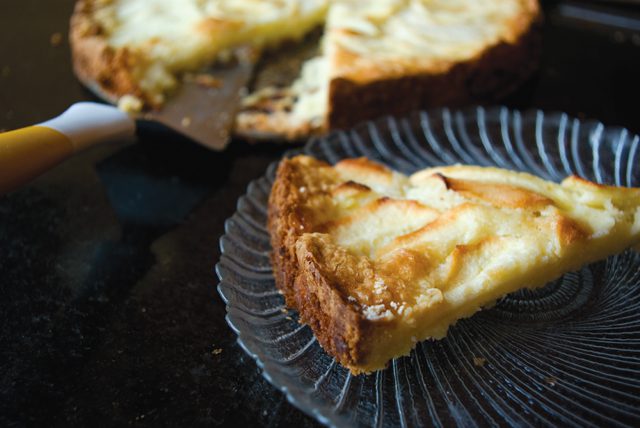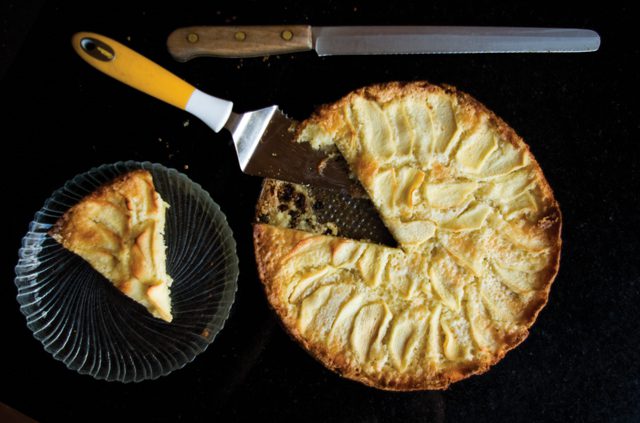 Our Italian dinner party happened to be a lunch party – we invited Aryn, Benji, and Roxie out, and the latter goes to bed too early for any late-night camaraderie. I realized that I have been working with Inspire(d) for almost four years and we haven't really ever gotten together and broken bread, so it was high time! I also invited my erstwhile traveling companion James Ronan, and rounding out our little venue was the hostess with the mostest, my lovely wife, Brenda. High noon arrived and so did our guests. Everybody got settled in and I started by serving a simple salad with choice of homemade dressing. While Brenda and our guests were working on that, I went to the kitchen to prepare the main meal. Since the Marsala Chicken had the longest cooking time I began with that. Next I put my asparagus under the broiler. Timing is everything. I had already boiled my gnocchi and now pan seared those delectable puffs of potato pasta in a fresh sage butter. I plated up everything and brought it out just as salads were being finished. I got a few utterances of delight as Brenda and I served, and the Chicken Marsala was a hit with Roxie. Aryn almost couldn't cut it fast enough to feed her. We chatted, laughed, and giggled through the meal, and everybody sat fully sated. But I jumped up: I'd forgotten to serve dessert! We managed to make room for that decadence just in time for Roxie's nap…and I think we were all ready to second that notion. Ciao Baby!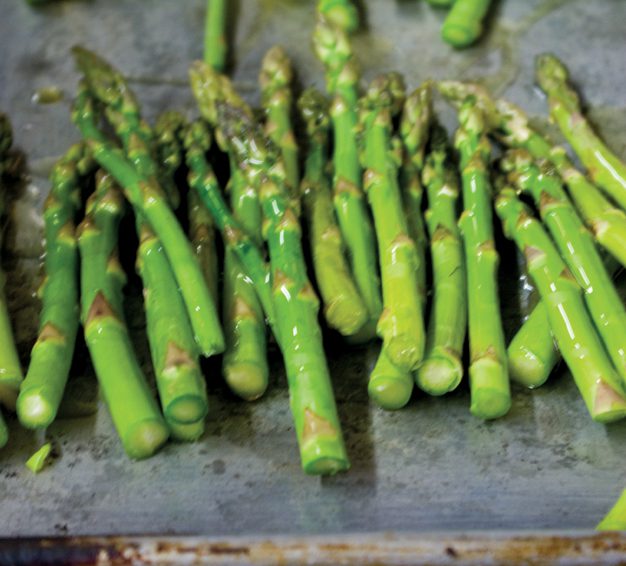 Gnocchi
3 large russet potatoes, washed
1 egg yolk
2 1/3 cups flour
½ stick butter
1 Tbl fresh sage, chopped
Kosher salt and fresh ground black pepper
¼ cup fresh grated parmesan cheese
Preheat oven to 350 degrees. Prick and bake potatoes until soft (about 90 minutes). While still hot, cut potatoes in half lengthwise. Let cool. Scoop potatoes out of skin and mince with a food scraper. Spread potatoes into a 24" by 12" rectangle. Add salt and pepper to taste. Drizzle beaten egg yolk over potatoes. Add 1 ¼ cups flour and cut into potatoes. Turn mixture over on itself and fold together. When dough looks like coarse crumbs bring mixture together into a ball. Sprinkle a little flour unto the work surface. Flatten the ball into a disk. Add a little more flour.
Fold and press dough until flour is incorporated. Add a little more flour until dough is no longer sticky. Roll into a compact log and cut into 8 pieces. Lightly dust work surface with flour. Roll each piece into a ½ inch cylinder. Cut into 1 inch pieces. Use the back of a fork to indent each piece. Heavily salt a pot of water and bring to a boil. In three batches, drop gnocchi in water for 2 to 3 minutes until they float. Retrieve with a slotted spoon and place on a plate. When ready to serve, melt butter in a skillet and add sage. Pan sear gnocchi until slightly browned. Plate up and add parmesan. Yum!
Now, for the Italian Recipes you've been waiting for…
Chicken Marsala
¼ cup all purpose flour
4 Tbl butter
½ tsp salt
4 Tbl olive oil
¼ tsp ground black pepper
1 cup sliced mushrooms (Oyster if available)
½ tsp dried oregano
4 skinless, boneless chicken
½ cup Marsala wine
breast halves-pounded ¼ inch thick
¼ cup cooking sherry
Combine flour, salt, pepper, and oregano. Dredge chicken breasts in flour mixture. Melt butter in oil in a large fry pan in medium heat. Lightly brown chicken, turn over and add mushrooms. Add wine and sherry. Cover and simmer for 10 minutes, turning once. Chicken should be no longer pink inside. Enjoy!
Apple Torte with Pine Nuts and Raisins
2 Golden Delicious apples
1 cup cake flour
Juice of one lemon
1 tsp baking powder
3 eggs
1/8 tsp salt
1 ½ cups sugar
1 tsp lemon zest
1 stick butter, melted
1/3 cup raisins, (soaked ½ cup milk in warm water 30 minutes)
1 tsp vanilla
1/4 cup pine nuts
Preheat oven to 375 degrees. Lightly butter a 10 inch spring form pan. Dust with flour and shake out excess.
Peel apples, halve and core. Thinly slice and place in bowl with lemon. Whisk eggs and sugar together in a bowl. Stir in butter, milk, and vanilla. In a separate bowl combine flour, baking powder, and lemon zest. Gradually pour and stir in egg mixture. Drain raisins and add along with pine nuts into the batter. Pour batter into spring form pan. Arrange apple slices on top in concentric circles. Bake for 45 minutes until a toothpick comes clean after inserting in center. Let cool completely. Cut into wedges and serve.
 ———————-
Jim McCaffrey is a chef, author, and co-owner with his family of McCaffrey's Dolce Vita restaurant and Twin Springs Bakery just outside Decorah. He is author of humorous cookbooks "Midwest Cornfusion" and  "Mississippi Mirth". He has been in the food industry in one way or another for more than 40 years.