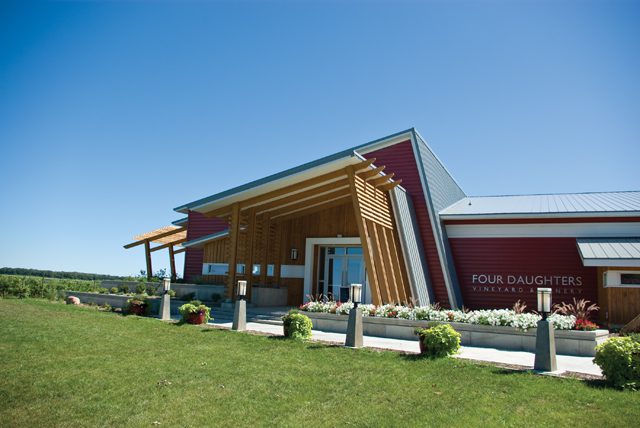 Intro by Aryn Henning Nichols • Originally published in the Fall 2013 Inspire(d)
Between Stewartville and Spring Valley, Minnesota, just off the intersection of Highways 16 and 63, there sits a beautiful, modern, barn-red building. You might wonder what crops they grow…that is until you notice the grapevines rolling out past the patio situated under a giant, gorgeous pergola. Four Daughters Vineyard and Winery combines what they call "Minnesota-nice and casual elegance" to create a unique dining – and, of course, wining – destination.
Inside, the tasting room/restaurant is well designed and fun. Big chalkboards announce the wines to taste ($5 for a flight!), and they are indeed tasty – not just by Midwestern standards.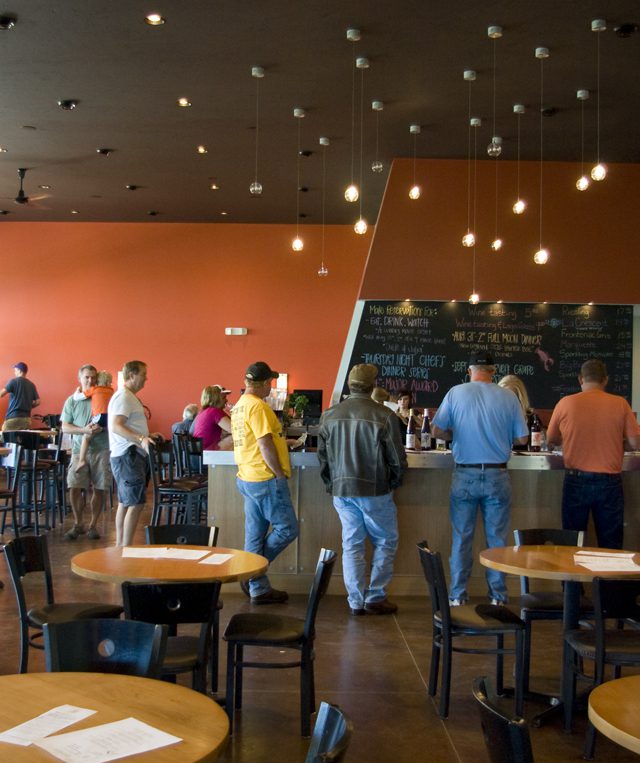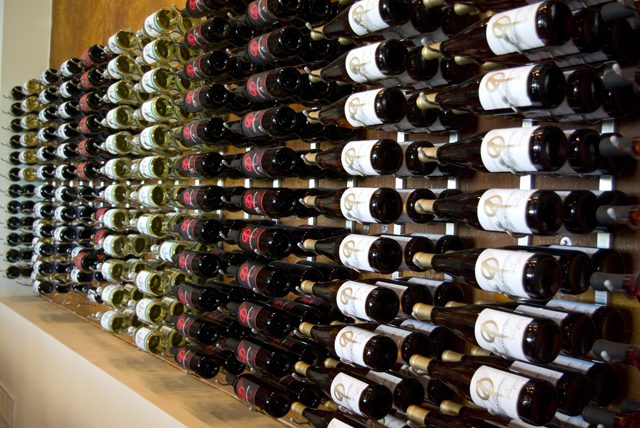 Also tasty? The food. The kitchen is open whenever the winery is open, and the menus (which change frequently) feature plates ranging from chicken fried olives to burgers hand ground (with bacon!) fresh in the Four Daughters kitchen. You can also get French Onion dumplings or classic deviled eggs or even an Italian grinder pizza (just to name a couple).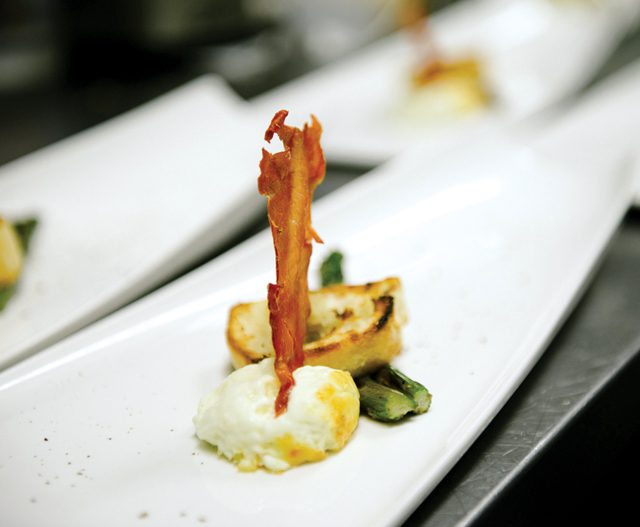 If you're lucky, you might even catch the Four Daughters' father cheerfully walking around the tables, greeting guests like a host in his own house making the whole experience feel even more of a family affair. (Above photo courtesy Four Daughters.)
Four Daughters' head chef, Erik Kleven, really shines at their Dine in the Vines events, a special full moon series of dinners that only happen four times a year. It's served up – you guessed it – right in the vineyard, under a full moon to boot.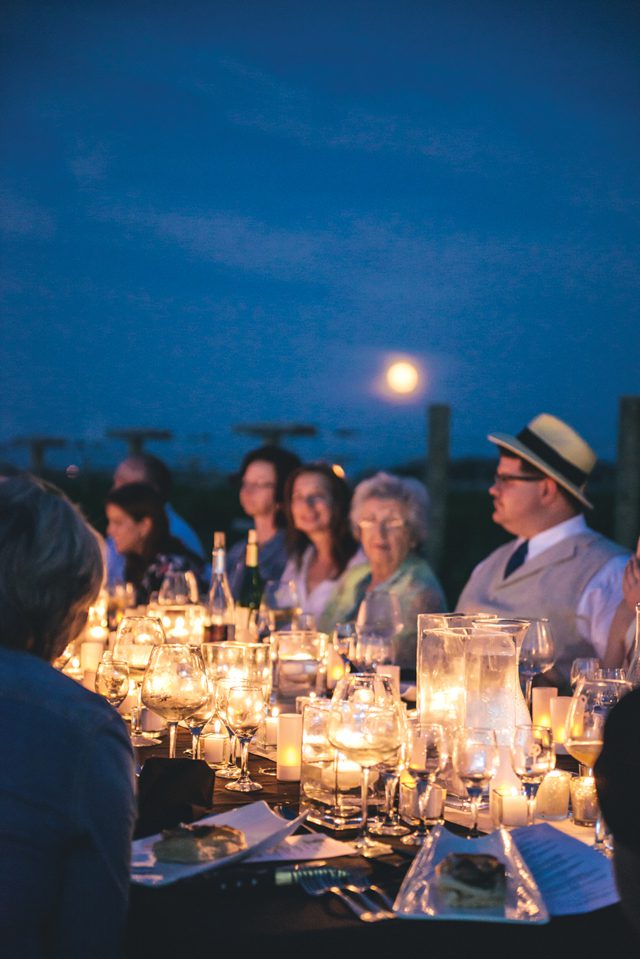 Another dinner series they host is Thursday night Chef's Dinners. These happen every week, all year long, and each meal – ranging from five to six courses – is literally never the same. (Above photo courtesy Four Daughters.)
As the family is known to say, Four Daughters Vineyard and Winery isn't just a restaurant; it's an experience.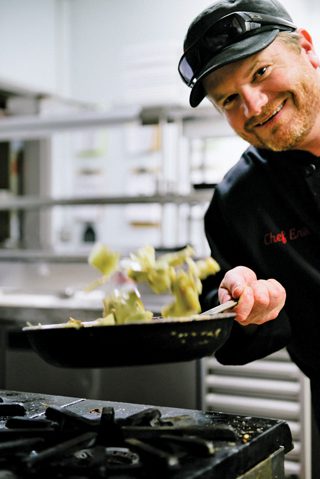 Name:  Erik Kleven (pictured at right, photo courtesy Four Daughters.)
Age (if you're willing): 42
Restaurant: Four Daughters Vineyard and Winery
Number of Years Cooking: 20
Formal training or live-and-learn?
I choose the formal training route and attended the Western Culinary Institute in Portland Oregon. Culinary school teaches you the passion and professionalism, but learning on the job gives you the skills for the day to day work.
What's your earliest or most significant memory of cooking or being cooked for?
I grew up in the restaurant business and my best memory is of my dad teaching me to make meatloaf when I was young.
Why did you decide to become a chef?
I have always liked the restaurant business and had many front of the house jobs. When I graduated high school I tried college for a couple of years and that didn't hold my attention enough, because I always found things to do that were more fun than classes. So I decided that pursuing a career in the restaurant business would offer a bit more excitement and I have loved it ever since.
What's the best thing you've ever made?
I think that my best things have come in some of the specialized dinners that we do at Four Daughters. The Dine in the Vines dinners that we do every summer are my favorite. We do multiple course dinners down the middle of the vineyard under the full moon. We create fun dishes for these and the Lobster boil that we do at the end of the summer is a blast.
Do you have any monumental food fails you'd like to share with us?
Probably my most frequent fail is putting things in the oven and forgetting about them…I do this more often than should. My great kitchen staff usually saves me so that it is not always lost.
How about secret food indulgences you don't normally talk about? Will you tell us?
I will eat anything in the refrigerator wrapped in a tortilla, like most leftovers, leftover spaghetti is my favorite.
What's your favorite…
Ingredient: Duck or Bacon Fat
Dish: pan fried sunnys at the lake
Cookbook: All of Charlie Trotter's books – interesting ingredients and awesome pictures
Random (or not so random) kitchen tool: Hand blender
Vegetable: Potato
Fruit: Tomato