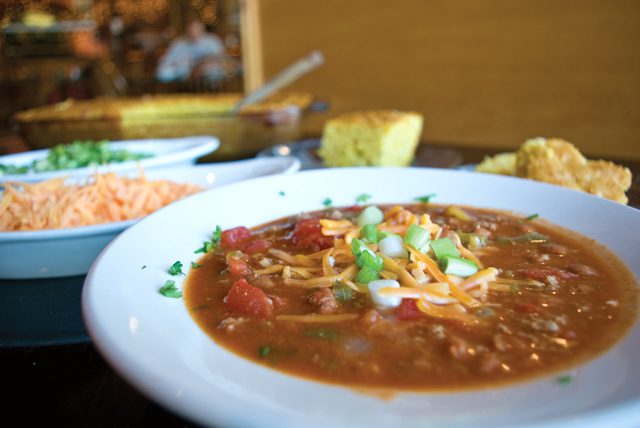 Community Matters: McCaffrey's cooks a main course monthly for the local Community Meal
By Jim McCaffrey • Photos by Aryn Henning Nichols • Originally published in the Winter 2015-16 Inspire(d)
In the early eighties Brenda and I owned the Café Deluxe and McCaffrey's Supper Club in Downtown Decorah. It was a time of economic recession, though – there was a lot of unemployment and financial stress for individuals and families. Sure, there were food stamps available, but it was minimal. As I recall, food pantries weren't as developed, either, especially in rural areas like the Driftless Region.
After reading about soup kitchens in the Minneapolis/St. Paul area – they were getting their food from a myriad of sources such as donations from grocery stores, restaurants, church groups, can drives, personal giving, etc. – I thought, "Why can't something similar be accomplished in the rural areas?" I envisioned a non-profit organization that provided an umbrella to cover basic food needs necessary to sustain families in need. I wanted to call it "The Hunger Express," with its logo being a speeding steam engine train bearing goods.
Well, that didn't happen.
Unfortunately, the recession caught up with us as well. We sold the Café Deluxe to one of our employees. It saved 25 jobs, but resulted in the closing of McCaffrey's. Brenda and I began work with two larger companies, but I never was able to get The Hunger Express out of my mind.
Moving on to present day, we're lucky to have the wonderful First Lutheran Church Food Pantry in Decorah, registered with the Northeast Iowa Food Bank and well connected in the community. Especially since we have all just experienced the worst recession since the Great Depression of the thirties.
But that's not all this community wanted to do. As most of you know, Brenda and I are currently running our restaurant, McCaffrey's Dolce Vita, just outside of Decorah. About five years ago, Otter Dreaming came out and talked to me about a project he and a small group of forward-thinking individuals were working on. The idea was to create a monthly meal where everyone and anyone in the entire community were welcome – at no charge.
They approached the council of the First Lutheran Church to establish a venue. It was decided to make it a once monthly affair on the third Thursday of each month with one entity providing the main meal and various other organizations – service groups, sororities, etc. – providing salads, bread, and desserts. Otter asked if we would be willing to make the first main course. I never hesitated. Well, I guess I did ask how many they expected. Seventy-five was the number they were predicting and that was about perfect. I talked to Otter after the event and they said they wanted to keep it going. I told him I would continue to make the main meal, so they didn't have to worry about that aspect. Fawn has also jumped into the fray and is helping with the meal and baking bread.
The Community Meal has continued to blossom: On average, 200+ people are being served – we have even gotten close to 300 a couple of times. That's great, and what's even greater is Sodexo at Luther College threw in their hat and is providing a main course on the first Thursday of each month. So now the Community Meal is held twice a month!
So what really is the neat aspect of this project is that everyone is welcome to come and participate. There are no barriers or restrictions as to who may join in. My understanding is that even a certain shanty Irishman would be welcomed if he could somehow break free from his restaurant duties. It is a great social community event. Why not come and join in the experience? Don't be shy.
——————————————–
Jim McCaffrey is a chef, author, and co-owner with his family of McCaffrey's Dolce Vita restaurant and Twin Springs Bakery just outside Decorah. He is author of humorous cookbooks "Midwest Cornfusion" and "Mississippi Mirth". He has been in the food industry in one way or another for more than 40 years.

Decorah Community Meal is held on the first and third Thursdays of every month from 5 to 6:30 pm in the fellowship hall of First Lutheran Church in Decorah. All are welcome.
If your group, business, church, or civic organization would like to participate in the Decorah Community Meal, please send a message to decorahcommunitymeal@gmail.com.
——————————–
PRINT RECIPES HERE
——————————–
Café Deluxe Chili (serves 12-16)
I came up with this recipe for the Café Deluxe in our early stages of ownership. It is very simple and easily adaptable for large groups.
2 lbs. ground beef
2 large onions, diced
2 large green tomatoes
2-28 oz. cans diced tomatoes
3 garlic cloves, minced
2 28 oz. cans beans in chili sauce
Salt + ground pepper to taste
Tomato juice (optional)
Brown ground beef and season with salt and pepper (fresh ground if available) to taste. Drain. Place in large pot. Add remaining ingredients. Bring to a boil, reduce heat and simmer for 10 minutes. Use tomato juice to thin out to desired consistency.
Note: As an option I usually add diced canned green chilies, 2-3 small cans, and offer fresh chopped onions and grated cheddar as an optional topping.
Green Chili Cornbread
A wonderful accompaniment to chili on those cold winter nights.
1 ½ cups buttermilk
1 4oz. Can diced green chilies
2 cloves garlic, minced
1 large onion, diced
2 large eggs
1 cup sharp cheddar cheese, grated
2 tsp sugar
1 tbl. baking soda
1 tsp. baking powder
1 tsp. salt
1 cup yellow cornmeal
1 cup white flour
Preheat oven to 400 degrees. Put buttermilk, chilies, onion, and garlic in saucepan and cook over low heat for 5-6 minutes, stirring often. Let cool for 15 minutes. Beat in eggs and add cheese. Mix together dry ingredients. Fold in wet ingredients and mix with a wooden spoon until blended. Try not to overdo the mixing so the batter stays light. Pour into a greased 1 ½ quart baking dish and bake 40-45 minutes or until golden brown. Test with a toothpick in center of dish. Cornbread is ready when toothpick comes out clean. Enjoy!!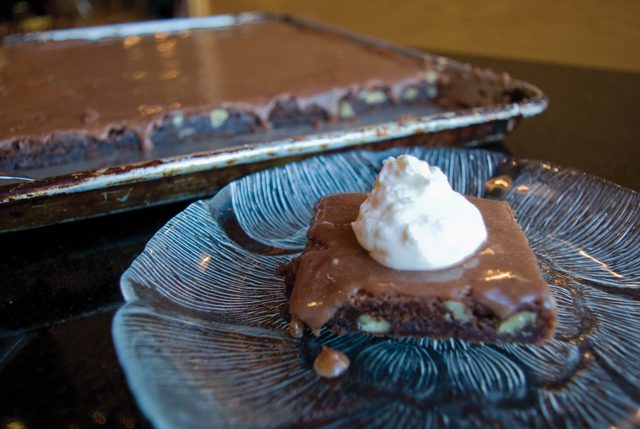 Finger Licking Brownies
½ cup canola oil
1 cup white sugar
1 tsp. vanilla extract
2 eggs
1/3 cup unsweetened cocoa powder
¼ tsp. baking powder
¼ tsp. salt
½ cup all purpose flour
½ cup chopped walnuts (optional)
Preheat oven to 350 degrees. Grease a 9X9-inch baking pan.
In a medium size bowl, whisk oil, sugar, and vanilla. Whisk each egg individually into mixture. Whisk together flour, cocoa, baking powder and salt. Stir in walnuts if desired. Use a wooden spoon to fold in wet ingredients. Spread evenly into greased pan. Bake for 20-25 minutes. Brownies will be done when starting to pull away from pan edges. Let cool on a wire rack. Frost and cut into squares.
Frosting
3 Tbl. Butter
1 ½ cups powdered sugar
2 Tbl. Milk
2 Tbl. Cocoa
1 tsp. vanilla
Melt butter in small saucepan. Add cocoa and remove from heat. Stir in remaining ingredients until smooth. Spread over brownies.
——————————–
PRINT RECIPES HERE
——————————–