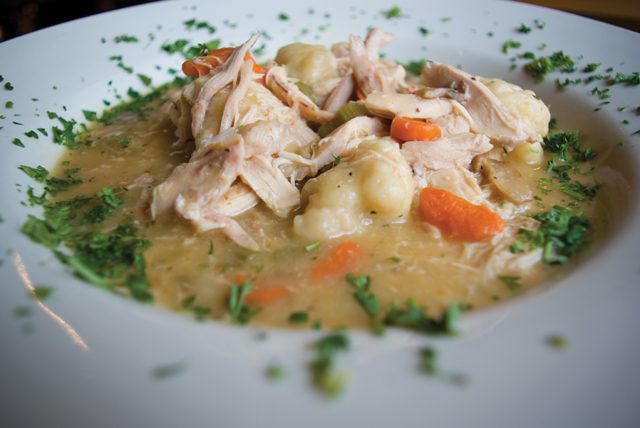 By Jim McCaffrey • Photos by Aryn Henning Nichols
The weather outside is frightful but the fire is so delightful, and since there's no place to go, let it snow, let it snow…wait a minute! Let the sun shine! Guess that's not quite as catchy.
But we really could use a break. Last winter in the Driftless Region was no piece of cake. In fact, to my understanding, it was the coldest winter we have had for 35 years, and this week is feeling like déja vu. BRR! When weather like this moves in, people tend to hunker down. So while you are in the throes of hunkering, you might as well treat you and your loved ones the pleasures of comfort food. Come to think of it, anytime is a great time for home-cooked comforting meals.
Growing up, one of my favorite comfort foods was Campbell's Cream of Mushroom soup fortified with an equal amount of milk and store-bought white bread slathered with butter for dipping. I guess I've come a long way from that, baby, but boy it was enjoyable!
There is probably a different comfort food for everyone on the planet (…more than one!). Take Italy alone. How many variations of pasta have the Italian mamas been cooking up for generations? France has Coq Au Vin (braised chicken with mushrooms and onions). Go to Wales and find Cornish Pasties (little meat turnovers the miners used to carry for lunch at work) and Ireland has Guinness. Need I say more? Closer to home, Canadians have long been enamored by their poutine, a crazy dish originating in Quebec which is basically French fries smothered in gravy and covered with cheese curds. Who'd a thunk, EH?
Back here in the States, a nationwide love affair is centered on our beloved mac and cheese. Although when one thinks about it, a blue box comes to mind. That's all our kids would eat growing up. But actually mac, made from scratch, is a hundred notches above that. I included a recipe for mac and cheese in issue 35 issue of Inspire(d) (find it at iloveinspired.com). Mitch Omar, owner of Hell's Kitchen in Minneapolis, grew up on it and it is to die for. Try it, you will like/love it.
Even closer to home, we have a Norwegian community that swears by a traditional dish called lutefisk. Well, probably half of them swear by it. It is essentially dried cod soaked in lye, which was the standby in Norway before refrigeration. When Norwegians immigrated to America, those crafty dogs brought lutefisk along with them.
One of MY all-time favorite comfort foods is chicken and dumplings. This was the highlight of the lunch I made the other day for the Inspire(d) crew. The number one comfort food for my wife is salad, though. I swear she could eat salad three times a day and be one happy camper. For her, I made a wonderful winter salad of mixed greens with both sweet and tart apples, toasted pecans, and topped with white cheddar cheese. Drizzled with an apple cider vinaigrette and Brenda was good to go. And everyone else was as well, for that matter.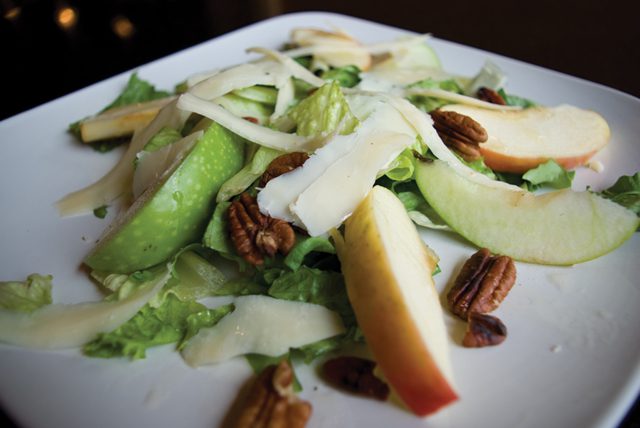 Next on the agenda was the chicken and dumplings. I cheated and bought a couple of rotisserie chickens and diced the meat up. I'm glad I did because it added immensely to the overall flavor of the dish. I also cheated and used Bisquick for the dumplings because I had it on hand. But that doesn't make me a bad guy or does it? Basically, I made a simple chicken and vegetable soup and added dumplings. Homemade comfort food: It doesn't get any easier than this.
Rounding out our meal was a dessert straight out of heaven: Pears poached in red wine. I first had this delightful dish back in 1976 when James Ronan and I backpacked across Europe for seven weeks. We were staying with some friends in Zaragoza, Spain. They took us out to eat at this restaurant located in a huge and ancient basement that had an equally huge fireplace. The chefs had long spits over the fire on which they were searing and cooking enormous slabs of pork. Highly entertaining and wonderful food. But the highlight of the evening was the dessert. I think it might have been the highlight of the entire trip. Go ahead, surprise your loved ones with this and you will reap praises from all. I guarantee it.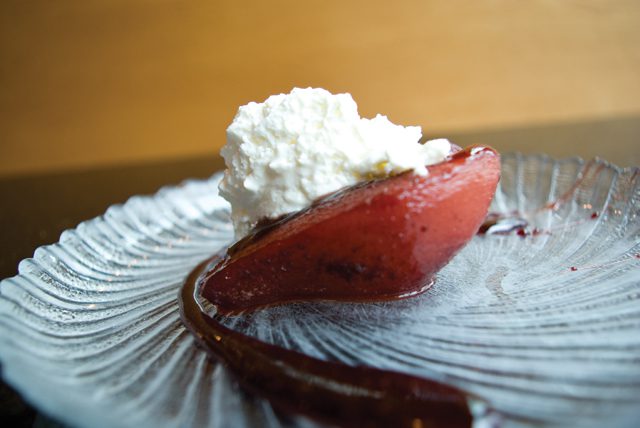 And just remember, a chicken crossing the road is poultry in motion.
–––––––––––––––
Jim McCaffrey is a chef, author, and co-owner with his family of McCaffrey's Dolce Vita restaurant and Twin Springs Bakery just outside Decorah. He is author of humorous cookbooks "Midwest Cornfusion" and "Mississippi Mirth". He has been in the food industry in one way or another for more than 40 years.
Winter Salad
Salad
1 head green leaf lettuce
1 head red leaf lettuce
1/2 head romaine lettuce
1 Large Granny Smith apple
1 Pink Lady apple
1 cup pecans, toasted
6 oz block sharp white Cheddar cheese
Dressing
2 1/2 T. cider vinegar
6 T. olive oil
Chop all lettuces and toss. Quarter the apples and core. Slice thinly lengthwise. Add to lettuce. Add pecans. Shave cheese with a vegetable peeler over the top. Whisk vinegar and olive together with some salt and pepper and drizzle over the top of salad. Yum.
Chicken and Dumplings
2 rotisserie chickens
4 stalks celery, sliced
3 carrots, peeled and sliced
1 small onion, diced
3 garlic cloves, diced
8 oz sliced button mushrooms
4 T. extra virgin olive oil
4 qts chicken broth, preferably homemade
1 T. dried thyme
Salt and pepper to taste
6 cups Bisquick
2 cups milk
Remove chicken skin and bones. Dice meat and set aside. Sauté vegetables until soft, about 5 minutes in a large pot. Add chicken and broth. Mix Bisquick and milk and form a soft dough. Bring soup to a boil. Using a dinner teaspoon, cut dough into spoon sized pieces and drop into soup. Reduce heat. Cook uncovered for 10 minutes, and then covered for 10 minutes. Serve and enjoy. Yum Yum!
Note: If you do not want to use Bisquick just mix 6 cups flour with 2 1/2 T. baking and 1 tsp baking powder.
Pears Poached in Red Wine
4-6 Bosc pears, peeled, cored and sliced in half the long way
1 1/2 cups dry red wine (I used Shiraz)
3/4 cup sugar
2 T. lemon juice
2 tsp. vanilla
2 tsp cinnamon
Combine all ingredients except pears in a large sauté pan and bring to a full boil. Turn heat to a simmer. Add pears and simmer for 10-12 minutes. Turn over and simmer until fork tender. Remove and cool. Reduce wine sauce to one half.
Pour over pears and top with whipped cream. Yum Yum Yum!