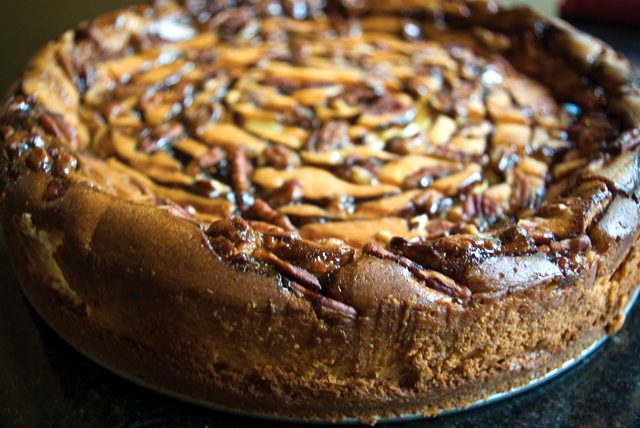 By Jim McCaffrey • Photos by Aryn Henning Nichols
So let's talk about the product that made Wisconsin famous. (No, not beer.) Cheese! I have been blessed in this life to be lactose tolerant. Good thing, too, because I am woefully enamored by the astounding number cheese varieties produced in the world. And what is more astonishing is that they all are created from a single source: Milk. Cow's milk is the most common, but let us not forget sheep, goats, water buffalo, and not to be left out, yaks. According to Wikipedia, the earliest archaeological recording of cheese making dates back to 5500 BC in Kujawy, Poland, where strainers with milk fats have been found. Now that's some well-aged cheese! Theory has it that cheese was probably created by accident. The idea is that when sheep were first domesticated approximately 8000 BC, their stomachs were used to store milk. The milk mixed with rennet contained in the stomach and turned into cheese curds. To this day, all of us lovers of fermented milk have a few nomad shepherds to thank for their culinary contribution to world society. Who'd a thunk?
I decided to put together a lunch, a cheesy lunch at that. Any excuse for a staff meeting. I brought to the table a motley crew of rogue cooks and bakers, including this shanty Irishman, to construct a four-course meal starring cheese. Lets start with an appetizer! I have a good friend, Greg Eaton, who was a former chef at the Spring Green Restaurant just outside Spring Green, Wisconsin. I was at a party at a rural farmstead near Waukon some years ago and in walks Greg. He's carrying a big cast iron skillet and a large bulging paper grocery sack. He starts pulling out quart mason jars of peanut oil and I knew that something good was about to happen. "Whatcha making?" I queried. "Oh, I got some jack cheese and green chili that I'm going to fry up in wonton wrappers." He did not disappoint. I took it a step further and made up a simple dipping sauce in my rendition of this tasty appetizer.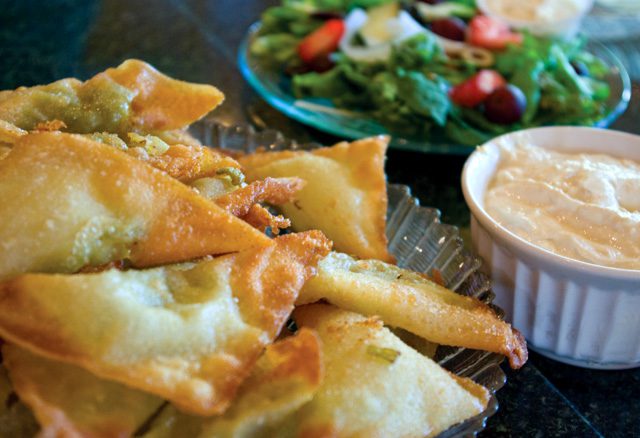 Second course was just a simple salad served with strawberries, grapes and McCaffrey's Dolce Vita bleu cheese dressing. At the restaurant we make all of our salad dressings from scratch. I'm a firm believer in transparency, so I decided to share how we make our bleu cheese with you. We have a customer who comes in and always orders it for his salad. He thinks we should give up the restaurant business and concentrate on marketing this dressing. Some days you have to wonder!
Our next course is courtesy of the man Jacques Pepin has described in the following manner: "Mitch Omer makes Anthony Bourdain look like an altar boy." Mitch, along with his wife, Cynthia, and with Mitch's sous chef, Steve Meyer and wife, Kim, are founders of Hell's Kitchen in downtown Minneapolis. Currently, it is an 8000 square foot area located in the basement of 80 South 9th Street just off of Nicollet Ave. Open 16+ hours a day, it is manic, wild, and absolutely delightful. Oh, did I mention the same applies to Mitch? His food is eclectic, with dishes such as Bison Sausage Bread, Mahnomin Porridge, and the best peanut butter I have ever tasted. Like me, Mitch is also a big believer in transparency. So much so, he, along with Ann Bauer, conspired on a cookbook named, appropriately, Damned Good Food. It is a collection of great life stories (believe me, it's a wild ride) and 157 recipes from Hell's Kitchen. All pretty much from scratch – my kind of chef. I contacted Mitch to get permission to reprint his recipe for Macaroni and Cheese. He grew up on it and "Never realized until he went to college that Kraft made an unremarkable product libelously bearing the same name." Original recipe follows. I changed it up a little for our lunch, though. I used RP's gluten-free fresh fusilli pasta. Pretty much my first foray into the world of gluten free, this pasta produced in Madison, Wisconsin is remarkable. It is also available at the Oneota Co-op in Decorah. To top the mac off, I sautéed some oyster mushrooms from Back Forty Farms and the last of our fresh asparagus. Delightful. Thanks, Mitch.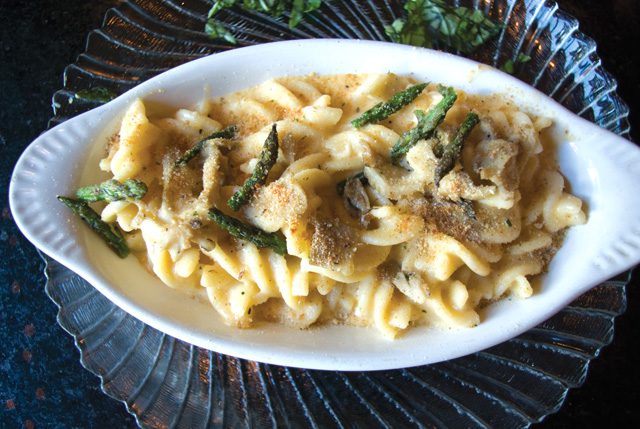 Dessert came in the form of Turtle Cheesecake. Not long after we opened the restaurant, we decided to make our own cheesecakes. So I went to the Internet and typed in Best Cheesecake Ever. There were several. I picked one out and tried it. Pretty good. In walks Tanya O'Connor, former head of wait staff and baker at the once-famous-in-Decorah Café Deluxe. With a mischievous grin, she said "Not bad, Jim. But I think we should tweak it a bit and add some ricotta cheese." We did and came up with this light and fluffy cake that we think is outrageously good. The following recipe is our head chef, Brock Dansdill's version. See what you think.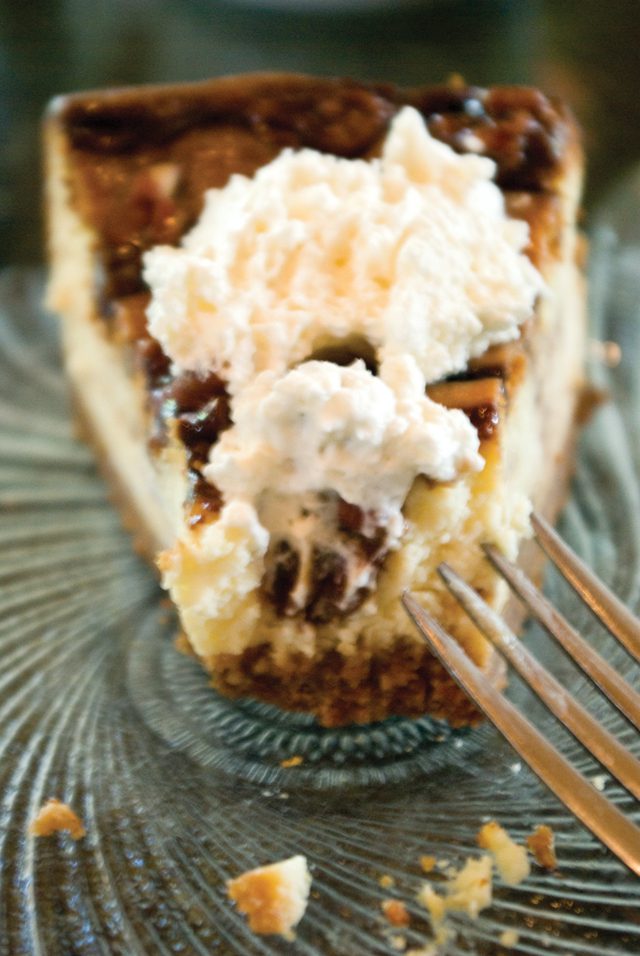 Time for lunch. Staff lunch that is. Aryn and Benji from Inspire(d) were there with their newly turned one-year-old daughter, Roxie. Adorable and couldn't get enough mac and cheese. I'm on their staff. Jim Ronan came as well. He's on our staff helping out with all of the music venues. Our staff as Dolce Vita owners included myself, Brenda, Shanon, Fawn, Conor, and Sara, as well as our newly born member of the family: Rowen Ash McCaffrey. He joined our staff, er…family on Tuesday, July 30, 2013 at 6:54 am. Not quite ready to devour a four-course meal, he was content to look around, sleep, and pass gas. Aw, the sweet life!
Green Chili and Jack Cheese Wontons
Peanut oil
40 wonton skins
8 oz. Monterey Jack Cheese (Cut into 40 small pieces)
2 (two) 40 oz. cans diced green chilis
2 cloves garlic, minced fine
Dipping Sauce
1 C sour cream
1/4 C spicy brown mustard
Assemble! Place a piece of cheese just over center on a wonton skin. Add a little green chili. Wet the two sides of the wonton skin the cheese is on and press top edges to bottom edges into a triangle. Using a candy thermometer, heat about an inch of oil in a heavy skillet to 350 degrees. Check with a candy thermometer – hotter and it might burn. Slip wontons in one by one. Cook for 15 seconds and turn. When golden brown, drain on paper. Whisk dipping sauce ingredients ahead of time and chill. Enjoy!
Bleu Cheese Dressing
1 C Bleu cheese crumbles
4 turns fresh ground black pepper
4 C mayonnaise
1 Tbl. lemon juice
1 cup +/- heavy cream
1 Tbl. white vinegar
3 cloves minced garlic
Pinch of Kosher salt
Whisk all ingredients together and chill.
Mitch's Macaroni and Cheese
7 qts water
1 stick unsalted butter, divided
1 lb. penne pasta
5 Tbl. all purpose flour
1 1/2 tsp dry mustard
1/4 tsp cayenne
1/4 tsp garlic powder
2 C rich chicken broth
1 C whole milk
1 C heavy cream
1 C shredded fontina cheese
1 C shredded Vermont white
1 C shredded Swiss cheese
1/2 C shredded Wisconsin sharp cheddar cheese
1/2 C crumbled Maytag blue cheese
2 Tbl. Kosher salt
1 C Seasoned Bread Crumbs
Preheat oven to 350 degrees.
Heat water, salt, and 2 Tbl butter in a large pot to a rolling boil. Add pasta, cook for two minutes and remove from heat. Cover with a lid or a kitchen towel and let rest six minutes. Remove the cover and drain pasta into a colander.
Melt 6 Tbl of the butter in a large saucepan over medium-high heat. Add flour, dry mustard, cayenne, and garlic powder and whisk vigorously with a wire whip until flour mixture begins to bubble. Slowly add chicken broth, milk, and cream. Cook and whisk continually about five minutes, or until sauce begins to thicken. Add all cheeses, cook and whisk continually until completely incorporated and sauce thickens. Remove cheese sauce from heat.
Butter four ovenproof ramekins or one large baking dish. Divide pasta among the ramekins, or pour into the baking dish. Pour sauce evenly over the pasta, and sprinkle with bread crumbs. Place on center rack of the oven, and bake for 29 to33 minutes, or until top(s) have just begun to brown.
Turtle Cheesecake
1 1/2 C graham cracker crumbs
5 eggs
2 egg yolks
1/2 C white sugar
1 3/4 C white sugar
2 oz. butter, melted
2 Tbl all purpose flour
6 (six) 8 oz packages cream cheese, softened
16 oz ricotta cheese
1/4 C heavy whipping cream
3 oz pecans
Caramel and chocolate syrup
Preheat oven to 400 degrees.
Mix graham cracker crumbs, white sugar, and melted butter together. Press mixture into the bottom of a 10-inch spring form pan.
In a large bowl, combine cream cheese, eggs, and egg yolks. Mix until smooth. Add the remaining sugar, flour, and heavy cream. Blend until smooth. Pour into prepared pan. Spread pecans over the top and drizzle heavily with the caramel one way and chocolate the other way creating a grid pattern.
Bake at 400 degrees for 10 minutes. Turn temperature down to 300 degrees and bake for one hour or until batter is set. Knife the outside edge all around so cake does not adhere to sides. Let it cool on a perforated rack, 2-3 hours. Release spring form. Cover with plastic wrap and refrigerate 3-4 hours. Divide the cake into equal slices and dish it up. We top it with homemade whipped cream. No cholesterol or calories here! Have fun with this, Mitch.
———————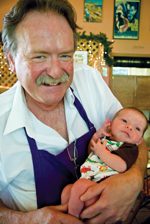 Jim McCaffrey is a chef, author, and co-owner with his family of McCaffrey's Dolce Vita restaurant and Twin Springs Bakery just outside Decorah. He is author of humorous cookbooks "Midwest Cornfusion" and  "Mississippi Mirth". He has been in the food industry in one way or another for more than 40 years.