Female Mountain Bikers Rule!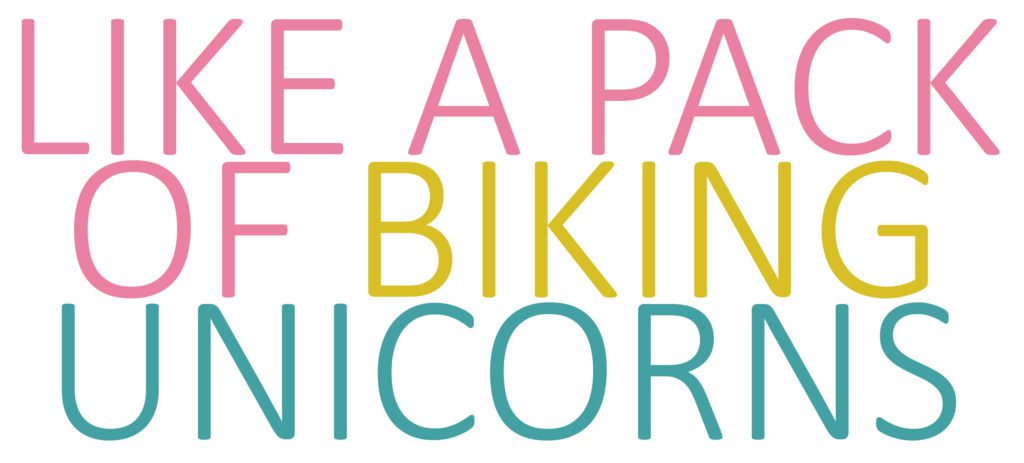 By Aryn Henning Nichols
Looking down at your mud-covered mountain bike tires, you wipe the sweat from your face, take a drink, and think, "Screw it. I can't do it."
But then, you do.
Just like you knew you could.
"Women, by definition – I feel – are not quitters," says Josie Smith. "We constantly prove to ourselves that we can get things done."
Josie, in addition to blogging honest and heartfelt stories about her journey to the #bikelife on josiebikelife.com, is the "first lady" of Decorah Bicycles. She and owner Travis Greentree are getting "hitched" this summer at a cycle-filled wedding in a prairie smack dab in the middle of singletrack-land in Decorah.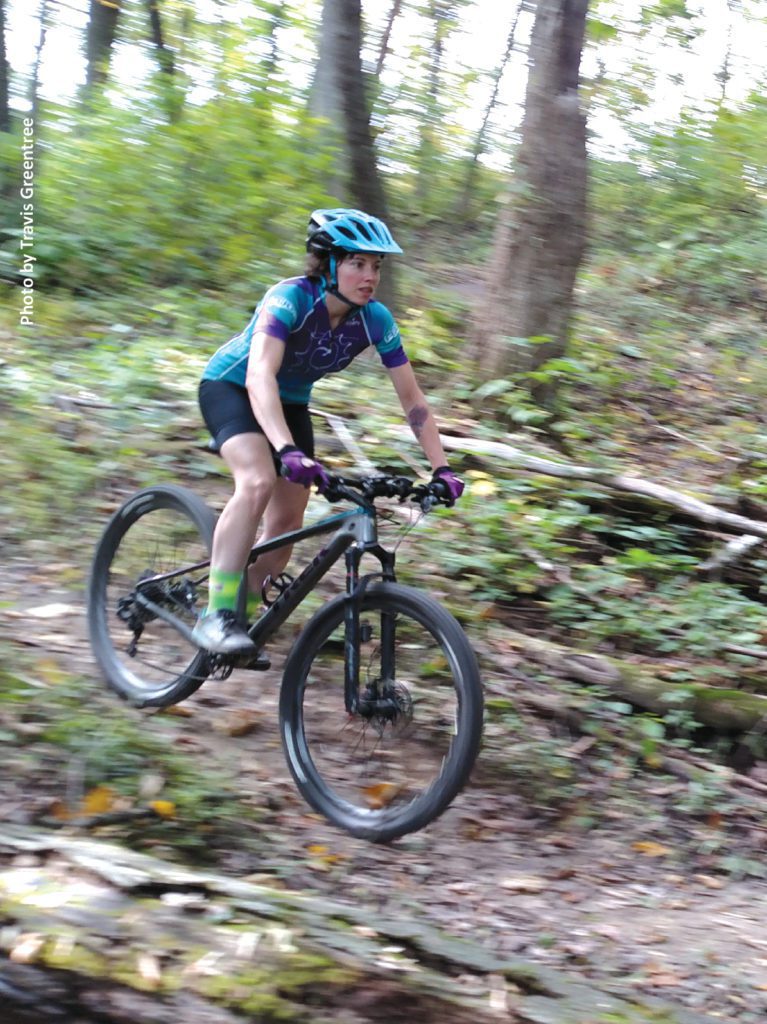 But not that long ago, Josie was, self-admittedly, "allergic to exercise." She grew up on a gravel road in rural Waukon and was done biking by age 10. "I was out of shape, I hated hills…it wasn't an inspiring environment," she says with a wry grin.
Luckily, inspiration hit one Monday morning in 2012. "I was making a humble breakfast of toast and decided, out of the blue, that I wanted to buy a bike," she says.
She tried out options in town, looking for a used bike "in case she didn't like riding," and ended up at Decorah Bicycles, where she ultimately found "Sir Richard." That's a bike, not a guy.
"He was my upright, ducky, knight-in-shining-aluminum," she says. "It was a campground rental that didn't seem too used. First I decided I wanted to ride to work…and that began my adventures in bike riding. That bike helped me get through everything – it got me out of the house… I could be in the moment."
Shop owner, Travis, offered up tips as Josie set off riding around town and on the paved Trout Run Trail that encompasses Decorah.
"Eventually this bike opened up my mind and heart, and I found out that I needed to divorce my then-husband," she writes on her blog. "Our marriage was over and had been over for about five years, but neither of us were strong enough at the time do to anything about it. My confidence from riding eventually gave me the confidence to make a difference in my life."
Josiebikelife.com started shortly after an early-on, difficult ride. "I wrote about how hard that ride was on Facebook, and asked if others ever felt like quitting. Someone commented that I shouldn't say biking is hard – it might discourage others from trying it. But I wanted to say what I thought," she says with passion. "Sometimes biking IS hard. I want people to have a very real perspective – not every ride is going to be rainbows and sunshine."
That was evident – once again – for Josie when she attempted some of the challenging mountain bike trails around Decorah.
"I started off with three or four terrifying rides the fall of 2013," she says. "Then that winter – January and February – they got fatbikes at the shop and I tried it out. That fatbike made me hate it less. I thought, 'This is kind of possible.'"
Embracing the fatbike love, Josie's first race was a winter one: Decorah's 2015 Pugsley World Championship.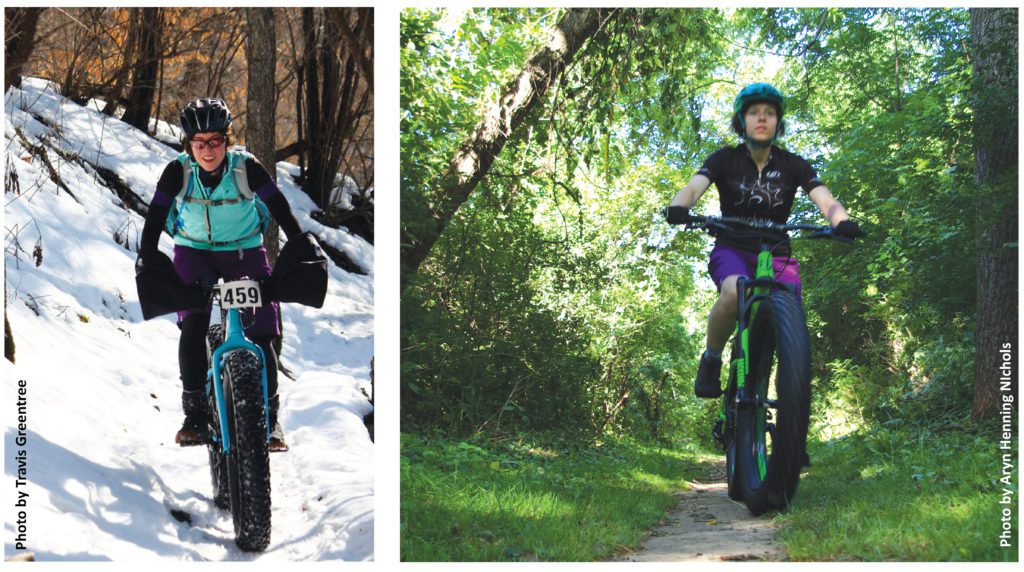 "It put all my fears about racing and made them go 'poof'!" She says with a motion of her hands. "I didn't want to be last. And technically I was. And nobody cared. The environment was very positive. Someone asked, "Are you having fun? And I was like, 'Are you frickin' kidding me?! Yes!' That's when I realized, yeah, I actually am."
Having the blog to record it all has offered some great benefits: From connecting with other women – she frequently interviews biking women online – to tracking her own personal growth.
"It's amazing to see where I used to be. Mountain biking is something even in my wildest dreams I never thought I'd be doing," she says.
It would seem other women think mountain biking is a "wildest dream" as well. Finding a group of females out riding the trails is kind of rare.
"It's like finding a pack of unicorns," Josie says with utmost sincerity. "It's the most amazing thing you've ever seen and you want to find more of them."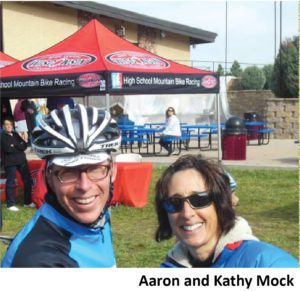 Happily, there are kind folks – like Kathy Mock, the co-director/founder of the Wisconsin High School Cycling League – working on that.
Kathy worked at Trek, headquartered out of Waterloo, Wisconsin, in the late 80s and early 90s, "back when mountain biking first came around." There, she met her now husband, Aaron, also a biker, and they had one son, who, of course, was introduced to biking.
"That's the number one reason I got involved," Kathy says. "My son was 11, and he said, 'I like riding with you guys, but I want to ride with kids too!'"
So Kathy and her husband launched a grassroots mountain biking club for kids in their home-base, Lake Mills area – it brought in four towns and 85 kids in the first year. Kathy and Aaron ran this club from 2013 until just recently, when they turned it over to a new group of coaches and director for its upcoming fifth season.
Knowing of this prior experience, Trek approached Kathy about starting a High School Cycling League. Kathy, knowing herself, said, "Not alone!" She teamed up with Don Edberg, the founder of the Wisconsin Off Road Series (WORS), a racing series that often pulls in anywhere from 600-1000 riders. Don was already thinking of starting a league, so the team-up made perfect sense.
Currently, there are 19 High School Cycling leagues in states across the U.S., opertating under the umbrella of the National Interscholastic Cycling Association (NICA). Founded in 2009, NICA is devoted to developing these interscholastic mountain biking programs. The sport is growing so fast, NICA had to put a cap on how many leagues can join per year.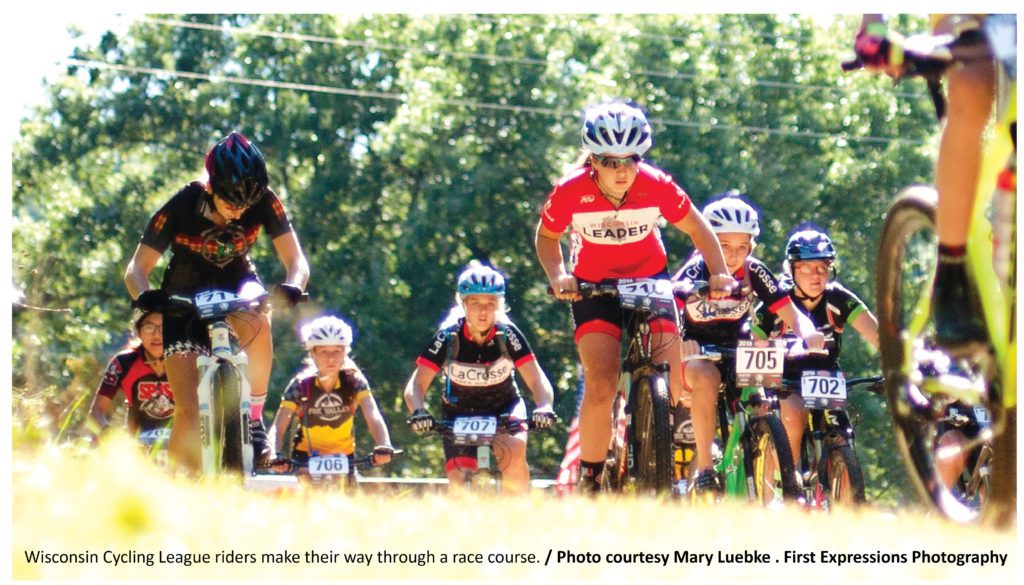 "Middle school is the fastest growing portion of this. NICA started as a high school- only program," says Kathy. "But we said, 'We're not doing it unless you include middle school.' We found that there's a much greater probability of reaching kids if they're able to try a new sport early. If you wait until high school, they're already set in their activities."
So, although it's called the Wisconsin High School Cycling League, it's inclusive of sixth to twelfth grades. The WI League's first season kicked off just over three years ago, but there are already 30 teams, 478 athletes, and 266 coaches.
There's a reason there's so many coaches. NICA requires a one to six ratio of coaches to athletes before they can even start a practice.
"I direct a team of 45 kids, and I have 20 coaches on my list. I think all of our teams in Wisconsin are like that," Kathy says. "This is different than any other kind of school sport. We highly encourage parents to get involved."
There are four coaching license levels: general volunteer, rider leader, assistant coach, and head coach, and each level has different requirements that must be met. But the most important requirement is a connection with kids.
"I don't really care if you're a good cyclist," says Kathy. "I say to parents, 'If you're good with kids, let's get you certified as a coach.' Kids need as many mentors as possible."
Roughly 80 percent of the students who have joined the WI league had no prior experience on a mountain bike.
"One of the more notable things about our program is that we draw in those kids who are not necessarily classic sports kids," Kathy says. "Mountain biking has all the things I wish other sports had. Everybody gets to participate at every minute. Nobody sits the bench. You're on the team, and you're an athlete. Plus, you're not in a gym; you're outside."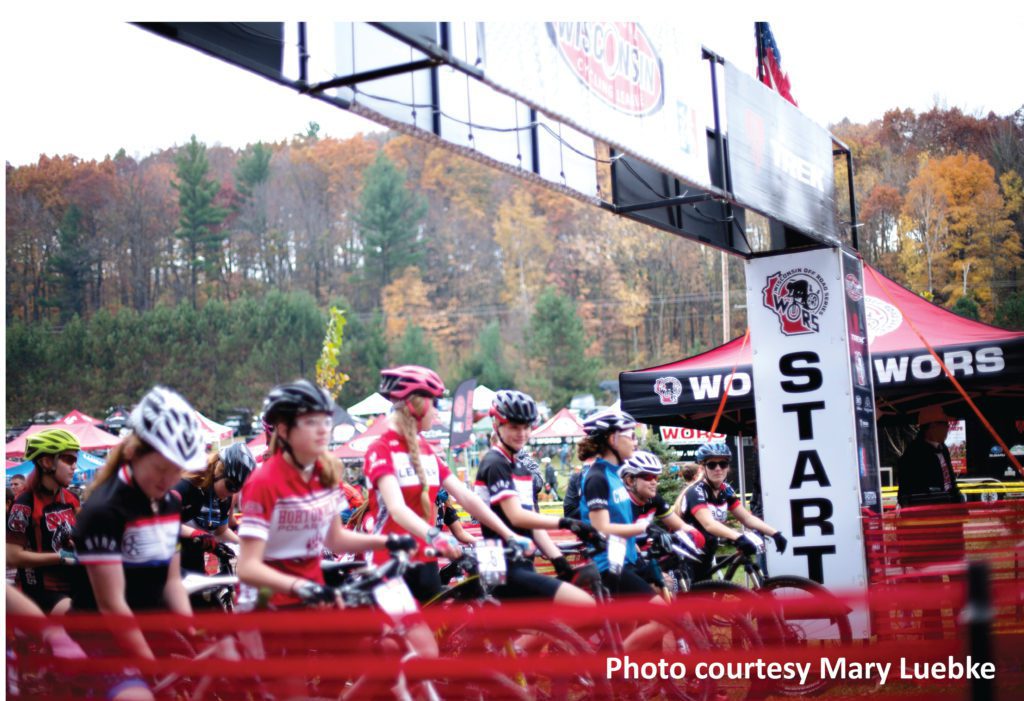 It doesn't have the year-round pressure of other classic sports as well. The WI League has a five-race season. Practice – held two times per week – can start July 1, and races begin mid-September and wrap up the end of October. The kids get to choose whether or not they compete – out of the 478 WI riders in 2016, 322 of them raced.
"Many teams don't even focus on riding every practice," Kathy says. " They focus on being outside, slowing down, and learning to enjoy nature."
While NICA's goal for every league is to be above 25 percent female, the WI League is currently sitting at 23 percent girls.
La Crosse, Wisconsin's Ella Shively is part of that percentage. The 17-year-old, rad and inspiring-in-every-way Central High School senior has been exposed to mountain biking pretty much her whole life. Her dad, Josh Shively, is an avid mountain biker in the Driftless, and Ella started attending his races when she was just a baby.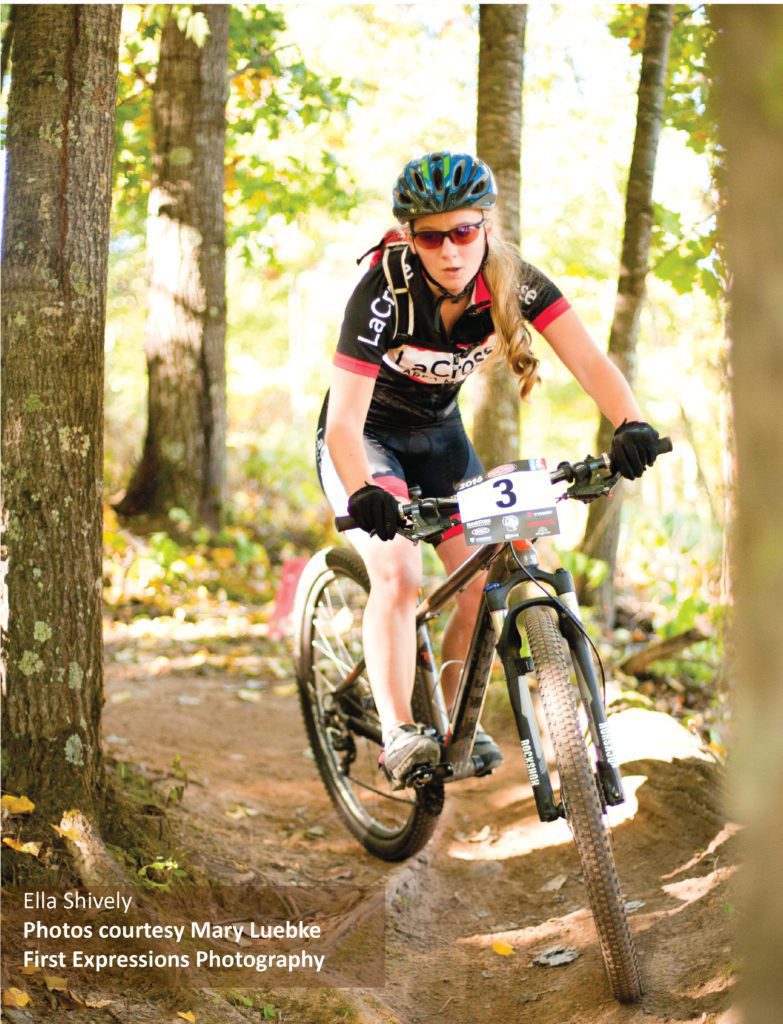 "I was twelve years old when I went on my first real mountain bike ride with my dad. I had to step off a lot, like all beginners, but I don't remember ever feeling particularly scared or frustrated," Ella says. "I loved being out in the woods for extended periods of time, and the challenge of learning how to maneuver around a new obstacle. Every time I fell, I learned something new from the experience."
Josh Shively started the La Crosse middle/high school team (within the WI League) in 2015, when Ella was a sophomore.
"I had been riding mostly with my dad, and occasionally with some riders who were a few years older than me (and much faster!), so it just made sense for me to be part of a larger group experience," she says. "My favorite part of being in the league is definitely traveling to different race venues and camping out with the team. My teammates and their families are all really fun people. I remember playing a lot of ghosts-in-the-graveyard in the campgrounds with my teammates that first year. We always pre-ride the night before, and then stay up way too late talking around the campfire."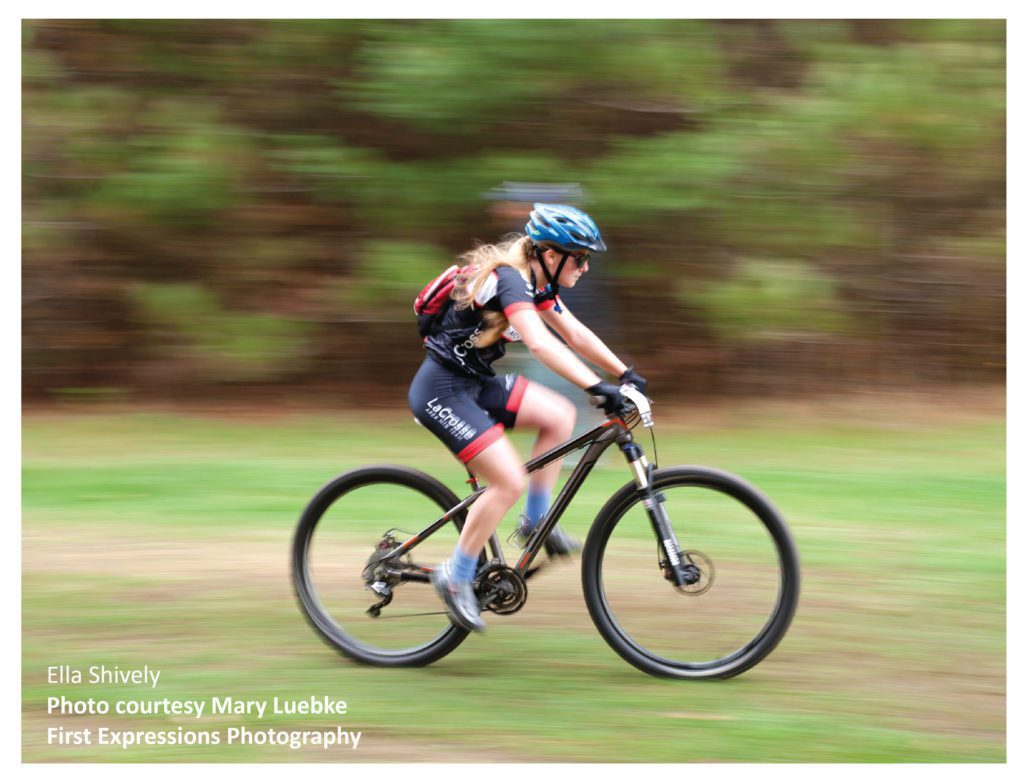 Indeed, the social side of a sport is often what draws people to it. And it might be part of what keeps women from joining certain sports – when there aren't as many females riding, others are less likely to try it out. The fear of not fitting in, or "slowing down" the other riders can hold some females back.
"To combat this," Ella says, "those of us women who are already experienced riders need to be vocal about our existence. Other women need to know about those who have pedaled successfully before them. We can grow the number of women in mountain biking by introducing our friends to the sport, and encouraging young riders."
That's been Martha Flynn's goal since the launch of the Minnesota High School Cycling League in 2012.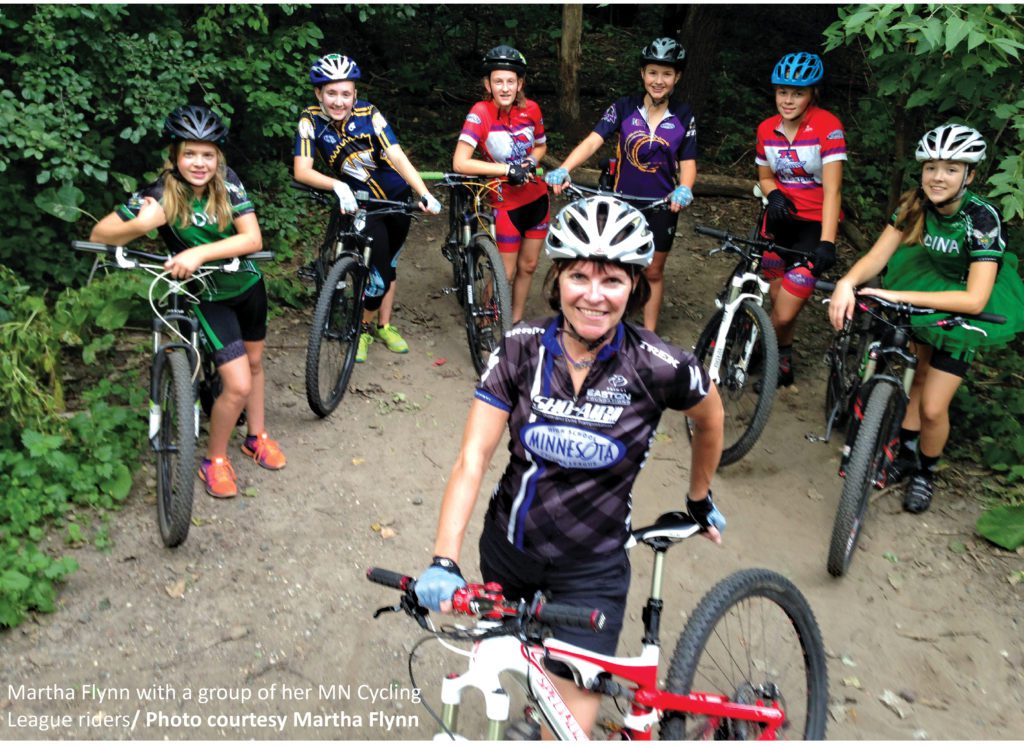 "The disparity between the number of girls and boys participating in mountain biking was painfully evident from the start," Martha says. "To attract more girls to the sport, Amber (Shult) Auer, created the Crank Sisters, a program within the League focused on getting girls on bikes. The vision is to empower and build confidence in young women through mountain biking."
Martha herself has been mountain biking for about 15 years, having started in her late 30s and working up to a pretty intense racing schedule in her mid-40s. But her focus now is all about getting more girls on bikes.
Because of the MN League's program, they are already seeing more girls participate in off-road cycling.
"Our priorities are threefold: To introduce girls to the league, retain them by building confidence and camaraderie, and create a community of female cyclists and supporters –in coaching and other leadership positions," Martha says. "The girls are able to connect to female role models and become a part of this growing sisterhood."
The Wisconsin and Minnesota Leagues are employing similar techniques to get girls involved. Basically, an opportunity to "try it out," separate from the male riders, to help reduce nerves and make it more fun. Kathy Mock offers a "Try Out Party," where girls can invite their friends to come and learn a few basic mountain biking skills. With the MN League, they call them "Try it Out" Sessions.
"The very first singletrack ride is a very important moment for girls and mountain biking," Martha says. "It's a make or break chance for us to help them realize their potential through a positive experience."
The women volunteering at these try-it-out sessions work to help reduce an often-female tendency towards perfection. "We tell our stories of times we 'messed up' or were nervous," Martha says. "And of course, we make it fun, not competitive. Our hope is they come off the trail with a smile and want to get the details about joining a team in their area."
The MN League also sets up a tent at races where girls and women hang out, share stories, and connect with other riders.
"And it's for everyone," Martha says. "We welcome the guys, and younger sisters hang out at the tent too. We talk with them about riding and how much fun it is, so that they grow up thinking why NOT mountain bike."
In 2017, Martha will be moving her focus to getting those younger sisters on bikes. She'll be working with a program separate from the League called Little Bellas, for girls ages seven through 13.
Little Bellas doesn't have a competitive element – it's purely to create a community that will empower girls through mountain biking. "We emphasize the importance of goal-setting, promote healthy lifestyles, and recognize the positive effects of strong female bonds," Martha says.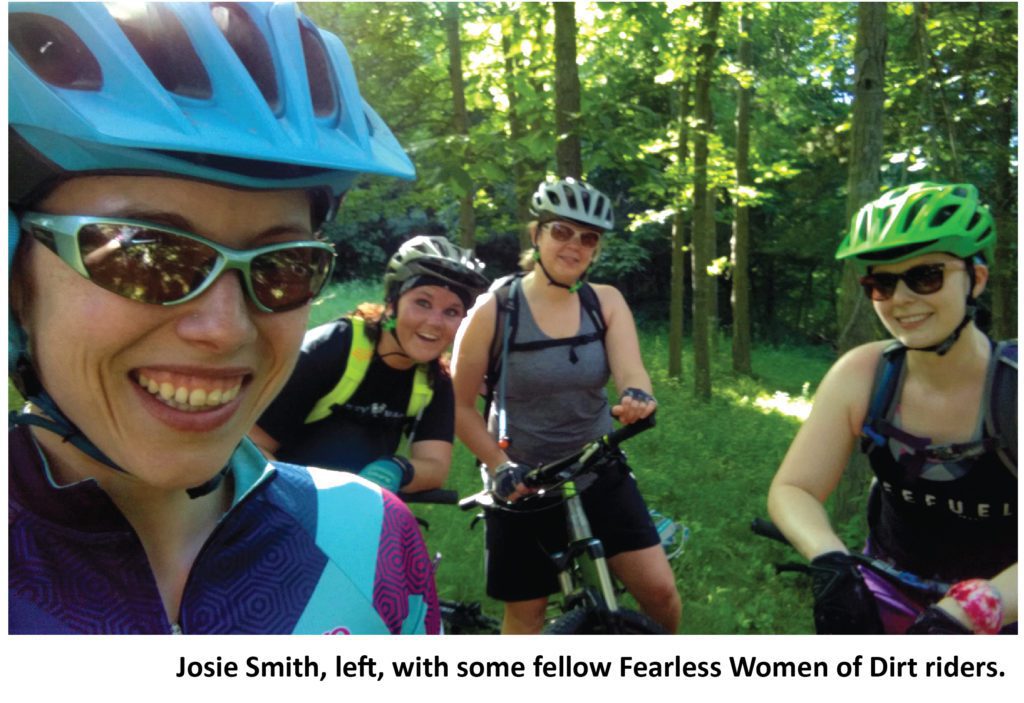 For women outside of that age group, Josie Smith has set up a different program called FWD: Fearless Women of Dirt. FWD is for women passionate about mountain biking and helping others find their bike life. Ambassadors can start a FWD group based off Josie's template virtually anywhere – there's even a Stratford, Ontario group. It's as simple as setting up a Facebook group and putting the community out there.
"I see this as a gateway for women who would otherwise not create their own mountain biking tribe," Josie says. "It makes it less daunting, and then you have a network of awesome FWD to connect with via social media. I suppose I felt this was a good thing to do because I, myself, have felt like a loner as I was learning to ride."
Josie plans to keep blogging about her #bikelife adventures on josiebikelife.com, always highlighting both the good and the bad. And this is good, because nobody is perfect.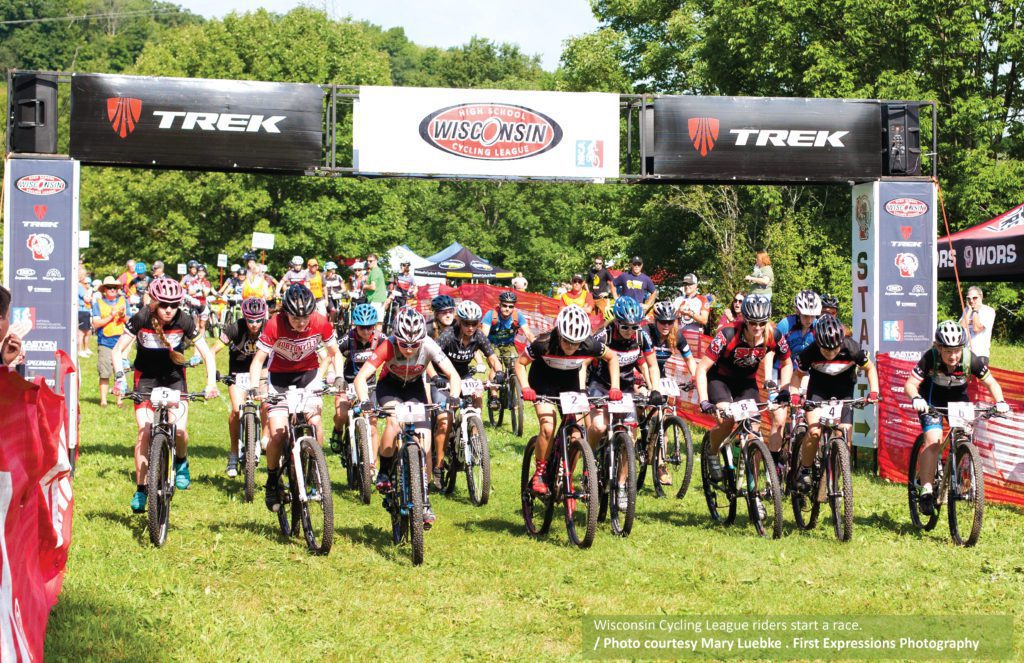 "Don't let the fear of falling keep you down!" says Ella Shively. "Women often feel pressure to be perfect, but perfection is not conducive to improvement. You will fall at some point. Then you will pick up your bike, ride off, and realize, 'Oh! That wasn't so bad after all!' Mountain biking is not the dangerous sport it is sometimes made out to be. That said, don't let anyone pressure you into riding faster than you are comfortable with. The less anxious you are, and the more you look forward to the next ride, the more likely you are to stick with mountain biking for good."
And sticking with mountain biking is not only good for your physical health, but your mental state as well – being out in nature, deep in the woods on a singletrack trail, is one of the greatest experiences there is.
"If there are raspberries growing on the side of the trail, stop and eat them," Ella says. "If the change of seasons has embroidered the forest in red and gold, stop to take in the view. Mountain biking can make you see things you've never seen before. You will never regret taking a moment to enjoy the experience of it all."
——————————————–
Aryn Henning Nichols is super excited about becoming a better mountain biker this spring, summer, fall… forever! She is grateful to all these awesome women for their awesome inspiration.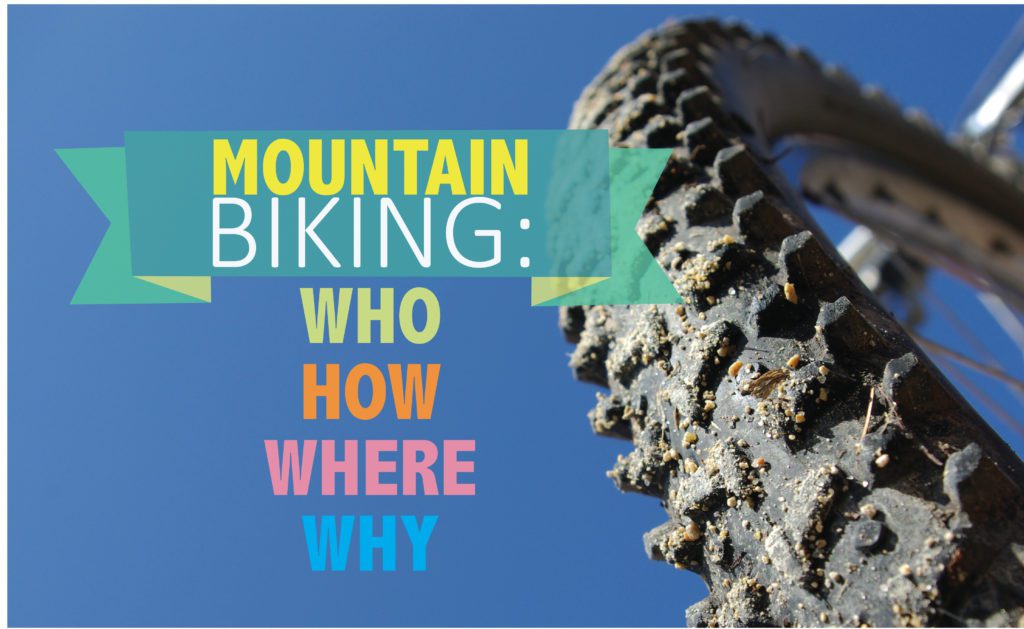 For all those women (and men!) out there thinking of joining the mountain bike community, Ella Shively would like to say:
"Welcome! May your rubber side remain down, and may you ever shred gnar (that's mountain biker for 'have an awesome ride!')"
Here are some tips to get you going:
First step: Visit your local bike shop! Many will have options for renting mountain bikes, and even offer led-rides to get you acclimated if it's your first time out. They will definitely have suggestions on gear, where to start, and the best beginner trails.
Talk to other people who ride. See if you can join up with them!
Once you're into it, remember you don't have to be on a trail to improve your technical riding. "I taught my friends about cornering by setting up cones to make a slalom course on a grassy hill," Ella Shively says. "In seventh grade, I learned how to ride no-handed, lift my front wheel, and corner smoothly during my daily commute to school. To this day, I commute by bike as much as possible throughout the year – riding over chunks of snow on the sidewalk imitates the challenge of riding a rooty mountain bike trail!"
Martha Flynn's top 5 reasons for loving mountain biking:
• Connecting to nature
• Being able to push myself to my limits or just ride casually – whatever I need that day
• Meeting so many amazing women and men through the experience
• Being brave and tackling things I never thought I could do… riding a big drop at Spirit Mountain in Duluth, making it through a gnarly rock garden or finishing a 100 mile single track race
• Finishing a ride completely sweaty, dirty, scratched up and thinking there is nowhere else I'd rather be right now
Ella Shively's favorite places to ride:
"The Human Powered Trails (HPT), now called Upper Hixon Forest, is a wonderful place to ride in La Crosse! The difficulty level ranges from the mostly flat Prairie Loop for beginners, to a little more challenge and some fun turns and obstacles on Twister, to more descents and climbs like Obi Wan/The Dark Side. There are no user fees, and the trails are well-maintained. You can even ride up the Vista Trail to the HPT to maximize time spent on dirt instead of the road. If you're up for a day trip from La Crosse, Black River Falls and (of course) Decorah also have challenging trails in beautiful natural settings. I've also enjoyed long weekends in the areas of Chequamegon and Copper Harbor (favorite trails in Chequamegon and Copper Harbor: Gravity Cavity and Daisy Dukes, consecutively)."
Online Resources:

ellacyclingtips.com (like them on Facebook, too, for regular tips and stories about female cyclists)
YouTube (tons of demos on bicycle maintenance and handling)
decorahbicycles.com
www.nationalmtb.org
www.wisconsinmtb.org
www.minnesotamtb.org
wors.org
www.littlebellas.com
www.facebook.com/fearlesswomenofdirt/