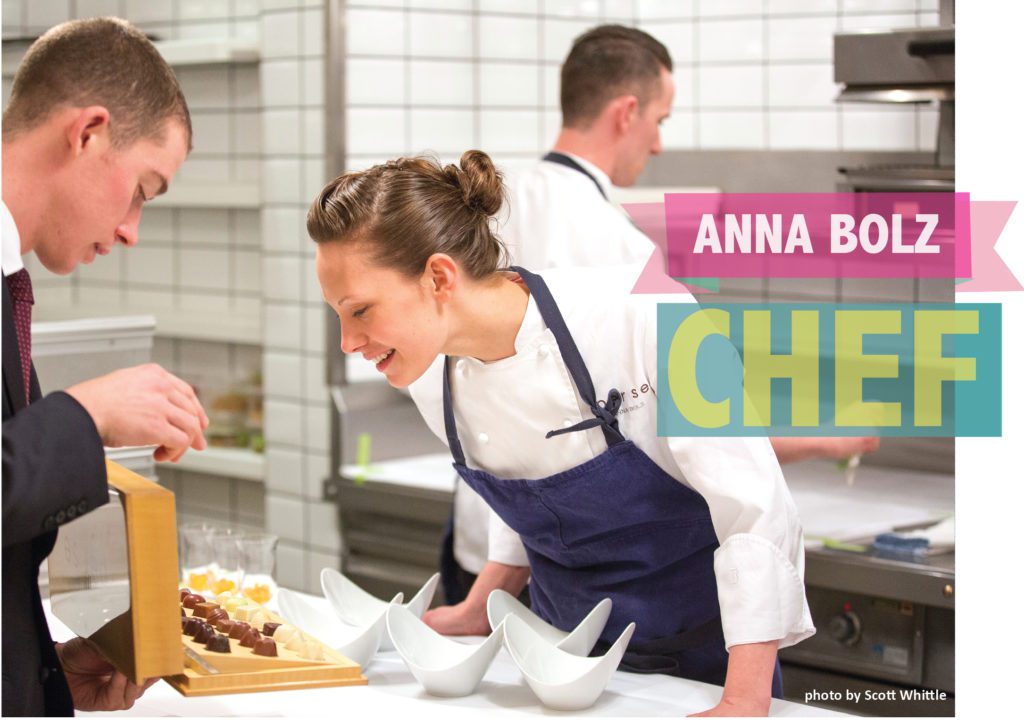 Inspiring Women Series: Anna Bolz / Pastry Chef
By Sara Friedl-Putnam • Originally published in the Spring 2017 Inspire(d) Magazine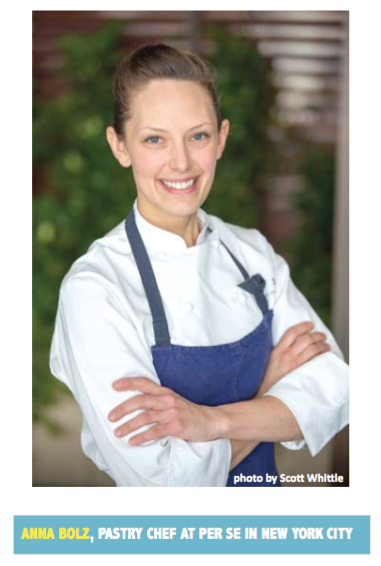 Even though Decorah native Anna Bolz lives in New York City, a metropolis brimming with 8.5 million people, her heart is deeply rooted in community. And each table of diners at Per Se, where Anna holds the title of pastry chef, offers up a different story of community and an opportunity for connection. Anna's part in the evening's story comes last – sometimes the literal icing on the cake – through the mouth-watering desserts she and her team of eight concoct at the Michelin three-star restaurant.
Anna takes that role seriously: It's so much more than an evening afterthought.
"Because all the items are served at the same time, I strive to achieve an ideal balance of flavors, textures, temperatures, and colors," says Bolz. "I want to ensure that the whole experience offers diners as much sense variety as possible."
Recent pairings have featured a "bright, cold, and refreshing" hibiscus and pear dessert, pistachio ice cream that's "rich, luxurious, and garnished with rose," and a "sweeter, softer, more modern" chocolate dessert.
Anna credits her environment – "the city that never sleeps" – with providing all the inspiration she needs. "I will take a walk and smell the flowers, visit a gallery and see how a work of art is put together, or go out to eat and check out what other people are ordering," she says. "I live in a very inspiring world, and it's all about opening my eyes and being receptive to it."
It wasn't all that long ago that this small-town girl was learning the restaurant basics at a Water Street eatery in Decorah.
In December 2005, Anna – then a senior music major at Luther College – had her sights set on graduate school in trumpet performance when a part-time job at Hart's Tea and Tarts morphed into something much bigger. After the restaurant's chef abruptly quit right before the holiday season, she pitched in to help out.
The experience changed her life forever.
"I realized that while the music room was fun, it also lost its sparkle for me after six or seven hours," says Anna, the daughter of Lloyd Bolz and Mary Steele, both of Decorah. "The kitchen, in contrast, felt like play – even though I was putting in 14- to 16-hour days, it never felt like work, and I started wondering how far I could push that."
Quite far, it turns out.
Since 2009, Anna has focused her natural creativity and boundless curiosity on her work at Per Se, the NYC counterpart to Chef Thomas Keller's fabled California-based French Laundry. Originally hired as chef de partie (section cook), Anna honed her craft under renowned pastry chef Elwyn Boyles, advancing to pastry sous chef in 2011 and then, in 2015, to pastry chef.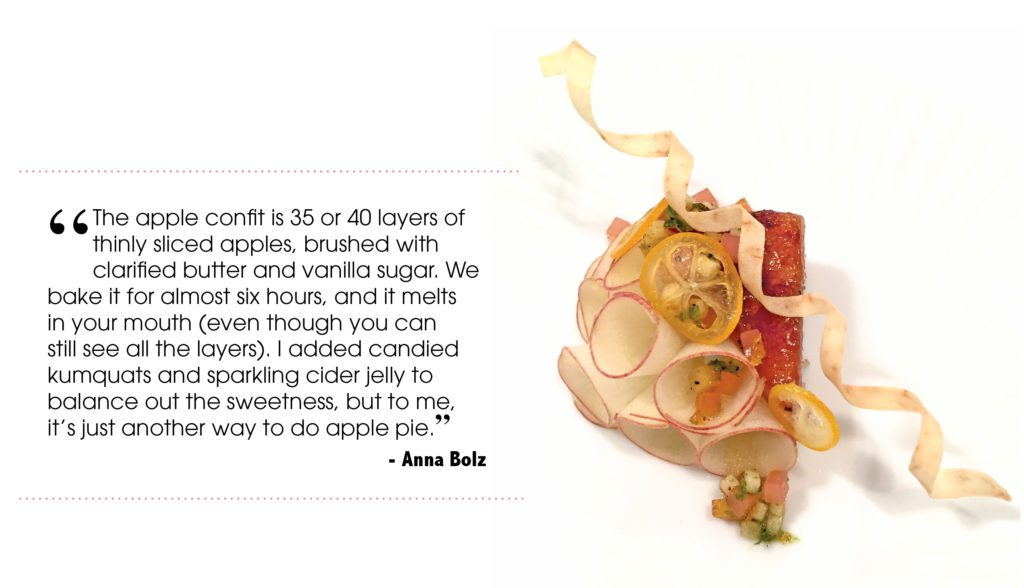 Anna has worked hard to earn the respect of her colleagues – she is one of only two women on the restaurant's executive team, and oversees her own team that's responsible for Per Se's palate-pleasing array of desserts. And it's a good bet she won't stop there.
"I'm constantly looking at how I can do my job better, help others be better at their jobs, and make an impact on people around me that's not just about creating beautiful food," says Anna, who typically arrives at work in the Time Warner Center before noon and rarely leaves before 1:30 in the morning. "My goal is to guide the next generation, collaborate fully with my colleagues, and be a contributing force at this destination restaurant."
Anna attributes her tireless work ethic to her parents, especially her father, Lloyd, a construction firm owner under whose watchful eye she learned how to swing a hammer and wield a saw.
"My parents taught me very early in life to work for what I wanted," she says. "I started out doing minor cleaning projects for my dad and eventually graduated to construction."
Those skills came in handy when, after earning her bachelor's degree from Luther in May 2006, she decided to spend the next nine months doing construction full-time to save up for the move to New York. The goal: Attend the French Culinary Institute (now the International Culinary Center).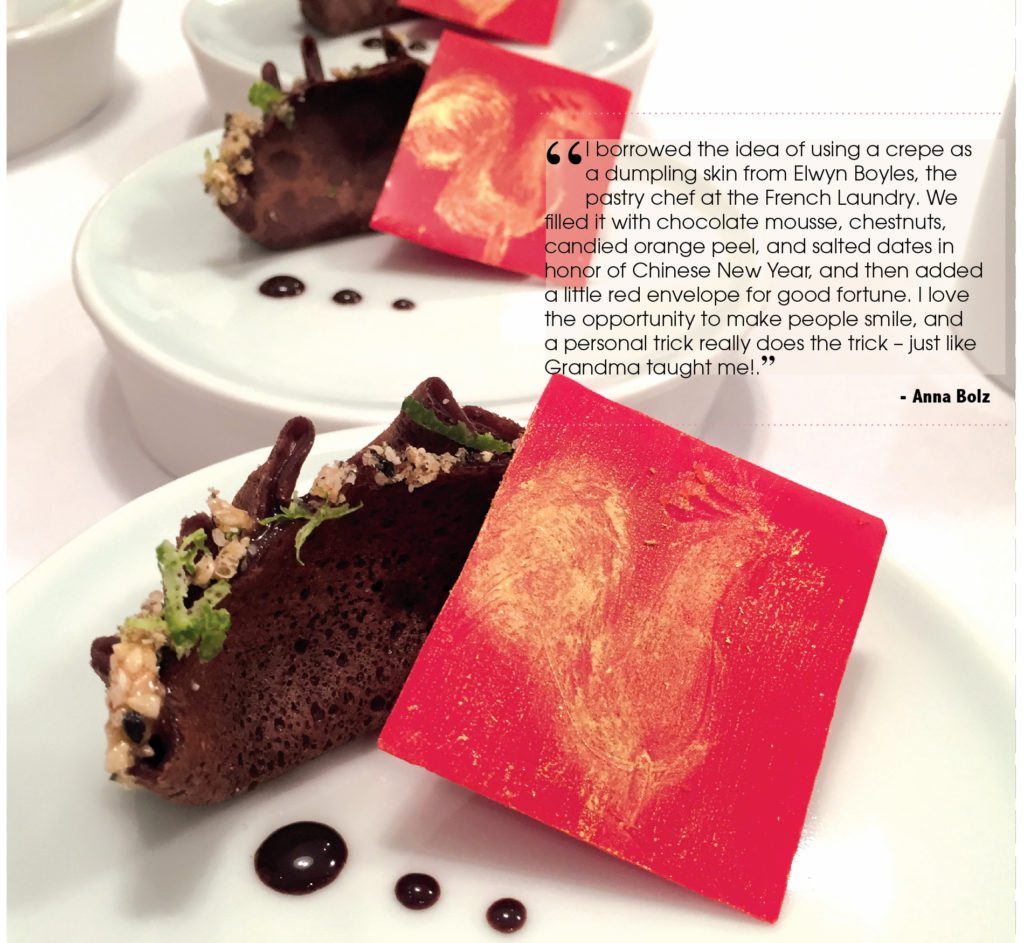 "I had never been to New York," she says, "but I knew it had a lot of restaurants and a lot of opportunity and thought it would be the best place for me to learn the trade."
Those instincts proved correct, and, after settling in New York in February 2007, Anna took full advantage of the city's culinary landscape, spending her days attending classes, her nights "externing" at Jean-Georges (another acclaimed Michelin three-star restaurant), and her weekends plating and finishing desserts at the Porter House steakhouse.
"I was putting in 75 to 80 hours a week among the three," she recalls. "My friends and family thought I was crazy, but it was what I wanted to do."
That unbridled passion and undeniable talent didn't go unnoticed. Johnny Iuzzini, Jean-George's executive pastry chef, offered her a full-time job at Jean-Georges. (If Iuzzini's name sounds familiar, there's a reason – he served two seasons as head judge on the Bravo TV show Top Chef: Just Desserts.) Though Anna had intended to move closer to home after wrapping up her studies, she quickly changed course.
Two years later, when Anna felt it was time to move on, her well-connected boss was right there to help, setting up trials (a working audition of sorts) in the kitchens of two of the city's top restaurants: Daniel and Per Se.
"Working at Jean-Georges opened up a lot of other options for me," she says. "Johnny helped me realize what was possible for me in the industry and set me on the right path."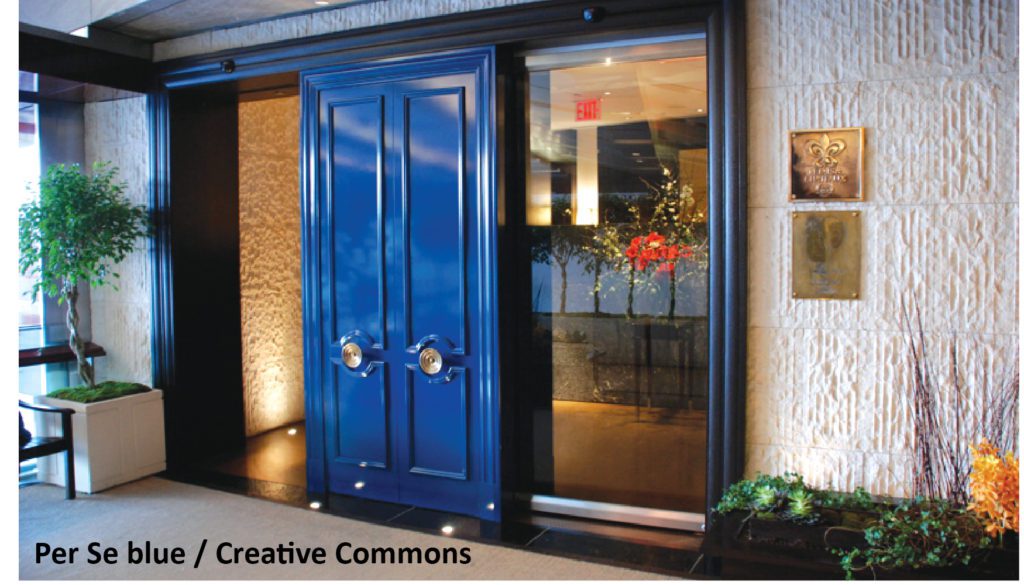 That path, of course, led to Per Se, where Bolz particularly enjoys the "systematic, detailed, imaginative work" involved in creating the finale of the nine-course, prix-fixe, French-influenced tasting menu ($325+ per person). The menu's "assortment of desserts" comprises fruit, ice cream, and chocolate treats as well as candies. (Dessert lovers, rejoice! The restaurant also has a five-course dessert tasting menu – $70+ per person – at Salon, its walk-ins-only dining room.)
In February 2017, Anna was one of two pastry chefs recognized by the restaurant-industry magazine StarChefs with its Rising Star Award. And while the accolades are nice, this Driftless native says the best part about her work is that it doesn't feel like work at all.
"My day is never the same because I respond to what's happening in the restaurant and the needs of the people around me," she says. "I love being constantly challenged to be creative, and I honestly cannot imagine doing anything else."
————————————————
Sara Friedl-Putnam loves all kinds of desserts–especially any involving chocolate!–and hopes to one day indulge in a full plate of Anna Bolz's culinary creations.