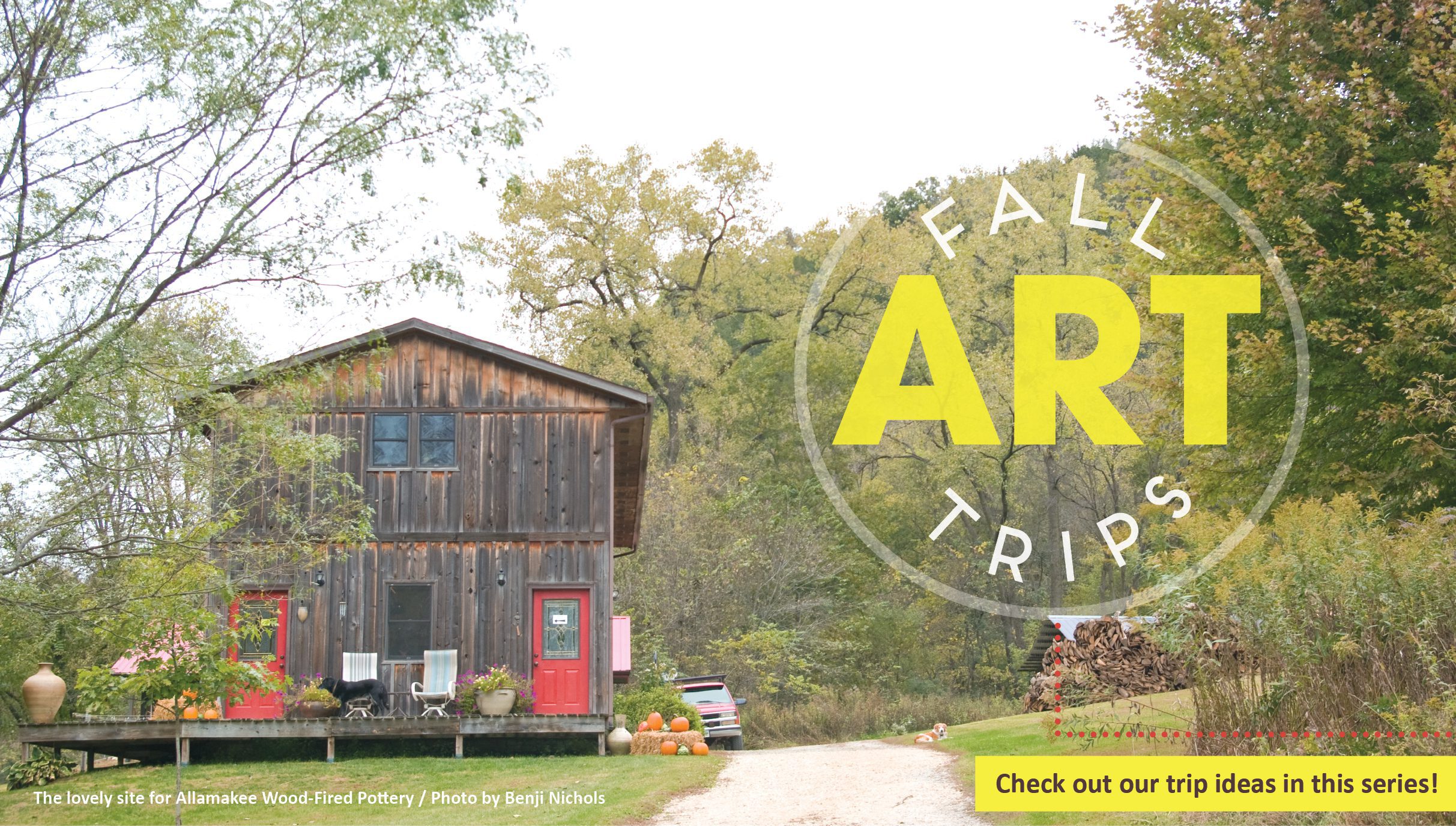 By Aryn Henning Nichols
In our humble opinions, if the roads are good to go, it's a perfect time for us to go… on a road trip! And fall in the Driftless Region is an especially nice time to hit the road – the leaves are techno-coloring out, the air is crisp, and there always seems to be some sort of fun event or new place to check out – and lots of great arts and cultural events. To this we say: Yes! Score!
We love supporting the arts, and there are tons of amazing artists to support here. Participating in events like these is a perfect way to support the arts and artists directly (and can also be a great time to purchase some meaningful holiday gifts)!
So we put together a fun little arts and culture road trip list for fall – check out the whole series to get ideas on your calendars and get out during the loveliest season!
1. Driftless Area Art Festival
2. Vesterheim "Skål! Scandinavian Spirits" Exhibit
3. Northeast Iowa Artists' Studio Tour
Wondering what to pack? Check out our art trip packing list!
(Click above for larger version)
Feeling like you're digging the art fun? Add these art-y Driftless places to your list too:

ArtHaus
Decorah, Iowa
arthausdecorah.org
Guttenberg Creativity Center
Guttenberg, Iowa
www.guttenbergcreativitycenter.com
McGregor/Marquette Center for the Arts
McGregor, Iowa
www.mmam.org
The Pump House
La Crosse, Wisconsin
www.thepumphouse.org
Rochester Art Center
Rochester, Minnesota
rochesterartcenter.org
Minnesota Marine Art Museum
Winona, Minnesota
www.mmam.org
———————————-
Pictured at very top: husband and wife team Nate and Hallie Evans run their company, Allamakee Wood Fired Pottery, at the end of a beautiful road in rural, you guess it – Allamakee county! Their pottery – tableware, vases, pots, and more – is lovely with gorgeous designs and cool, earthy colors – we especially love their line of kids' cups – and the setting of their home and studio is equally lovely. When we ventured out there last fall during the Northeast Iowa Artists Studio Tour, Roxie got to play out in the yard with the Evans' boys while we checked out the studio space and giant kiln…and there was even tasty soup on for tour-goers! (iowaarttour.com) / Photo by Benji Nichols