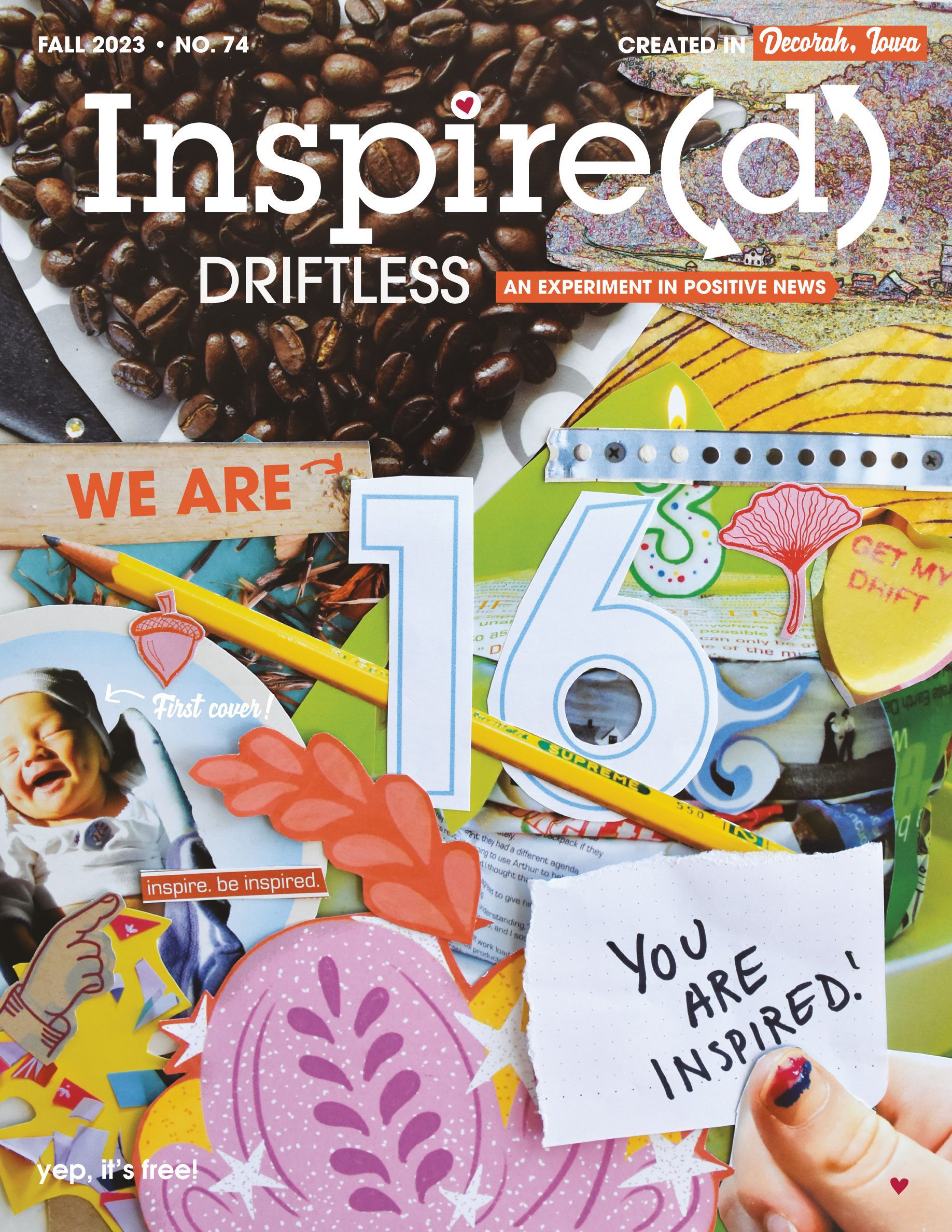 Happy 16th birthday, Inspire(d)! (Read the Fall 2023 Inspire(d) anniversary issue online here.)
This magazine is officially old enough to drive. Which is funny, because it's been driving our lives since its inception.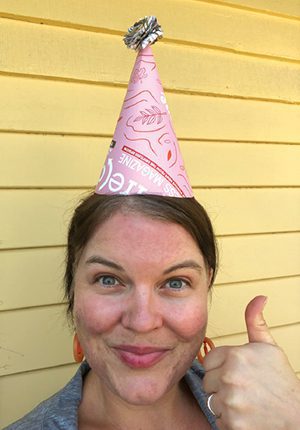 I was first inspired to start Inspire(d) my senior year of college at the University of Iowa. It was 2003, I was 22, and I had no idea what I wanted to do with my life, beyond writing. I was on track to graduate with a degree in English and journalism. But what next? That spring, I read a biography about a man named Dan Eldon (Dan Eldon: The Art of Life, by Jennifer New).
Dan had Iowa ties (his mom is from Cedar Rapids), was interested in telling stories (he was a photojournalist), but he was killed on assignment when he was 22. In his short, bright life, he did some wonderful things for his various communities. He raised money for neighbors in need. He aided friends at the drop of a hat. He helped organize a rag-tag team of fundraisers, took them on a perspective-broadening safari in Africa, and donated the funds they raised – $20,000 – to a refugee camp in Malawi.
He documented his life through art-filled journals, focusing on photography and collage. The cover of this issue is inspired by his art, in fact, and is made up of a variety of past Inspire(d) Magazines (compiled by me)!
Dan's story lit a fire inside of me. I was inspired. I wanted to tell more of these stories of people helping their communities. Stories that proved you could make a difference as a slightly responsible kid in their 20s or as an elderly grandma in her 80s. Relatable, "I could do that!" stories. Stories that inspired other people to want to make their world a better place as well.
After that spring, I spent one more semester finishing up college at a magazine program in Canada, one year teaching English in China, and finally, I came back to the US in 2005, thinking I had to get a "real job" before I could start the magazine that had been formulating in my head. I met Benji in 2006 and told him my idea, to which he said, "Let's do it!" The first Inspire(d) Magazine rolled off the press October 2007.
I like to think we've made our world a little better with each issue, and this one is no exception. We have great Community Builders, inspiring people and businesses, and topics I think should always be at the forefront of our minds: conservation, mental health, and enjoying this one beautiful life we are given.
Every day is an opportunity to begin anew. Every day holds the potential of inspiration. Sometimes it's hard to find it, though, and my hope is that this issue of Inspire(d), and every before and after, gives you a little spark of something you're excited about.
Thank you for reading, friends. You ARE inspired.
Looking forward,


Aryn Henning Nichols
In this issue, you'll find:
You are Inspired: Finding Inspiration in Life! Elena Rue • International Owl Center • Postville Therapy Dog Program • Community Builders: Laura Gentry • Julia Borgen • Caitlyn Konze • Wendy Lickteig • Sum of Your Biz: La Rana Bistro • Mental Health: Finding Inspiration • Conservation: Biophilia • Paper Project: DIY Birthday Hat + Paper Pom Poms • Probit: Vonnie Linnevold