Change is Good! Decorah Community Prairie • Community Builders: Craig & Sara Neuzil • Melissa Wray • Josh Hertel • Nancy Martinson • Mental Health + Change is a Good Thing • On the Virtues of Dead Wood • Artist Steven Maeck • Cider Round-Up • Gratitude Garland • Sum of Your Biz: Agora Arts • Cool New Driftless Spots & More!
Read the whole thing online here!
A note from Aryn: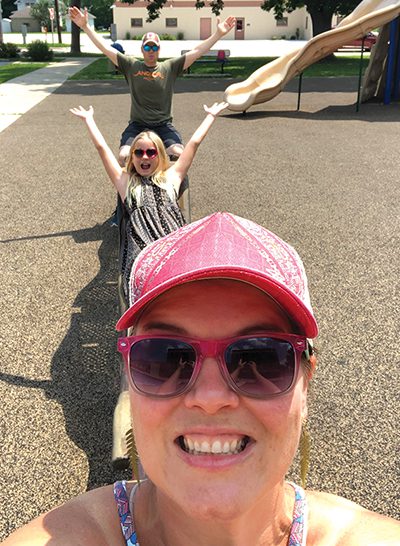 Another year of Inspire(d) has somehow whooshed by (kind of like deadlines, haha). And that means we've been making Inspire(d) for 14 years now, you guys!!!!
I kind of can't believe it.
We've changed some over the years (see the cover pics on pg 5!). I believe those changes have made us a better publication for our readers and region.
Of course, not all changes feel good. (Hello, on-going pandemic.) But even changes for the worse teach us about ourselves, and where we want to be. It's the spirit of this – of growth, of embracing change – that leads us through this anniversary issue of Inspire(d).
We're not the only ones celebrating anniversaries. The idea for the Decorah Community Prairie was seeded 20 years ago – read about it in Renee Brincks' story on page 16 – and this coming spring Agora Arts in Decorah will be celebrating 30 years in business! See what inspires and motivates owner Gail Bolson-Magnuson in our fall Sum of Your Business (pg. 57), and make sure to check out the many awesome local artists she represents at her store. Also mark your calendars for upcoming Art Tours around the region.
Some things that haven't changed about Inspire(d). Community Builders are still a cornerstone of our mission. We believe building community is the most important thing we can do on this planet. You can build community in a neighborhood, city, region, state, nation… world, at any level. It doesn't have to be big to have a big impact. Connecting with others helps us connect with our humanity, and realize we're all in this together.
The Community Builders in this issue are Craig and Sara Neuzil of PIVO Brewery & Blepta Studios in Calmar, Iowa; Melissa Wray of Mainspring in Caledonia, Minnesota; Josh Hertel of Coulee Con in La Crosse, Wisconsin; and Nancy Martinson of Lanesboro, Minnesota. We say a hearty thanks to these – and all – community builders across the region and world, working to bring us together. You are a vital part of positive change!
Change can also be tough. Mental health writer Olivia Lynn Schnur shares ideas for dealing with and embracing change, with an infographic introduction by me (pg. 33).
Oh, and have you been to Burr Oak, Iowa, recently? Artist Steven Maeck's work is hard to miss, if you have (pg. 42). Sara Friedl-Putnam's story highlights how his sculptures are all about changing one thing into another.
And make sure to read our fabulous conservationist writer Craig Thompson's piece about…dead trees! Yep, he shares his wealth of information about the invaluable resources of decaying trees (pg. 54 – we loved it)! Accompanying his words is the lovely work of Mary Thompson, who makes and teaches art in Wisconsin.
Speaking of art, our awesome remote summer intern, Claire Sanderman, created the cool design for our Change is Good cover (learn more about her on pg. 5), and we used her leaf and acorn design to create the Gratitude Garland Paper Project on page 47). No matter what we're going through, it's always a good idea to make a tally of what we're grateful for, and this project helps you decorate for the season, to boot!
One of the biggest things we're grateful for is YOU! Thank you for being with us these last 14 years, and allowing us to create this publication in your hands. We appreciate you more than you could ever know!
As always, looking forward,


Aryn Henning Nichols