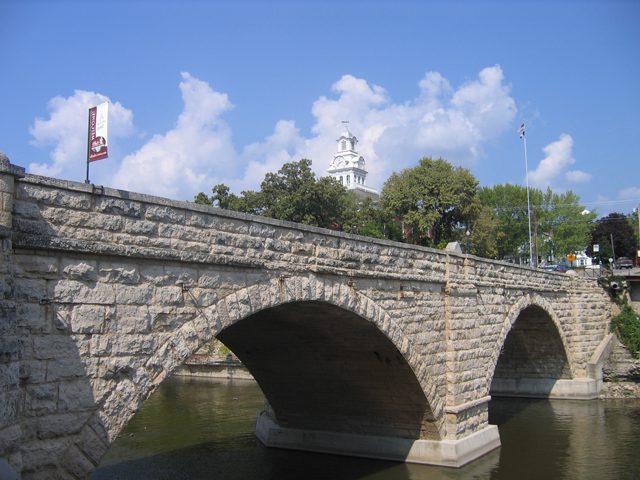 By Shannon Dallenbach Durbin • Originally published in the Spring 2013 Inspire(d)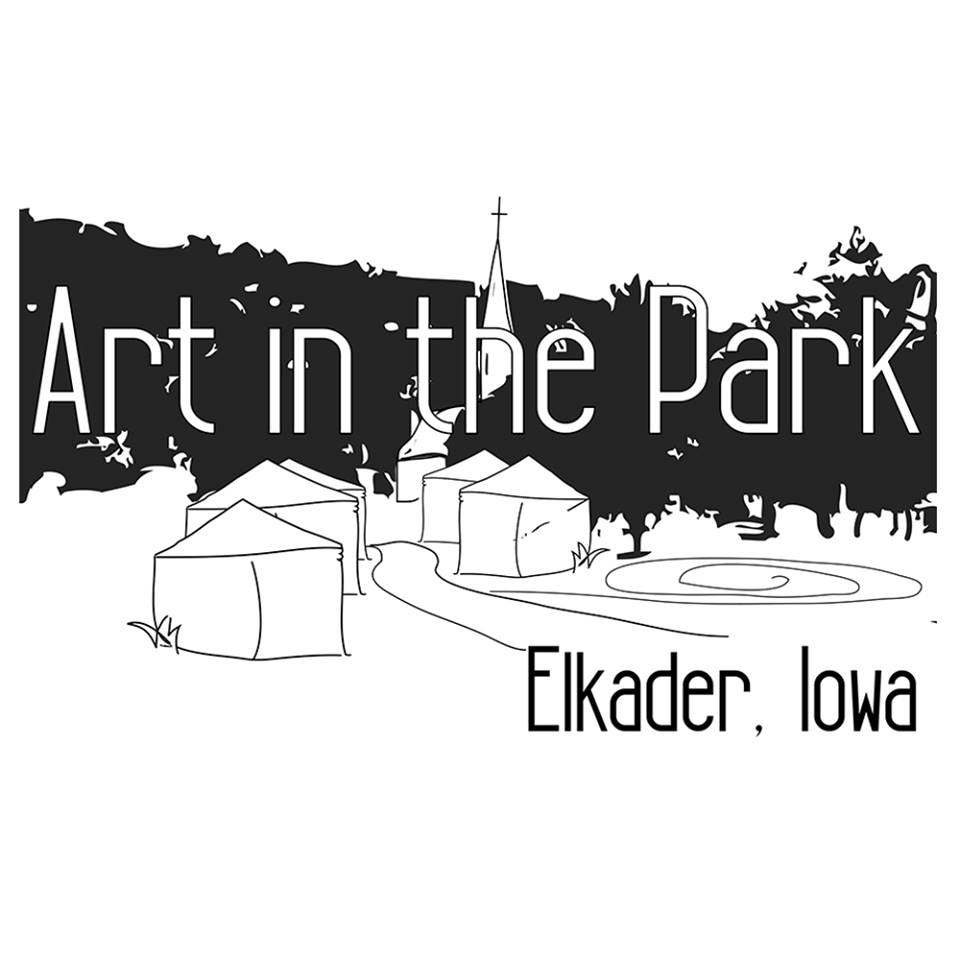 >>> Check it out! This weekend is Elkader's Art In The Park celebration. Saturday & Sunday, August 22-23, 2015. Enjoy Art, music, kids'Tent, Food & wine,and FUN!!! It all takes place in Founders Park (right across the street from the Elkader Whitewater Park!), in downtown Elkader. <<<
It's another beautiful day in the Driftless Region! If you're like us, you find yourself thinking, "We should take a little road trip!" Who wants to stay inside tapping away at computers or tidying the house when there's exploring to do? Where should you head? Well, Elkader, of course. This little town by the Turkey River is full of life. If you love shopping, eating great food, a little nature exploration, and taking in a show (live or on the big screen) you've come to the right place!
There are many entrances into this lovely little town of 1,300. If you are a mystery fan, you'll even find a sign indicating your arrival to "Maitland," the pseudonym for Elkader used by best-selling mystery crime novelist Donald Harstad. Harstad still resides in Elkader, and if you take the Bridge Street exit, you will pass the beautiful Jail House Inn – the old county sheriff office-turned bed and breakfast – where Deputy Sheriff Harstad used to work.
Keep going on Bridge Street and you will experience the magic of crossing the historic Keystone Bridge as you enter downtown. Take a peek to your right as you pass over and you will see the waters of the Turkey River rushing over the dam.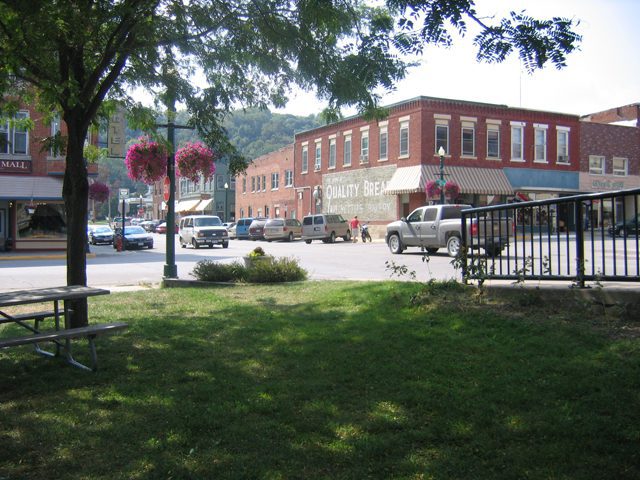 Coffee
Start your day with a coffee at Treats just down a bit on Bridge Street. This little café has a vibrant atmosphere and friendly staff. The coffee beans are locally roasted and have fabulous flavor. They serve breakfast, plus daily lunch specials, soup, and homemade pie. My favorite combination is the cashew chicken wrap, a white chocolate mocha, and maybe a truffle…or two.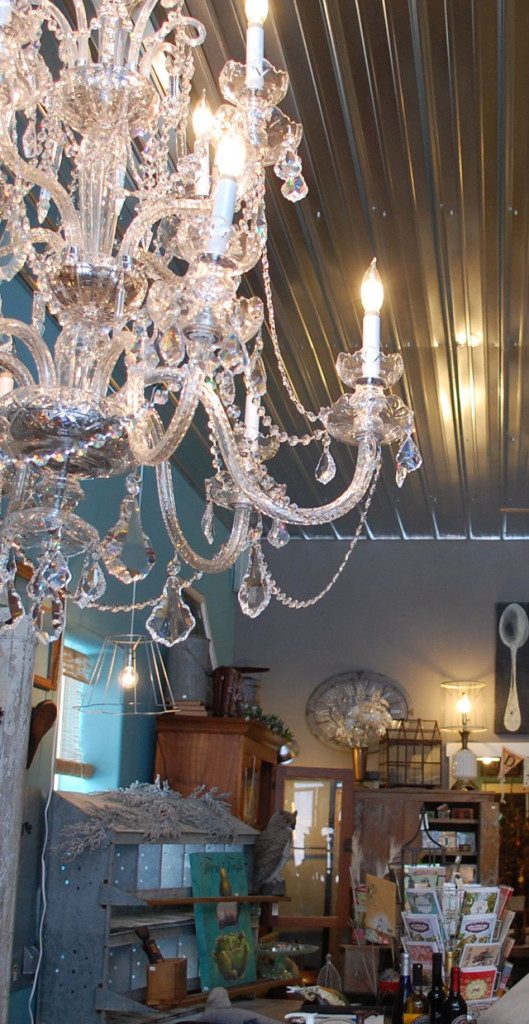 Shopping
Let the retail therapy begin! Adjoining Treats is The Copper Frog, a fun little resale shop with lots of spunk, moved into their former digs. You'll love their great collection of fun jewelry.
Cross the street pop into Bridge Street Boutique for the latest trends and head around the corner to Archive for Iowa wines and cool architectural finds. Next door you will find Common Clay Studio, with pottery by local artist Kate Chandler.
If you are still going strong, get into the thick of it at The Turkey River Mall. This place occupies an old hotel on the corner, and inside there are roughly 100 rooms all filled with different shops.
Across from the Theater is Willow Creek, featuring wine, garden decor, and paintings by local artist Jillian Webb Herrmann.
Sightseeing
Elkader was named after Abd elKader, an Algerian freedom fighter in 1846. In 1983, Elkader became Sister Cities with Mascara, Algeria (the birthplace of Abd elKader).  This friendship is displayed throughout the town. For instance, in the small walking park, Mascara Park, situated near the Elkader Opera House, you will find a peace pole made in 2008 by local luxury lighting company, Fire Farm. An identical peace pole resides in Mascara. And in City Hall, housed in the basement of the Opera House, you can find a display of items that Elkader and its residents have been gifted from Algerians through trips and visits from ambassadors and so forth. Find other interesting Elkader documents and artifacts displayed at the Carter House Museum, across the street from the Court House.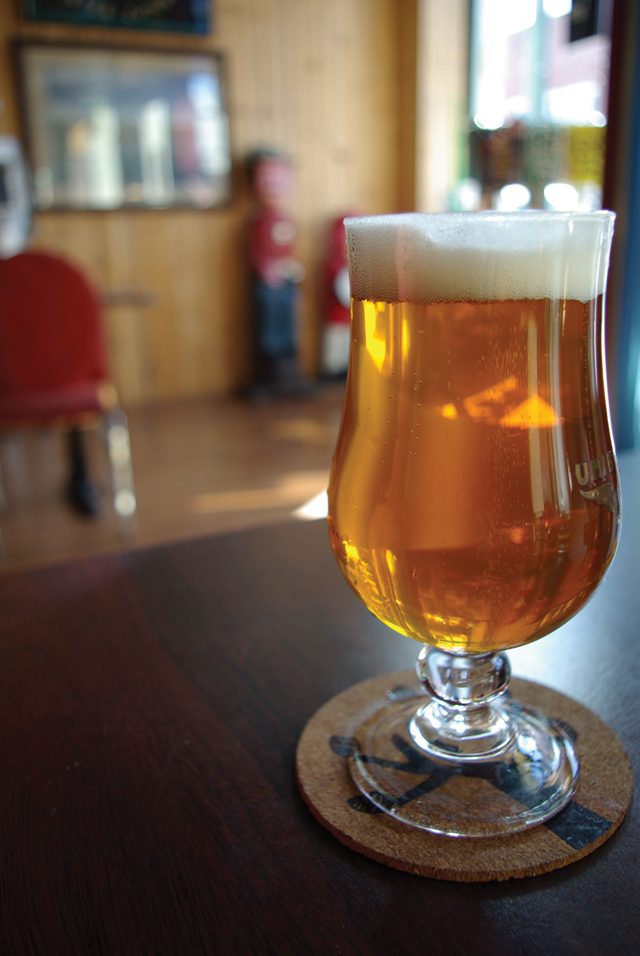 Dining
By now your tummy surely is starting to grumble and Elkader is not short on places to dine. From burger stands to buffets, pizza joints to pubs, Elkader has over a dozen places to grab some grub. However, my favorite will always be Schera's Restaurant.
Schera's is an Algerian/American Restaurant that was started by a couple drawn to Elkader based on its namesake. Schera's is a great place to try something new, but even their cheeseburgers are beyond compare. If you're interested in quality beer, you are in luck. Schera's takes their beer seriously. They have a rotating lineup of 18 craft beers on tap, with a specific glass to match each beer. When the weather is nice, you can enjoy your meal on the patio that overlooks the Keystone Bridge and Turkey River – make sure to try something that comes with the fabulous harissa!
And just across the river is a great place for dessert. The Burger Barn (open the first weekend in April until October) serves over 14 flavors of Chocolate Shoppe Ice Cream, as well as other delicious ice cream treats. You'll love their sandwiches that come on huge slices of Texas toast and your kids will love playing on the slides while you wait.
If you're undecided on where to fill your belly, time to take out your smartphone and look up DishnTunes.com. An Elkader native created this website as a one stop shop for locating great dining venues and entertainment in the area. They even have many of the menus on their site so you can peruse them before you go. And while you're on the site, check out what is available for evening entertainment.
Entertainment
Like many small Midwest towns, Elkader has golfing, bowling, churches, schools, and community clubs to keep the town hopping, but few can truly boast about their theaters (both live and big screen).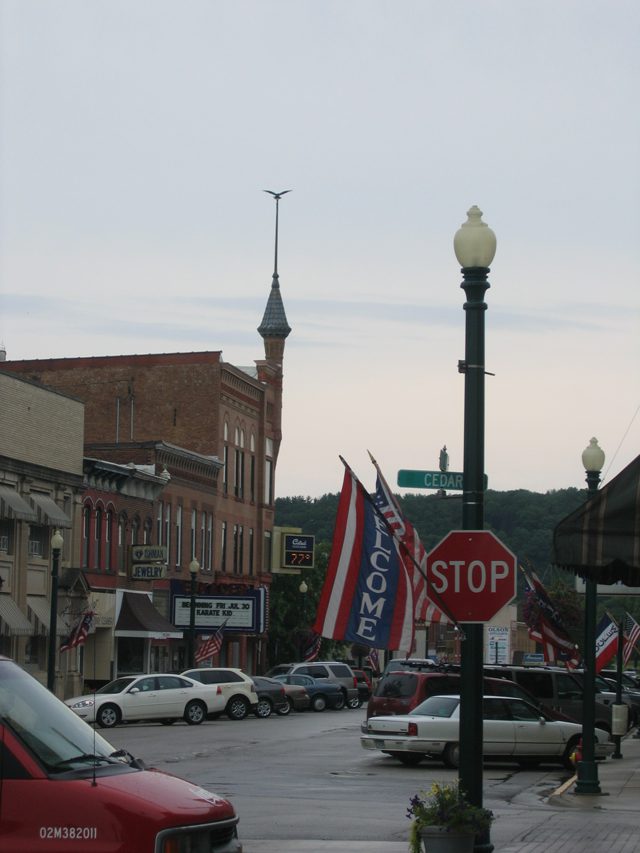 Even if you've chosen a random day to make your way to Elkader, you can always cap your night off with a movie at the Elkader Cinema. A beautiful, vintage neon sign invites you into the recently renovated cinema, which boasts a single, state-of-the-art digital projection screen. The movies are current, the concessions include beer and wine, and tickets are around $5. I usually finish up the night with something sweet from Pedretti's Bakery which opens again late at night when the baker starts the morning's bread.
If you happened to come to town on a night when the Elkader Opera House has an event, life couldn't get much better. The Opera House is gorgeous and the entertainment is high quality. Musical acts and comedy appear a regular basis. The Opera House Players, a volunteer theater group, puts on shows at least twice a year. This fall will feature SHREK The Musical.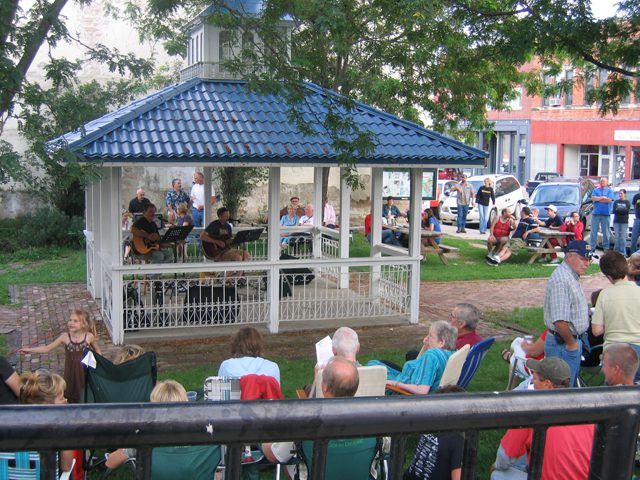 Nature
If you still have time to explore, check out the Clayton County Tourism Office and Iowa Welcome Center at its new location by the bridge. They can hook you up with brochures on everything from Spook Cave to Motor Mill. The Motor Mill's historic building and just-completed restoration of the nearby bridge (it washed out in the 2008 flood) is a fun outskirt destination – you might recognize the mill from the 2013 Iowa Tourism Guide. You can get there by going back up Bridge Street and heading straight out onto the windy gravel, or if it is a nice warm day you can call up Turkey River Outfitters.  They rent out canoes, kayaks, and tubes with all the necessities and even provide shuttle service. And don't miss checking out the new Elkader White Water park (image: Travel Iowa) on the Turkey River at the south end of town. This is the real deal for active kayakers, and has been drawing great attention since its completion.
If you're just looking for a little jaunt, when you leave the Tourism Office take the River Walk for a stroll along the river. The path is paved with many resting areas for enjoying the beauty of the river. Once you reach the bottom of the path you have couple options:
1. Continue your hike onto the Pony Hollow Trail, which brings you deeper into nature on an unpaved path. Here you will find cyclists, runners, and even horseback riders enjoying the woods and limestone cliffs.
2. Explore the City Park, featuring a large playground, disc golf course, swimming pool, ball fields, horse barn, picnic shelters, George Maier Rural Heritage Museum, and a fitness trail around the perimeter of the park.
Lodging
Wow, there is way more to Elkader than you thought possible, right? Maybe you haven't tried Fennellys' Irish Pub yet or taken a Clip Clop Carriage Ride so you're thinking about extending your stay. There are several places to lie your head – check out the Elkader Lodging Association's website for all the details (website to follow), but here are a couple of tips: If you've got a large party, think about taking the group to the Barn of the Bluff. Their dorm-style spaces are perfect for family reunions and friend getaways.
We hope to see you in Elkader this fall!
——————————
Shannon Dallenbach Durbin grew up on a farm just outside the area and always admired the Elkader community. She moved to the town seven years ago with her husband, Bryce, and here they are raising their six-year-old son, Link and one-year-old, Felix. Shannon has served many roles in the community from newspaper editor to President of the Sister Cities Friendship Club. She currently is employed at the Clayton County Extension Office as the Program Coordinator.
Food:
Treats
110 W Bridge St
563-245-2242
Burger Barn
688 Sunburst Ln
Pedretti's Bakery
101 N Main St
563- 245-1280
Fennelly's Irish Pub
105 N 1st St
563-245-3663
Schera's
107 S Main St
563-245-1992
Check out more options at dishntunes.com
Shops:
Copper Frog
118 West Bridge St
Archive
104 First Street NW, Elkader, IA.
563-245-3429
Bridge Street Boutique and Gift
107 W Bridge St
563-245-3939
Turkey River Mall
102 S Main St
563-245-3995
Entertainment:
Carter House Museum
101 2nd St SE  Elkader, IA 52043
563-245-3708
Elkader Cinema
108 N Main St
563-245-2666
Elkader Opera House
207 N Main St
563-245-2098
Spook Cave
13299 Spook Cave Rd, McGregor
563-873-2144
Motor Mill
Galaxy Rd
Turkey River Outfitters
456 High Street SE
563-245-3802
Lodging:
elkaderlodging.com
elkaderjailhouseinn.com
barnonthebluff.com
General Information:
elkader-iowa.com
claytoncountyiowa.com