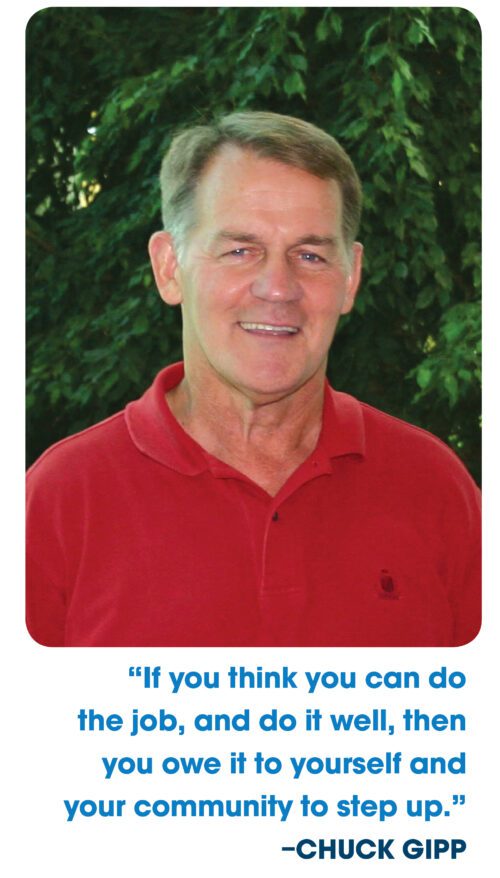 Chuck Gipp
It makes sense that current Iowa DNR director Chuck Gipp thought he "knew a lot of people" when, in 1990, he declared his candidacy for the District 16 seat in the Iowa House of Representatives.
He was, after all, a Decorah native, a Luther College graduate, an established Winneshiek County dairy farmer, and the chair of the county's solid waste agency.
But, more than 25 years later, Gipp still vividly recalls the lesson he learned while sitting at his kitchen table, strategizing his inaugural campaign with a political mentor.
"He asked me to take out my local phone book and start reading the names," he recalls. "Then he said that if I could identify every 10th name, I knew a lot of people…I didn't get any further than the B's before I realized I really didn't know that many people at all."
Today, Gipp knows considerably more people in Decorah and throughout Iowa. After winning that first campaign, he continued on to claim victory in his next eight. Gipp served a total of 18 years in the Iowa House – including four as majority leader – before deciding not to seek reelection in 2008.
Composed of 100 members, the Iowa House – the "lower house" of the Iowa General Assembly, which also includes the 50-member Iowa Senate – debates and votes on legislation introduced by its members or submitted by the governor, and builds the state's budget. Members also serve on several standing committees. (Gipp's top choice of committee assignment when he was first elected? Environmental protection.)
"You must stay connected to your constituents," he says of his recipe for success. "And part of that is explaining your decision-making process to the people you represent – they still may not always agree with your decisions, but, in my experience, they almost always respect that you thought through the possible choices."
It was a KOEL radio report about potentially carcinogenic industrial waste being shipped to a Northeast Iowa landfill that set his political career in motion back in 1980.
"The landfill turned out to be the (then privately owned) Winneshiek County landfill, which was just a mile from our farm," recalls Gipp, who, at that time, was a young farmer raising two small kids, Barrett and Alison, with his wife, Ranae. "Both Ranae and I became very concerned when we heard that news, and we realized that if we didn't get involved, probably no one else would."
While leading his neighbors in a successful fight to better monitor the landfill, Gipp assumed chairmanship of the county's solid waste agency. Soon state lawmakers were urging him to run for office. "If you think you can do the job, and do it well, then you owe it to yourself and your community to step up," he says of answering that call again and again over the next 18 years.
In 2008, Gipp answered the call (literally) once again when Bill Northey, Iowa Secretary of Agriculture, phoned to see if he might be interested in directing the state's Division of Soil Conservation. He held that position for three years before Governor Terry Branstad appointed him deputy director of the Iowa DNR (in 2011) and then director of the 1,100-employee agency the following year. The agency oversees the state's treasured natural resources ­– including its eight fish hatcheries and 87 state parks – and is charged with the sometimes difficult work of enforcing environmental regulations created by lawmakers.
"If you inform people what the rules are ahead of time, you can often avoid environmental damage," says Gipp. "We work hard to let people know what their responsibilities are and proactively work with them to meet them."
With his 69th birthday on the horizon, this dedicated public servant has no plans to discontinue that work anytime soon.
"I truly enjoy the people I work with and the work I do," says Gipp, who continues to live in Decorah and commute weekly between his hometown and Des Moines. "The DNR touches more people's lives than almost any other state agency, and it's rewarding to be a part of that."