If you got in your car, starting at Kenmore Square in Boston, and drove west on Historic Route 20, about halfway across the country you'll enter the 333 miles that run straight through Iowa. There you'll find the 9th Street SE exit for Dyersville (watch for the National Farm Toy Museum sign.)
Although Dyersville, population 4,650, is often referenced alongside a certain famous baseball movie quote, it's way more than that. It's a vibrant community of entrepreneurs that are helping this rural town slide into home plate for the next generation. (Oh come on, you didn't think we'd let it go that easy, did you?!).
But in all seriousness, the Field of Dreams movie site is absolutely worth a visit. In fact, as this story came together, a massive $80 million development deal has been announced for the site, in addition to an annual MLB game, which is all downright exciting. And of course, you really must take in the history of Fred Ertl Sr at the National Toy Museum as well, founder of Ertl Toys, and much more.
But if we were to re-write that famous Field of Dreams line, an even better version to describe Dyersville might be, "If She builds it…".
You see, historically, women entrepreneurs have set the pace in Dyersville – both out of necessity and vision. For over a century, Dyersville was the home to one of HB Glover Companies sewing and manufacturing facilities – providing jobs and careers for women of all ages (yes, mostly women), who were not afraid to stand up for themselves while creating such iconic American brands as Brighton-Carlsbad Sleeping-wear, as well as flannel shirts provided to US troops in World War One. While the Brighton-Carlsbad line was sold by department stores from coast to coast mid-century, the women of HB Glover's factories organized themselves, and even led the strike of 1916. This strike would later prompt the Richard Bissell novel 7 1/2 Cents, which also led to the smash Broadway Musical The Pajama Game.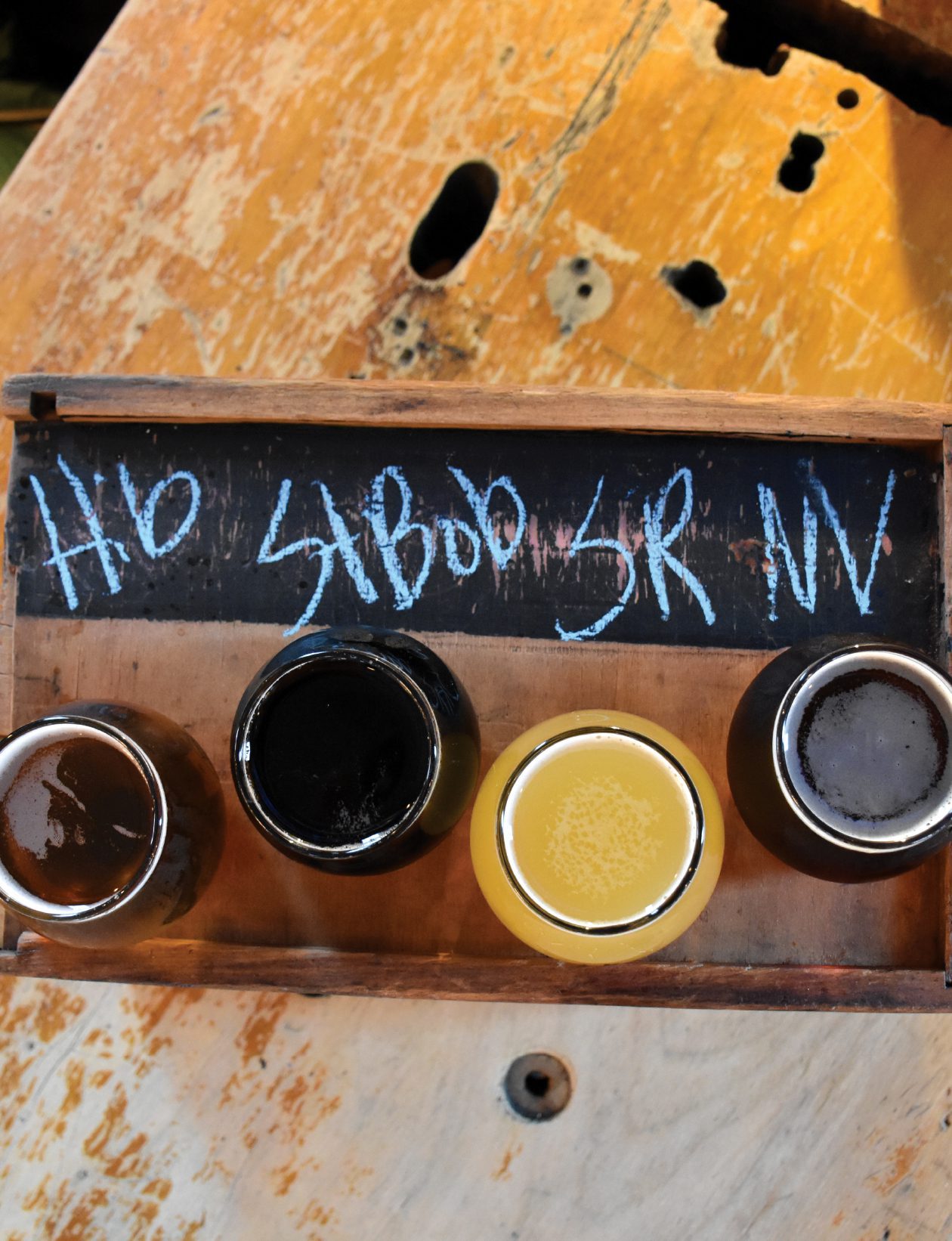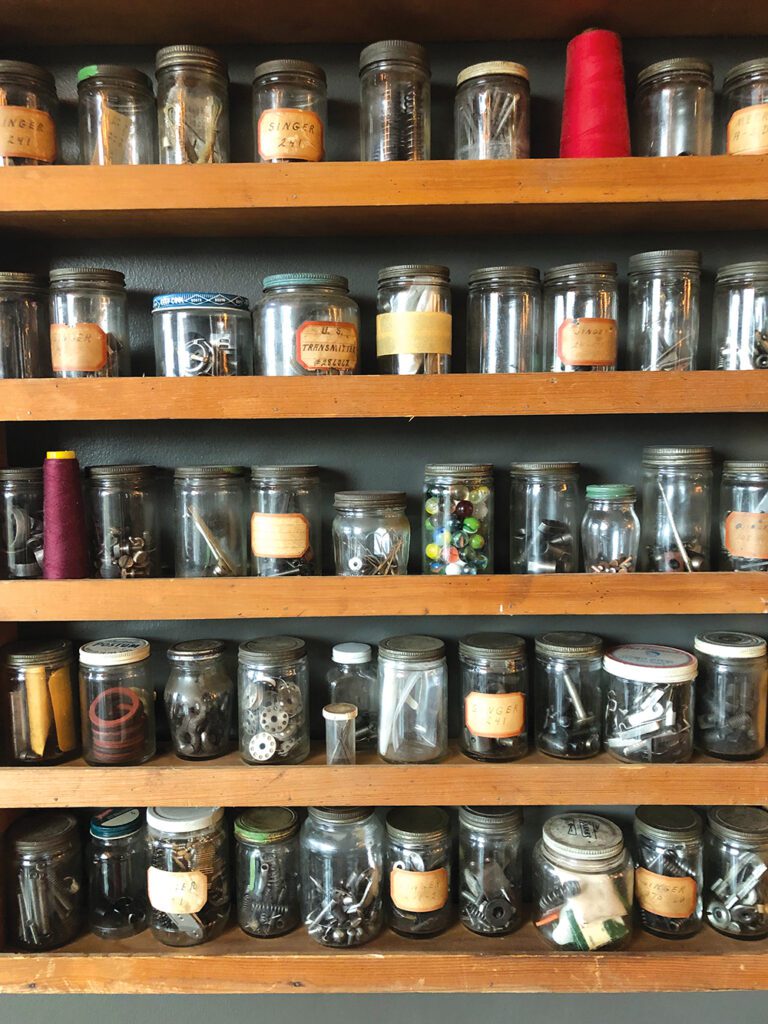 The building that housed HB Glover in Dyersville operated in one capacity or another as a sewing factory from 1910 to 2017. After that, the facility was mothballed until entrepreneurs Carol Miller and Tom Olberding saw a vision for turning this rich historical building into a hub for the community – while preserving that history, all through the lens of Craft Beer. Textile Brewing has done just that, even branching off to help develop other creative rehab projects such as the Corner Taproom in Cascade (which also has a Happy Joe's Pizza Counter in the other half of the building!), and the freshly opened TapHaus in Atkins, just west of Cedar Rapids.
The Brewery has fully embraced its history, complete with furniture built from original factory pieces and lighting constructed by Dyersville toy designer Chris Huisman of RetroPurposed. The place oozes of modern beers and fantastic history, with informational pieces throughout the taproom. It is also one of the first Gold Certified "Green Breweries" in Iowa, and has a forward vision for utilizing local grains and ingredients in their beers – such as the Re-gen (regenerative) Rye Red, Cascade Blonde, and the Breslau Style Schoeps which features over 70 percent Iowa grown wheat.
Just around the corner on 1st Avenue, Savvy Salvage, a wildly creative upcycling and "junk" business opened in 2010, is run by Heidi Huisman (Chris Huisman's partner in life and adventures). Heidi's family lineage in the self-proclaimed "garbage business" led her work in salvage long before it was "chic." Keep an eye out for Chris' lighting pieces there, as well as Karri Parrott's "The Bird's Nest," creating one-of-a-kind furniture pieces sealed with Earth Safe Finishes. The store also acts as home base for the "Historic Route 20" Association's Iowa chapter, with information, souvenirs, and more.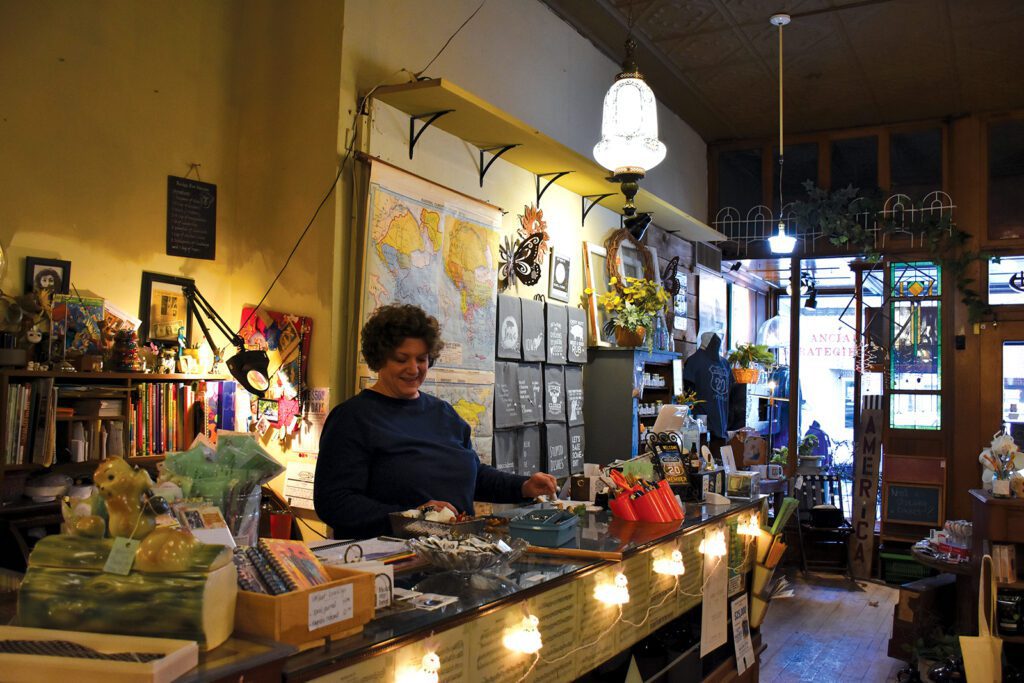 Across the street at Brew & Brew, Becca Miller and her crew crank out all things homemade and delicious in what has become another hub for the community. After working in the Ag Tech and cattle breeding business, with a degree in Beef Production, Becca, then 24, saw the opportunity to purchase the coffee shop and make a difference in her hometown. So in 2017 she jumped in and never looked back. The business not only survived, but thrived during the pandemic through small town support. Becca continues to show the town love through creative baking, breakfast and lunch menus (try the Acreage Panini!), and custom cookies.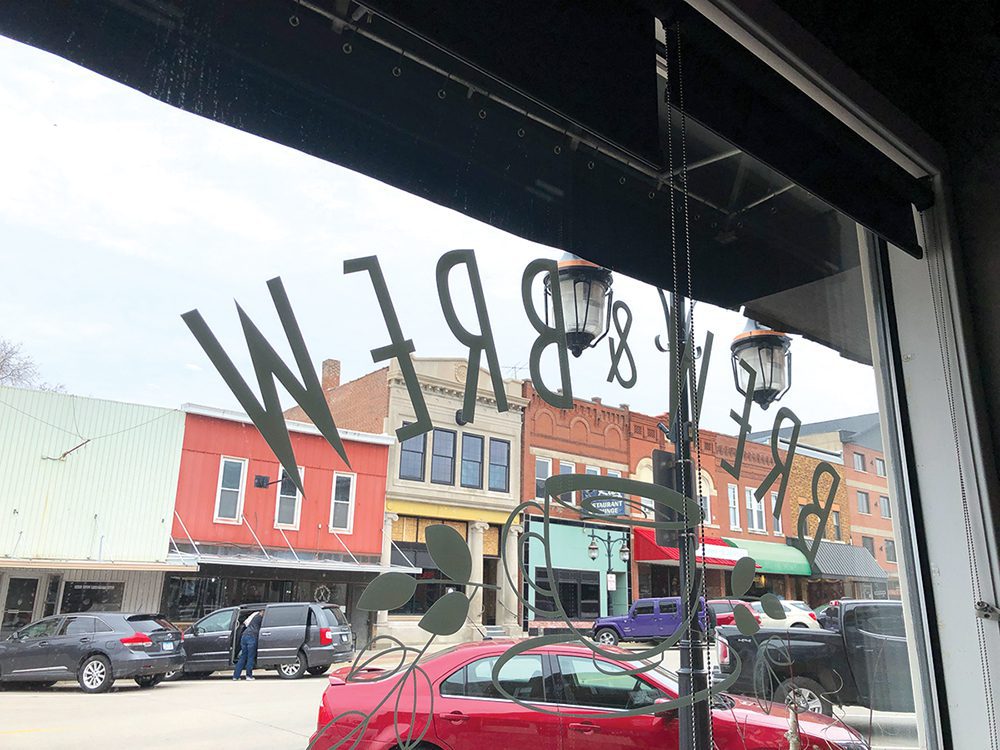 And while modern Highway 20 has defined the outskirts of Dyersville, the thriving downtown is still the kind of place one would have found on Historic Route 20 back in the day – where you can buy a new outfit at Jennifer Recker's J&R Fashions, pick up a new pair of shoes at Reicher's, and meet up for a quick meal at the Palace Saloon, Chad's Pizza, or Abby Sejdini's freshly modernized Dyersville Family Restaurant – all within about two blocks. In fact, right on the 200 block is Keri Knipper's just-remodeled Uptown Hair – in a building that has served as a barber shop or salon for more than 120 years.
Beyond the physical investments, Dyersville is also making good on giving young people, and those with "young" ideas chances to shine. The sum of these efforts is not only helping Dyersville succeed in rural Iowa, but also helping show young adults that the town is actually a great place to live. Take social artist Ashley Althoff, an Eastern Iowa native, who attended Upper Iowa University, but saw the chance to put her graphic design and art skills to work in the place she grew up. From an Americorps project that kept her local, she quickly became engaged in projects and jobs with Elkader's Art in the Park, the Clayton County Energy District, and telling the story of Textile Brewing as marketing manager. This is the type of creative work that can keep young, engaged Iowans plugged into their rural communities, while making real impact.
The town has rallied to help foster the self-employed and those chasing their ideas. The Dyersville Innovation Lab is a collaborative project of the Rural Ideas Network, Dyersville Economic Development, Chamber of Commerce, Community Foundation, Dubuque County, and Dupaco Credit Union. The Lab hosts co-working space, business coaching, roundtables, and more. They are now one of five locations featuring the Innovation Lab model, including one in Northeast Iowa, Lansing Office Works, opened in 2021 (read about that facility on pg 24 of the Summer 2022 Inspire(d) Magazine).
So as the seasons bring in "baseball weather" – keep Dyersville in mind for a perfect road trip. It's true, the 1989 hit film Field of Dreams helped put Dyersville on the modern Iowa map, and will inevitably continue to bring the fans – but we'd argue that it's the dynamic, often female lead folks of Dyersville who continue to make it special. And no, this is not heaven…. It's Iowa, and there's really good beer too.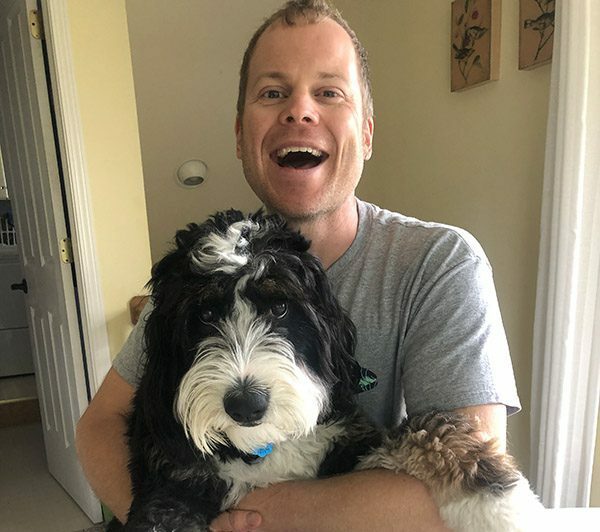 Benji Nichols is a bi-coastal, Iowa Boomerang (BIB? Is that a thing?). He loves getting to help tell the stories of our region – and has also started a new podcast – Rhymes With Decorah. Check it out online at: decorah.fun 
Going on a Dyersville Day Trip?
Check out dyersville.org before you go, and put these fun spots on your to-do list!
Field of Dreams Movie Site
Filmed on the Kinsella Family Farm, visit the place that helped the rest of the world understand that this is heaven. fieldofdreamsmoviesite.com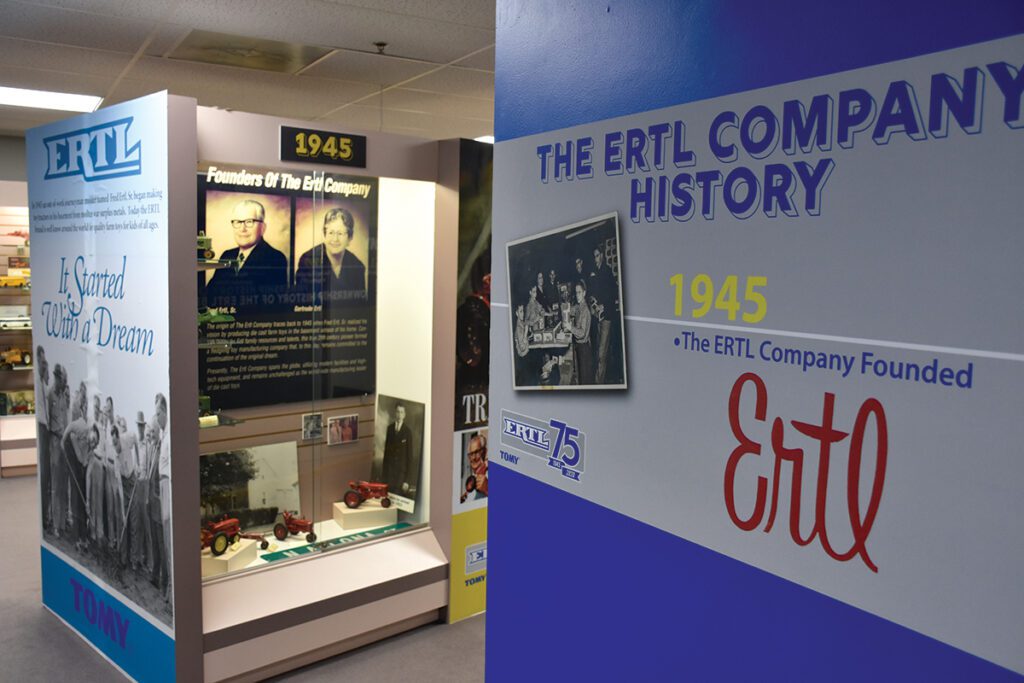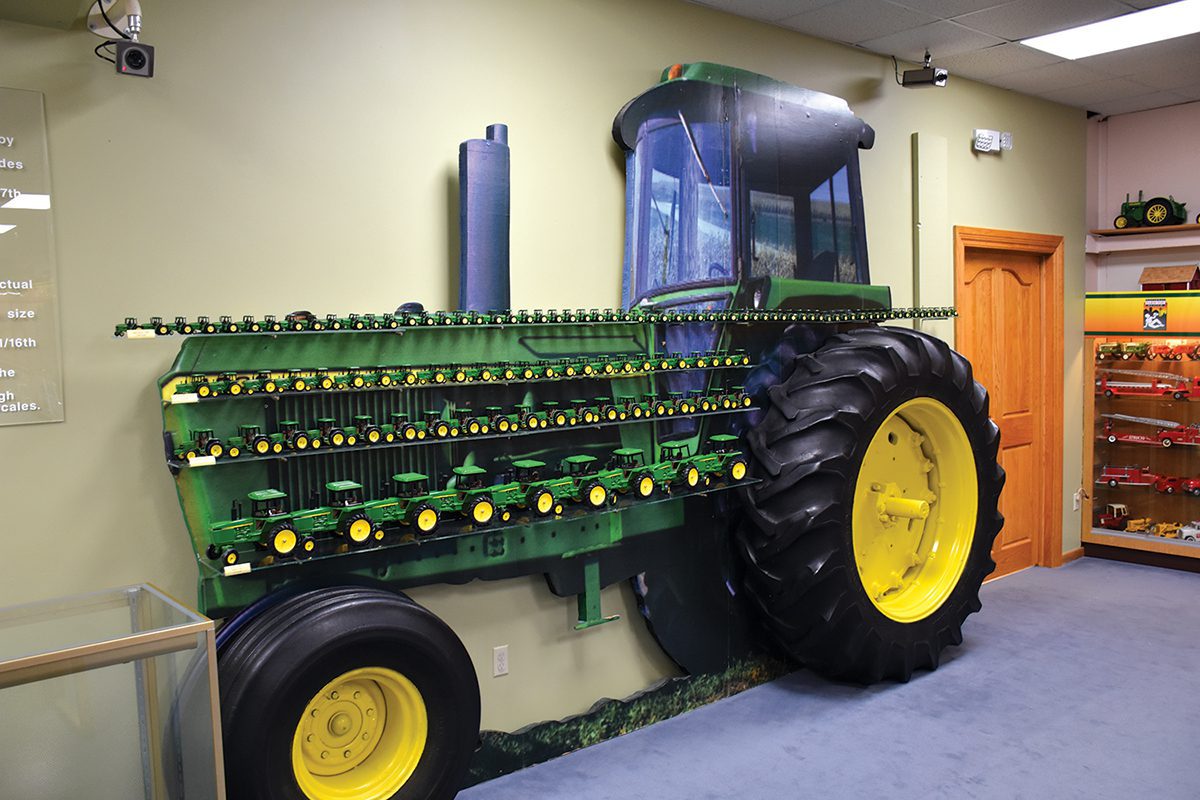 National Farm Toy Museum
What Iowa kid's upbringing would be complete without the innovations of Fred Ertl Sr? A union journeyman mold maker and Steward at the Adams Company in Dubuque, Ertl began making toy tractors in the 1940s from his basement furnace using sand from the river and used airplane pistons while the company went on strike, and through pioneering licensing work built a die-cast toy empire. The Museum tells Ertl's story, and many more, and also hosts the National Farm Toy Show the first week of June in Dyersville. Explore thousands of tractors and farm toys, as well as the incredible work of wooden toy creator Bernie Kluesner, 100 years of John Deere through Farm Toys, and more. www.nationalfarmtoymuseum.com
Basilica of St. Francis Xavier
Shining out 200 feet over Dyersville, the twin spires of the Basilica of St. Francis Xavier mark the tenacity of founding German immigrants to Dyersville. Since 1889, this Catholic Church has served thousands of parishioners, having been bestowed the "Basilica" title (one of 53 in the US) by His Holiness Pope Pius XII. Check it out, just at the edge of the downtown district on 3rd Street SW. piresoffaith.com
Textile Brewing Company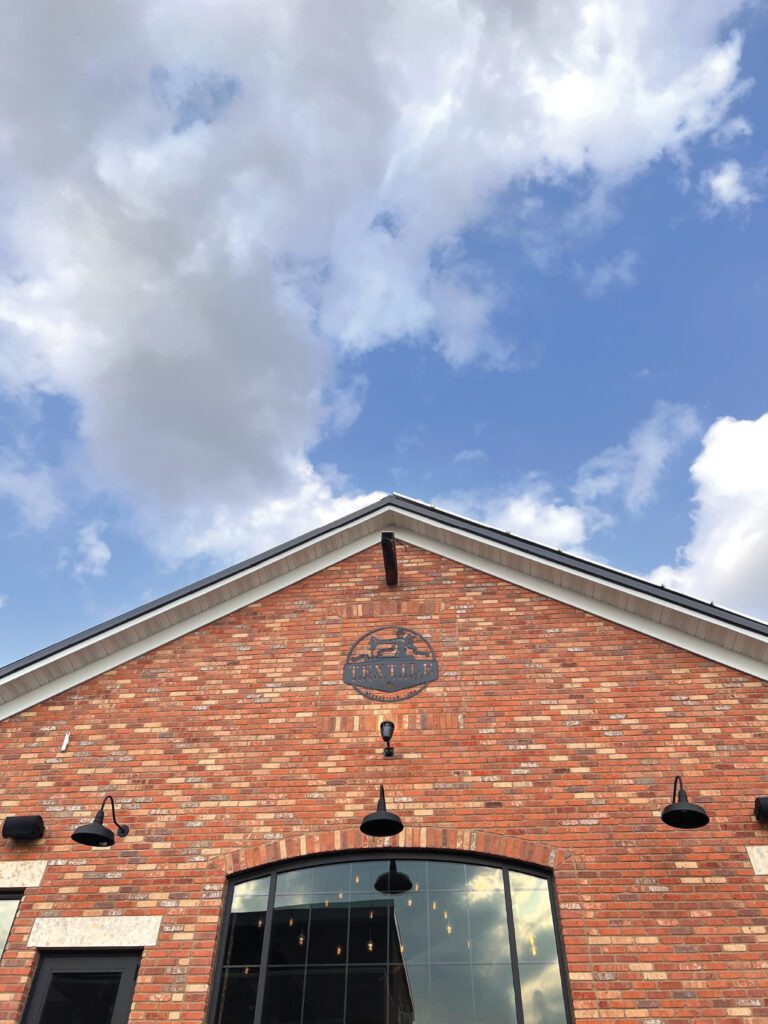 Fun, beautifully restored, environmentally conscious brewery in an old sewing factory! Come for the beer, stay for the giant Bavarian pretzels, and don't miss the historic displays all around the taproom. Dog friendly seasonal biergarten – tell them Inspire(d) sent you! textilebrews.com
Brew & Brew
Local Coffee, breakfast, and lunch shop. Don't miss the beautiful cookies that owner Becca Miller decorates in her "spare time" – the treats, sandwiches, salads, and coffee are all just exactly what you need. brewandbrewdyersville.com
Savvy Salvage
We love this super fun "junk" shop! Owner Heidi Huisman is an artist, curates beautiful pieces in her shop, and is a treasure herself. This shop also acts as the HQ for Iowa's "Historic Route 20" representation. Don't miss it! savvysalvageiowa.com
TOMY Factory Store
Through a series of conglomerations and sales, the TOMY Company now owns Ertl Toys, amongst many other brands you'd recognize. The Factory store is a fun spot to make a quick shopping stop. Check out "TOMY Outlet Store" on Facebook.
O So Good Winery
Just on the Southwest side of Dyersville – this Iowa Winery offers up a great variety of wines spanning a wide pallet of styles and flavors. Occasional music, fun atmosphere, and Chad's Pizza make for a nice stop. osogoodwinery.com
Dyer-Botsford House
Built by the founder of Dyersville, James Dyer. The House is now a museum featuring artifacts, displays, and beautiful antiques, including over 2,000 dolls! dyersvillehistory.com
FUSE
Dyersville, Sports Bar, Wine Lounge housed in 100 year old hotel and former industrial space. Opened in March 2022 by Tara Rahe with the intention of helping fuse the new and old sides of Dyersville. fusedyersville.com
Heritage Trail
Take a ride on this 30-mile route to explore the Upper Midwest's most scenic all-season trail from Dyersville to Dubuque. Follow the path of a once bustling railroad into a 450-foot deep valley, past old mining and mill towns. Discover the rugged beauty that welcomes thousands of bicyclists and hikers each year. www.cityofdyersville.com/315
Day Trip Add-ons: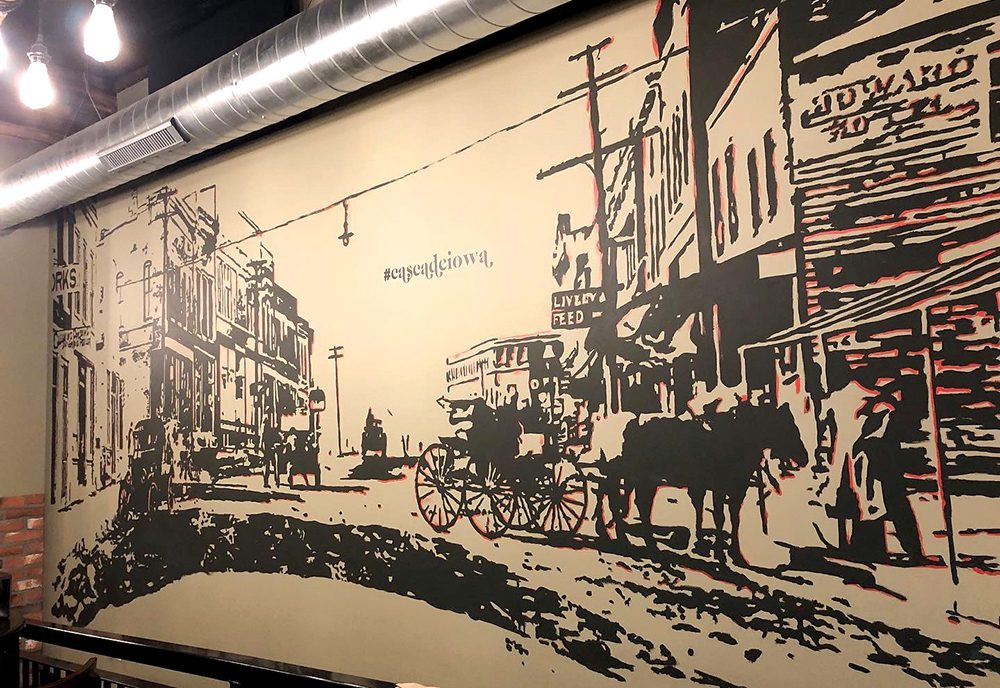 From the north – Take backroads to the Hill Country Convenience Store and Every's Auto & Tire in Colesburg. It might be one of the best examples of small town resourcefulness in Eastern Iowa.
Worth the extra 15 miles – Drive to Cascade, Iowa (pop, 2100) to check out the Corner Tap (Craft Beer Bar) and connected Happy Joe's Pizza. If this isn't a grown-up-Iowa-kid's dream, nothing is. The project was actually a collaboration between three businesses, the City of Cascade, and the State, and it is a beacon of what small town redevelopment can look like.  Hot tip – Cheryl's Flour Garden Bakery is across the street and also worth the trip (but only open until 2pm!).