By Aryn Henning Nichols, originally published in the Spring 2011 Inspire(d) Magazine
When you live in a land of no coasts, bodies of water take on a whole new significance. This is not to say that something as large and in charge as the Mississippi River isn't already "kind of a big deal" – it's just that we Midwesterners tend to appreciate it in a "let's spend the day at the beach" sort of way when we can head out of the house in less than 40 layers. This Boxed (IN) takes us to the southern "port" town of Dubuque, Iowa.
Dubuque has a certain old-world charm – it's one of the original European settlements west of the Mississippi River. The first permanent settler arrived in 1785 – a pioneer named Julien Dubuque. After Julien came a plethora of German and Irish Catholic immigrants moving to Dubuque for work, eventually leading it to become a Roman Catholic headquarters, with the Archdiocese of Dubuque established there in 1873. Much of the population is still Catholic, and beautiful old churches mark the landscape, along with amazing Victorian architecture throughout downtown and the surrounding neighborhoods.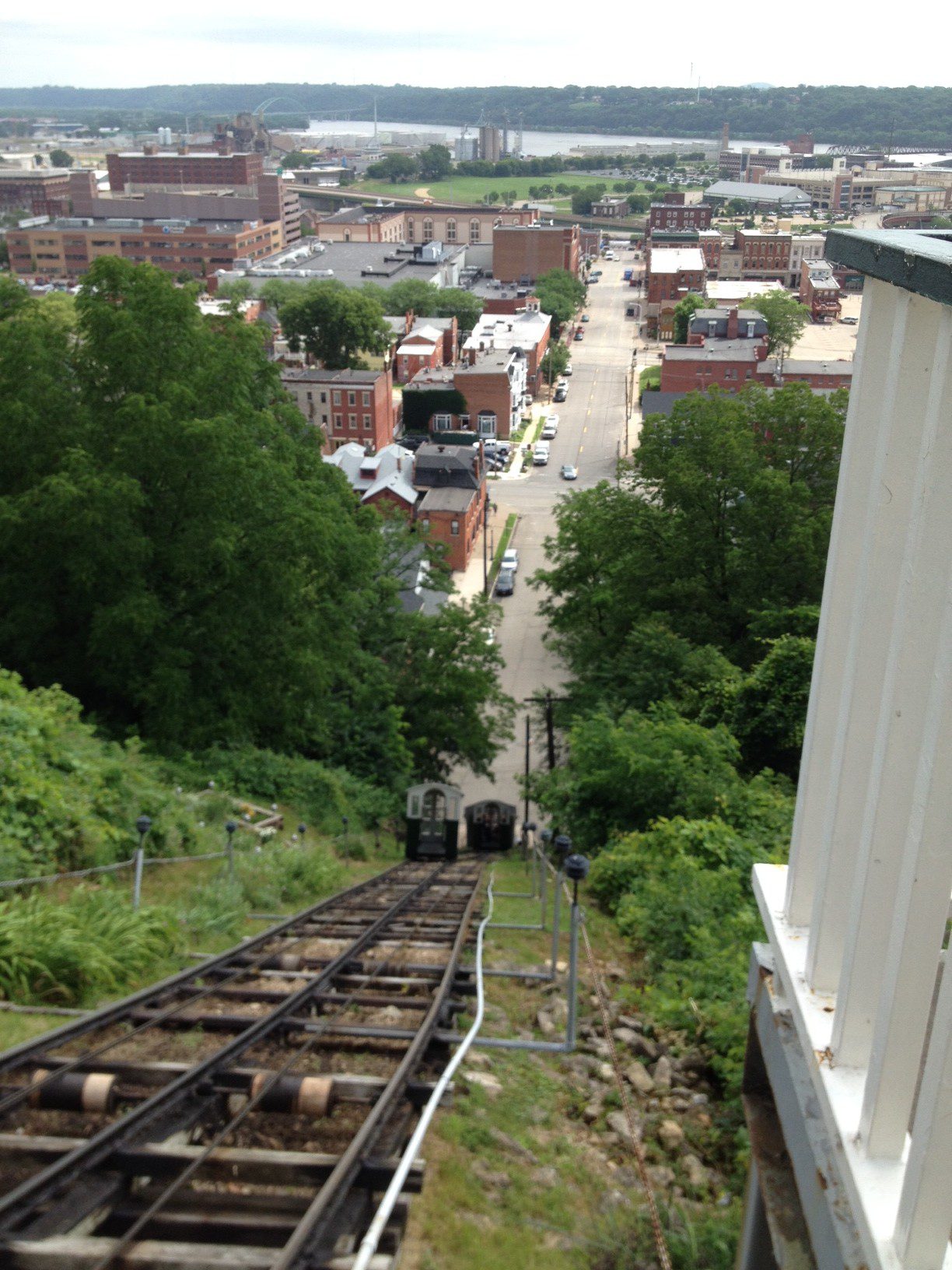 From the Town Clock – dating back to 1873 when it was built on top of a building a few blocks from the roundabout it currently centers – you can start a fun-filled afternoon in Dubuque. Head over to the Cable Car Square and take the Fenelon Place Elevator up "the world's steepest, shortest scenic railway" – 'cause really…how could you head to Dubuque WITHOUT doing this? Embrace it, because the views at the top are breathtaking! Back at the bottom of the hill, out of the clouds, take in the Dubuque Museum of Art. Although it's quite small (or some might say "perfectly-sized"), you won't be able to miss it. Just look for giant American Gothic sculpture, and enjoy one of the best Grant Wood collections in the country.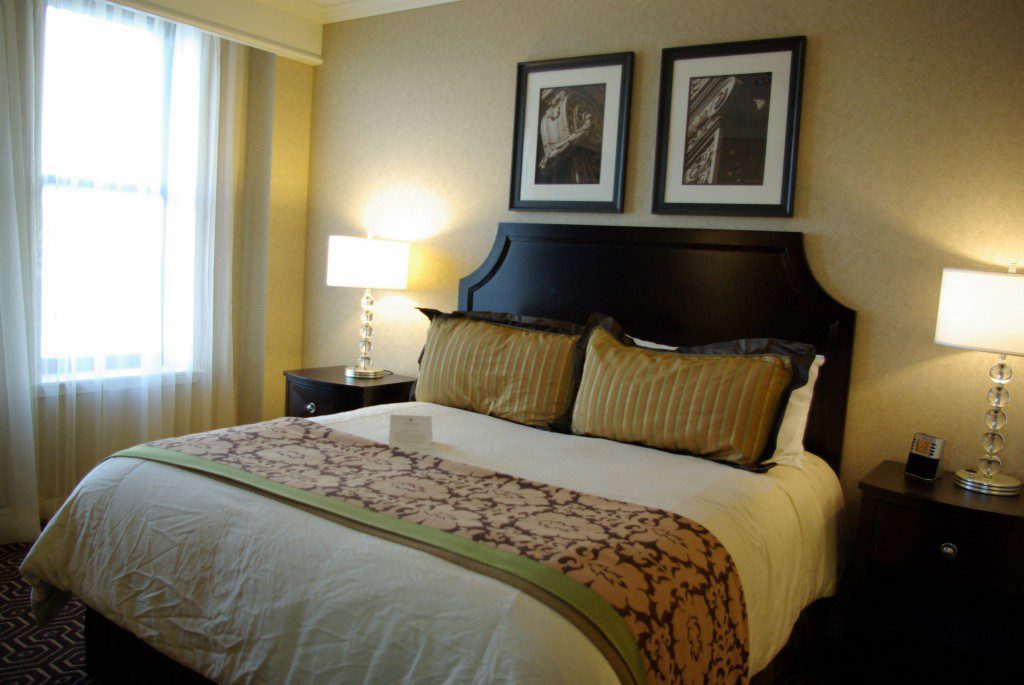 While there are a variety of places to stay in the downtown vicinity, the Hotel Julien's history, charm, and upscale accommodations are hard to beat. Then for dinner, check out one of the tasty and tastefully renovated restaurants in the Historic Downtown District. L.May Eatery and Pepper Sprout are both highlights.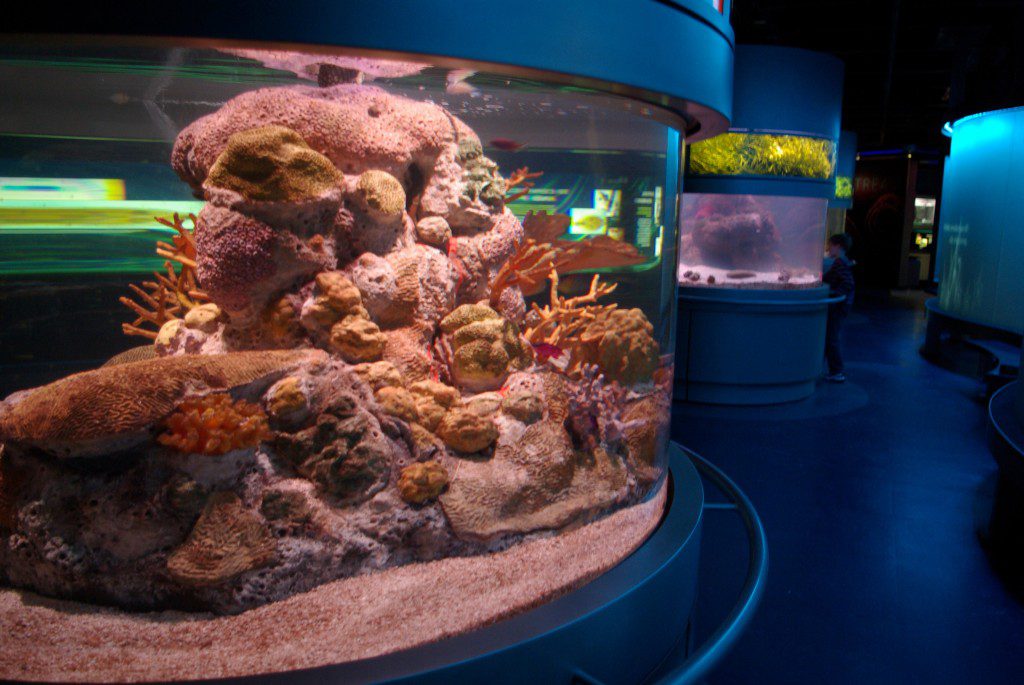 Be sure to make time in your trip to visit the National Mississippi River Museum and Aquarium – it is Fun with a capitol F. Expect to spend several hours here before you even realize it! There are large aquariums and exhibits that feature giant catfish, turtles, otters, ducks, frogs, reptiles and the history of our river – and how we need to take care of it. The interactive exhibits and demonstrations bring history and science to life – literally. It's truly a wonderful place for people of all ages to spend a day, but we're sure the kids will have fun splashing around and checking out live seahorses or aquatic games. You can even sit in a cave to hear a story!
Beyond the fun your inner child is having, your big kid self might enjoy a trip to a local brewery, winery, or even the Diamond Jo Casino. Or get outside for a trek at the Dubuque Arboretum and Botanical Gardens, Eagle Point Park, or the Mines of Spain Recreation Area. Then catch some live music at Eronel, the Lift or Monk's Kaffee Pub, which, coincidentally, turns into a coffee shop by day where you can grab a cappuccino before you head on home.
Dubuque, Iowa:
60+ miles south of Elkader/McGregor/Prairie du Chien
98 miles south of Decorah
121 miles south of La Crosse, Wisconsin
171 miles south of Rochester, Minnesota
En Route:
You can make some fun stops on the way, depending on the direction you're driving. Stop by Schera's in Elkader for a great lunch on the way, or visit the Park Farm Winery in Bankston to experience a grand hilltop villa in rural Iowa.
www.dubuquechamber.com
encyclopediadubuque.org (for great history!)
Aryn Henning Nichols had a fond childhood memory of riding up the Fenelon Place Elevator with her family. She'll be heading back… and she simply can't get enough of that National Mississippi River Museum and Aquarium!