Fall is the loveliest season around here (we think). So we put together a little list of events to add to your calendar! Go ahead and hit the road this fall for some fun art trips in the Driftless Region! First up: Driftless Area Art Festival!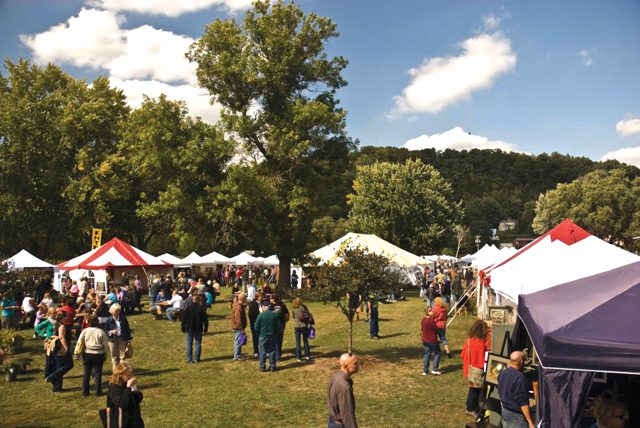 Driftless Area Art Festival
Beauford T. Anderson Park, Soldiers Grove, Wisconsin
September 17-18, 2016
www.driftlessareaartfestival.com
While  art tours are often the big thing in our area – we drive around to artists' studios to see their art and get fun tours of their spaces – every year there's a time where artists gather in one place for us: the Driftless Area Art Festival. Don't worry, though: you still get a gorgeous setting at the foot of the bluffs in Soldiers Grove, Wisconsin, and you still get tons of great art exposure.
Get to the festival early and grab a Kickapoo Coffee and a crepe from one of the festival food vendors and meander through the tents and booths that host nearly 100 visual artists, not to mention the hundreds – yes, hundreds – of young artists featured in the KidsArt Tent and the Teen Art Gallery.
Now in its twelfth year, this event features artists of all varieties – from painters and potters to musicians and brewmasters. Throughout the festival, there will also be live music and performance art too – watch for Decorah-based Maritza Sunday afternoon! So grab another tasty something to eat – cheese curds, catfish, street tacos, or, mmm, pie – and stick around.
Check out more Fall Art Trips here!
(Pssst: there's a great road trip packing list too!)