Pssst…we've started planning the 2019 Driftless Food Guide! Yay!
Happy (almost) New Year, friends!
One of the things we're most looking forward to in 2019 is creating the second annual Driftless Food Guide! Watch here for news and updated information. In the meantime, check out the inaugural 2018 issue right here: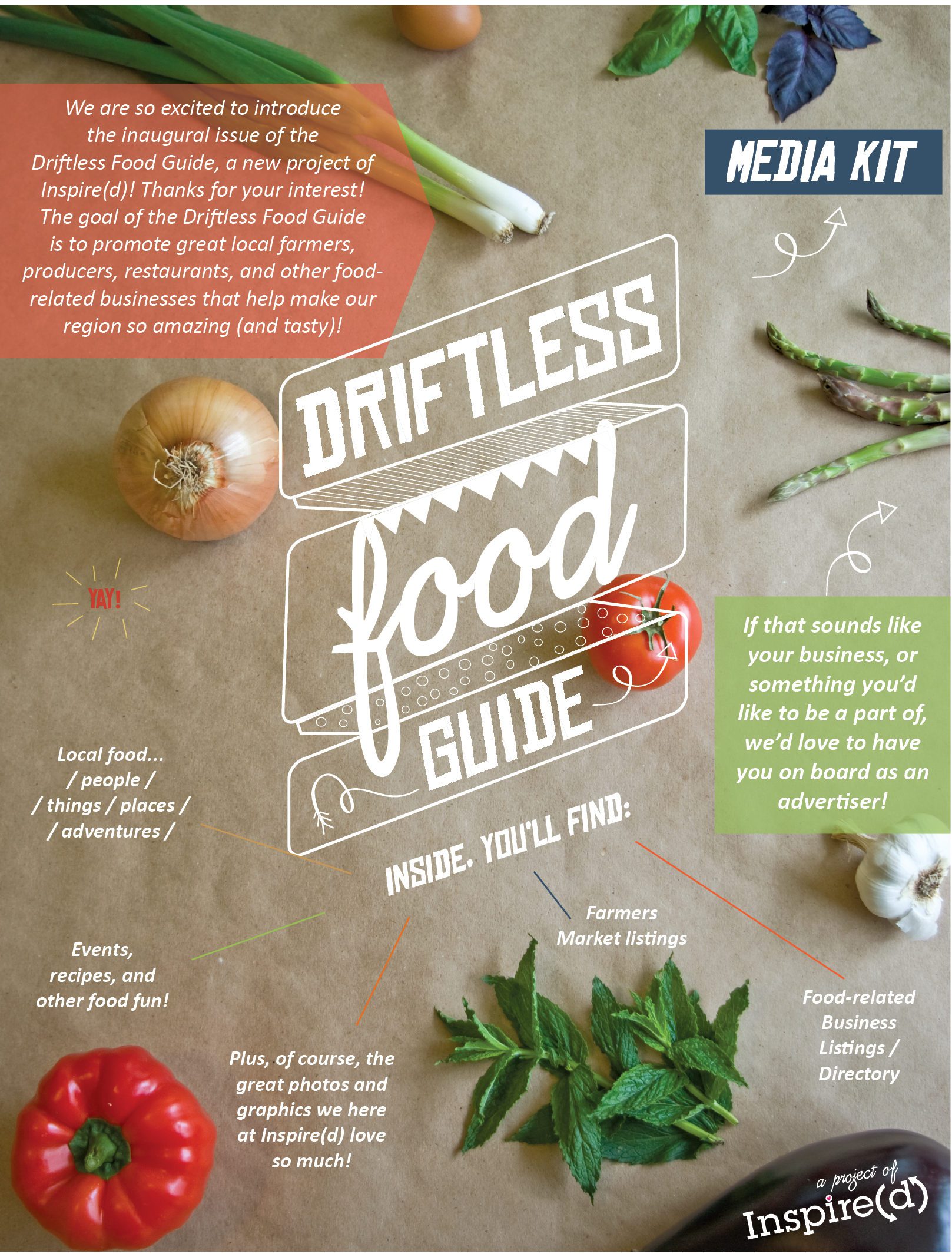 From January 2018:
Hi, friends!
We are seriously so excited to introduce the inaugural issue of the Driftless Food Guide, a new project of Inspire(d)! Thanks for your interest!
The goal of the Driftless Food Guide is to promote great local farmers, producers, restaurants, and other food-related businesses that help make our region so amazing (and tasty)!
If that sounds like your business, or something you'd like to be a part of, we'd love to have you on board as an advertiser (your business doesn't have to be food-related to join in on the fun)! The Guide will look super cool – and just a little different from Inspire(d), with a thick matte cover and glossy pages! We'll be printing 20,000-25,000 Guides, and distributing them to more than a 100 locations around the Driftless. We intend to have them on stands late spring through fall.
Inside, you'll find:
Local food… people / things / places / adventures
Food-related Business Listings/Directory
Farmers Market listings
And likely some recipes, events, and other food fun!
Plus, of course, the great photos and graphics we here at Inspire(d) love so much!
(To follow any Driftless Food Guide stories and content that will get posted online, click on over to this category.)
FYI: While you don't have to be a food-related business to be an advertiser in the Driftless Food Guide, we will be keeping the local food listings / directory food-related only – keep reading below for details on that!
We'll have food/drink/farmer/producer/grocery/etc business listings available for $75 (or free with the purchase of an advertisement for all food-related businesses). These listings will be compiled into a fun, easy-to-use local food directory. Each listing includes your contact information, description, hours, etc. We'll link to the 2019 form as soon as it's live. New this year: Pay online right away!
Please let us know if you have any questions at all –
email Aryn at aryn [at] iloveinspired.com or Benji at benji [at] iloveinspired.com.
We can't wait to bring you a great new publication all about amazing food of the Driftless! Let's do this!
Driftless Food Guide FAQ
Does my ad in Inspire(d) get me a spot in the Driftless Food Guide? Or a listing?
This publication is separate from Inspire(d), and thus the ads are sold separately.
My business isn't food related. Can I still get in the Driftless Food Guide?
Yes! If you think of yourself as someone who loves and supports local food, we would love to have you as an advertiser!
Can I get in the food directory listings as well?
As long as your business fits into one of our food-related business categories below, you certainly can!
• Farmer / Producer
• Restaurant
• Grocery / Market / Retail
• Beer / Wine / Spirits
• Bakery
• Catering
• Agritourism / Destination Farm
• Plants / Seeds / Garden Supplies
If you think your business works for one (or up to three) of these, then go ahead and submit your listing – we're happy to have you on board!
I paid for an ad in the Driftless Food Guide – do I have to pay for the listing too?
If you're a food-related business (see categories above), you don't! This is a value-added bonus for food-related businesses that plan to buy an ad in the Driftless Food Guide. The fee for the listing is waived with purchase of an ad! 
What if I JUST want to get in the local foods listing directory?
You can absolutely choose to just do the listing alone – that's $75. We will email invoices for those once we receive and process the submission. (Remember, the directory is for food-related businesses only, though.)
Can I send my logo to go with my listing?
The $75 listing is text only.
I used to buy an ad in the Local Food Directory that was put together by Inspire(d), Iowa State Extension, and other partners. Why aren't the prices the same?
Our base-level ads are a little more expensive ($230), but here's what we've got going for us:
• The base-level ads are larger (1/8th page rather than 1/10th – and there are options for bigger ads too)
• We're printing more Guides (20,000-25,000)
• There's a longer rack period (six months)
• This publication will be more pages (likely 52) with its own thick, matter cover and glossy pages inside, and content will be food/drink/farmer/producer related. It will be its own magazine, totally separate from Inspire(d), and it's gonna be awesome!
Okay, I understand Inspire(d) and the Driftless Food Guide are different, but can I use the same ad design I use in Inspire(d) in the Driftless Food Guide?
Yes! The ad sizes are the same, so if you want to use a design we've already put together, we're good to go!
Can I get my business featured in a story in the Drifltess Food Guide?
Maybe! Since we'll only make one of these per year, we plan pretty far out. But that's not a no! Send me your pitch (i.e. why we should tell your story or what makes you awesome) and we'll see! aryn [at] iloveinspired.com