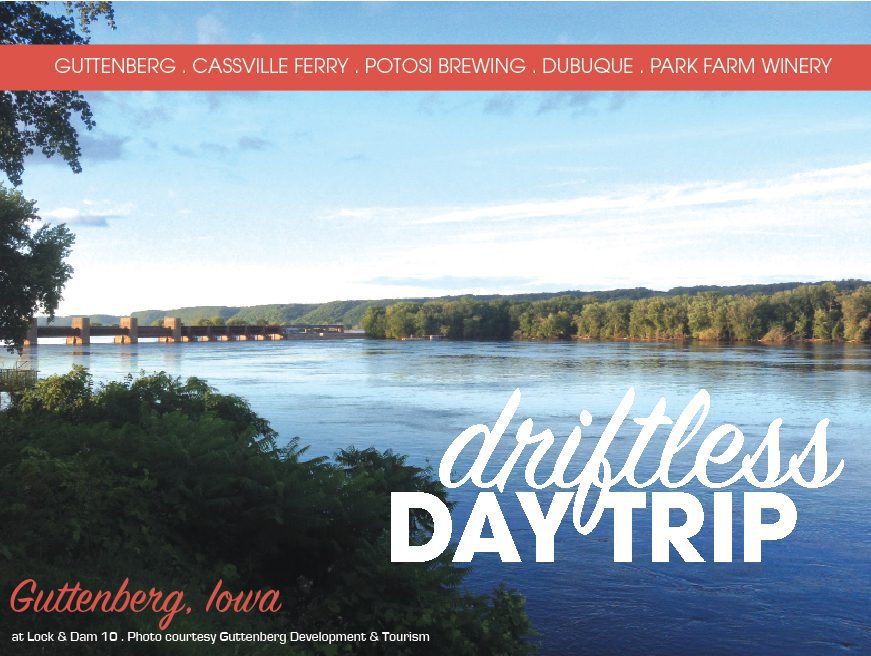 By Aryn Henning Nichols • Photos by Inspire(d) unless noted • Originally published in the Fall 2015 Inspire(d)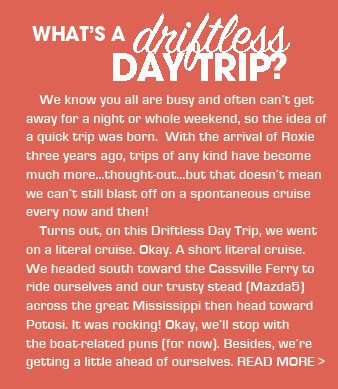 Driving south down Highway 52 toward Guttenberg, Iowa, it's hard not to let out a little sigh. The valleys and farmland and big blue sky make the miles tick by faster than you'd hope.
The town of Guttenberg doesn't actually come into view until the very last minute. No matter which way you enter, you come up over a hill or to a spot where the trees open and you're greeted by this sweet little town way down in the valley, and truly amazing views of the Mississippi. Gotta get a pic? Scenic lookouts on the both the north and south side of town offer great selfies opportunities (don't hate – we're big fans of the family selfie!).
SPOTlight: Guttenberg
Guttenberg is snuggled right up to the Mississippi – the historic main street, River Park Drive, runs along the bank of the river. We packed a picnic and made a stop at a park near Lock and Dam 10. It was super fun to watch the boats and barges pass through the dam as we munched on peanut butter and jelly sandwiches. There's also a viewing platform available for an even closer look.
History buffs can check out the National Register of Historic Places Lockmaster House Heritage Museum nearby. It now only houses memorabilia – it's the last remaining lockmaster house on the Upper Mississippi River.
South of Lock and Dam 10, just down River Park Drive, is the Aquarium and Fish Hatchery (generally open 9 am – 3 pm May – October). It's a quaint little one-room affair, operated by biologists with the Iowa Department of Natural Resources. Exhibits include a large selection of live Mississippi River creatures – catfish, turtles, mussels, trout, and other fun fish – plus some cool historical displays.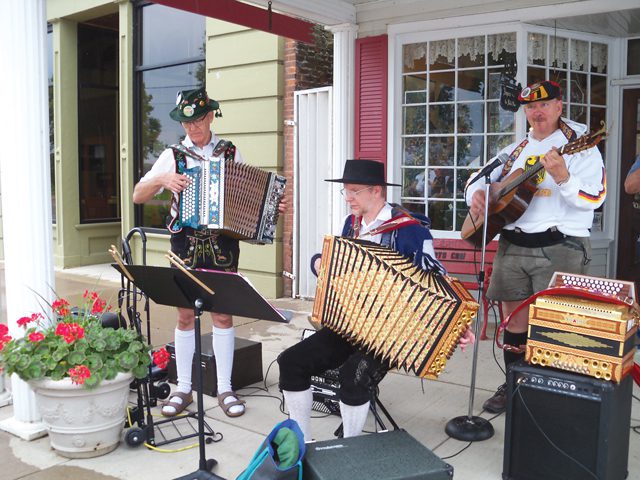 Photo courtsey Sheila Tomkins
Guttenberg is a German town through-and-through, and celebrates GermanFest each fall September 23-24, 2016 marks the 26th anniversary of the event! The family-friendly Fest includes an arts and crafts market, biergarten, kraut cook-off, hog roast, homemade beer tasting, live music, a 5K walk/run, wiener dog races, and more! www.guttenbergiowa.net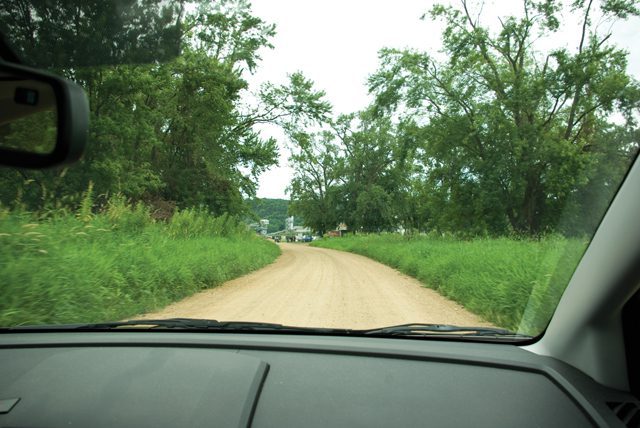 From there, we were off to catch the ferry. We had hoped Roxie would also catch a nap, but alas…it wasn't meant to be (yet). Just a few miles south of Guttenberg, there's a sign directing you left to the Cassville Ferry. You'll take some gravel that'll seem almost like dirt roads…but know you're on the right path. Just enjoy the scenery (and stop stressing already)!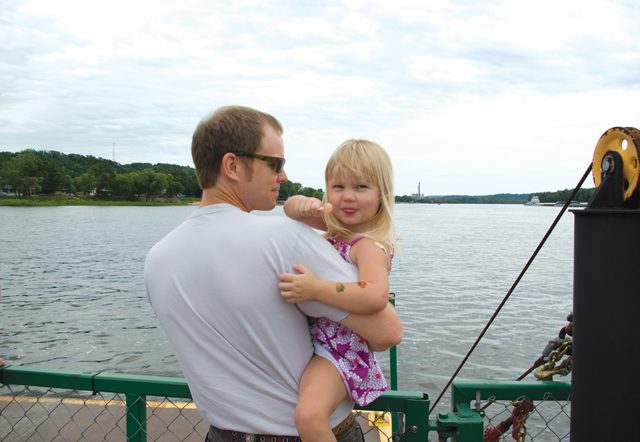 SPOTlight: Cassville Ferry
After passing by small farms and large fields, you'll finally arrive at a gravel parking area next to the river – this is the Iowa side of the Cassville Ferry!
The Pride of Cassville Car Ferry – the oldest operating ferry service in the state of Wisconsin – connects two National Scenic Byways; the (Wisconsin) Great River Road and the Iowa Great River Road. It began in 1833 and continues today, making the same trip back and forth across the Mississippi.
The very first governor of Wisconsin, a then 23-year-old Nelson Dewey, made his first trip across the Mississippi to reach the tiny village of Cassville. He settled there in 1836 and attempted to turn Cassville into a metropolis. It never quite made it – Cassville is just shy of 1,000 people – but it's a cute little town and the Ferry is definitely a fun way to get from Iowa to Wisconsin (or vice versa).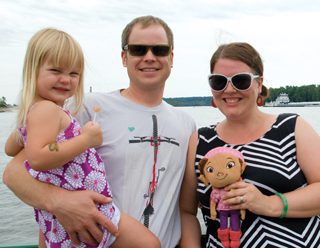 We had Roxie press the button and soon saw the ferry chugging our way. You drive aboard, give the friendly employees your fare, and enjoy the ride!
Details:
Cassville Ferry
Fall hours: September 8 to October 25
Friday, Saturday, & Sunday
10AM to 8PM
(7 days a week Memorial Day to Labor Day – check website for current hours)
From Cassville, (Wisconsin now, remember) we headed southeast on the Great River Road to Potosi. It was time for a beer! (Also a nap, but alas…not yet.)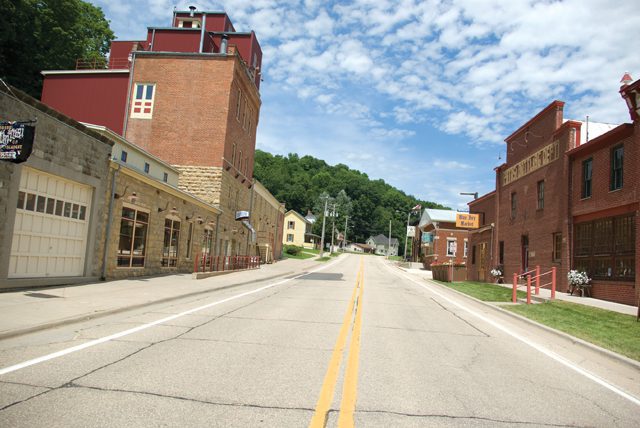 According to Wikipedia, Potosi is known as the "the Catfish Capital of Wisconsin," because of its annual Catfish Festival in August, but when you arrive in Potosi, most would say it's the Potosi Brewery (and The National Brewery Museum and Library) that you notice first. Another one of those pretty little towns nestled in the beauty of the Driftless Region, Potosi is truly a village – fewer than 700 people call it home – but that doesn't mean it's not busy at the main attraction, Potosi Brewing.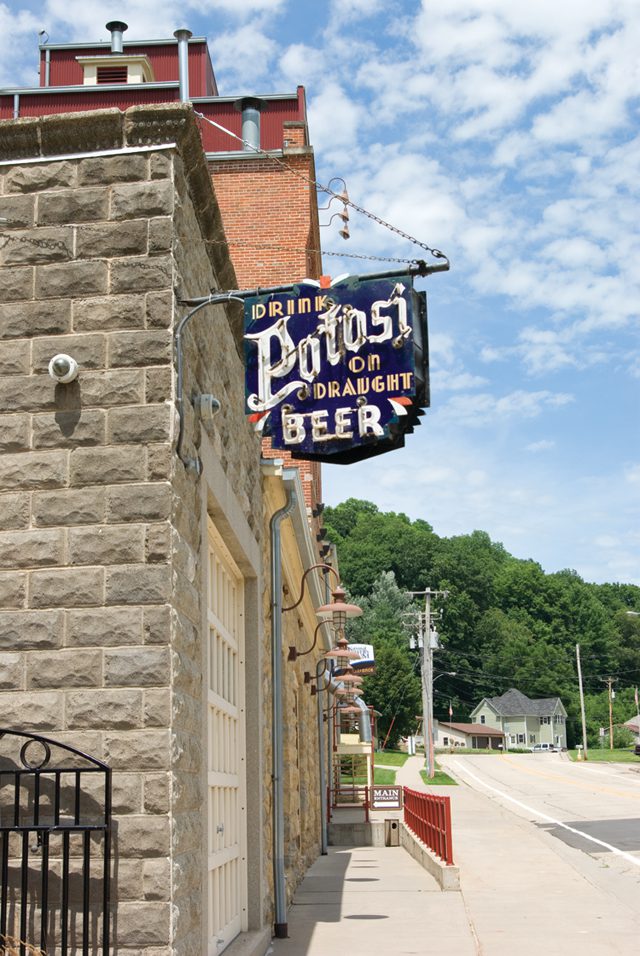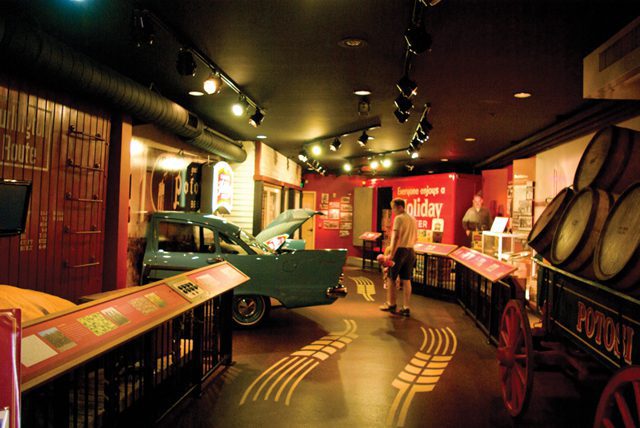 SPOTlight: Potosi Brewing
The Potosi Brewing Company began in 1852. At its peak, it was the fifth largest brewery in Wisconsin, shipping beers such as Good Old Potosi, Holiday, Garten Brau, and Augsburger throughout the United States. But business slowed, and it closed its doors in 1972. In 1995, after a terrible fire that took out almost a whole block of buildings, a man named Gary David bought the property and began restoration, rebuilding for three years before finally being able to assess the brewery itself.
In 1999, after a prompt by his wife, Madonna, David proposed a community meeting in hopes of bringing the public in on the restoration process. The meeting was incredibly well attended by the public and brought forth suggestions as well as support, and eventually led to the 2000 formation of the Potosi Brewery Foundation. In January of 2001, the Potosi Brewery building was donated to the Potosi Foundation, and the brewery property was officially transferred. Following a $7.5 million restoration, the Potosi Foundation, a 501(c)(3) non-profit organization and sole owner of the Potosi Brewing Company, reopened the brewery in 2008. The Potosi Foundation's mission is to support historical and educational initiatives, and charitable causes.
To cap things off (pun!) in 2004 the Potosi Foundation was selected by the American Breweriana Association to be the home to its national museum.
Potosi Brewery now crafts and distributes a variety of beers throughout the region. We had some yummy tasters while Roxie checked out the koi pond, and the pub serves up tasty food ranging from brats and burgers to flatbreads and pasta. The building itself is beautiful and fun to wander around, and you can also tour the National Brewery Museum.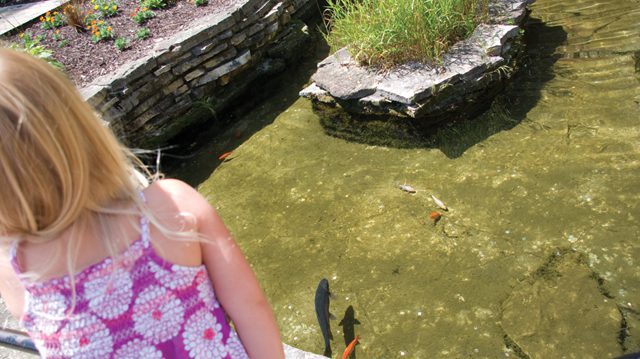 The National Brewery Museum is a joint venture between the Potosi Foundation and the American Breweriana Association. It showcases a collection of beer bottles and cans, glasses, trays, coasters, advertising materials and other items relating to breweriana collectibles.
FYI: Breweriana commonly refers to any article containing a brewery name or brand name, usually in connection to collecting them as a hobby.
P.S. There's also live music through mid-September out on the Potosi patio!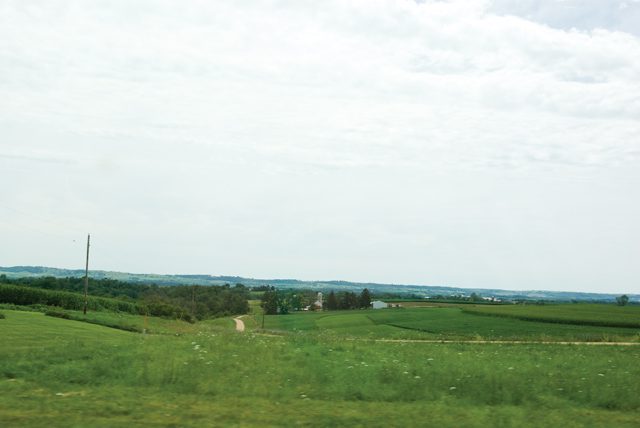 Back in the car, we headed toward Dubuque. NOW it was time for Roxie's nap (thank goodness).
Along the way:
Dickyville Grotto
One Catholic Priest, Father Matthias Wernerus, built this amazing place between the years 1925-1930. There's no official record, but they say nearly 200 tons of rock were gathered from the Dakotas, Iowa, and nearby Wisconsin quarries to build it. Most of the site's structures are covered in shells, stones, tiles, wood, glass, gems, and geodes donated by area parishioners.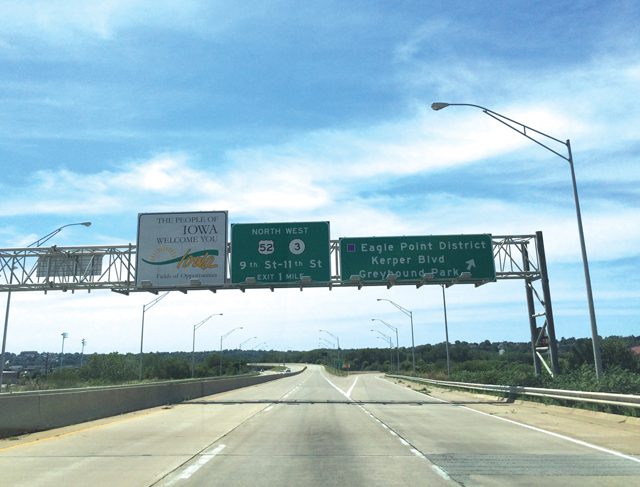 Dubuque
While this could certainly be a one-day trip, with an almost-three-year-old in tow, we decided to spend the night in Dubuque. There are several great options. Our favorites are the historic Hotel Julien right downtown and the Grand Harbor – right on the riverwalk – this place has a riverboat-themed waterpark and is a fun option for a family overnight (especially in the cold months)!
If you do opt for the overnight, make sure to check out our Dubuque Driftless Day Trip for details on what to do while you're in town (Highlights: Mississippi River Aquarium, Fenelon Elevator, L. May Eatery, and more.)
The next day, we got back on the road, this time headed northwest to check out another spot off the beaten path: Park Farm Winery.
Along the way:
Field of Dreams movie site – You know the story: If you build it, they will come. And apparently, so will the tourists and locals, for many years!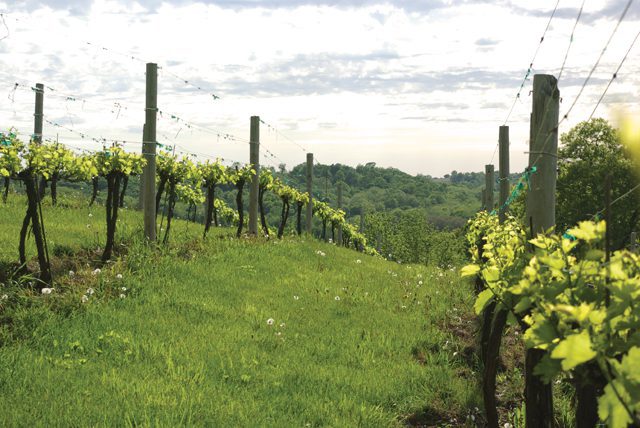 SPOTlight: Park Farm Winery, Bankston, Iowa
Once again, we've taken you on a path that seems a little too far out of the way. And it's kind of true. Because once you arrive at Park Farm Winery, you'll feel like you've been transported to another country! There's the trademark Driftless rolling hills and valleys, but with the bonus beauty of rows upon rows of grapes. It's just lovely.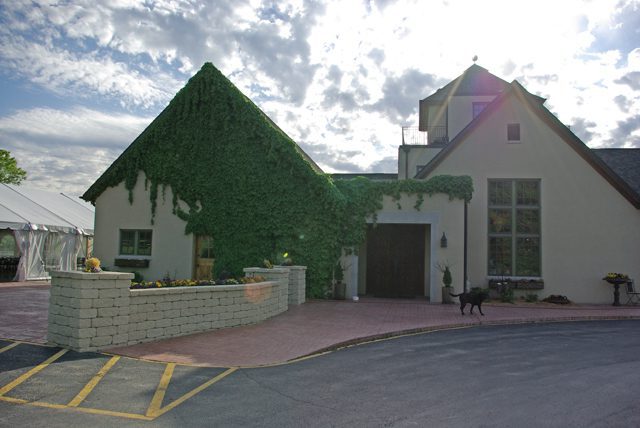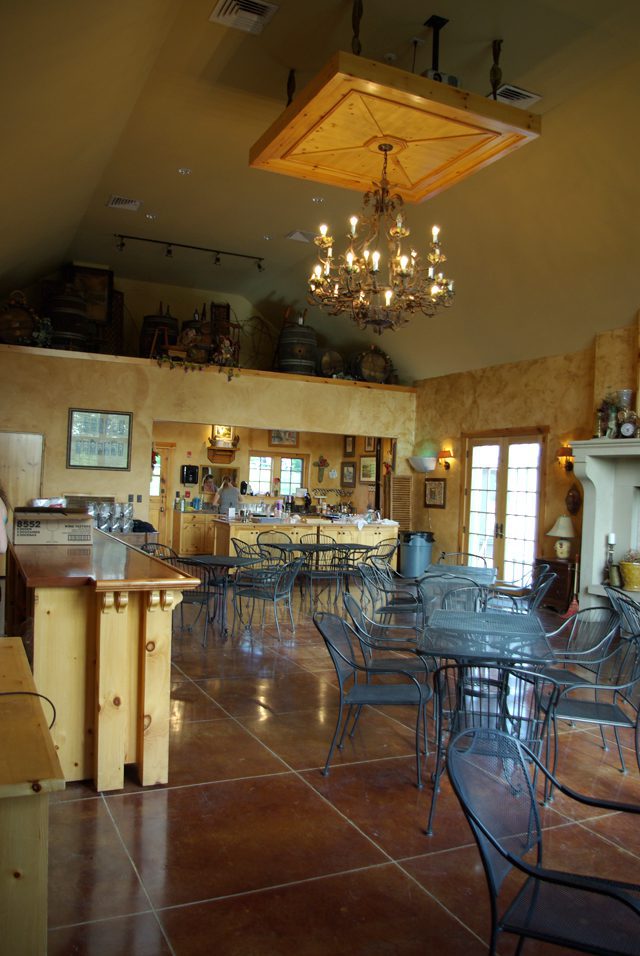 Established in 2005, Park Farm is a family owned and operated winery near Bankston, Iowa. The chateau-inspired vineyard is home to a tasting room, wood-fired pizza oven, and event venue. The 11-acre estate grows specific 'cold climate' grape cultivars that produce great wine and withstand the harsh winters of the Upper Midwest.
Folks can grab some wine tasters (or just a glass of whatever they love), head out on the balcony, and enjoy the view while munching on a wood-fired pizza. It's a pretty great spot.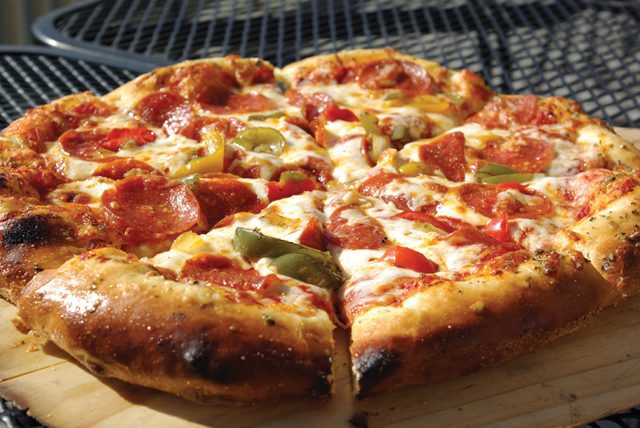 Check website for current hours.
It was finally time to head north, back to Decorah. We had a blast on this Driftless Day Trip and hope you are inspire(d) to head out on your own. Hit us up at on social media @iloveinspired if you do, and stay tuned for more Driftless Day Trips! Enjoy! – Aryn (and Benji and Roxie too)