Photo by Kat Busse
Have you visited the Driftless Area Wetlands Centre in Marquette, Iowa, yet? It opened its doors in August 2013 with one goal in mind – to connect people of all ages to the natural world and empower them to positively impact their local environments. We say, "Mission accomplished," 'cause this place is awesome!
By Sara Friedl-Putnam
"What kind of bird is that?"
"Why is it sitting on those rocks?"
"Are there a lot of others like it around here?"
After (almost) stumbling upon a white-bellied, brown-winged bird and its nest, three inquisitive young boys – busy planting purple coneflowers during a native plants restoration event – excitedly fire questions at Katrina Moyna, the gung-ho director of the Driftless Area Wetlands Centre (DAWC).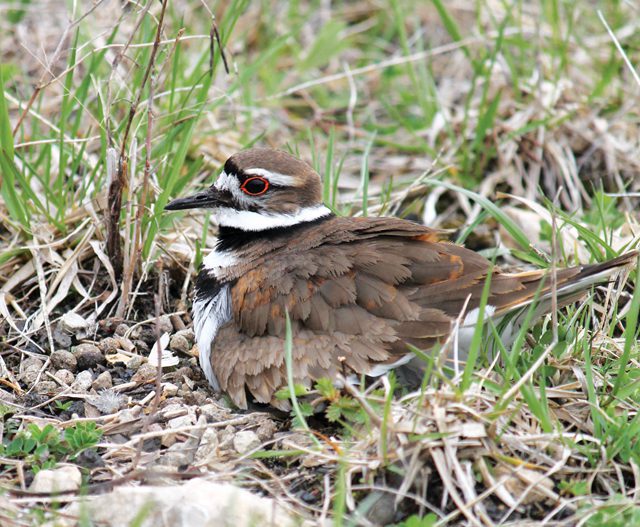 All photos by Sara Friedl-Putnam unless noted
"It's a killdeer," Moyna replies softly to the first question, motioning the boys to back away from the nest. She answers the second just as succinctly: "Those aren't rocks – they're eggs." The answer to the third question, however, will have to wait – the killdeer (or charadrius vociferous), resting comfortably just moments before, has suddenly broken into a dramatic, attention-grabbing "broken-wing act" to lure the boys, whom it views as predators, away from its nest.
It's a spectacular display of the spontaneity of nature. It's also a prime example of the experiential – and occasionally accidental – learning that regularly transpires at the Driftless Area Wetlands Centre, an environmental education and community center established in 2013.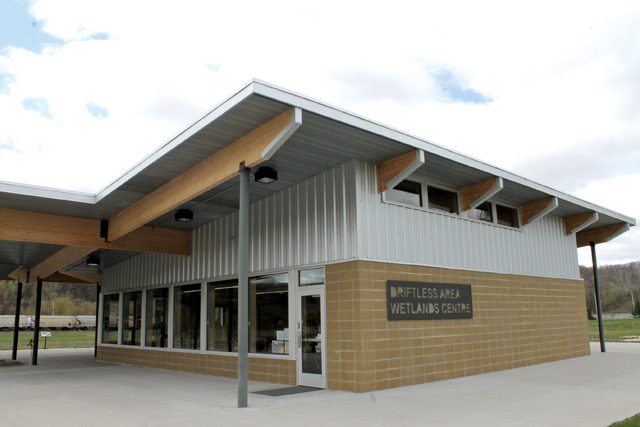 "Our mission is to get people of all ages to unplug and experience the outdoors," says Moyna, an Elkader, Iowa, native. "Everyone, regardless of age or background, can reap the benefits of connecting with – and learning from – the natural world, especially in a place as breathtakingly beautiful and biologically and geologically rich as the Driftless Area."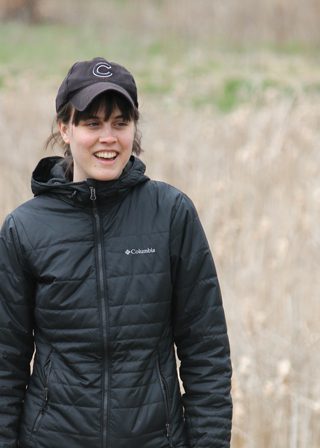 That was exactly the message a committed group of citizen volunteers successfully conveyed to members of the Iowa Great Places Board in 2008, the year the board awarded the neighboring Mississippi River towns of Marquette and McGregor a "Great Place" designation and a $325,000 grant to build DAWC, develop the surrounding area (including a man-made wetland and restored prairie), and construct the McGregor-Marquette Center for the Arts.
By 2011 the two communities had secured the funding needed to break ground on a three-acre site just a half-mile from the Mighty Mississippi. (Bright-colored railroad cars in the center's "backyard" serve as a highly visible reminder that the site once accommodated the largest railroad terminus in the state.) And in August 2013, DAWC finally opened its doors. "We've worked hard to spread the word that we are here, that we are open –year-round, in fact – and that we have interesting things going on," says Moyna without a pause. "Though we've only been open a short while, we're gaining momentum each month."
And that's a (very) good thing. According to the Environmental Protection Agency, the average American spends a whopping 93 percent of his or her life in buildings or vehicles – but innumerable studies have shown that spending time outdoors boosts creativity, improves physical fitness, and reduces stress. The takeaway? Turn off the TVs. Stash away those cell phones. Unplug the video games. Then throw on some shoes and head outside. "Kids who spend time in nature grow into adults that care about protecting it," says Moyna. "Something as simple as holding a frog or planting a flower can help children form a magical – and lasting –connection with the land."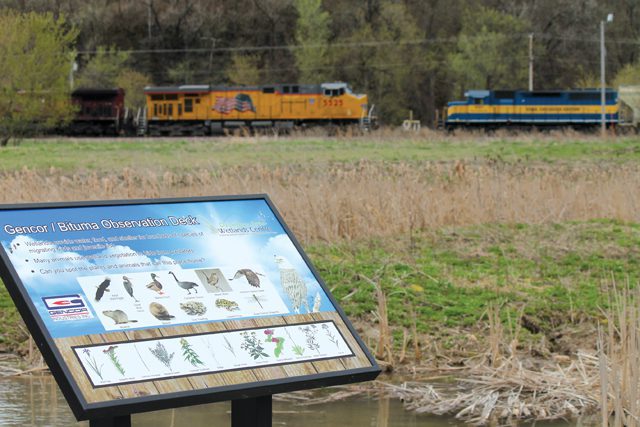 In 2014, nearly 4,500 visitors streamed through the center's doors, half hailing from far beyond the region. This year DAWC expects to attract even more, thanks in large part to a "something-for-everyone" schedule boasting more than 50 events. "Nature provides a way for families to bond," says Moyna. "We want to ensure this is a place where learning is fun for all ages."
Mission accomplished. A hawk watch drew hundreds of nature enthusiasts last fall, as did an Easter egg hunt and petting zoo last spring. Highlights this summer include a rollicking "Friday Night Live" Farmers Market (music included!) each Friday from May into October, an "epic" (Moyna's word) Dino Day at the end of July, and a Tom Sawyer Adventures program that will take area youth out on the Mississippi River to fish, swim, bird watch, wade for mussels, and, yes, learn a bit about the history of the world-famous waterway. This kind of inventive, locale-based programming, Moyna emphasizes, could not succeed without the help of many partner organizations, including the Upper Mississippi River National Wildlife and Fish Refuge, Big Springs Trout Hatchery, Effigy Mounds National Monument, Osborne Nature Center, La Riviere Park, and the Upper Iowa Audubon Society. "Our partners are the ones doing the 'dirty' work – forging into the Driftless Area's back waters, exploring its deep ravines, and hiking its forests," she says. "They are our eyes and ears in the area's plant and animal communities."

Photo courtesy North Iowa Times
And if DAWC has its way, it will soon have even more "partners" spreading the word about the wonders of this region – its deep caves and cold-water streams, temperature-regulating (algific talus) slopes and awe-inspiring bluffs, colorful plants and crafty animals. The DAWC Ambassadors Program, piloted last year and launched in January 2015, immerses participants in nature so they can learn about and promote the plant life, birds, fish, and mammals in their own backyard. "What if we could help people develop as much pride in and enthusiasm for their natural ecosystem as they have for their local sport teams?" muses Moyna. "What if they then shared that passion with those around them?"
Regardless of age, participants must attend three discovery/exploration activities at DAWC or partner sites; take part in three educational events at DAWC or local schools; and work with a skilled mentor to complete and present a special-interest project that positively impacts the Driftless Area. Upon completion of the program requirements, participants receive a badge and have the opportunity to take part in a special trip down one of the area's major waterways. Might that waterway be the Mississippi? "That part's a surprise," says Moyna with a smile.
But folks interested in DAWC need not sign up for the Ambassadors Program nor wait for one of its many events to reap the benefits of visiting the center. It is open five days a week and offers plenty of opportunities to touch, feel, and explore both indoors and out. Inside, a muskrat and mink look to tussle in one of several taxidermy displays that line the building's large glass windows. Four black shelves feature an array of rock formations – calcite, stromatoporoids, straight-shelled cephalopods, and others – endemic to the region. And a large wooden table in one corner showcases more than 20 preserved waterfowl, all poised as if ready for flight.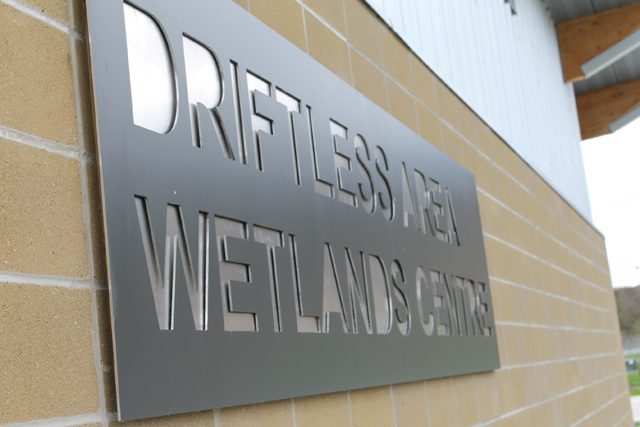 Just outside, a large observation deck extends into the wetland area to facilitate viewing of local flora and fauna, and eye-catching signs present important facts about the wetlands themselves. Were you aware that half of the world's wetlands have disappeared since 1900 – or that development and conversion continue to pose huge threats to these areas? Did you know that wetlands are home to some of the richest biodiversity on the planet – or that they provide vital habitat for more than 40 percent of the entire world's species, including killdeer, or charadrius vociferous?
That fun fact recalls the third question posed during the center's native plant restoration event last April – namely, is killdeer prevalent in the Driftless Area? Yes, charadrius vociferous is a common species inhabiting a wide range of wetlands throughout North America, including those in Northeast Iowa. And the chance to spot one doing its thrilling "broken-wing act" is just one of many reasons to dive into this area called the Driftless. "There really is nowhere else like this place in the world," says Moyna. "Once people begin to really understand all the Driftless Area has to offer, they also begin to really value it."
———————-
A Florida native, Sara Friedl-Putnam still remembers the awe she felt upon first viewing the spectacular limestone bluffs of the Driftless Area nearly two decades ago. She is thankful that organizations like DAWC are working hard to connect area residents with this special place and share its many natural wonders.
———————-
Grab your shoes and head outside!
The Driftless Area Wetlands Centre – located at 509 U.S. 18, in Marquette, Iowa – is open Tuesday through Saturday from 11 am to 4 pm. For more information, call (563) 873-3537 or visit www.driftlessareawetlandcentre.com