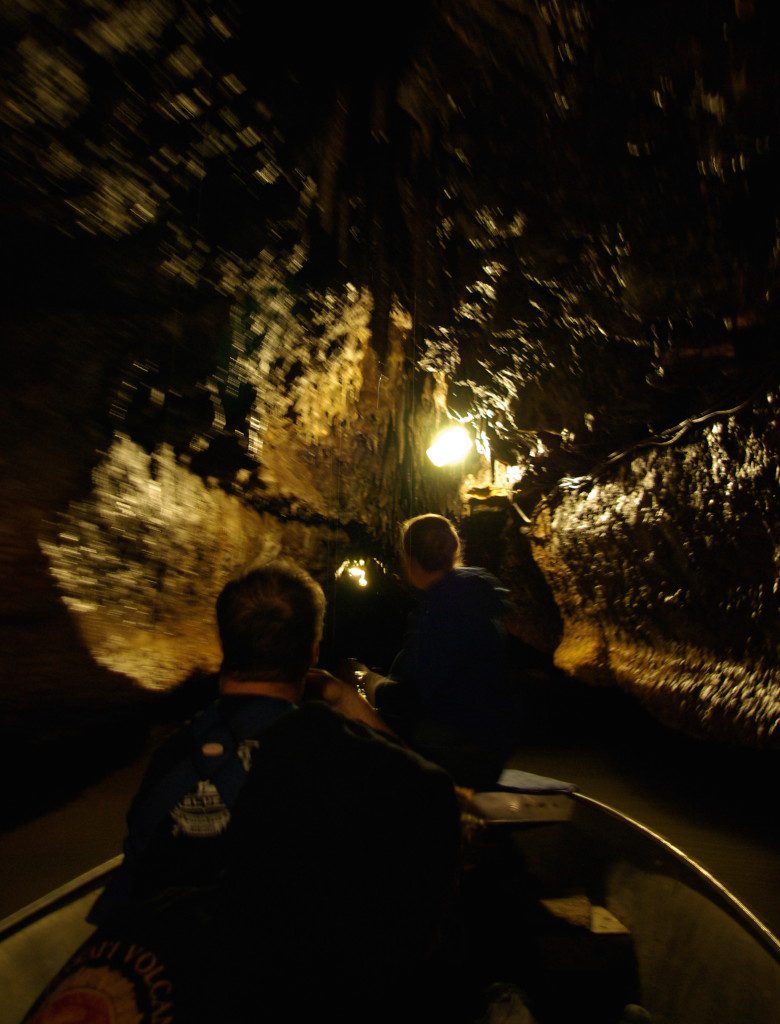 Compiled by Aryn Henning Nichols
Originally published in the Summer 2012 Inspire(d)
There are few things cooler (literally) than caves in the summer! And here in the Driftless Region, we're lucky to have a great number of caves that families (or anyone) can actually tour. From kooky, kinda scary boat tours to full-on spelunking half-day trips, adventurers are sure to find some underground fun in our neck of the woods. So the next time it's humid and nearly 100, head inside to a cool 47-48 degrees and discover the wonder down under! (Too much? Is that a collective groan we hear?) But do pack a jacket – an hour or two in a cave and you might be ready for a little summer sun!
Driftless Region caves:
Spook Cave
Off Hwy 52/18 near McGregor, Iowa
Cave Tours 9 am – 5:30 pm starting May 1 through summer
Spook Cave is truly one of a kind. Not only do you get to tour the whole thing (or at least the parts you can access) by boat, they've included some fun urban legends in the mix that add just a little bit of fright to the whole thing (you'll have to go to find out what it is!). Knowledgeable tour guides take you in through a hole that was blasted from two inches… to just a little bit bigger. No, seriously, you have to lean down for about 100 feet to get in, so if you've got a pregnant belly, be prepared! But it's worth it – nature had been forming the cave near McGregor for centuries… and early settlers of Clayton County had long been wondering what those strange noises coming from that aforementioned hole at the base of the hill along Bloody Run Creek were, but it took Gerald Mielke to blast it open and crawl in to discover the caves. Guided boat tours tell about the discovery, and cave formations are highlighted out as well.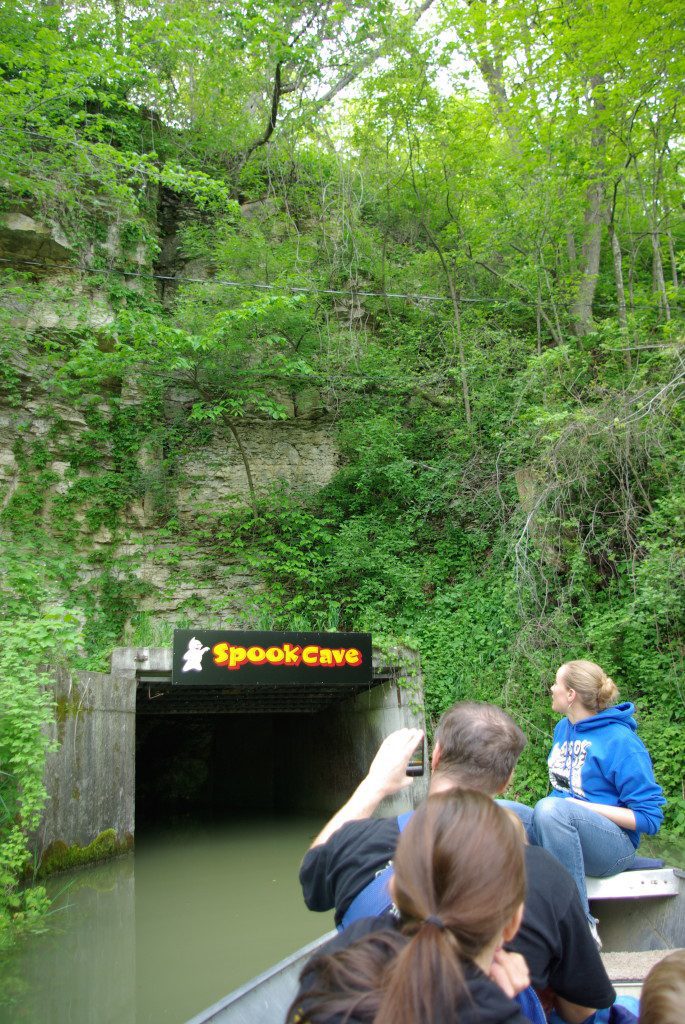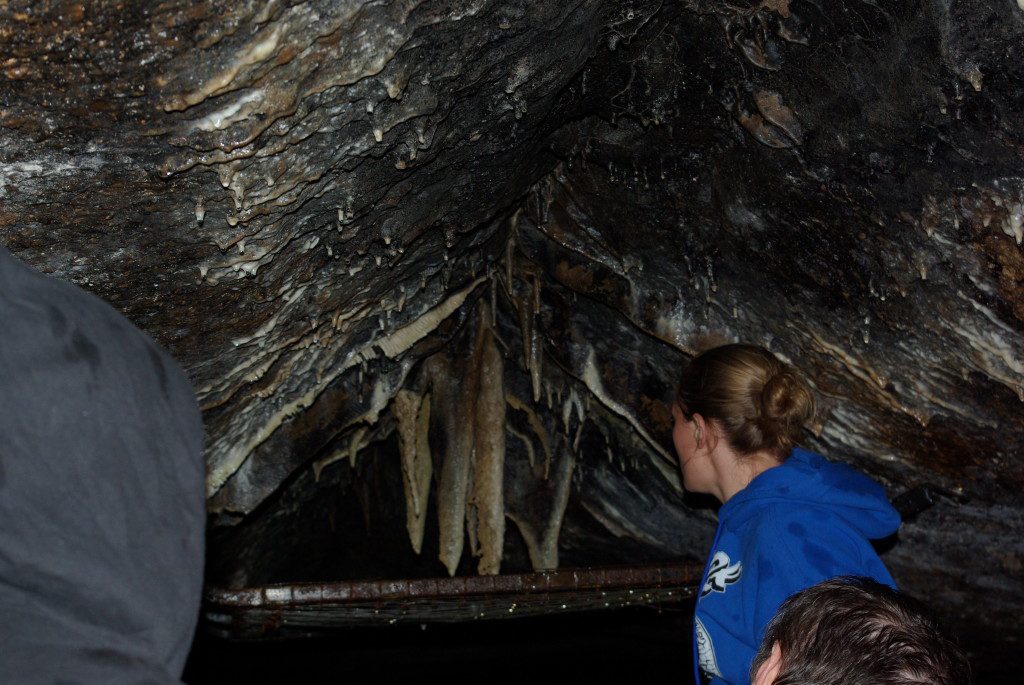 Niagara Cave
Near Harmony Minnesota
Cave Tours on weekend in April; 7 days a week Memorial Day – Labor Day, 9:30 am – 5:30 pm; 10 am – 4:30 pm in September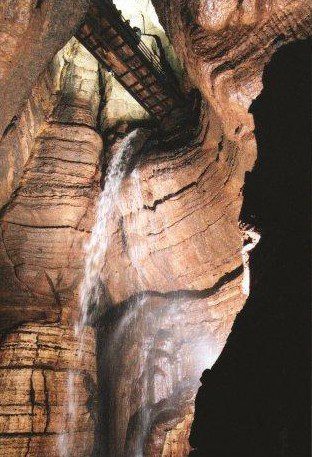 There's a reason Niagara Cave was voted a "Best Family Destination" and  "Top Ten in the U.S." – it is an amazing example of the magical spaces that exist beneath our feet, undiscovered, until the day something drops through a sinkhole! During the one-hour guided tour, cave-goers wander from room to room – some quite cavernous – to check out underground streams, the nearly 60-foot waterfall, really big and really small stalactites, calcite flowstone, over 400 million-year-old fossils, and even a wedding chapel where hundreds (!) of weddings have been performed! Well-versed guides share great educational and informative details about all the sights to be seen within the meandering caves.
FYI: there are several sets of stairs on the tour, so wheelchairs and strollers cannot be used (but the gift shop is accessible) and areas of the caves can be a little slippery, so walking shoes are recommended.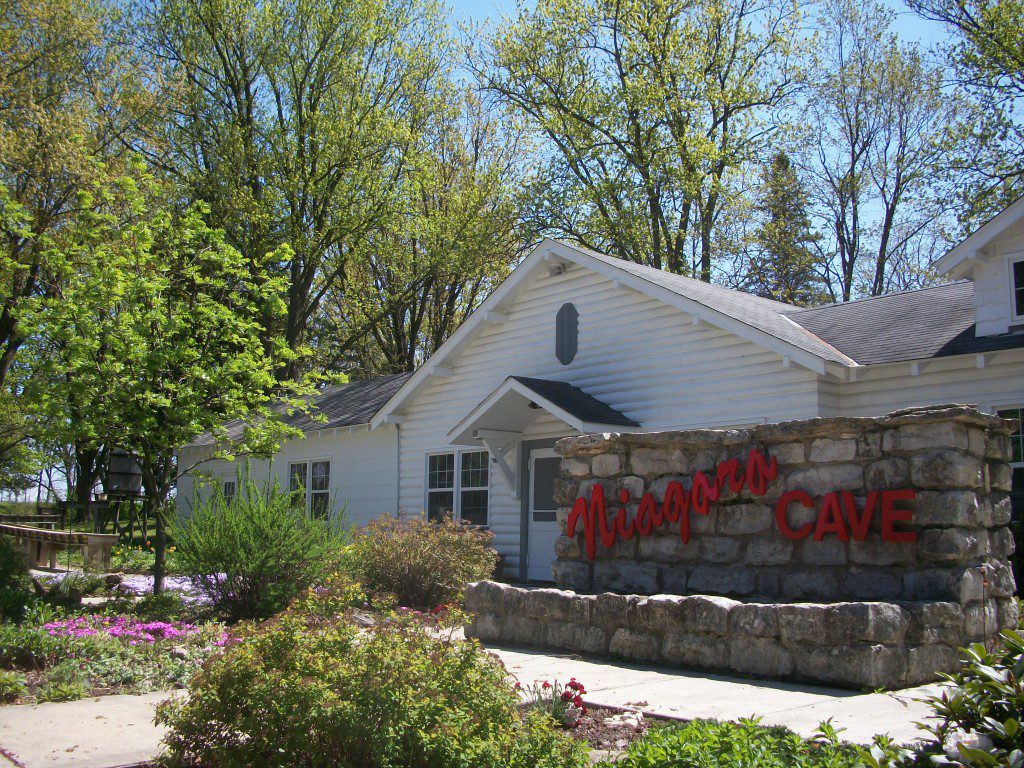 Mystery Cave
In Forestville State Park, near Preston, Minnesota
Open for one-hour tour, 7 days a week, 10 am – 5 pm, Memorial Day through Labor Day; Weekends in  spring and fall, 10 am – 4 pm
Discovered in 1937, Mystery Cave is the longest cave in Minnesota – spanning over 13 miles underground. It is a network of passages that was dissolved by moving water.
Tours range from the general 1-hour option that is available 7 days a week in the summer to a two-hour "rustic, flashlight tour" that focuses on geology (only available weekends and holidays in summer) to pre-scheduled, "advanced educational tour" and even "wild caving tours" where you get caving gear and really get into it, "crawling and squeezing through undeveloped portions of Mystery Cave".
On the tours, guided by Park Naturalists, you'll be treated to stalactites, stalagmites, flowstone, fossils, and underground pools. The guides will take you along the long, linear corridors that are typical to Mystery Cave, and explain its history, features, and formation. Bonus: the one-hour tour (the most popular and "best overall cave experience") is ADA accessible! Entrance to the park is four miles south of State Highway 16 on Fillmore County Highway 5, then 2 miles east on Fillmore County 118.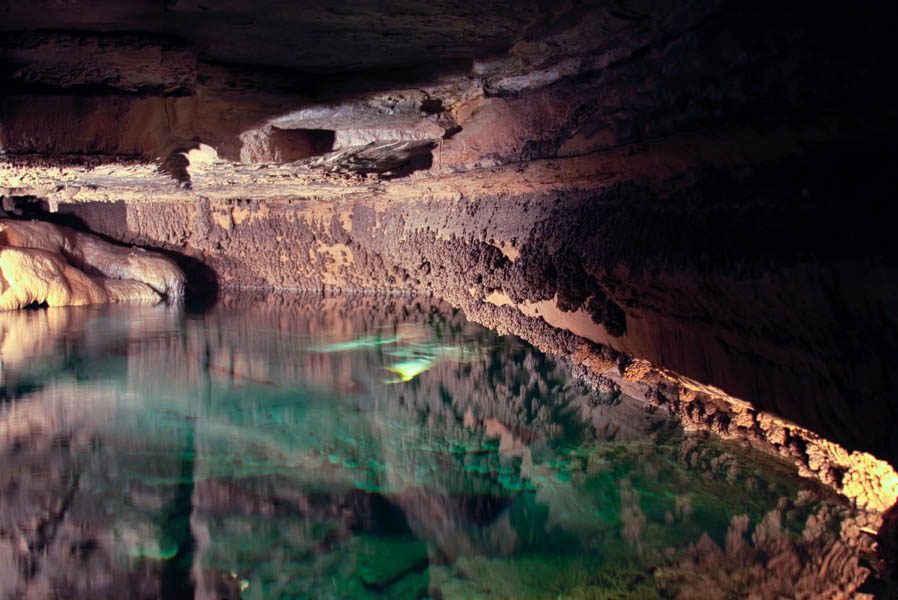 Maquoketa Caves State Park
10970 98th St., Maquoketa, Iowa
Tours beginning May 26, 2012, 9 a.m. to 7:30 p.m. daily
A bit farther south toward the edge of the Driftless Region, explorers can check out Maquoketa Caves State Park near – where else? – Maquoketa, Iowa. It's an incredibly unique state park, with caves, limestone formations, and rugged bluffs.There are 13 caves with varying levels of accessibility. Some, like the over 1,000-foot Dancehall Cave with walkways and lighting system, can be explored by walking, while others, like Dugout Cave, can only be accessed by crawling. The remaining caves are all different sizes and shapes. No matter your means of travel, a flashlight and clothes and shoes that can get dirty are a must. The park contains more caves than any other state park in Iowa, but they've been closed since 2010 to slow the spread of a fungus called white nose syndrome, which is fatal to bats. The caves have just been reopened again this spring (2012) for limited tours. Previously, they could be explored independently, but since the discovery of WNS, things had to change in order to ensure the stop – or at least slow – of the fungus. Interpreters will both give tours and facilitate the WNS (white-nose syndrome) Awareness Program. This is a short program that will help to prevent the spread of White Nose Syndrome by humans. Attendance at the program is required for those who plan to enter the caves.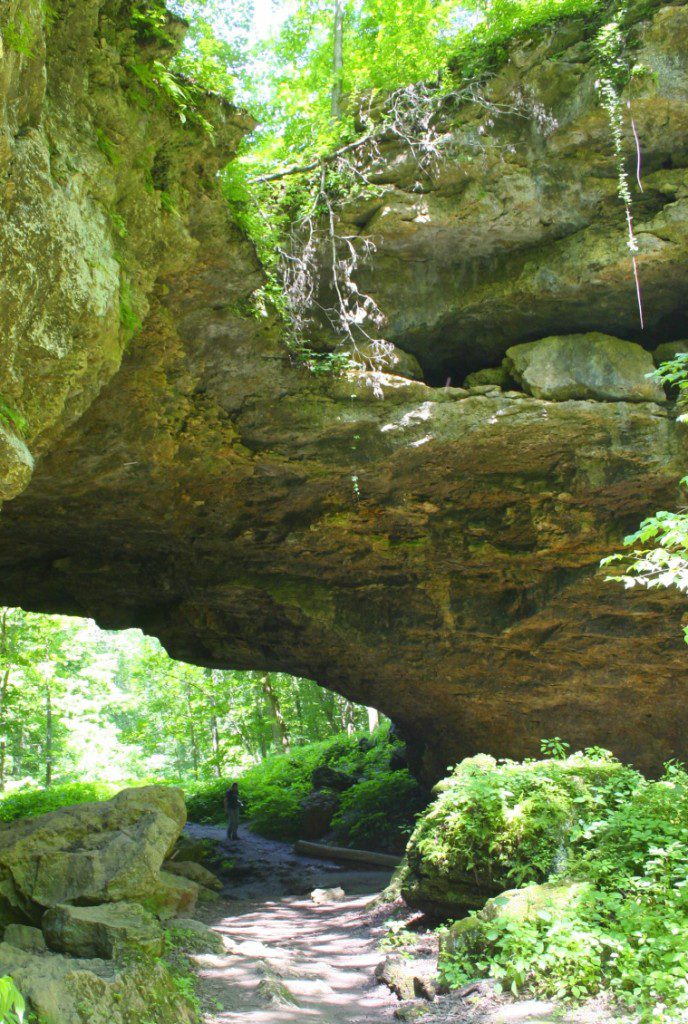 Cave terminology*:
• Speleologist – a person who studies the science of caves and other Karst feature
• Karst – An area of terrain containing features that are formed by natural waters dissolving rock. In most cases these areas contain caves. Derived from the geographical name of a part of Slovenia.
• Calcite – The most common constituent of stalactites, stalagmites, flowstone etc. Limestone, marble and chalk consist largely of calcite.
• Sinkhole – A natural drainage hole or cavity in rock, worn by the action of water usually along a joint or fault
• Cavern – A very large chamber in a cave.
• Stalactite – A secondary mineral deposit (speleothem), hanging from the roof of a cave and often shaped like an icicle. Most commonly consisting of calcium carbonate that forms by seeping or dripping water depositing calcium carbonate out of solution.
• Straw – A hollow thin-walled stalactite, uniform in diameter over its whole length
• Stalagmite – A speleothem that grows upward from the floor of a cave.
• Drapery – A wavy or folded speleothem that hangs down from an inclined wall or ceiling and resembles a curtain.
• Twilight zone – The outer part of a cave where daylight penetrates and gradually diminishes to zero light, between the entrance zone and dark zone (where no outside light can penetrate the cave).
*Reference: wasg.iinet.net.au/glossary.html
———————-
Aryn Henning Nichols loves the idea of magical, secret places existing, undiscovered, just under the surface.