Decorah, We Adore Ya
By Inspire(d) Staff • Photos by Inspire(d) unless noted
Everyone knows we love Decorah. Some say it's the beauty of the bluffs that draws people in. Others speculate there's some sort of vortex created by the meteoric rock embedded way under those bluffs.
Or it could simply be the amazing downtown, variety of entrepreneurs, and all the great people here that brings the place to life.
Whatever it is, it's magic. And we think it's about time we shared some of our favorite things that make Decorah such a magical community.
Despite a fair amount of traveling and extended periods of time living in other states and countries, we at Inspire(d) HQ (Benji, Aryn, and Roxie) have called the Decorah area home for the majority of our lives. And in the 15 years that Benji and Aryn have been together, it's possible that Decorah has changed almost as much as it did those 25 years previous! It keeps getting better.
It would be nearly impossible to sum up all of the good things in one, succinct article, so we're just gonna go ahead and map out one perfect weekend in Decorah. Feel free to explore more on your own! Check it out at visitdecorah.com.
————————–
Decorah is nestled in a crook of the Upper Iowa River, right along two rifts of craggy limestone bluffs. This sets quite the lovely backdrop for our charming Midwest town.

This community of just over 8,000 people is well known for a lot of things. Vesterheim Museum, Nordic Fest, Luther College, StoryPeople, a kick-ass food co-op, great paved and mountain biking trails, the eagles (of course!), and a thriving downtown with great restaurants, shops, and entertainment – to name just a few. So get out your calendars and get a trip to Decorah in the books.
We can't wait to see you!
———————————–
Friday
It's Friday afternoon. You'll probably want to leave work early so you can get to Decorah in time for dinner. Make a reservation at La Rana for tonight then spend a few minutes – or, you know, like an hour – checking out some of the great stores on Water Street.
Tip: the Visitors Center is right on Water Street (507 W. Water St – near Vesterheim) for those looking for more local info or ideas.
If you still have a few minutes before dinner, grab a quick happy hour drink at Rubaiyat, Impact Coffee, or the Hotel Winneshiek. Renovation on this historic hotel and the attached Steyer Opera House was completed in 2000. The beautiful property really is an anchor for Downtown Decorah.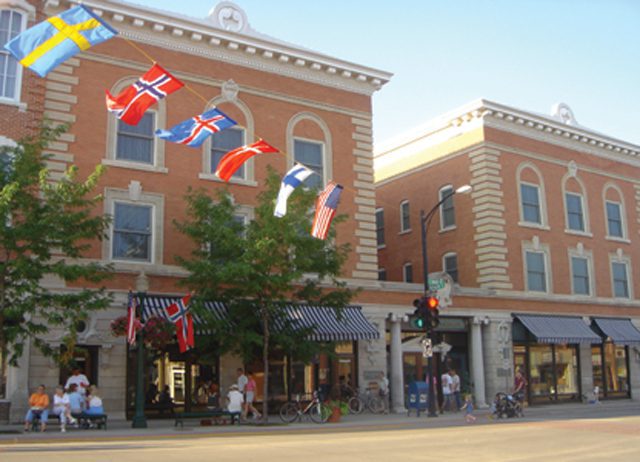 Dinner time! Finally. Aryn might be a little partial to La Rana, the sweet bistro on the corner of Washington and Main Streets, because it's where she worked for two years after returning to the area in 2005. But more than that, the food is amazing, and the ambiance pure loveliness. Go ahead and order one of co-owner Mark's cocktails mixed up with house-made juice (best. mojitos. ever.) and pretty much anything on the menu. We love the rotating specials and you can't beat a table full of starters. Reservations strongly encouraged.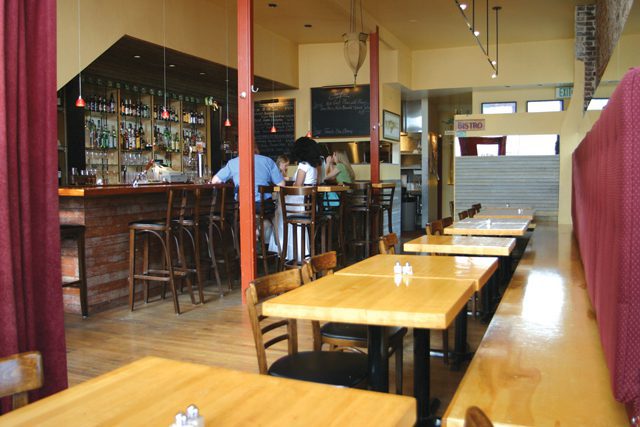 Post dinner, check out some in-town entertainment. There's often great live music kiddy-corner to La Rana at the Haymarket (grab a handful of pulltabs while you're at it!). Not feeling the music scene? Cozy in for a great brew at the Courtyard and Cellar…think of it as pre-game for tomorrow's brewery extravaganza (ha!). More on that later.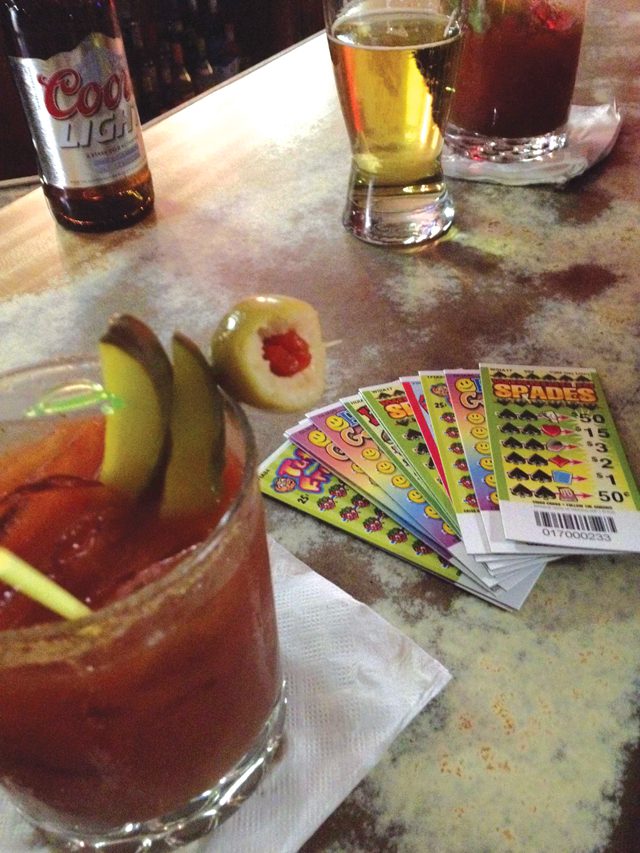 Saturday
Ah, morning in Decorah. There are several great spots to get your caffeine fix in town, but we think you should start at Impact Coffee. If you came to town to check out the craft beer, let this be your precursor to that, but with craft coffee instead. The nitro cold-brews are Aryn's favorites, and Benji loves the house-made chai. Looking for breakfast? Magpie is the perfect choice – they've got yummy breakfast, baked goods, and good coffee ready to roll.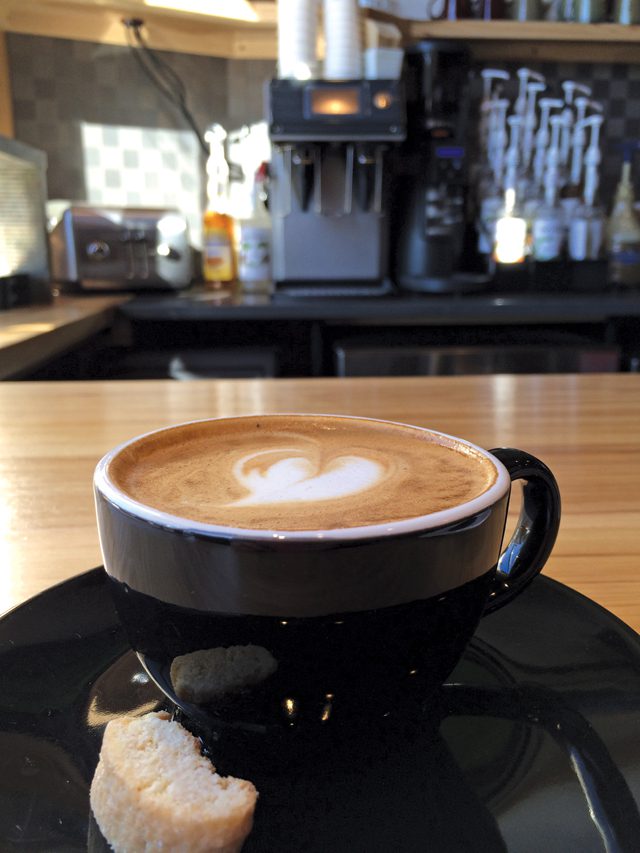 Next up, you really ought to get out for a ride. At Inspire(d) HQ, we love to spread the fun around the community on two wheels. If you don't have a bike, head over to Decorah Bicycles to get fitted for an e-bike rental to hit the Trout Run Trail. There are somewhere around 20 miles of amazing single-track biking and hiking trails woven throughout the bluffs of Decorah – beginners might want to start on River Trail or some of the trails up around Palisades Park. Ask Josie or Travis at the bike shop for a map and suggestions – they'll hook you up.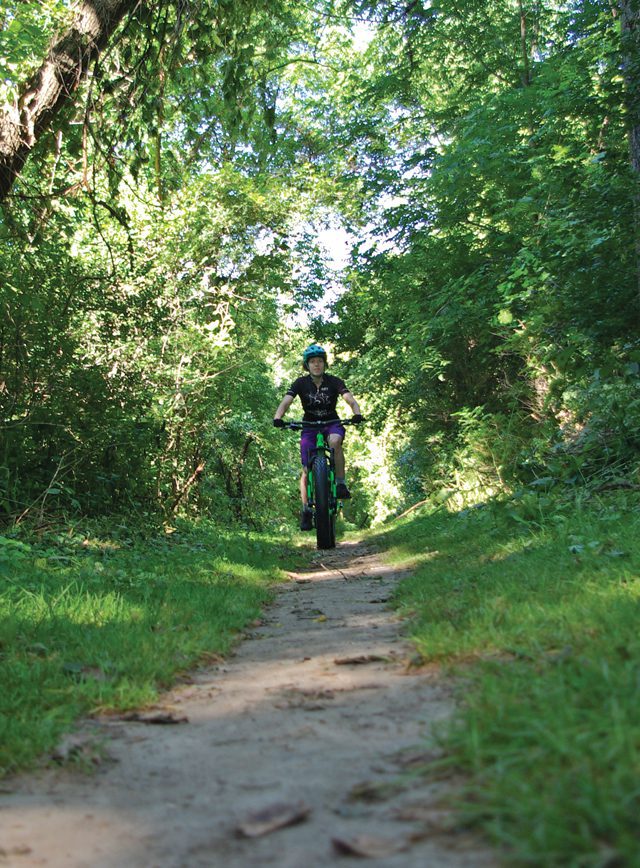 If you're thinking a fun – but still pretty challenging – paved ride is more your speed, it's time for a loop around the Trout Run Trail – it's 11 miles of lovely Northeast Iowa vistas (here's a map!). No matter the direction you take on Trout Run Trail, you'll pass by the Decorah Fish Hatchery, and the famous Decorah eagles too. Take a quick break to feed the trout, marvel at the waterfall at Sievers Spring, and snap a selfie with those magnificent birds before you continue on.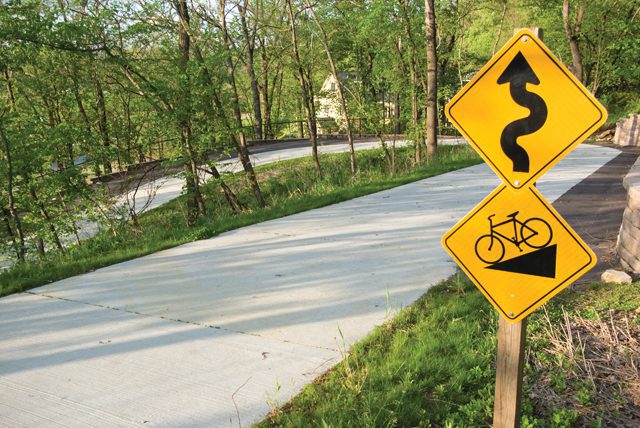 Speaking of waterfalls, Dunning's Spring is one of the best around (in our opinion). It's always several degrees cooler back there, which makes it a perfect stop in the hot summer months, but we love to check it out pretty much any time of year. Make sure to climb the steps to enjoy the view from above too. Dunning's also happens to be a great picnic spot, and is just off the single-track trails if you're taking that route today.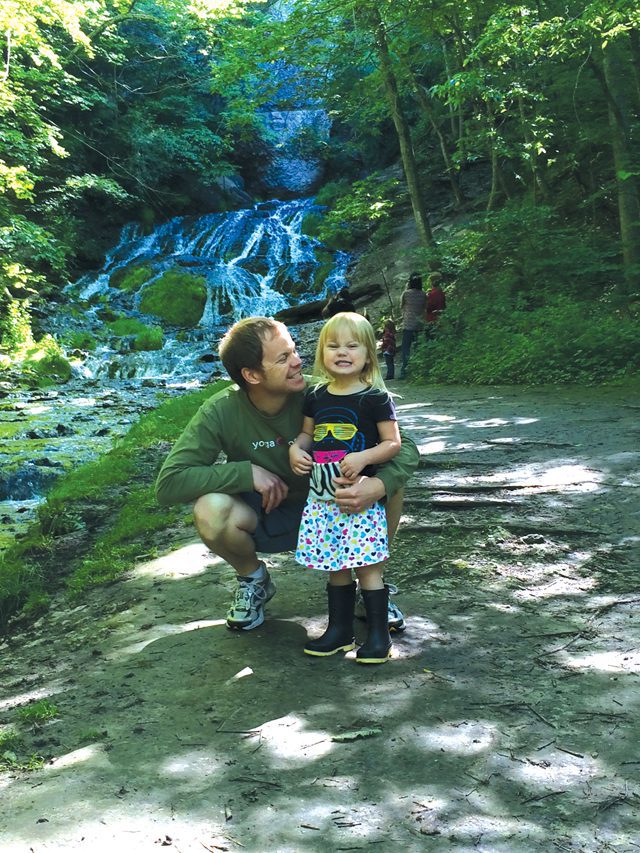 If you're an old RAGBRAI pro looking for even more mileage today, perhaps you'd be up for a little out-and-back to Bluffton. The hills are real, and the beverages are cold at The Bluffton Store – it's the only place in Bluffton, so you'll find it!
And if biking just isn't your thing (okay, okay), another great option for a morning expedition is Seed Saver's Exchange Heritage Farm just north of Decorah. We love it (we even got married there)! The Lillian Goldman Visitor's Center is the perfect place to start your visit. From there you can easily stroll the display gardens, or roam for a great hike on trails across the ridges of the farm – or even up to the heritage apple orchard.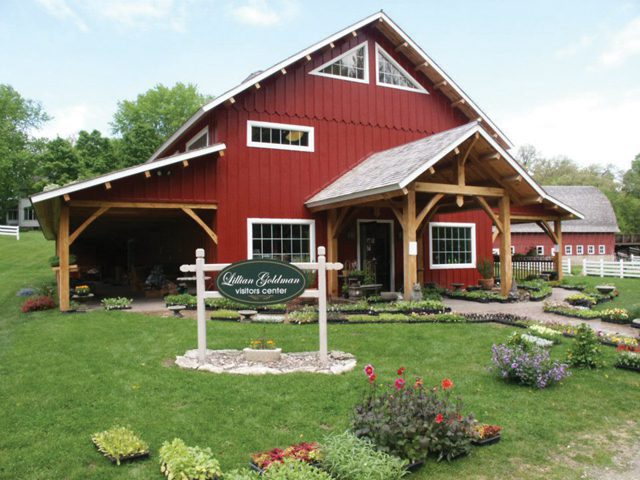 Morning adventures complete, it's time for rewards: beer!
If you're in to beer at all, you've surely heard about Toppling Goliath. Select TG brews have made big splashes, winning top-ratings in several circles, and we love their big-hop creations too. Aryn is a hoppy beer fanatic, and Benji is a good-beer-of-any-kind fanatic, so we're really happy that TG is roosted here in our hometown.
The new-er kid on the block, Pulpit Rock (hey, a rhyme!), has no trouble meeting the good beer bar that's set in our community. Pulpit Rock's beers are super tasty and their tap room (and, in warmer weather, the large patio area) are fun- and people-filled pretty much all the time.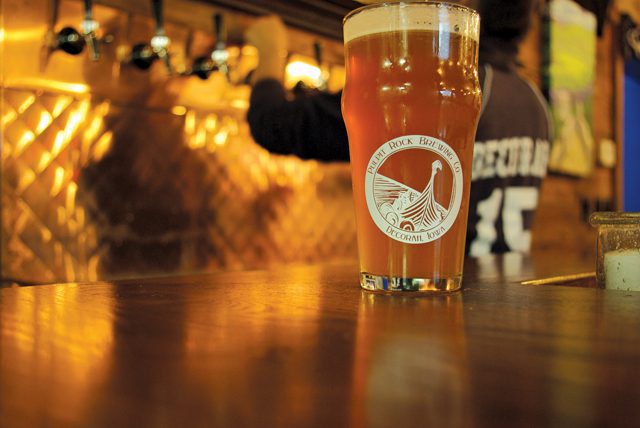 So. You should probably plan to visit both places. And you should probably plan ahead for a designated driver!
No matter where you've been exploring, it's bound to be time for a little food in your belly. Grab a quick lunch at Oneota Co-op or Koreana (sushi and other Asian dishes). Or you could have the one and only Mabe's pizza! Finish your meal off with one of our favorite afternoon treats: a cake bite, procured at Beyond the Bar Bakery on Water Street, or a treat at Java John's.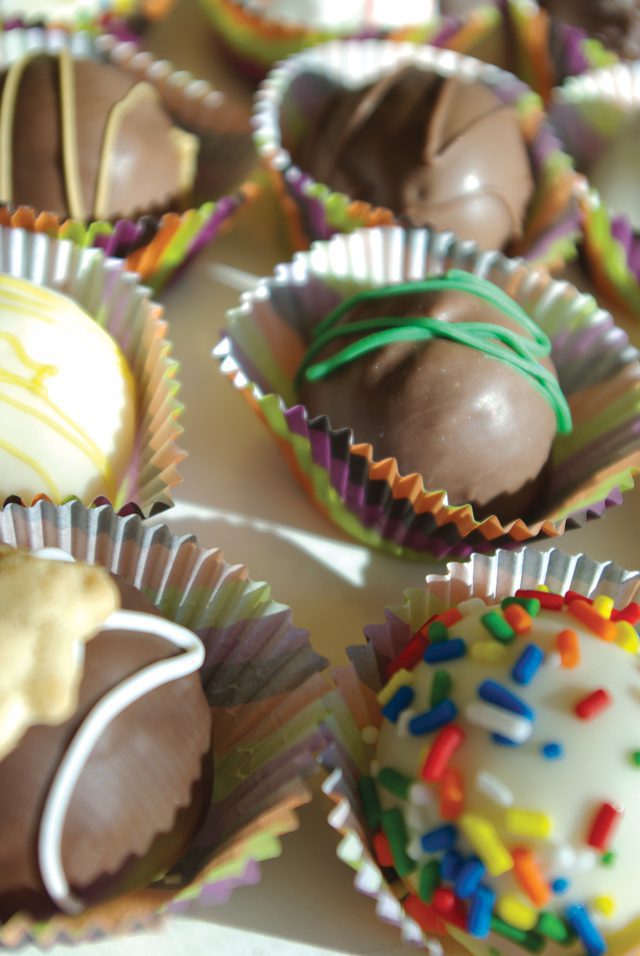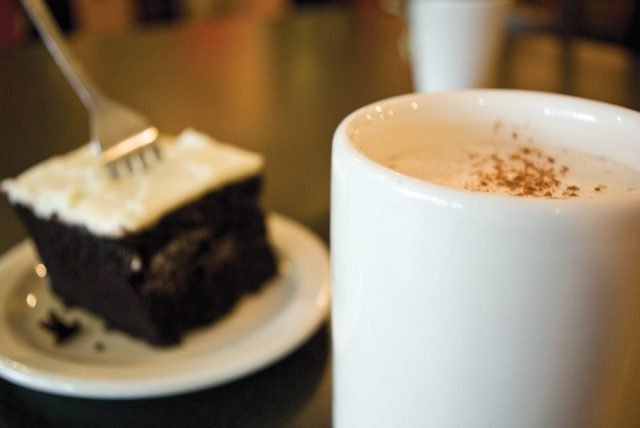 Decided not to drink this weekend? There's fun for you too!
For Aryn's perfect alcohol-free afternoon, she would get a massage at Day Spring Spa or The Massage Room. Oooh! Or a session at the Acupuncture Center! Or a pedicure at one of the great salons in town. Benji would enjoy a little hike or a trip down the Upper Iowa River – you go ahead and decide what you'd like best.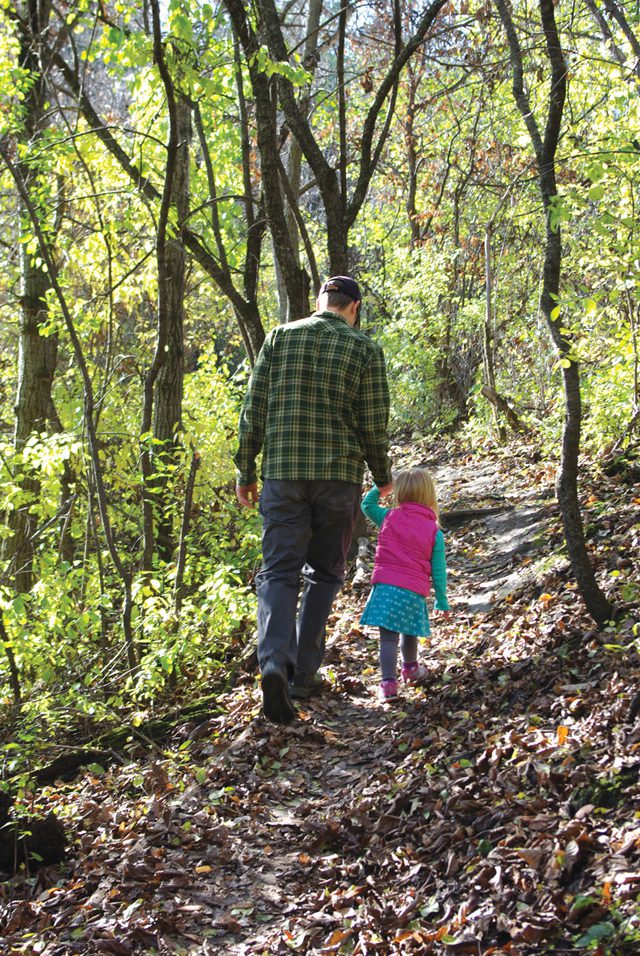 To cap off the evening, take a stroll through downtown…maybe with some ice cream at Sugar Bowl or Whippy Dip! Tip: Phelps or Palisades Parks both offer good sunset-viewing.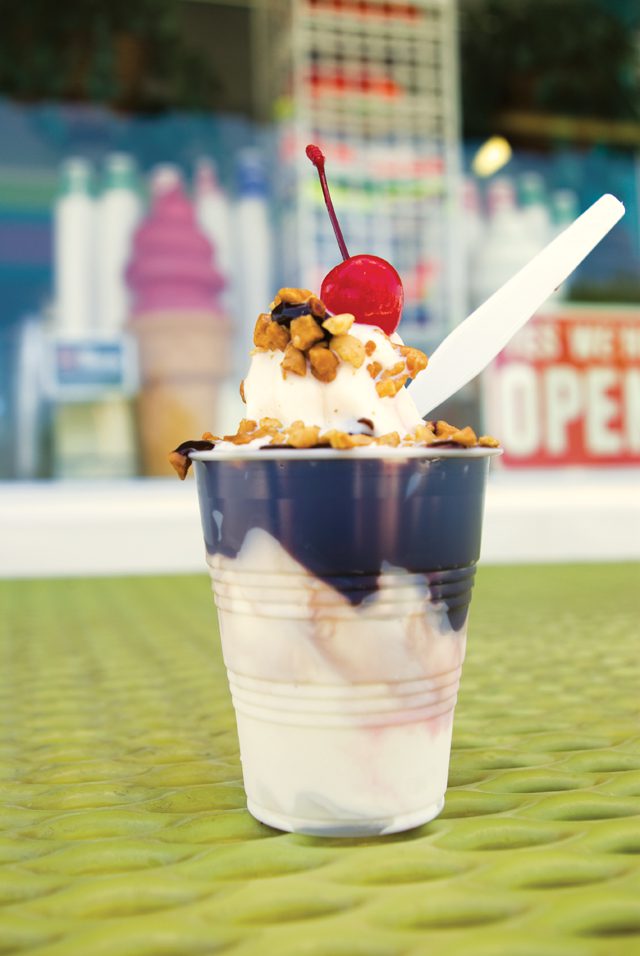 Sunday
It's your last morning in town. Coffee time? How about Java John's? While you're there, make sure to get one of Roxie's favorites: a cinnamon roll! We love their cappuccino muffin tops too.
If you're looking for something a little stronger, we recommend Bloody Marys at the Haymarket or the Bloody Mary bar at Rubaiyat. In fact, if you're heading to Rubaiyat, you may as well go ahead and grab a booth or a table at the bar – the brunch menu is great. Or if you're looking for down-home, no-frills breakfast, you can't go wrong at the Family Table. The pancakes are truly plate-sized, and the service is quick and friendly.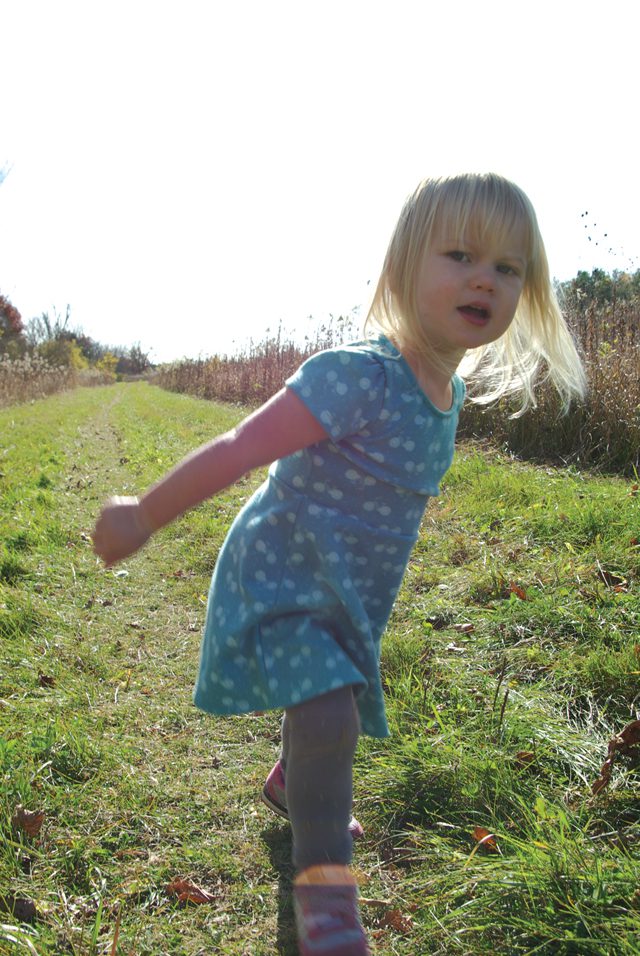 Looking for a way to entertain the kiddos?
If we knew you were bringing your littles along, we probably would have outlined a totally different trip! Better add Vesterheim – think giant boat inside, Norwegian artifacts, and fun displays that you can walk around in – to the list. The Porter House Museum is stocked with cool rocks and a massive bug collection. And ArtHaus is the perfect place for creative kids looking to express themselves (check calendars for classes or open studio hours). Are you visiting us in the fall? Pinter's Pumpkin Patch is so much fun every year – Roxie loves it!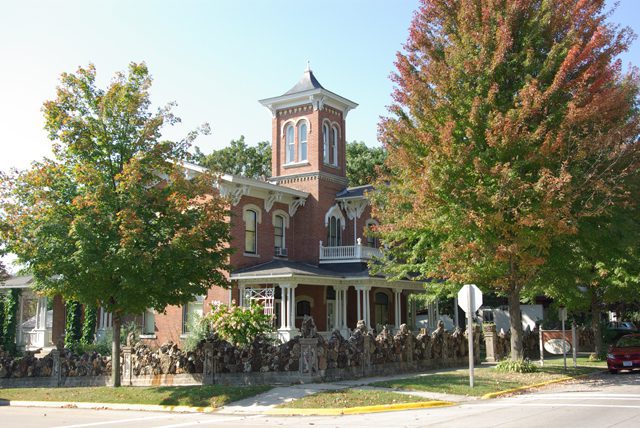 So hey! It's been fun to have you in town. We hope you'll come again! If you do, let us know at facebook.com/iloveinspired. Already a townie? We hope you get out and support local businesses in this amazing community of yours – we are so lucky to live here! XOXO
Get on your calendar:
Women's Weekend Out (April)
Winneshiek Farmers Market (Wednesdays, 3-6 pm / Saturdays, 8-11 am, May-Oct)
Lawn Chair Night (in front of the Winneshiek County Courthouse, Thursdays, 7 pm, June-August)
Nordic Fest (July)
Loop-de-loop 5K & Half Marathon (September)
Northeast Iowa Studio Tour (October)
—————-
Traveling to Decorah
SPOTlight: Hokah, Minnesota
Heading from La Crosse down Highway 44, the river at your left, bluffs to the right, the scenic zen takes over (keep your eyes on the road, driver!). Need a quick break? Stop in Hokah to check out a cool waterfall – right before the big curve up into town, turn left into the fire station parking lot. Hop out and walk on foot to Como Falls Park – it's got that lovely waterfall plus a few spots to have a picnic or a quick run around.
www.hokah.info/recreation/comoPark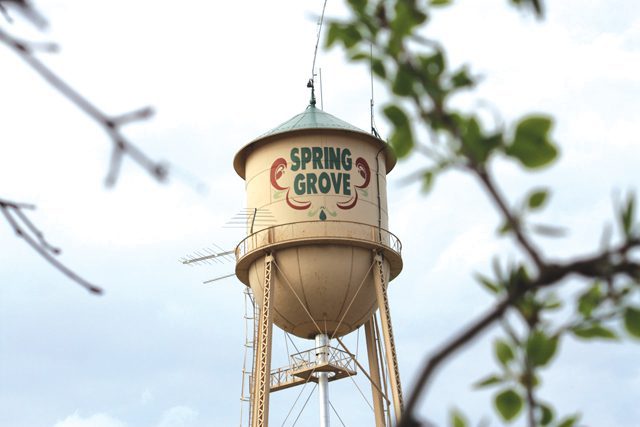 SPOTlight: Spring Grove, Minnesota
When you're headed back to La Crosse after your weekend, definitely save time to stop in Spring Grove. This little town is, as they say, pretty neat – stop to see the Giants of the Earth Heritage Center, grab a bite to eat at Doc's Blue Moose, a drink at Norski's, or even a movie at best stadium-seated theater in the region, Spring Grove Cinema.
www.springgrovemn.com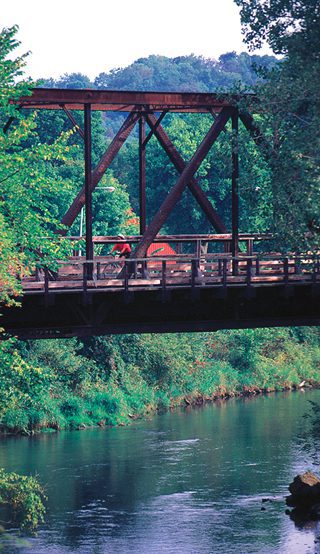 SPOTlight: Lanesboro Minnesota
From Rochester, you can pop over to Lanesboro for a little Brigadoon-style fun. Take in a show at Commonweal Theatre, awesome art at Lanesboro Art Center, or unhitch your bike for a ride on the Root River Trail. It's a fun place to spend an afternoon or even a day!
www.lanesboro.com
SPOTlight: Harmony & Preston, Minnesota
On the way back, you can schedule time to check out southern Minnesota – Harmony (lunch at Stella's or a little exploring at Niagara Cave) or Preston (Forestville State Park is cool, and the area's a trout fishing hotspot!). Maybe you'll even want to pop over to Four Daughters Winery. It's a little out of your way, but it's a fun stop and the food is great.
www.exploreharmony.com
gethookedonpreston.com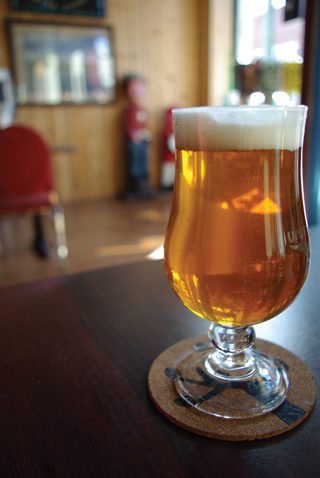 SPOTlight: Elkader, Iowa
Coming from the south?
Make your way up the river through Guttenberg or stop over in Elkader. Elkader's got an awesome white water play area right downtown on the river! Other highlights we love? Schera's for amazing Algerian food (their shwarmas and falafel are favorites of ours) and there's a great new park on the east side of town that's perfect for some kiddo energy-busting. Check out our Elkader Day Trip at iloveinspired.com for more ideas!
www.elkader-iowa.com
(SPOTlight photos courtesy area chambers & visitor centers)