By Kristine Jepsen
Decorah's winter solstice concert, Burning Bright, celebrates 20 years of bringing light in the darkness and giving back to the community. Choir member Kristine Jepsen chats with founding members and directors as they reflect on years past and prepare for this season's performance.
"Oooh, that one's my favorite," fellow alto Emily Neal whispers as we open our binders to "The Parting Glass," a traditional Scottish tune about toasting one's friends. We're sitting in choir rehearsal for Burning Bright, an annual winter concert that brings together singers and instrumentalists in the Decorah area.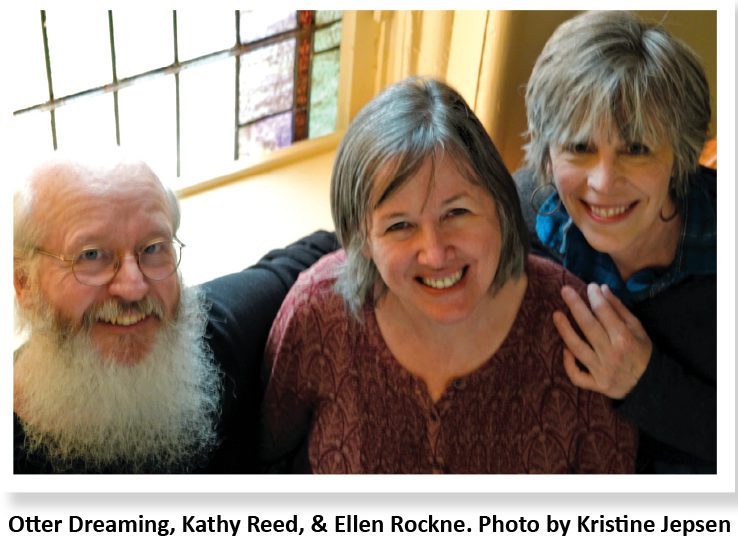 Kathy Reed, who co-directs Burning Bright with Otter Dreaming, settles at the keyboard, ready to prompt us, as late-afternoon sun slants in through First United Methodist's stained-glass windows. We've sung this rollicking, bittersweet song before, and that's all the more reason we want to get it right.
In the deep of this winter, the Burning Bright chorus, along with instrumentalists and youth and children's choirs, celebrates two decades of offering "light in the darkness." The concert – two performances, actually – is a handmade gift of obscure carols, folk songs, and sacred world music. Each year, the pieces reflect a theme, and in this anniversary year, it's "Exultation." Some pieces honor Christmas, but more centrally, Burning Bright – BB, as members say – is about the winter solstice, the night on which our hours of darkness turn toward light.    
"You said 'I Am Christmas' was your favorite song on the concert," I whisper back, kidding, as the opening accompaniment unfolds. "I know," Emily says with a happy sigh. "I love them all. For me, this is it. This IS Christmas." I get what she means.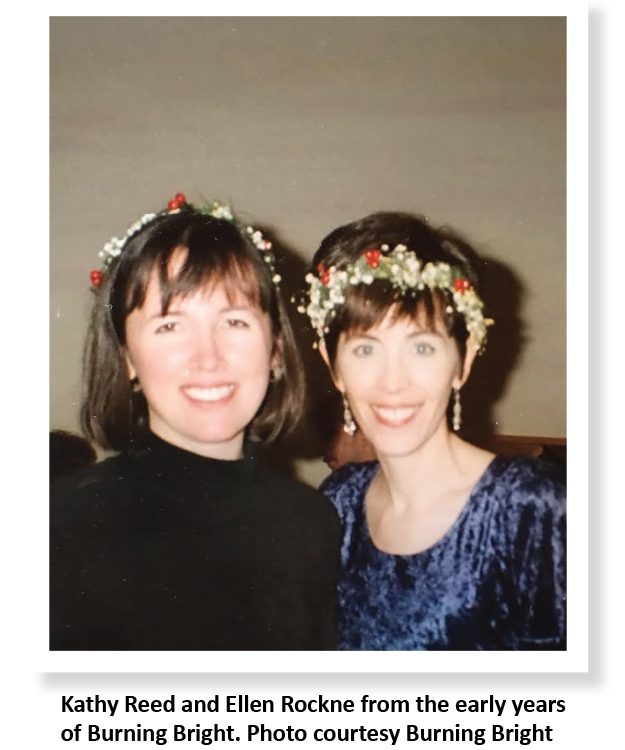 Burning Bright itself started with just one song – "'Twas on a Night Like This," arranged for soprano, harpsichord, and oboe, to the hymn tune of "When Christ Was Born on Earth." The first-ever performance was called "Songs of Christmas: A Concert for Harpsichord and Voice," says Decorah business owner Ellen Rockne, the "voice" in question.
A child of the Lutheran singing tradition, Ellen was already a chronic music organizer and accomplished soloist when she moved to Decorah in 1996. She crossed paths with Kathy Reed through their young children's homeschool activities and soon shared her dream of a winter concert to warm the cold Midwestern nights. Kathy, who is formally trained in musicology and harpsichord performance, felt their synergy immediately.
"I didn't move here because of the potential to combine these different aspects of my musical life," says Kathy, who is now an instructor of music at Luther College, "but one day our kids' group met up and someone mentioned trains, and then someone jumped in and said, 'Hey! We know some songs about trains!' and we all spontaneously started singing, and I thought, 'OK, this is a place where people sing. That's fun."
Ellen, by her own admission, sings all the time. "I don't even know I'm singing, but my now-grown sons say I never stop," she says. "The disconcerting thing is that as the years pass, I find myself making up little songs about every little thing," she says, laughing and rolling her eyes. "The other day, I caught myself singing a tune to the phrase, "Now, here is my tea…."
Otter first got involved with the concert in 2002 as a singer, and joined its administrative ranks soon after, Kathy says. "At dress rehearsal that year, we sang everything end-to-end and realized the concert would be three hours long – a major problem, since we really wanted a two-hour program. At some point, Otter mentioned as tactfully as possible, 'You know, you could identify a number of pieces – say, 20 – that will fill out the time, more or less, and aim for that each year,' and I thought, 'Oh! Now there's someone we need organizing this thing.' And he was right: That target number is 19 pieces," Kathy concludes. "We've stuck to it ever since."
The goal with Burning Bright, Otter and Kathy say, is making the concert accessible both to participants – ranging from professional musicians to debut choristers – and a diverse audience. Often, this means making the sound intentionally less "perfect" and more faithful to a song's historical roots. "OK!" Kathy says, presiding with a smile over a section of skilled sopranos. "Now that you know your line, let's make sure it isn't that 'pretty' ever again. I need more 'hale and hearty' from the beginning."
"You mean, lusty?" a choir member pipes up, gambling for a laugh.
"No, no," says Kathy quickly, in her quietly irreverent way. "I mean…."
"Musty?" another member suggests. "Fusty?"
"Well, I'm not going to say lusty," Kathy presses with a wry smile, "but, with more vigor."
If none of these songs or techniques sound familiar, that's by design. "This is never going to be a concert of familiar carols," Kathy explains, though often there is one audience sing-along. She prepares pieces for the Burning Bright choir that resonate with her, sometimes arranging songs to fit the group. She did this for the Mary Chapin Carpenter lullaby, "Dreamland" – another piece to be revisited on the 2018 concert – by writing it for men's voices, instead of a solo woman's.
"Now Otter," she continues warmly, "is a composer. He will come across a text he likes and write all four parts for it, or vice versa. He's also more familiar with world music, bringing in pieces from Africa, from Syria, from musical traditions I'm not as fluent in."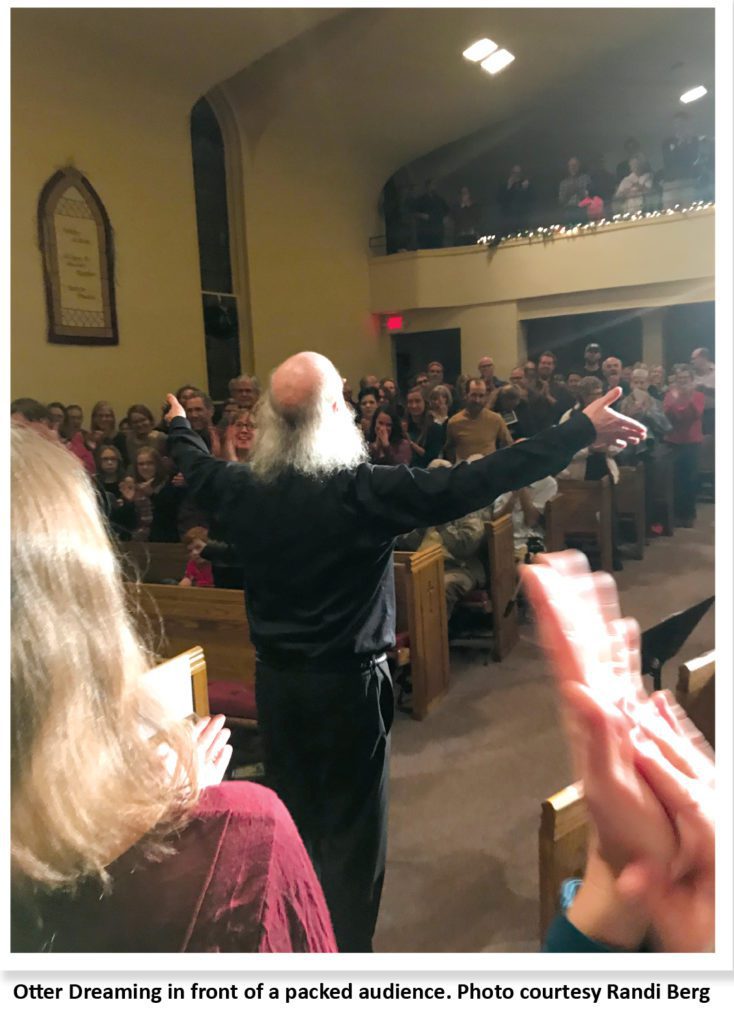 This is how Burning Bright keeps musicians and audiences coming back: By stitching together a colorful mix of lesser-known music, and welcoming darker themes – fear, grief, loss – along with those of light, hope, and joy.   
"One of the most rewarding and touching things for me," Otter says, "was performing a short, very personal piece I composed reflecting on the deaths of several friends and family members. I received a thoughtful card from someone who had been in the audience that year, thanking me and telling me how it had helped her to accept her own mother's death.
"I've also been blindsided by emotional reactions to pieces related to my daughter's arrival in my family and in the community," he continues. "One Stephen Foster lullaby, 'Slumber My Darling,' that Kathy arranged for tenor and bass voices, took me by tearful surprise at the first performance of our concert. I knew it was coming in the second concert and wasn't expecting the same emotional response, but – surprise, again!"
On a lighter note, Burning Bright members gladly anticipate being caught off-guard by the wit of founding member-singer and sometime-banjo accompanist Dale Kittleson. Known for telling dad jokes when rehearsals get tense, Dale has reportedly encouraged chuckle-inducing costumes and lyrics, such as to the 2017 performance of, "Farewell, my friends, I'm leaving FaceBook…," a satirical anthem about digital-device dependence. On another concert – without the knowledge of, let alone permission of, the conductors – Dale orchestrated a coup in the bass section. As the song's verses lilted along, Dale and his cohort stood up and sang their part, "…five for the oxen standing by…" – in their highest falsetto.
"The entire church just erupted in laughter," Dale says of the packed-to-capacity audience (almost always the case for Burning Bright performances). "I can't remember who was conducting, but their jaw was on the floor. Then we basses sat down like nothing at all was out of the ordinary, and the sopranos, who followed us in the song, were cracking up, but somehow the beat went on. Now," he says, with mock seriousness, "in what other group can you pull that off and know, even before you risk it, that your fellow performers will not excommunicate you?
"But that's all concert stuff – the things the audience sees," he continues. "Really, I keep coming back for this," he says, gesturing to the rehearsal that's just ended, "the privilege of getting together with this group – of catching up with really quality people and working hard on a rich program every year."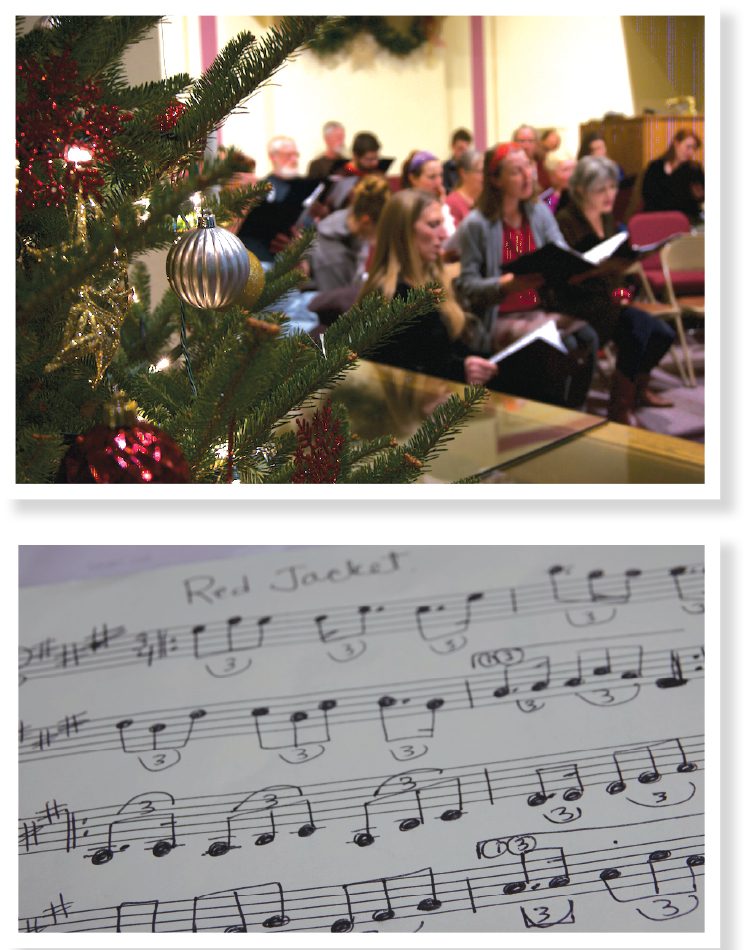 Close to show-time each season, the Burning Bright choir is joined by local instrumentalists – bass, violin, guitar, clarinet, hand drums, recorder, harp, and more. Retired Luther College librarian and professional mandolin player John Goodin was among the first to perform on the concert. He now arranges music for mandolin and writes manuals for Mel Bay Publications – along with scouting out a reel or jig to play on the concert with Decorah violin teacher/performer (and professional vegetable grower) Erik Sessions. Their duet has become a Burning Bright tradition, almost always ending in a blazing, fast-as-they-can-play finale that rouses thunderous applause.
"Here in Decorah, musicians are treated with great respect," John says, "but the Burning Bright audience is the best. Most years we don't even know what we will play until the last week or two, so it's a little bit like stage-diving – where you know that the audience will catch you."
Proceeds from ticket sales for each Burning Bright concert go to non-profit organizations – usually shedding light on underserved populations at home or abroad. In addition to Decorah Community Food Pantry, the flagship beneficiary each season, choir members nominate and vote on charitable organizations with which they have personal involvement. 2018 beneficiaries are: Neighbors Helping Neighbors of Decorah; Northeast Iowa Peace & Justice Center; Re-Member of Pine Ridge, South Dakota; and The New Hope Jeremiah Project of Cape Town, South Africa.
So it happens that, each midwinter, a concert in the spirit of true community comes together. Performers wear no robes or formal dress – just "jewel-toned" concert attire that might "glow" in the soft light of the chancel. Adult singers steward younger ones, making sure they can see the conductor and be seen by the audience, amidst their shuffle into place, their sly little hands waving to family in the pews. There will be moments, without doubt, when the music makes space for sadness, doubt, or hurt – making the rising aura of peace and joy feel whole and true.
"When I look back and think of the beautiful voices and musical talents that each person has added to the Burning Bright concert, it makes me realize how unique each year is depending on who we are lucky enough to have performing," says founding singer Betsy Peirce. "Vocal jazz scats, rich trained voices, tuba, and oboe – it's so fun coming to the first practice each year, discovering new people who add to our tapestry of sound. The love that flows from the choir, to our directors, to the audience and back again is as palpable as it is audible – the joy on their faces as they listen – that makes it worthwhile."
Like Burning Bright founder Ellen Rockne, Kristine Jepsen grew up in the Lutheran singing tradition and so loves performing on this winter concert. Outside of the alto section, she writes for literary journals and small businesses – more at kristinejepsen.com.
—————————————
Beneficiaries of Burning Bright Concerts Through the Year
Decorah Community Food Pantry
Decorah Public Library Youth Programs
Decorah Volunteer Fire Department
Domestic and Sexual Abuse Resource Center
Decorah Power
NAMI NE Iowa (National Alliance on Mental Illness)
Partners in Health, Haiti
Heart River of Hope, Mandan, North Dakota
Thistle Farm & Magdalene Residence, Tennessee
Project Care
Path to Citizenship
Thunder Rode Therapeutic Riding
Mother Health International's Uganda Ambulance Fund
Decorah Community Free Medical Clinic
The Northeast Iowa Peace & Justice Center
Rushford Flood Relief Fund
Winneshiek Farmers' Market Association
Postville Community Support
St. Bridget's Catholic Church Hispanic Ministry Program, Postville, Iowa
Greater Area Pantry, Calmar, Iowa
Sunrise Foundation, Nicaragua
Postville Children's Health Fund
Decorah Diversity Appreciation Team
People for Animal Welfare (PAW) of Northeast Iowa
Decorah Community Education and Arts Center
Exultation: Celebrating 20 Years of Burning Bright – a concert to benefit:
Saturday, December 15, 2018 at 4pm and 7 pm
First Methodist Church
302 W Broadway St
Decorah, IA 52101
Advance tickets recommended – available at Oneota Community Food Co-op .