Crystal Creek Magic
A Minnesota couple launches a Citizen-Artist Residency program in their magical Houston, Minnesota, cabin in hopes of connecting artists and residents to create a better region…and world.
By Aryn Henning Nichols
Somewhere around its 100th birthday, Crystal Creek Canyon Lodge moved on up – up a bluff – to Oak Forest Lane just outside of Houston, Minnesota. There, a former owner reassembled the log cabin and built two thoughtful additions. Typical to a country cabin, there are gorgeous views for days, but untypical is that this log house also has four bedrooms, two bathrooms, a fairly open floor plan, and laundry on-site.
Erin Dorbin and Taylor Harris bought the 1890s home in the spring of 2016.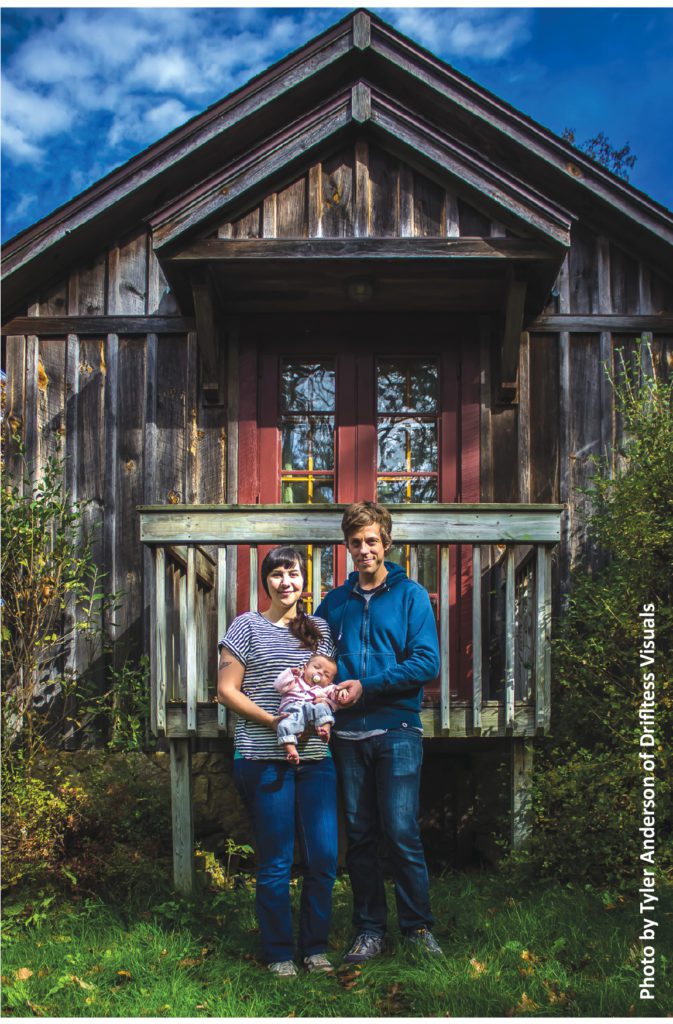 "I feel like '1890' is what they say when they're not sure exactly when a place was built," Taylor says with a laugh, eight-month-old baby Maple in hand. "I know, right?" Erin agrees, laughing. "Sometime in the late 1800s, anyway, this cabin, we believe, was built in Viroqua, Wisconsin."
Beautiful, old, salvaged doors and windows, exposed beams, and giant porches welcome visitors. Just "cabin-y" enough, the 100-year-old logs peek out from behind the breakfast nook and next to the ladders – yes, ladders – that lead upstairs and downstairs. A love note to the former owners' kids is etched into the mortar that literally holds the house together.
Maple squeals as she plays with a tiny toy giraffe, and their sweet dog Georgia leans in for a pat as rain pitters outside and mist rises from the bluffs surrounding Crystal Creek below. It's a little bit magic.
So it's no surprise that finding the cabin was a like finding the proverbial pot of gold at the end of a rainbow. Erin was pregnant at the time, and the couple was looking for ways to facilitate careers in two locations. Erin worked in Rochester for Preservation Alliance of Minnesota, a non-profit dedicated to preserving historic buildings and places. Her outreach took her to counties across Southeast Minnesota. Taylor is an eighth-grade social studies teacher in Northeast Minneapolis.
They had planned to park their vintage Avion camper at Maple Springs Campground (which even inspired their baby name!) in Forestville, but the universe – aka their future cabin – stepped in.
"I found this place and was like, 'Oooh my gosh!' Erin says.
"I was mad," Taylor says. "We weren't planning to buy a house! But it was so amazing. We couldn't pass it up."
"Seriously! One early foggy morning I took the gorgeous and tightly winding Highway 76 to Caledonia on my way to work. I saw this fox and bird playing together on the side of the road, but they probably weren't really playing together, they were probably fighting over roadkill," Erin says with a grin, "But it sure looked like it. And I thought to myself, 'This is it.'"
Erin grew up in Michigan, in a place rural enough to be 15 minutes from the nearest town. So Houston – population under 1000 – seemed just right.
"I feel very rooted here," she says.
Taylor, on the other hand, hails from New York City, although he's spent the last two decades in the Twin Cities. He feels very rooted there. So the two-home set-up made sense for the young parents, both in their mid-30s.
Things went smoothly with the closing on the cabin, and shortly after, Erin and Taylor listed it on Airbnb. They had bookings immediately.
"We had to turn people away, in fact," Erin says. "People would come here to stay and be absolutely taken with the place. In Minnesota, everyone says, 'Go North,' but we say, 'Go Southeast.'"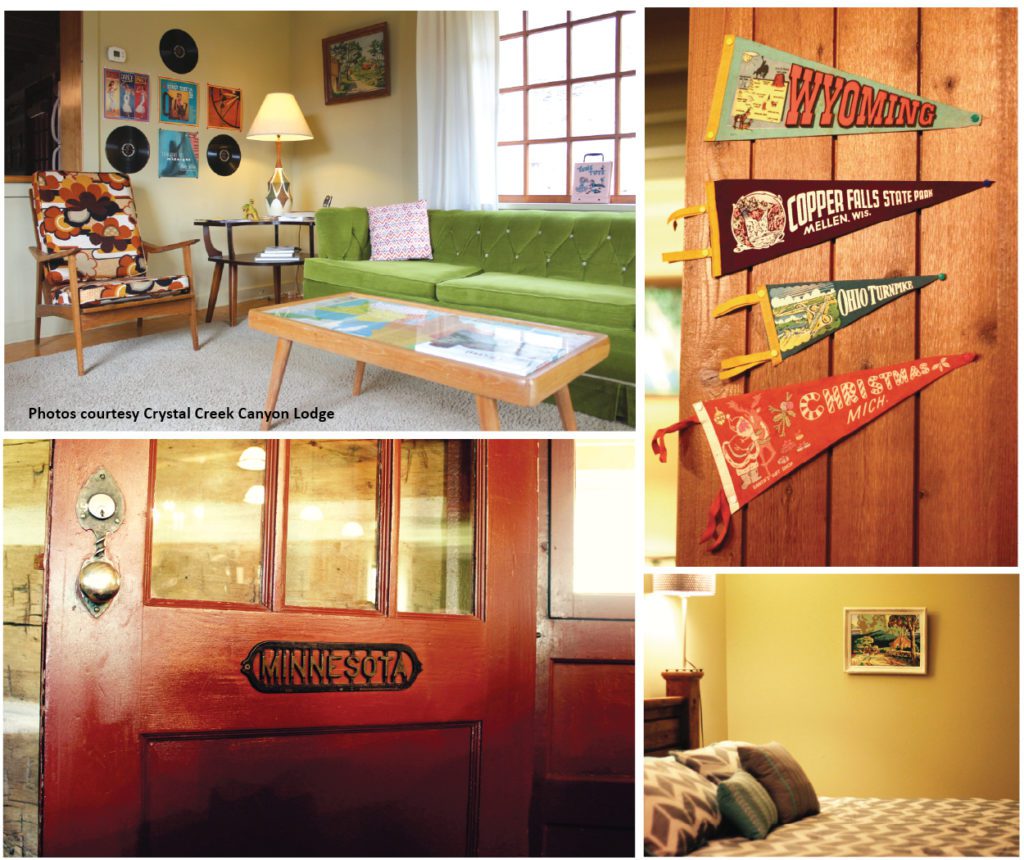 Inspired by a variety of organizations – such as the Wormfarm Institute's Artist Residency program in Reedsburg, Wisconsin; a wild McKnight grant artist named Dan Senn who produced a sound and video installation in the 90s in the "Catacombs of Yucatan" (Houston, Minnesota); and by the region itself, it didn't take long for Erin to hatch the idea for the Crystal Creek Citizen-Artist residency program.
"The phrase Citizen-Artist just came to me one day," Erin says. "It just felt right. It described how I, and other creative professionals, were performing creative and professional community-connected work. It took off from there."
"And I just follow along on the crazy schemes," Taylor says, laughing. "I hold the baby."
The plan is this: Erin and Taylor will host three (this year four) artists, individually, for week-long residencies during the months of July, August, and September 2017 (those months may vary in future years).
Each year, they will select one local or regional artist, and two from outside regions, meaning, beyond the Driftless Region. Artists' work will be inspired by the Driftless, though, and will help the larger community of Southeast Minnesota re-imagine their locale right alongside the citizen-artists-in-residence.
The Citizen-Artist program goals are twofold:
To introduce people to the Driftless Area of Southeast Minnesota
To connect with and leverage Houston County's natural, social, and cultural assets. A big proponent of the program was that the Citizen-Artists-in-Residence (CAIRs) didn't need to have a "traditional" fine art background. Erin and Taylor welcomed writers, chefs, social scientists, historians, podcasters, dancers, musicians – you name it – to apply.
"We wanted to broaden the perception of what art means to people and institutions in Houston Co. Minnesota – it can be place-based; it can be interactive; it can influence civic matters," Erin and Taylor say together, one idea on top of the other. "It's not necessarily rural or urban, either; it's art for everyone."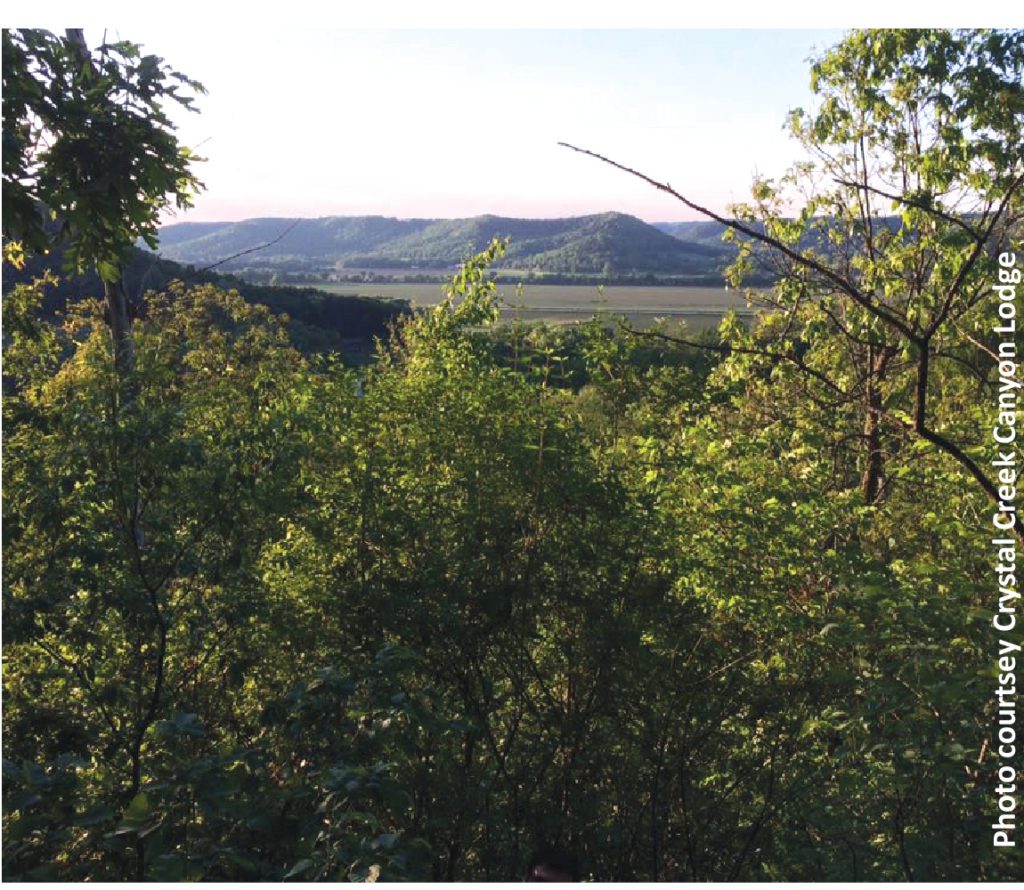 The amazing luck that seemed to follow Crystal Creek Canyon Lodge continued through the CAIRs project – "Cabin Porn," a popular cabin-living book and website, picked up Erin's Citizen-Artist Facebook post and shared it. That post got an 18,000 reach. Their first application came from Montana.
So while Erin and Taylor can't get a cell phone call out at Crystal Creek Canyon Lodge, they can get artists all the way from Victoria B.C. and New York.
"There were at least nine applicants that we really would have loved to have come, but we finally settled on four," Erin says. "One residency is being shared by two CAIRs."
The 2017 CAIRs are as follows:
Harry Graff Kimball, a place-based songwriter from New York
Melissa Wray and Todd Melby, from the Twin Cities as the regional representation and shared residency. Both artists host podcasts and are excited to interview the people of Houston County while exploring the tension between rural and urban life.
Cimarron Corpé, a geographer and multimedia artist from Victoria, B.C.
"I wanted to find a way to expose people to this area, and know they'll leave with a little piece of it in their hearts. The CAIRs won't just be tourists, they'll hopefully become part of the place; residents themselves, even if for a brief amount of time," Erin says. "After they leave, they can connect their experiences here in Southeast Minnesota with their own larger communities and global networks.
Although funding wasn't totally in place when Erin and Taylor jumped into the project, Houston Arts Resource Council (HARC) quickly came on board as an active partner.
"HARC is committed to creating vibrant communities in Southeast Minnesota through promoting arts and cultural programming. I would love it if new ideas were generated in Houston County that can help pave the path for the region as a whole," Erin says.
Other area partners – local arts, history, and community organizations – are also working with Erin and Taylor to help realize their vision. To further facilitate community interaction, there will be workshops and meet-and-greet sessions in different locations – from coffee shops to visitors' centers. Plus, next spring, a Citizen-Artist Showcase is planned to promote works created during the residency, and to hopefully inspire other rural arts activities in Houston County.
"I wanted to be a conduit for connecting all these things," Erin says. "I've worked in economic development, planning, education, historic preservation, and – although I'm not totally comfortable saying this – I've worked as an artist too. So I've infused everything I've done with this creative vision."
Her passion for the project and Houston County, as a whole, is evident.
"I really want to trigger our local assets," Erin says. "Let people come here with fresh eyes and let the people of our community look at things with fresh eyes, and together find a way to make life here in the Driftless even better."
———————————
Aryn Henning Nichols was taken, herself, with the magic of Houston County and Crystal Creek Canyon Lodge. She thinks connecting people in the region and larger world to make life better is what we should all strive to do, everyday, and this project is a great step in that direction!
Inspire(d) caught up with each of the 2017 Citizen-Artists in Residence via email to ask a few questions about their upcoming trips to the area, and why they applied. For more details about the CAIRs project, check crystalcreekcitizenartist.com.
—————————————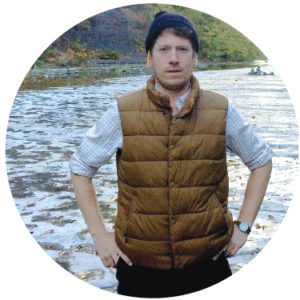 Residency 1: July 16-22 – Harry Graff Kimball, from New York
Meet & Greet: July 18
Workshop: July 20
Harry Graff Kimball is a songwriter, producer, and builder-storyteller. A classical guitarist by early training and a member of the late '90s, almost-almost-famous NYC indie group Ensimismada, Harry is also the bassist and co-founder of Los Chinches, the only group ever described as a "Pavement-meets-Dead Kennedys" revelation. He is "a halfway-decent carpenter, an inveterate tinkerer, and a budding amp maker. He writes speeches to pay the bills."
On his art medium:
I write songs and play them. Some of the times I'm like a singer-songwriter, some of the times I'm in a rock band, and for this I'm trying to focus on people and place, so I'm calling the art product 'place-based story-songs.' But yeah, folk songs.
Why did you apply?
The thought certainly crossed my mind: "Why should I go to rural Minnesota for a week to write songs?" But seeing Erin and Taylor's enthusiasm in the words they put down, and feeling the vibrancy and beauty of the region and the people that live there made it easy, even necessary. "Of course I should! There are a lot of songs there, and I bet people there are already writing them!"
How will you spend your week?
I think a lot of artists would love to be alone with their thoughts for a week with no interruptions or expectations – but this is different. It forces a duality: look inward and outward at the same time. I'm not the most outgoing person, so I'm basically going to force myself to be manically collaborative with whoever will talk to me or play music with me or share a song or a ride or a meal. That said, I would also like to write some music, so I will try to enjoy the peace of the place and engage with the writing process. I also want to go fishing. So I guess a third of the time getting to know people and hopefully making some music with them, a third of the time writing (or writing with other people!) and a third of the time just being in the region, in the woods, on the roads and gathering experience.
—————————————
Residency 2: Aug 12-18 – Melissa Wray/Todd Melby, Minneapolis
Meet & Greet: Aug 14
Workshop: Aug 16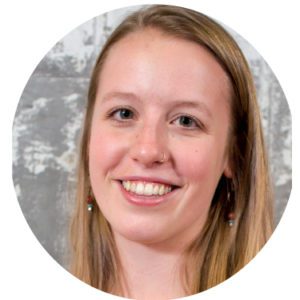 Melissa Wray
Community and stories are at the heart of Melissa Wray's creative work. Melissa co-founded Hazel & Wren in 2011, a community resource organization for writers. As a writer herself, she mostly writes poetry and creative nonfiction. She is the Marketing Coordinator at The Loft Literary Center in Minneapolis, where she produces The Loft Podcast.
On sending in that application:
When I heard about this residency, I immediately knew I had to apply. I grew up near Caledonia, Minnesota, on a sheep farm. My family still lives there, and it's a place dear to me that I always consider home. However, I have made my adult home in Minneapolis since 2006. I've constantly felt this tug between my two ideas of home. One home is this rural environment that taught me so many things about community strength, the importance of the natural world, and my roots. The other home is the vibrant urban environment in which I've been able to build a sustainable career working in the nonprofit arts world, grow as an individual, and meet my now-husband.
This rural-urban divide is even more poignant now as our nation faces the reality of this same tension. I had already been developing ideas for creative projects that address this, and knew that this residency was the perfect place to start, back where it all started for me: home.
How do you plan to spend your week?
After applying, Erin reached out to me and another applicant, Todd Melby, about sharing a residency. Todd has done amazing work with radio journalism, and we'll be working together to gather audio stories, asking Houston County residents to talk about sense of community and culture.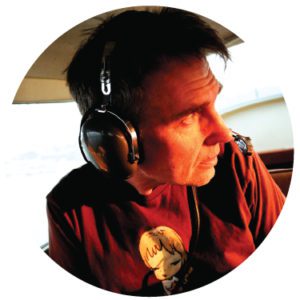 Todd Melby
Todd Melby is a reporter, interactive producer and filmmaker. He's best known as lead producer of Black Gold Boom, a public media project documenting North Dakota's oil boom – and bust. His radio stories have aired on MPR, Marketplace, and The World. He's also a senior producer at 2 below zero, a public media nonprofit, and has created interactive and television documentaries, including one which recently aired on PBS stations. In 2013, he was awarded a McKnight Media Artist Fellowship. His newest project is the podcast The Drunk Projectionist.
On the agenda for Todd:
I plan to wander and talk to anyone who is willing to talk with me: teens playing basketball, guys smoking outside of bars, farmers sipping coffee at the local cafe at 6 a.m., whatever. I'd also ask those connected with the residency to recommend elders or anyone else they think might have a great story to tell.
—————————————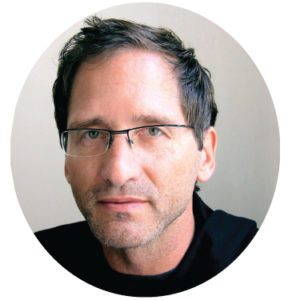 Residency 3: Sept 10-16 – Cimarron Corpé, Victoria, B.C.
Meet & Greet: Sept 12
Workshop: Sept 14
Cimarron Corpé is a human geographer whose interests focus on landscapes and the role sound and images play in our orientation and construction of place. He has lectured and presented creative works internationally, on topics such as physical and human geography, environmental science, and sustainability. Cimarron is currently Director of Policy Development with the Province of British Columbia, where he leads projects including technical building requirements, energy efficiency, accessibility, and climate leadership.
On his art:
I am a multimedia artist working with images (photography and video) and sound (field recording, acoustic instruments, and electronic synthesis). My works range from exhibits and installations to live performance. I also dabble in expressionist painting and collage.
Why did you decide to apply to be a Citizen-Artist?
I was attracted to the unique physical geography of the Driftless Region and felt that the topography, caves, sinkholes, springs, and subterranean rivers offered numerous opportunities to engage with the landscape and draw creative inspiration.
I also found the broad criteria for applying for the residency to be very refreshing and inviting. There are very few other residencies that encourage chefs, podcasters, community organizers, and artists to apply. This is a very innovative and forward thinking approach.
What's on the agenda for the week?
I intend to explore the bluffs and network of caves, ride a bicycle along the Root River Bike Trail, and visit the many small towns. Along the way I will be preparing a comprehensive audio and visual record of my observations and experiences. This collection of images and sound will form the foundation for the work I will produce during my stay, which I will first present at a citizen-artist meet and greet sponsored by the Houston Arts Resource Council.
Later in the week I will host a community workshop on field recording. We'll start with an introduction to the history, philosophy, techniques, and practice of field recording, then move outdoors to capture sounds in the field, finally reconvening to listen to our recordings and share our experiences.