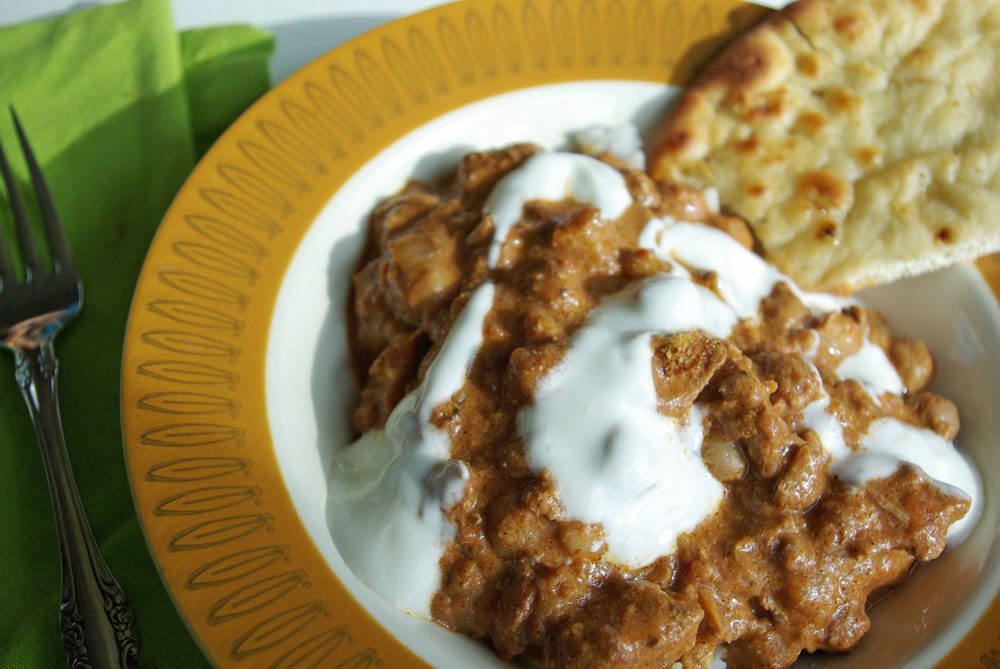 I know this is in no way "authentic" tikka masala. I use cream cheese in place of heavy cream, for one. Um…pretty sure they don't do that in India. And I cook it in a crockpot. But it's good! And it's easy! I think I've finally (after the "terrible" trial of making and eating this over and over again) nailed this yummy, comforting recipe for you…so without further ado:
Aryn's Crockpot Chicken Tikka Masala
Prep Chicken:
• 2-3 lbs boneless, skinless chicken thigh, cut up into 1-2 inch pieces (TIP: no need to cut off the fat…you want it there to keep the chicken from drying out…and I use a kitchen scissors to do the cutting…so much easier!)
• 1 tsp kosher salt (regular is really just fine though)
• 1 Tbl ground coriander
• 2 tsp ground cumin
• 1 Tbl garam masala (you can find this in the bulk section of our local co-op…check yours, or the spice section of your favorite grocery store)
• 3/4 plain yogurt
Cut up chicken and mix up with above ingredients in a bowl. Set aside for now.
Everything else:
• 1 large onion, chopped
• 2 cans (16 oz) garbanzo beans (chick peas).
TIP: If I only have 2 lbs of chicken, I add a third can of beans. This is a saucy recipe and my kid LOVES spicy "bongo" beans!
• 6 cloves of garlic, minced
• 1 large piece of ginger (2-3 inches in size), peeled and grated
TIP: really do use a grater…it makes it so much nicer
• 1 Tbl kosher salt
• 2 Tbls garam masala
• 1 lg can (28 oz) crushed tomatoes
• 1 Tbl sugar
• 1 tsp cocoa
• 1 whole jalapeno, washed, stem removed, and pierced several times with sharp knife
TIP: Make sure the jalapeno doesn't explode…or it'll be super hot. Remove it if it's starting to fall apart. If you make chopped, pickled jalapenos (we do), just throw a few pieces in there instead with a bit of the pickled juice. Yum!
• 8 Tbl butter (Yes, that's a whole stick…you need it all. Just cut into Tbl and pop into slow cooker.)
Later (about 30 minutes before serving… do this right before you make rice!):
• 1 brick (8 oz) cream cheese, cubed up
TIP: I actually use Neufchâtel and it's totally still great
• 1 Tbl coconut oil (if you've got it…it's a nice addition…could be optional though)
• Juice from half a lime
———-
1. Put all the "everything else" ingredients into the crockpot. Then put the chicken mixture on top – don't stir it in. Why? Chicken can dry out in a crockpot, so keeping it father away from the heat source is best. It will clump together initially, but will break up when you stir it in. I tend to stir it in about halfway through cooking (yes, I open my crockpot while cooking, gasp!)…if you're not home, it's fine to just stir it in when you add the cheese.
2. Cook on LOW for 5-6 hours. So if you work out of the house, it would be good to have it all ready to go in the fridge, then come home for lunch and put it on.
3. 30 minutes before serving, stir in the chopped up cream cheese (or Neufchâtel), coconut oil, and lime. Cook rice.
TIP 1: I always make double the rice I need so we can use it for leftovers.
TIP 2: We like to use basmati rice and add in some frozen peas at the end of the cooking. It adds some sneaky vegetables to the dish and stops the rice from getting overcooked!
Stir up the tikka to make sure all the cheese is melted and serve over rice, and maybe with some naan and a bit of plain yogurt if you'd like (we like).
Enjoy!
XO,
Aryn