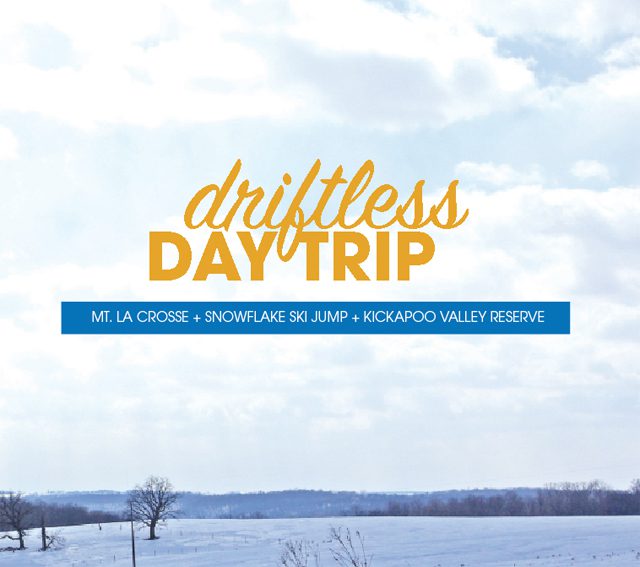 Driftless Day Trip: Winter in the Coulee Region!
Adventuring to Mt. La Crosse, Snowflake Ski Club, & Kickapoo Valley Reserve
By Benji Nichols
Winter in the Driftless is a fickle season – cold and dark, but not always enough snow to have all the fun. So what's a Midwesterner to do? I learned to ski at the long-gone-but-not-forgotten Nor-Ski hill in Decorah (rest in sweet peace, you glove-eating monster). Literally, my first downhill runs were with duct-taped boots on just enough natural snow to cover the corn stubble – but it was enough to plant in me a lifelong love of skiing and snow sports. For this Driftless Day Trip, we've decided to round-up a couple of our favorite places to swoosh, snowshoe, and take in the incredible winter light of the Coulee Region. Buckle up and get out there to explore the hills and coulees this winter!
What's a coulee? The word coulee comes from the Canadian French coulée, from French word couler meaning "to flow". West central Wisconsin, aka the Coulee Region, has been dissected by water erosion into a series of narrow ridges separated by steep-sided valleys called coulees.
————–
Driftless is a term we use a lot here at Inspire(d), as we feel like it truly encompasses this amazing region of ours. The term has come to be used fairly widely, but if you really want to be in the heart of the Driftless, Western Wisconsin – particularly in and around Vernon County – is where's it's at. It also happens to embody a few of the more alluring and unique winter activities in the region. A mid-winter drive along the Mississippi River valley in any direction is almost guaranteed to produce bald eagle watching of epic proportions, and the scenic views only get better as you leave the river and wind up through the coulees.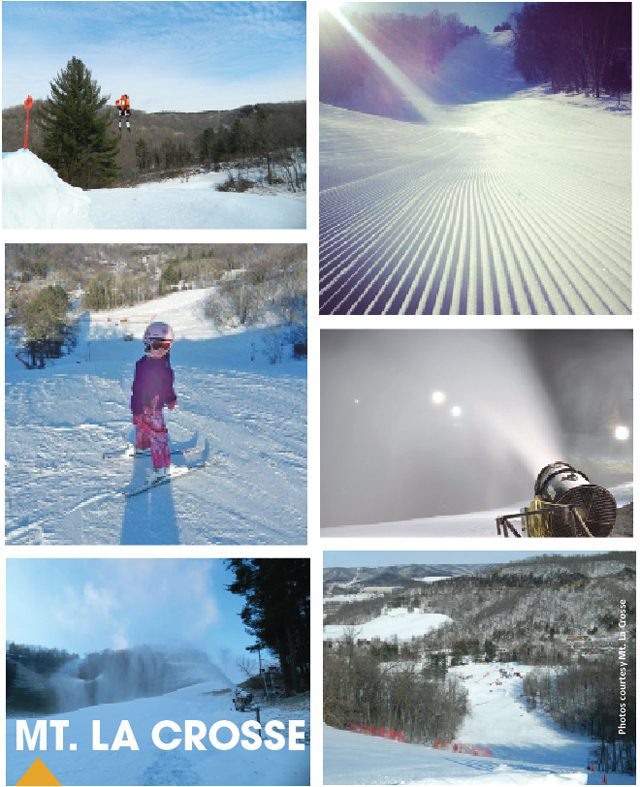 SPOTlight: Mt. La Crosse
Just north of Chipmunk Coulee on River Road (really – it's a place! … leave it to the Bohemians!), but south of La Crosse proper, is the turn-off for a special set of hills tucked perfectly off the Mississippi. Back in 1959, Mr. Ted Motchman saw these 200 acres of hillside and thought they looked just about right for strapping a couple of narrow boards on your feet and whooshing downhill. An 'A' Frame was erected, and adventurers of all ages flocked to show their support of alpine (downhill) skiing. Mt. La Crosse has been in continuous operation since, now with three chair lifts, a beginner tow-rope, and modern snow-making and grooming. They provide a fantastic regional skiing outlet that is family friendly and won't break the bank. Terrain includes Wisconsin's longest ski run (Mileaway), and Mid-America's steepest trail (Damnation – really, it's a doozie!). Action park and snowboard features also change up over the season to provide seasoned riders even more reasons to keep coming back, as well as high school ski racing action and state competitions. Throw in various special evening rates (the hills are all lit up!), as well as gear and lesson packages (snow boards too!), and these hills keep the adventuring alive as long as temps allow. We're also fans of the St. Bernard Room, where you can enjoy a cozy view of the slopes with a Spotted Cow or warm beverage in hand. Always check the website or call ahead for conditions and hours – particularly for season opening and closing dates, which typically run from late November to early March.
Details: Mt. La Crosse
N5549 Old Town Hall Rd
La Crosse, Wisconsin
(608) 788-0044
————–
If you think swooshing down the snowy slopes is adventurous, you'll want to hang on to your stocking cap for what's up next! Just up River Road you can catch Highway 14 toward Coon Valley. We're headed to Westby, another well-known Norwegian enclave, then just past it on County Road P. Keep an eye out – you'll see a large scaffolding structure jutting off one of the hilltops. What could be a better dead-of-the-winter Norwegian activity than – yep – Ski Jumping?!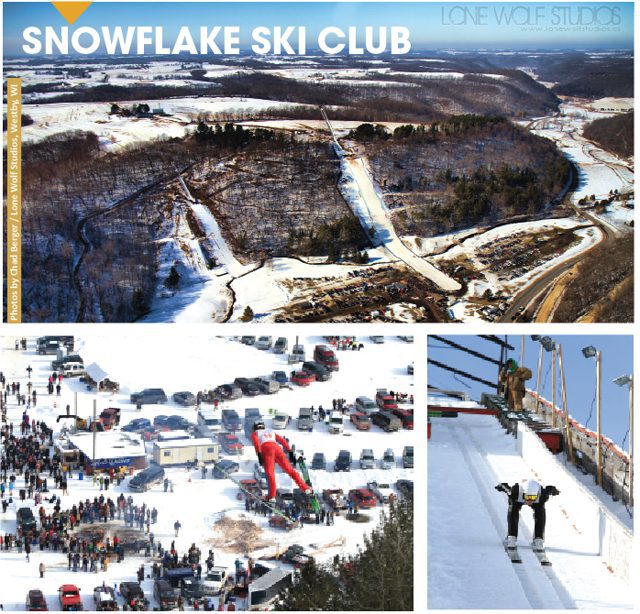 (Special thanks to Chad Berger/Lone Wolf Studios, Westby,WI for images)
Spotlight: Snowflake Ski Club
Friends, we're not talking about sledding buddies mounding up a pile of snow here; we mean the real deal: Skiers in full suits gracefully swooping down an enormous (65 Meter – seriously!) jump and sailing off the end to hover over a snow covered hill that disappears beneath them. Really, its just like the Olympics – only in rural Wisconsin, and with bonfires, and music, and beverages, and… anyhow. The Junior Ski Jumping Competition is Sunday, January 10, 2016 where youngsters compete on all four sizes of ski jumps, while the Snowflake Ski Club Jumping Tournament runs February 5-6 with competitors participating from around the world. Friday night kicks off with opening ceremonies, followed by competition on the lighted course, and more fun continuing Saturday during the daylight. And if spectating isn't enough, Snowflake offers memberships for youth and the young-at-heart that actually allow you to train to ski jump. Yep. Put that on your bucket list. Or just enjoy the festivities from the safety of the sidelines with a crowd that assumes you've all been friends since Shep was a pup.
Details: Snowflake Ski Club
E7940 County Rd P, Westby, WI 54667
(608) 634-3211
Junior Ski Jumping Competition – Sunday, January 10, 2016
Come see junior ski jumpers from around the Midwest compete on the 10, 20, 40, and 65-meter ski jumps. Competitors on the 65-meter jump will be qualifying for a spot on the Junior National Team to compete at the 2016 National Ski Jumping Competition. Free admission for spectators!
Snowflake Ski Club Jumping Tournament – February 5-6, 2016
Professional skiers come from around the globe to compete in this Olympic-like event on the 65-meter jump. Friday opening ceremonies are at 7 pm, with competition following at 7:30 pm. Saturday's fun starts off at noon. Admission buttons are for sale on site.
————–
Now, if you were to head east on that same County Road 'P' out of Westby and just keep going, theoretically you'd end up right about at the Kickapoo Valley Reserve. We'd give you at least a 65 percent chance of this, simply because the roads are winding, the scenery is beautiful, and you just might decide to get lost in the rolling countryside. But really, you should probably consult a map to find the best way to the KVR Visitor Center from your current location. Highway 82 to La Farge will get you close, or Highway 131 south out of Ontario will take you right through the reserve. Some might say that from this side of the river "you can't get there from here," but we're here to tell you that, like most things, getting there is half the fun – and it's worth the drive to get out into the wilderness. All that said, if you've got 4WD or just a good cross-country sense of adventure, our next destination should be perfect!
Spotlight: Kickapoo Valley Reserve (KVR)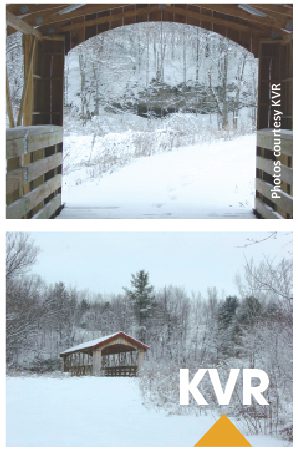 If you're an avid Inspire(d) reader, then chances are you've read our praises of the Kickapoo Valley Reserve before. The KVR has a fascinating and controversial history – stemming from the "La Farge Dam Project" that never came to fruition – but did relocate 149 farmers by the early 1970s and left an enormous piece of open country in Vernon County. After much political to-do, the project was forever left behind by the Army Corps of Engineers in the mid 1990s and the land was split between the Ho-Chunk Nation and the State of Wisconsin. Over 8,000 acres make up this incredible span of the Kickapoo River with high scenic hills, bluffs, and rock outcroppings standing several hundred feet tall. A gorgeous visitors center opened in 2004 and is a great starting point for first time visitors. It also houses several exhibits and galleries featuring great displays on geology, Native American history, and reserve information. Winter 2016 KVR offerings include an Ice Cave Hike Series, the KVR Winter Festival on January 9, and the "Dam Phunski" Cross Country Ski Race January 23. The visitor's center and trails are open all winter for hiking and snowshoeing – but please note that trail permits are required for use and available at the Visitor Center as well as 13 self-registration stations in the reserve.
Details: Kickapoo Valley Reserve
S3661 State Highway 131 (visitor center)
La Farge, WI 54639
(608) 625-2960
Attending one of the following events is a great way to jump into the sprawling KVR and get an introduction into one of our regions most incredible pieces of wilderness.
Ice Cave Hike Series
Visit several spectacular ice caves and frozen waterfalls. Participants will also have the chance to try traditional and modern snowshoes. There will be lots of outdoor discoveries and, depending on the hike leader, the following topics might be discussed: winter wildlife ecology, geology, biology, and history of the Kickapoo Reserve. The hike is rated moderate to difficult. Dress for the weather and don't forget your camera! Saturdays: January 30, February 20, 27. 12:30 – 4:00 pm
Fee: $10/Person; $9/KVR Friend; $5/Kids 12-18
Registration Deadline: Saturday prior to each hike
Winter Festival
Saturday, January 9, 2016
8:30 am – 4:00 pm
The KVR Winter Festival highlights fun cold-weather-friendly activities such as skating, sledding, skiing, archery, snow sculpture slide, ice cave hikes, birds of prey, face painting, horse-drawn bobsled rides, snowshoe exhibit, and the Tri-state Malamute Club sled dog race. The La Farge Lions Club hosts an annual chili and bread contest for the public and a Kickapoo Quick Auction of goods and services produced in the Kickapoo Valley raises funds for the KVR Education Program. Whoohoo!
Dam Phunski
Saturday, January 23, 2016, 10:00 am
The Dam Phunski is a classic and freestyle cross-country ski course along the scenic Old Highway 131 Trail. Courses include a 1k loop for youth, a 5k point-to-point for juniors and phunskiers of all ages, and a 10k point-to-point for adults.
————–
It's worth noting that all three of these winter destinations are in rural locations. La Crosse, Wisconsin, is by far the closest urban hub for this adventure, and a grand place to cozy up on a winter night.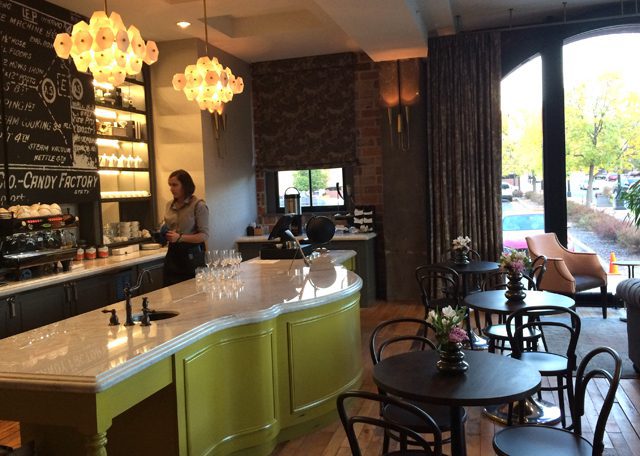 With such dining and accommodations as the new Charmont Hotel (its amaaaazing!), as well as our favorite cozy eatery The Mint – and fantastic nightlife downtown, La Crosse can be a great jumping off spot for any of the above adventures.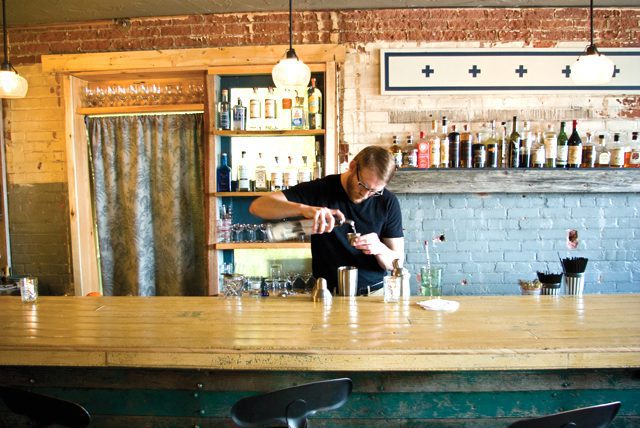 Viroqua is also quite central to the KVR and Snowflake Ski Jump. Lodging is a bit more sparse, but with outlets like the Viroqua Food Co-op, Rooted Spoon/219 Drinkery, the incredible Driftless Café, and Kickapoo Coffee's mothership – plus a charming downtown – it's worth the trip. We'd also be remiss if we didn't mention the Kickapoo Valley Ranch. If you really want to get lost in a cozy cabin in the woods – literally next to the KVR – this is it. You can see our Driftless Day Trips for more ideas on both La Crosse and Viroqua at iloveinspired.com.
So bundle up, pack warm, and bring your sense of adventure this winter – The Driftless is waiting for you!
———————————————————————-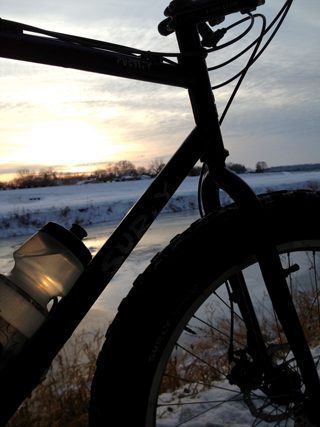 Feeling Inspire(d) to get outside? How about on a FAT BIKE?!
If these adventures leave you saying, "what's next?", we'd love to suggest you get out on two wheels – even in the midst of winter! If you haven't had the chance to ride a "fat" mountain bike yet, now is the time! Think of a standard mountain bike, but with frame accommodations to fit tires 4"+. The extra large tires allow you to run at low air pressures giving great traction on snow, sand, and all sorts of terrain. Local trail organizations and systems like Decorah's DHPT, Upper Hixon in La Crosse, and Vernon Trails in Viroqua are even grooming some trails for winter riding. Conditions vary widely – and day by day throughout winter ­– but believe us: fat biking is a great workout and a fun way to burn off the winter blahs. Several regional shops are now renting fat bikes as well – Decorah Bicycles, Blue Heron Bicycle Works in Onalaska, and Blue Dog Cycles in Viroqua are all great starting points.