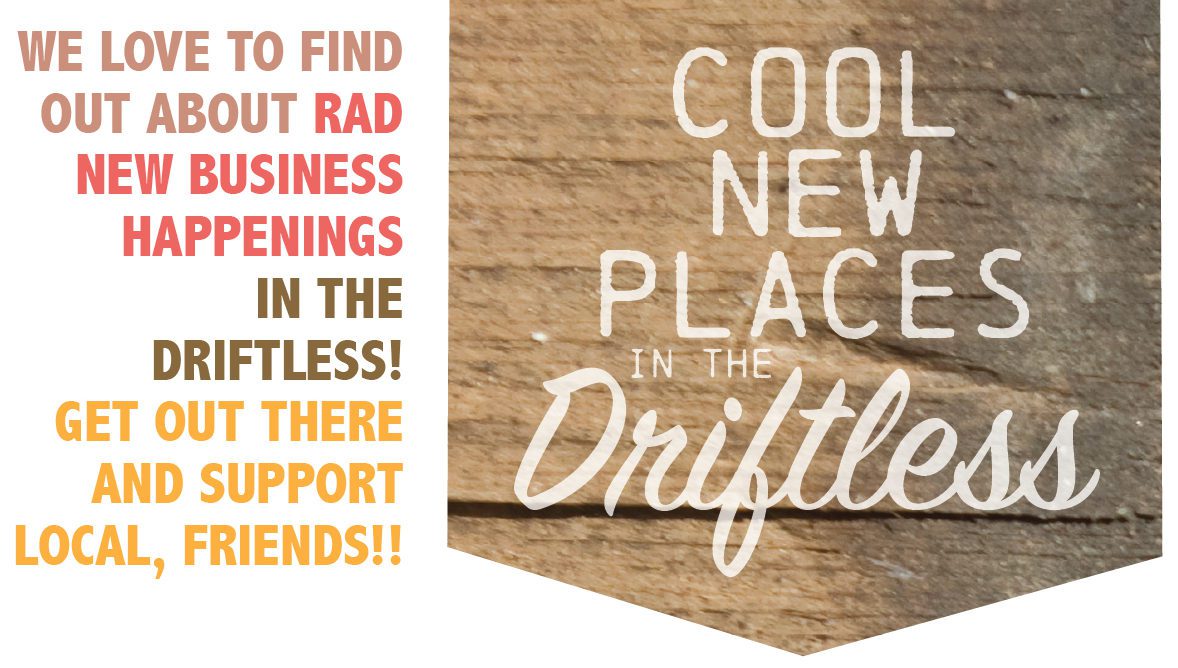 —————————————
RockFilter Distillery
Hey – We love whiskey, and that's just that. Local, hand crafted, organic whiskey and bourbon in the Driftless? Why, yes please! As they say at RockFilter, "No barn nor glass should be raised alone." Nor spirit crafted, one could add. The RockFilter crew, just up the road in Spring Grove, Minnesota, have been hard at work creating unique whiskey and bourbon – beautifully bottled and sold in small batches, as well as served in their extremely well-designed tasting room just off the park in downtown SG. Local grain – and local talent – are playing out well for this start-up distillery. And we couldn't be more excited to have (another) reason to visit this cute little town. Currently, the distillery and cocktail room are only open Thursday, Friday, and Saturday evenings, so check their website or Facebook for hours before visiting. www.rockfilterdistillery.com
—————————————
Kickapoo Coffee Viroqua Café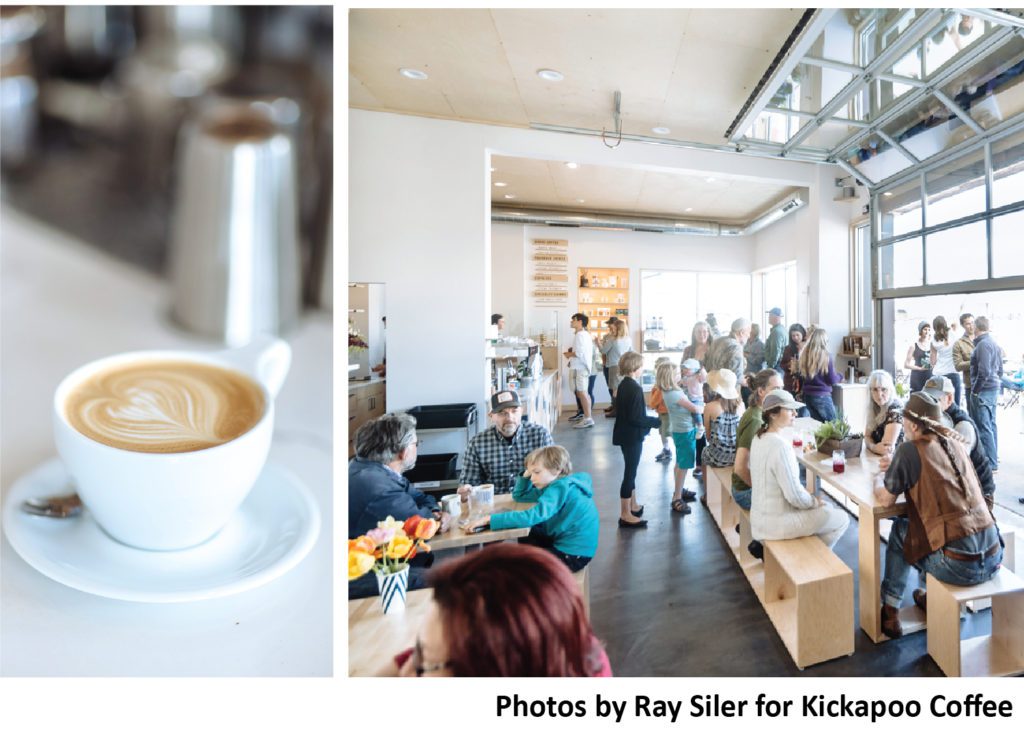 While you're in Viroqua for the Harvest Parade October 14 (or any day, really), we also highly suggest that you swing in to the new Kickapoo Coffee Café. The Kickapoo Coffee kids have been hard at work upping their – already pretty amazing ­– brand the past couple years, with a successful partnership launch of a Milwaukee Kickapoo Café. So it only makes sense that they bring the good stuff to the masses at home in the Driftless. The space, on the corner of Terhune and Main St, is a clean, beautiful building with indoor / outdoor communal seating and simple, beautiful décor. Delicious baked goods from Crumb Bakery fill the case, in addition to simple, delicious, local café fare. Kickapoo has been "farmer focused" since the beginning of their coffee roasting adventures in 2005. They've come a long way from the old train depot they started in, and we couldn't be happier for them (unless we drank even – more – of their delicious coffee…). Swing by the café next time you're in Viroqua, or make the trek just to check it out – it's worth it!  www.kickapoocoffee.com
—————————————
Pizza!
High, Wide & Handsome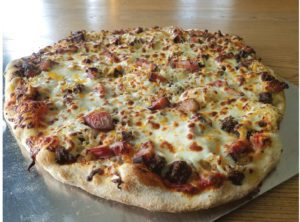 Word on the street is that there is some tasty pizza flying out of High, Wide & Handsome in Calmar, Iowa these days! That would make sense, since it's the Sparrow family dishing up the pies. Jason, "Mr. High, Wide & Handsome" Sparrow is realizing his take-out pizza dream at 117 E. Main St. Call ahead – 563-562-9029 – to order a Three Little Pigs, or a Bacon Cheeseburger (pizza, that is…). Kudos to Calmar – with the new PIVO Brewery set to open in Calmar sometime later this year – it seems like this awesome community is ever-reinventing itself as the crossroads of NE Iowa! Like High, Wide & Handsome on Facebook to stay in the pizza-know.
Luna Valley – Pizza Farm Nights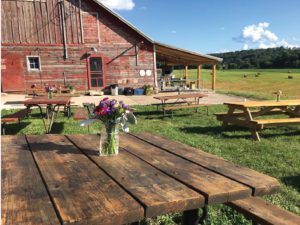 While we're on the subject of Pizza (we could do this all day…), you may recall a "loving" write up from our Spring 2017 issue about the start-up of our friend Maren and Tom Beard's Luna Valley Farms Pizza nights. Well, tick-tock, and guess what? They're slinging farm fresh pizzas out of the wood fired oven every Friday night through October. Here at Inspire(d), we are big fans of the "pizza farm" concept, where local producers use their own and other local ingredients to put out tasty pizzas for you enjoy picnic-style on Maren and Tom's gorgeous Driftless farm. Find details on Facebook or at www.lunavalleyfarm.com.
—————————————
New Downtown Decorah Digs!
There's been some grumbling amongst the coffee klatch crowds this past year about empty storefronts in downtown Decorah – but huzzah, we're here to say never fear! While our favorite stores and restaurants continue to breathe new life into our community, Decorah is in the midst of a slight renaissance, with some new and relocating businesses just on the horizon! A duo of buildings in the middle of Water Street have recently been transformed into new office spaces for Thrivent Financial and Midwest Group Benefits, Inc. Just down the street, adjacent to the Hotel Winneshiek (in the old Hallmark) our friends Lisa Lantz and Scott Bassford are busy beautifying the space to become "The Getup" – a cool new shop that will buy and sell quality used children's clothes, gear, and maternity ware in-store and online (www.getupdecorah.com). Meanwhile over on Winnebago, Gabi Masek has been busy at Wildcrafted Acupuncture and Herbs – check out the community acupuncture and personally crafted Wai Ke Botanicals. Across the street from there, find Cardboard Robot (in the old StoryPeople wood shop), self-described by the legendary Eric Sovern (owner) as a "supply depot for makers, artists, kids, former kids, goofballs, and nerds."
Back on Water Street, Decorah artist Paula Brown has opened a retail shop for her work 'The Goods'. You may remember reading about Paula in Inspire(d) before – she's offering some really cool art and services downtown now! It's so exciting to watch Decorah continue to grow! Now if we can just figure out what to do with that old JCP building…
—————————————
Fat Pat's BBQ Truck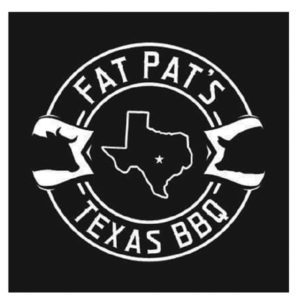 Well, well. If it's not the craft whiskey distillery gussying up lil' ol' Spring Grove, then it's a kick ass new BBQ food truck! That's right, Patrick Longmire Jr may have cut his teeth bagging groceries at his Pop's IGA (read about Red on pg 42), but it was several years on the road playing music in Texas that brought him into the world of BBQ. When he and his family circled their wagons for Spring Grove, his love of BBQ led him to explore the idea of a BBQ truck – and it was an excellent idea! The menu is simple BBQ, the sides are beans, slaw, or potato salad, and the customers are raving. The best part is that you don't ever know where Fat Pat's may be pulling up next – recent favorite spots have been the new RockFilter Distillery (Spring Grove), Karst Brewing (Fountain), and Turtle Stack Brewery (La Crosse). Keep an eye on www.fatpatsbbq.com or instagram @fatpatsbbq, or Facebook to see where you can catch some killer BBQ next!