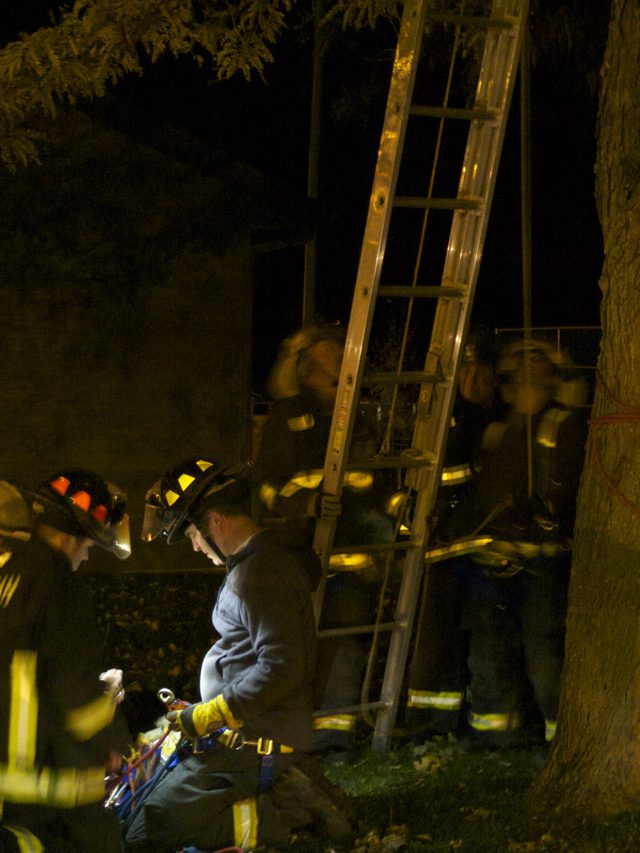 Volunteer Firefighters' Service Roots Run Deep
Red. Siren. Fire.
It doesn't take many descriptors to arrive at one image: Long, gleaming firetrucks braying through busy city streets, hustling toward an emergency.
Fire departments – and firefighting – have been community fixtures in our nation since the early 1600s. In 1736, Ben Franklin famously designated groups of Philadelphia residents to accompany the few fire engines in the city, ensuring some order would cut through the chaos of a crisis.
In present-day U.S., there are more than 30,000 fire departments, and they respond to more than 31 million calls annually, according to the National Fire Protection Association, the governing body for fire codes, standards, training, and education (www.nfpa.org). Winter is an especially crazy season for fire fighters. Half of all home heating fires occur in December, January, and February, and there are several holidays' worth of cooking going on, which is the leading cause of home fires and related injury year-round. (story continues after photo and caption)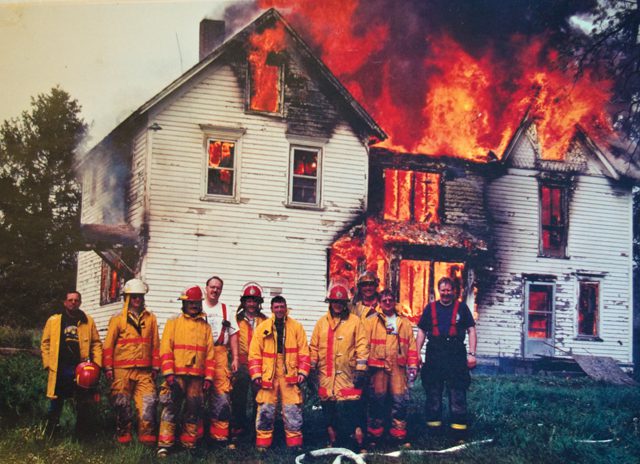 ———————–
Above photo courtesy Ridgeway Fire Department. Volunteer firefighters in the region occasionally have controlled training exercises, such as this one, to help them get acclimated. This photo was taken in 1999 with the Ridgeway Fire Department. Bill Green – third from the right – is a 43-year veteran member of the Ossian Fire Department.
Photo at top of the page by Kristine Jepsen. Decorah Firefighter Eric Sovern works with fellow department members at a Wednesday training session. Adequate equipment and training combine to influence a community's Insurance Services Office (ISO) rating, which approximates how well its fire service can manage fires within 4.5 miles of the station. This ration – on a scale of 1 (best) to 10 (no service) – is used by insurance companies to determine the area's private fire insurance rates.
—————————-
While better wiring and building materials, as well as improvements in communication systems and firefighting equipment, make it far less likely that entire cities will be engulfed by one fire, modern firefighters still inherit the legacy of defending each citizen's interests as one's own – the very heart of community service – often in a Swiss-Army-knife kind of way.
"There's something both profoundly humbling and noble about being among the folks who can help in someone's darkest hour," says Eric Sovern, a firefighter with the Decorah Fire Department. He moved with his family from Minneapolis – which has a professional fire department – and was surprised to learn that becoming a trained volunteer firefighter was as straightforward as filling out an application.
"I'm not going to lie – it is every kid's dream to drive a firetruck," he says with characteristic humor, "but seriously, this is community service that you can express an interest in – like applying for public office – and if you're a good fit once you learn more about it, there you go. You're in, " he explains.
Beyond the parameters regarding age and fitness – in Decorah, members may serve up to age 56, and each is subject to an annual fitness test to ensure they can manage heavy equipment under duress – group compatibility is most important. New applicants attend department meetings and observe training drills, then meet with elected captains for an interview. If approved, the entire department – usually 25-30 members – votes on acceptance.
"It's a sort of match-making," Sovern explains, "and understandably so. Within a department, there has to be unanimous trust of one another to do often dangerous work, when you literally cannot see your gloved hand in front of your SCBA mask." (Firefighters wear compressed air tanks and use a Self-Contained Breathing Apparatus — like SCUBA divers – in low-oxygen fire scenarios.)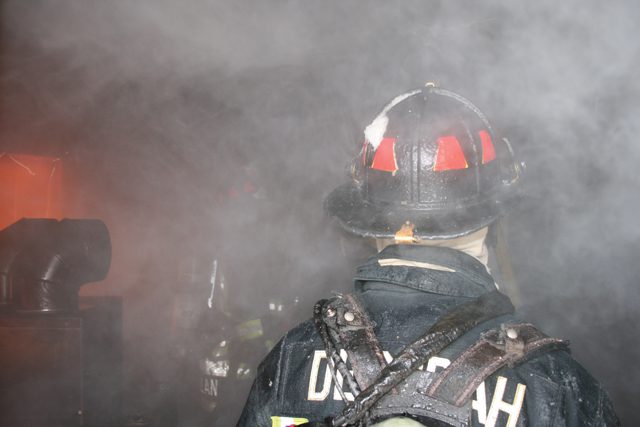 Above photo courtesy Decorah Fire Department
Once approved, 'probationary' members begin 40-80 hours of training to achieve their Firefighter I rating, the minimum level of competency mandated by most states and governed by the National Fire Protection Association (NFPA). Skills include knowledge of fire science – what fires need to survive and how they behave – practical skills like ladder-handling and SCBA efficiency, and an understanding of how the department maneuvers as a team in response to an emergency.
At the scene, the local fire department chief and assistant chiefs act as command central, deploying people and equipment. Depending on the fire's location and complexity, they may call for mutual aid, i.e. the assistance of fire departments in neighboring towns.
"To me, that's the essence of volunteer fire-fighting," says Bill Green, a 43-year veteran member of the Ossian Fire Department. Green grew up in a fire station with his dad, washing truck tires as a kid. He has achieved the NFPA's Firefighter II rating and has taught advanced skills to Northeast Iowa's fire departments as an instructor through Iowa State University. "If you need more water, personnel, or specialized equipment – like a tube for extracting someone from a grain bin – you know you can count on your fellow departments to be there. No questions, no power struggles. You show up and trust you're working together for that family or business."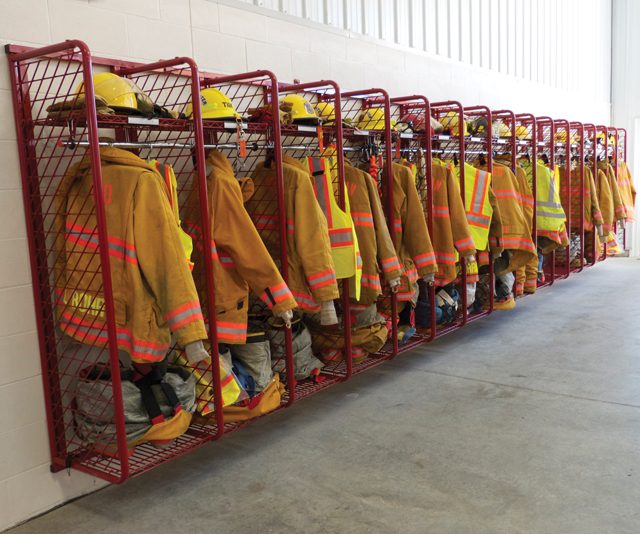 Ossian fire gear – photo by Kristine Jepsen
The timing of mutual aid is critical, Green explains. "Every minute it takes to knock down a fire feels like a lifetime to the firefighters inside, thumping their axes on the floor in front of them to make sure it's sound. It is always best to get additional resources on the way right way, rather than waiting to see if they might be needed."
It's common for fire service people who have retired or "aged out" of active service to continue to respond to calls, even though they might not carry a department pager anymore. This passing of the torch inspires confidence in younger members, Green says. "Here in town we have some guys in their 70s who obviously aren't on the front lines anymore, but when we're laying out hose to go into a fire and look back and see one of them running the pumper [truck], we know that he knows his job and we can just do ours. He's already got our secondary [water supply] set. He knows what we're going to need. It's a marriage of time and experience that you can't learn in a book."
That experience takes firefighters beyond fires as well. Departments now respond to increasing numbers of calls for medical help (two-thirds of the total annually). Specialized rescue may involve climbing up a tree or down a bluff or into water to handle emergency situations, or operating the Jaws of Life in auto accidents.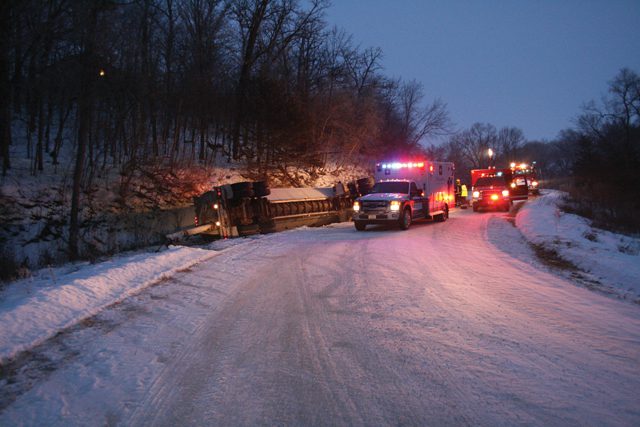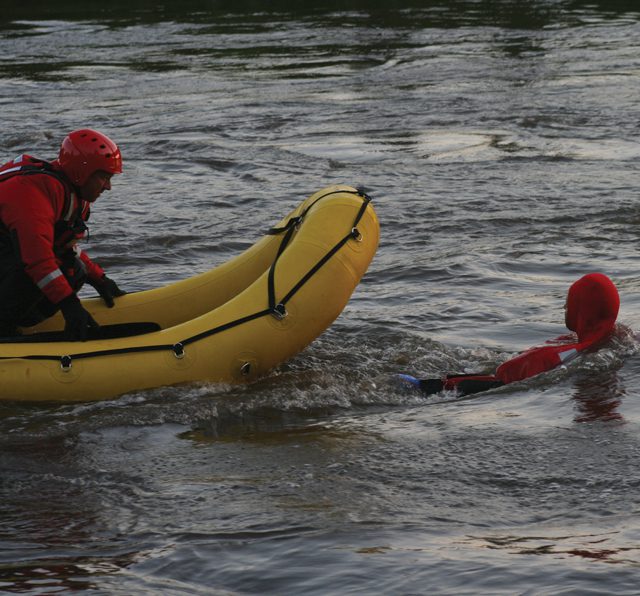 Above photos courtesy Decorah Fire Department
"Our goal is to have people trained in a variety of challenging situations so when the community turns to us, we are ready. Everyone pitches in where they feel most able," says Decorah training officer Kurtis Johnson, who is Firefighter II-certified and regularly consults with professional departments to bring effective topics and strategies to departments in the Driftless Region.
The team also has to be equipped to handles calls involving hazardous materials such as anhydrous ammonia and chlorine as well as the lethal chemicals that turn up in methamphetamine labs.
"These are HAZMAT-suit kinds of situations, and they turn up more often than you might think," says Bruce Goetsch, Winneshiek County's emergency management officer. While he and his wife are currently reserve members of the Frankville department, which serves their rural home, Goetsch previously served on a departments in Illinois for 33 years, 12 of them as chief. The Local Emergency Planning Committee, based in Goetsch's office, keeps record of known quantities of hazardous materials in Winneshiek County. The fire department is mandated to manage them in the event of accidents or exposure.
The funding for all of this important work comes primarily through local property taxes, but the volunteer fire department's line in a town's budget tends to be minimal, says Spring Grove, Minnesota, fire chief Shaun Hansen. "Our department of 28 firefighters operates on a budget of $70,000, and that's the meat and potatoes to keep the lights on and doors open — and pay our liability insurance," he says. "We've been trying for years to upgrade our SCBA tanks from the bare minimum, heavy steel tanks to more modern, fully compliant units, for example. But one unit alone might run more than $7,000." Spring Grove also pays its firefighters an hourly wage for their time spent in training, meetings and on calls, which often take them over the state border into Winneshiek County on mutual aid.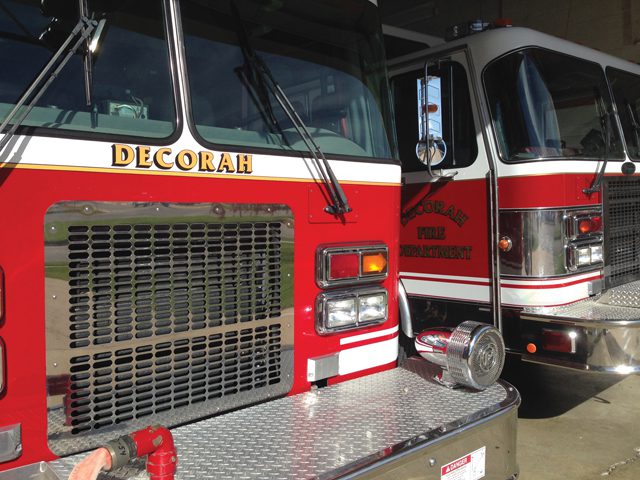 Decorah fire trucks – photo by Kristine Jepsen
Decorah's budget, by contrast, compensates volunteer fire staff for their time on calls only (issued in a lump sum, in November) and pays three skilled personnel who rotate in shifts so the fire station is manned 24 hours a day. They respond quickly to low-impact calls – as when a home carbon monoxide detector goes off (often needing new batteries) – and monitor communications about more complex calls as firefighters are being paged. On calls, they are designated drivers and water pump operators.
Public funding will often not cover large purchases, though, such as fire trucks and other large equipment. Municipal departments that serve rural areas – such as Winneshiek County – may then receive funding from adjoining groups like the Decorah Rural Fire Protection Association. In the Decorah firehouse, for example, some trucks are owned by the city proper, while others are owned and maintained by the rural association. In 2014, the two entities co-purchased a new truck to replace two outdated trucks.
The firefighters themselves also staff a fund-raising organization – the Decorah Firefighters Association – to pay for additional tools and infrastructure that make service easier or safer. Decorah's association purchased thermal imaging cameras to better gauge the intensity of fires at a distance, or to find missing persons in the dark. Firefighters also funded and chipped in labor to build an auxiliary garage behind the station so often-accessed equipment could be easily reached.
In Ossian, several community advocates recently succeeded in a 20-year effort to fund and build a multi-door fire station, upgrading from a narrow downtown garage fronting a busy street. "Our trucks were parked in there, nose to tail, so tight we could get only one door open and had to crawl across the seats," Green says as he strolls the length of Ossian's new fully equipped station, opening the garage doors so that all six trucks bask in sunlight. "We'd back everything into the street to get assembled to answer a call. It was nuts. Here, we can breathe a little."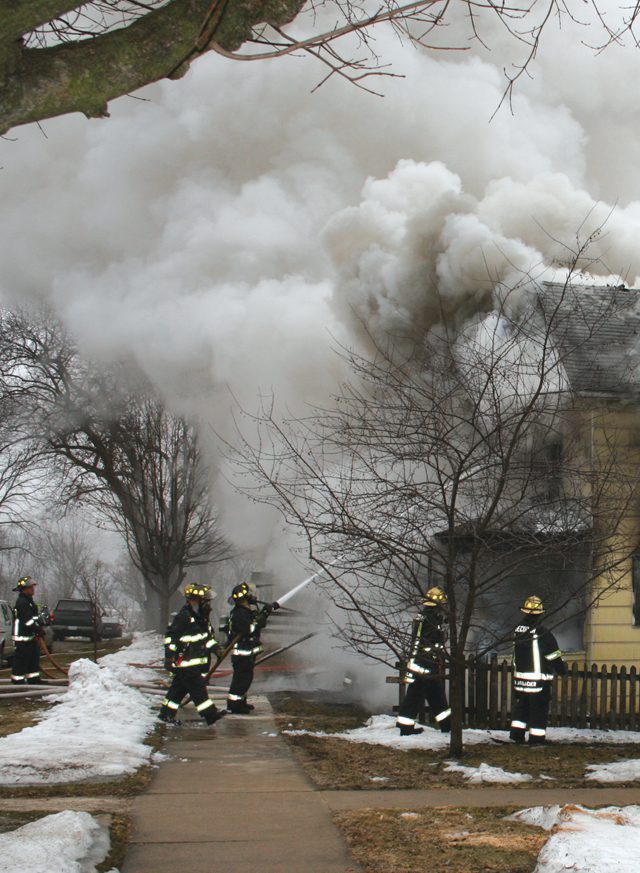 Above photo courtesy Decorah Fire Department
Regulations and ratings and funding aside, much of a fire department's effectiveness comes only with years of combined experience, firefighters say. "No two calls are alike," Sovern says, explaining that his six current years of service have allowed him only glimpses of the long commitment of others before him. Shaun Hansen, in his 30s and with eight years of service on the department, says he still marvels at how the deep-rooted sense of community helps his department provide meaningful aid.
"The best thing is that when you're out on a call, it's for and among friends and family. You're not doing a job; you're doing your best to save someone you care about from losing something, possibly their life. It's nice to be there – really there – trained to offer help."
 ————————-
Kristine Jepsen would like to thank firefighters and civil volunteers one and all for their service, often while the community is fast asleep upon a winter's night. When not capturing stories for Inspire(d) and writing for fun, she runs a grass-fed beef company, Grass Run Farms, with her husband. 
How to Support Your Local Fire Department
Donate to your area department fund-raisers: pancake feeds, firemen's dances, fun runs and online crowdsourcing. These are also great opportunities to meet your local fire service volunteers, out of uniform.
Donate skills and services: Ask at your local fire station if you can help with upcoming projects or maintenance.
Join the fire service: Check into becoming a firefighter or support staff member in your local department.