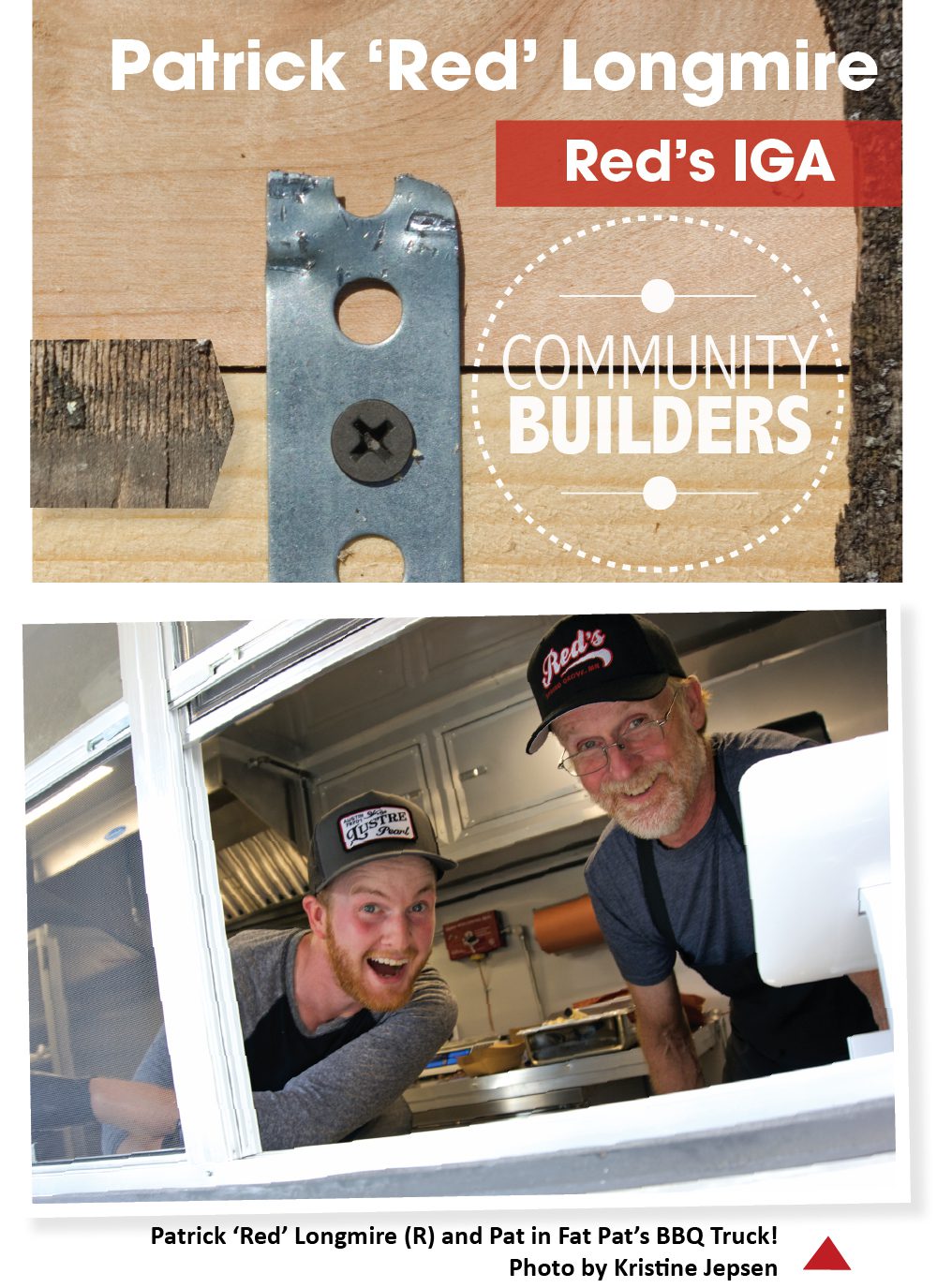 By Kristine Jepsen • Originally published in the Fall 2017 Inspire(d) Magazine
Meatball suppers, spaghetti feeds, pancake breakfasts: There's no dispute that food fundraisers are a beloved Midwestern tradition, especially when there's lefse involved.
But in small towns across the Driftless, fundees face a bit of a problem: Any such rally takes time to organize and many, many hands to run successfully. And who wants to plan for months to raise only a few Benjamins in the end (after expenses)?
This was the dilemma Pat 'Red' Longmire of Spring Grove, Minnesota, set out to solve six years ago. As founder and owner-manager of Red's IGA on the east end of town, he saw mutual benefit to running a "turnkey" fundraising program for local organizations. First, Red's chooses a tasty seasonal menu (meat, 'taters, veg, coleslaw, and a buttered roll) and performs the food prep. Then, they set up a serving station, usually in the produce aisle of the store, and a few staff, often including Red himself, work alongside student or non-profit volunteers to assemble $9 to-go plates as customers drop in. Generally, 250 meals are served up, and when it's done, Red's provides the cleanup.
"My goal is to put $1,000 in their pocket every time," Red says of the fundraiser recipients: Spring Grove student council, Lions Club, food pantry, and Friends of the Library, among several other causes. "It's like smoking brisket," he says, referencing one of his favorite hobbies. "I just love to see the reaction on someone's face when they take a bite and enjoy it."
Meanwhile, customers who stop in for the meal get a close look at Red's ever-expanding stock of vegetables, fruits and items on promo, there in Aisle One.
"Having people come into the store, supporting a local cause, at the end of a long day, getting a plate of comfort foods, gives people a lot of confidence in shopping locally," Red says. "It goes without saying, but I'll say it anyway, the more you give back to community, the stronger your support in return. As business owners, I feel it's our responsibility to give back."
So keep an eye on the lettered sign outside Red's IGA (or keep-up-to-date on Facebook). Once each month, September through May, it will announce which Spring Grove organization is running a "Red's meal deal." Plates will feature sliced turkey breast (sometime in November), or, yes, gooey, delicious Swedish meatballs in midwinter.
This year they'll be adding half-chicken to the rotation, utilizing the smoking equipment of Fat Pat's Texas BBQ, a food truck Red is partnering on with his son, Patrick, Jr. Recently returned to Spring Grove with his young family, Pat (as he's known, apart from his dad) picked up the BBQ trade as a traveling musician in – you guessed it – Texas. Father and son work side-by-side in the grocery store and in the food truck, which often sells out within an hour or two of sliding open their window for business.
"In small towns, people are giving constantly," Pat concludes. "That's the nature of pitching in to make things like the Christmas light display in the city park possible." By providing a hot, familiar meal on a chilly night, Red's IGA hopes to make that charity easy as pie.