Liz Rog & Brad Crawford: DecorahNow.com
By Kristine Jepsen
"I think this started because I would get asked by someone on the street, or in the Co-op, if maybe there wasn't some Norwegian dancing and music they could learn, or go listen to?'" says Decorah community champion Liz Rog, her hands flying to her temples, incredulous wonder spreading on her face. "And I thought, 'How could these wonderful, engaged people live here for years and NOT know about Foot-Notes dances?'" (Local string band, Foot-Notes, plays traditional Scandinavian schottisches and other Scandinavian-American music for public dances year-round.)
"I realized that people just needed to know about the cool things going on around them in this wonderful place, and that no one should feel they have to be in the 'in' crowd to be invited to events. So, I became the messenger," she says.
Now, it's not hard to imagine Liz Rog as a networker, community catalyst, person who knows stuff. One look at her black daily planner, crammed with notes on bits of paper and filled to every margin, tells you that community and the facilitation of it are her life's work.
At the time, in 2008, she was already emailing 100-odd supporters of historic East Side School, who were fighting to save it from demolition, ultimately unsuccessfully. Late one night, using wi-fi at Oneota Community Food Co-op (she still doesn't have Internet at her rural home), she sent this group a list of everything she knew to be happening in town that week.
Thus began DecorahNow.com, an online listing of events (especially music), classes, and resources in Decorah and surrounding communities. Today, 800 users view the site daily and more than 200 buy/sell/want ads turn over in its classified section each month.
But in those early days, as residents of all ages were just beginning to use digital calendaring and communications daily, much of Decorah Now compilation happened by hand. "People would call me and leave messages, and I'd be sitting until 3 a.m. typing these notes into one massive list for a weekly e-mail," Liz says. "Every week I would swear off it. And every day someone would tell me about something they had attended or discovered because of it, and I didn't want to disappoint them."
Eventually, she started color-coding sections and highlighting new items, in an attempt to make the email more readable. Her earnestness caught the attention of Decorah native Brad Crawford, who was working in California at the time.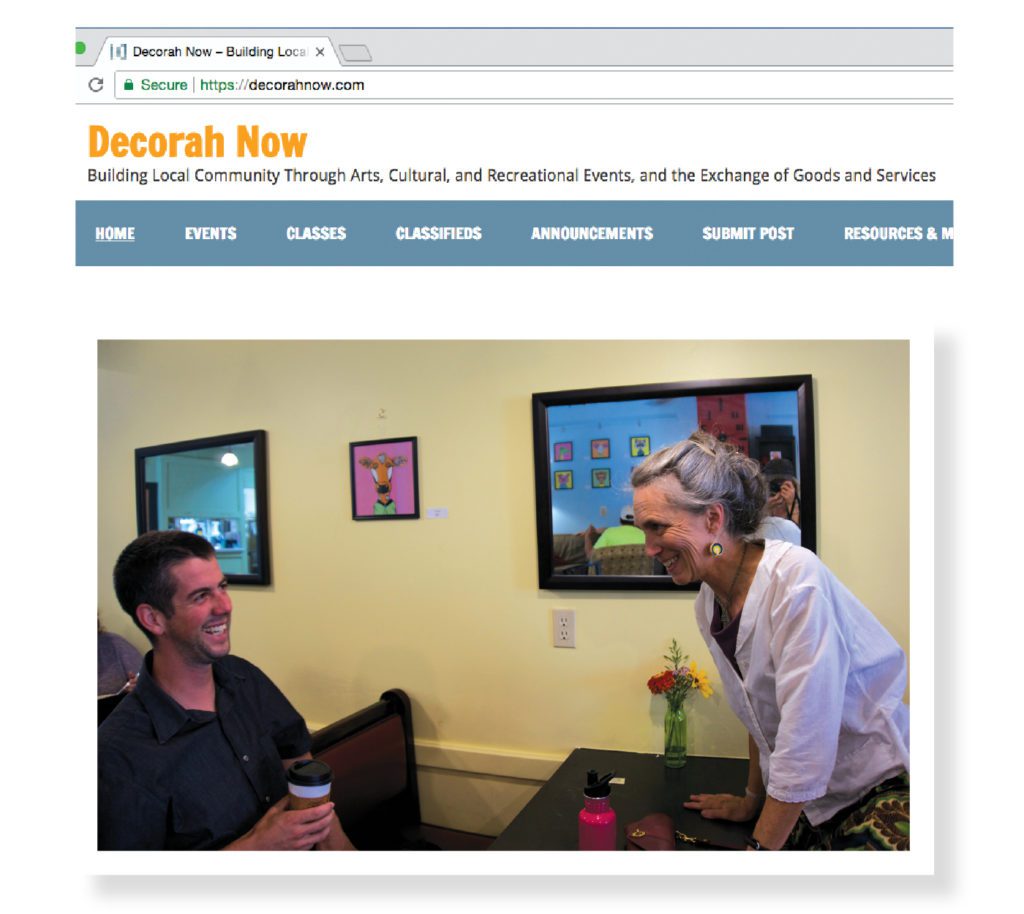 "I got an email from Brad with a QuickTime video tutorial attached," Liz explains. "And after I got QuickTime installed so I could view it, I realized an angel had been sent to save me."
The clip demonstrated a Ruby on Rails database Brad had built that automated much of the formatting and allowed readers to subscribe and contribute their own news items. And so began their partnership in problem-solving for the public good. The two meet regularly, often in Java John's coffee house, now that Brad has moved back to Decorah and works with Northeast Iowa Resource Conservation & Development.
They knew they were on to something when amazing things started coming through, Liz explains. "At one point, a parent posted about their child dropping $5 of hard-earned money on her walk home. Within a day, someone had found and returned it."
And some listings say 'small town' in a big way, Brad adds with a chuckle. "One person posted that they were headed out of town for the weekend and that others were welcome to the two bananas, a kiwifruit and an apple in their fridge."
In 2016 Liz and Brad began migrating the site to WordPress, an industry-leading website platform where new features are contributed by developers around the world. DecorahNow.com, for its part, continues to be free to use and accepts donations to offset the time it takes to answer reader questions, debug site features, and catch new scams that crop up in the classifieds section.
"It's really a big experiment in seeing what the community needs and using technology to get it out there," Brad says. And, thanks to the Internet, word has spread. New residents credit the vibrant diversity showcased in DecorahNow.com as one reason they decided to move. And Liz and Brad have still bigger dreams for the future, such as building a Skills School Network for practical arts and developing a sharing economy to help out elderly or other citizens who need a hand.
"I wanted to shine a light on the people here and foster appreciation for what we have together – and make it plain that anyone can fit in by offering what they have to offer," Liz concludes. "And it has done exactly that."