John Condon: Teaching the builders of tomorrow
By Sara Friedl-Putnam • Originally published in the Fall 2017 Inspire(d)
This July, as they do each July, crowds lined Water Street during Decorah's Nordic Fest to treat themselves to homemade Norwegian fare – kringla and krumkake, varme polse and rømmegrøt – all dished up from festive food booths. The sturdy structures – 14 in all! – are a signal that Nordic Fest is upon us, but they weren't constructed by hard-working Nordic Fest volunteers; they were built by John Condon and his hard-working carpentry classes at Decorah High School (DHS).
"We're turning our focus outward," says John. He joined the DHS faculty in 2000 and has since shaped an industrial technology program that offers "a café menu of choices," including woodworking, electrical, cabinet-making, and construction-metals classes. "We're focusing our projects less on the individual student and more on the wider community."
In addition to the Nordic Fest booths, John's classes have built the infrastructure for the popular Winneshiek Farmers Market – including a barn-themed storage shed and two picnic tables – as well as numerous bike racks found throughout the city of Decorah. A rack shaped like the state of Iowa stands in Freeport Park, while another in the shape of a softball enhances the main DHS softball diamond. Both of the bike corrals on downtown Water Street were built by his classes as well. "Students learn best by doing, and that's why I'm so big on incorporating hands-on projects into my classes," he says.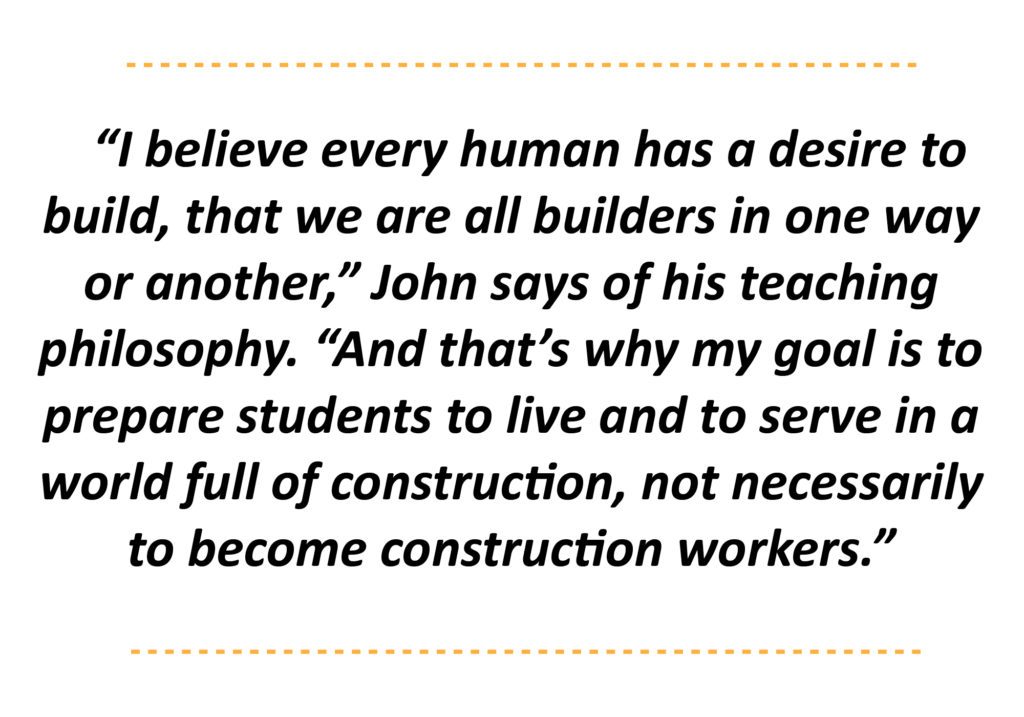 This fall, inspired by the success of the community projects his classes have completed to date, John introduced a new class, community construction, to the DHS curriculum. "I'm trusting that the community will continue to come up with cool things for the class to make," he says with characteristic optimism. "Decorah is a bustling little town, with all sorts of potential projects."
John's investment in community building dates back much farther than his employment at Decorah High School though. In 1987, he joined with three other individuals to found Hometown Taxi, a community-minded transportation service. Since 1990, he and his wife, Teresa – a Spanish teacher at Waukon High School – have brought together folks through music as the popular Buck Hollow Band. "We play whatever it takes to get the crowd together out on the dance floor," he says, noting that they have taken on more than 3,400 gigs over the past 27 years. "We're a big part of people's social lives, and we do not take that commitment lightly."
John is clearly committed to his day job on the same level. He discovered this new passion and direction in midlife (age 40) while working as an electrician in Winneshiek County. After hearing that Northeast Iowa Community College (NICC) was starting an industrial technology education program, he signed up and became one of the program's first graduates. A member of the school's Alumni Hall of Fame, he has also completed carpentry and industrial electrician programs at NICC.
"I believe every human has a desire to build, that we are all builders in one way or another," John says of his teaching philosophy. "And that's why my goal is to prepare students to live and to serve in a world full of construction, not necessarily to become construction workers."