Community Builder:
Mike Ashbacher / Decorah Fire Department
By Benji Nichols • Originally published in the Fall 2017 Inspire(d)
For some, it's the thrill of riding in a fire truck, adrenaline pumping, or feeling the intense heat that a fire gives off, but for Decorah Fire Chief Mike Ashbacher, it's the thriving community of volunteer firefighters and the service they provide that has kept him involved.
With deep ties to Northeast Iowa, Mike's family moved back to the region when his father was offered a full-time position in law enforcement. Mike was just about to start kindergarten, so Decorah has been home for most of his life.
After school, Mike followed in his father's footsteps at first, in criminology and law enforcement, but it was a chance EMT class that sent him in a different direction. He now sits at the heart of what has been – and continues to be – an incredible and professional group of emergency service responders. He has been a full-time Winneshiek Medical Center paramedic since 1987, and also a flight paramedic for Gundersen Lutheran since 1994.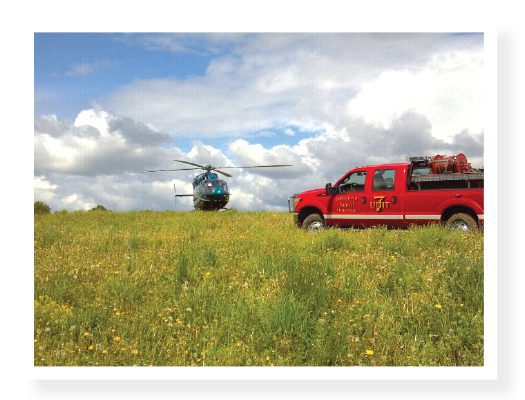 On top of work life, he and his wife have two grown sons, and are also new grandparents. So one could easily see the day-to-day schedule overflowing, yet Mike has been a dedicated member of the Decorah Fire Department (DFD) since 1991, and Fire Chief since late 2001.
"I've always felt it was important to be involved in service, and the Fire Department allows me to give back to our community," he says.
Decorah, like many small, rural fire departments, is staffed mainly with volunteers. There are just over 30 members – a tightknit community of firefighters who give their free time for numerous hours of training to keep the region safe in case of fire or emergency.
These men and women are called out for a variety of emergencies – from fighting fires to helping folks in trouble on the Upper Iowa to, yes, even rescuing a beloved family dog from a limestone cliff's edge at Palisades Park in Decorah.
The group works hard together, and shows pride in that work, and the camaraderie that is built through training and service is what makes the organization so worthwhile.
"It is a large time commitment, and families sacrifice all sorts of time while a member trains, serves, and is called out on a moments notice," Mike says. "It's the support from those families, as well as employers, that makes a volunteer organization like the DFD work."
All of that time spent together is what makes it a real community. It also makes for some fun times within the department. The firefighter's skills spill out in ways that serve the larger community through social events, fundraising, and community service – like the popular DFD Red Hot Bucket of Color In Your Face 5K run each spring.
In the post 9/11 world, the risks and realities of responding to emergency situations are very real. "Having a driven, and educated group of individuals who want to keep learning skills, techniques, and technology makes for a great department," Mike says. "Our guys do the training and know what to do when we are sent on a call. It makes my job as Chief easy."