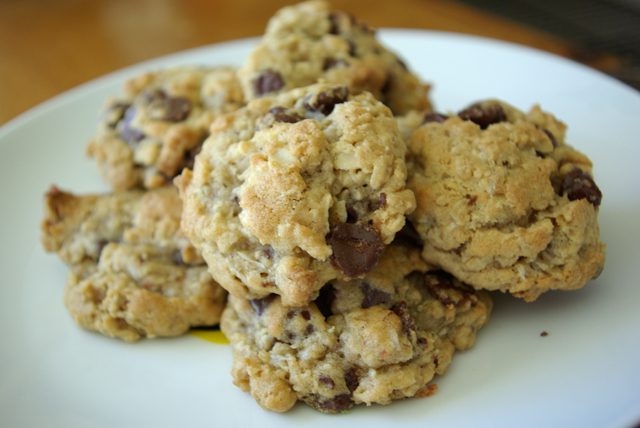 One of the things on my "30 Before 30" list was to perfect the chocolate chip cookie. I was a bit naïve when I wrote that – there are many different types of chocolate chips cookies, and I've now decided one shouldn't necessarily discriminate – but this one is my go-to, and pretty darn good.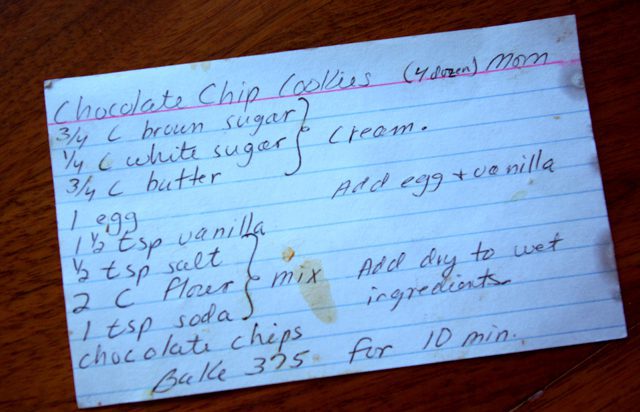 It all started with my mother-in-law, Bev's, recipe. It's a winner on its own, but I wanted to cut some butter and add some oats. Then I had the GENIUS (pure genius, I tell you) idea to start making double batches and freezing dough balls.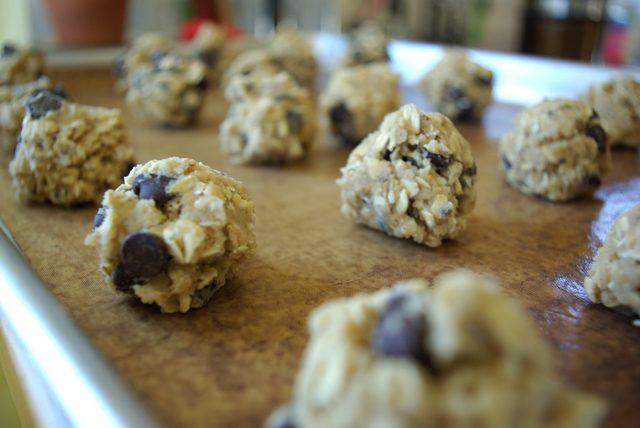 Simply put a reusable baking liner or parchment paper on a large cookie sheet, scoop out dough balls (I use a tablespoon), and put in the freezer. (Usually they're balanced on some frozen vegetables, a pack of bacon, and frozen ravioli in ours!)
When they're frozen solid, you can move them to a container for easier storage (we use yogurt containers). Then, when you feel like a chocolate chip cookie, you can just pop a few on a cookie sheet and bake – no need to thaw. Viola! Fresh cookies in 10 minutes! Because no matter how perfect a recipe, a fresh chocolate chip cookie is better than a day-old one. For sure. (I would pin that sh*t if I were you…)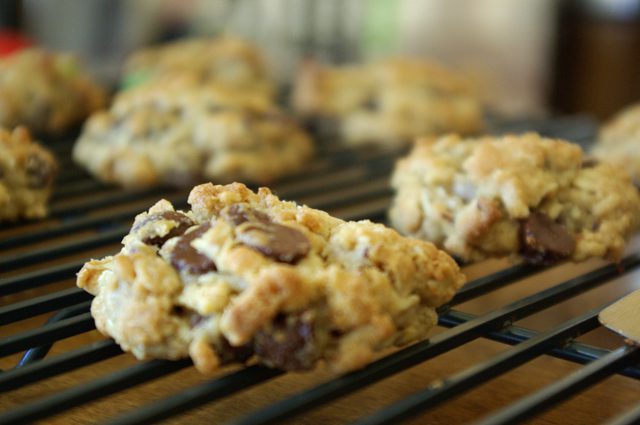 So, without further ado: the chocolate chip cookie recipe!
Preheat oven to 375
Cream together:
1/2 C brown sugar
1/2 C white sugar
1/2 C butter
Add 1 egg and 1 1/2 tsp vanilla. Mix.
Mix together dry ingredients (I just add them to the top of the wet dough, but stir up the dry stuff on top before I mix it all into the wet stuff):
1/2 tsp salt
1 C flour
1 C rolled oats
1 tsp baking soda
Stir in semi-sweet chocolate chips. I always eyeball them, but if I'm making a double batch, I add nearly a bag! I like chocolate. You decide what's best for you, but I will tell you that these cookies hold up well to lots of chips.
FYI.
'Cause these things are important to know.
Optional: Roughly chop 1/2 C cranberries and add to dough when you add chocolate chips (I stopped adding cranberries after Roxie was born because the extra step – cutting board and knife, etc – seemed to be too much work, but they do add a nice element if you're into that sort of thing!)
Scoop balls onto cookie sheet and bake 10 minutes. Usually I bake about a dozen and let them rest on the pan a couple of minutes before transferring to the cooling rack. The rest, I freeze!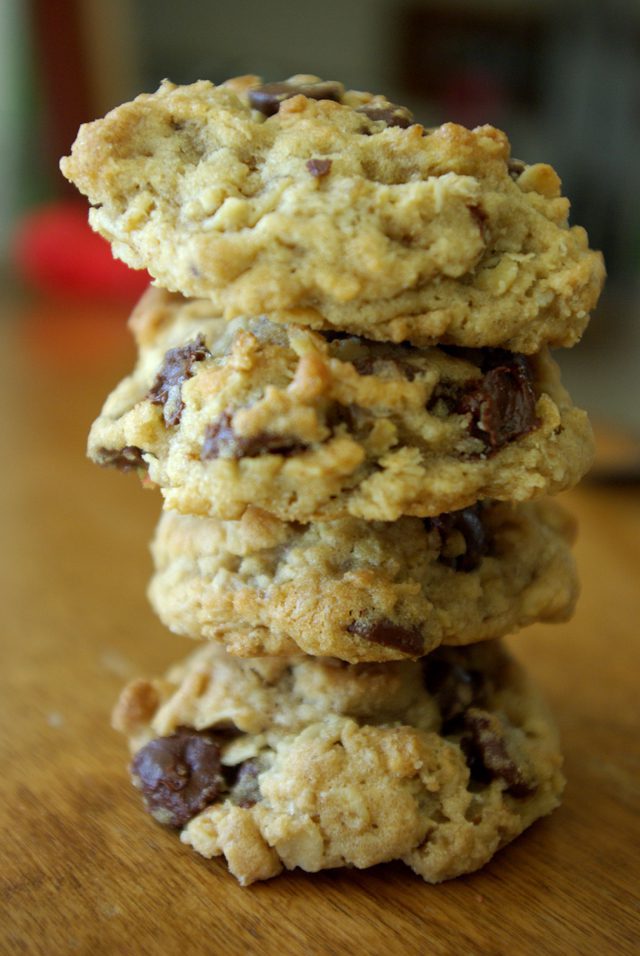 Enjoy!
XO,
Aryn