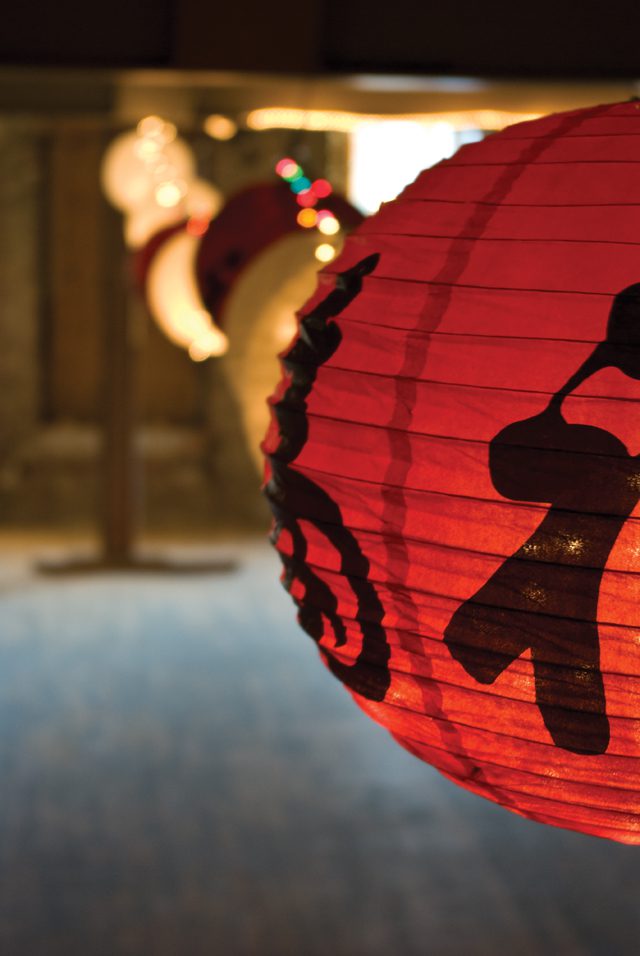 Story and photos by Aryn Henning Nichols
Originally published in the Winter 2011-12 issue of Inspire(d)
Gung hay fat choy is something you may have heard belted out in late winter, especially in a major city (especially, especially in San Francisco). In China, you might hear xin nian kuai le (depending on your location). No, it's not a curse to winter – it's a greeting!
Gung hay fat choy is Cantonese, (most commonly spoken in southern China) and means "Best wishes and congratulations. Have a prosperous and good year." Xin nian kuai le is Mandarin, the dominant language in mainland China, and means "Happy New Year".
Either way, they are both said during the same fun, late winter holiday: Chinese New Year!
In China, this holiday is known as "Spring Festival," and marks the end of the winter season and the start of a new lunar year. The festival begins on the first day of the traditional Chinese calendar and ends with the Lantern Festival on the 15th day. In 2016, the Chinese New Year starts on February 8. Within this ancient calendar, each month follows the cycle of the moon. That means that Chinese New Year falls on different "traditional" calendar dates year-to-year. Each new year is associated with one of the 12 animals from the Chinese zodiac, and 2016 is the year of the monkey.
I'm sure you're thinking, "Why is Aryn talking about Chinese New Year? We're not just in the middle of the US, we're in the middle of the middle!"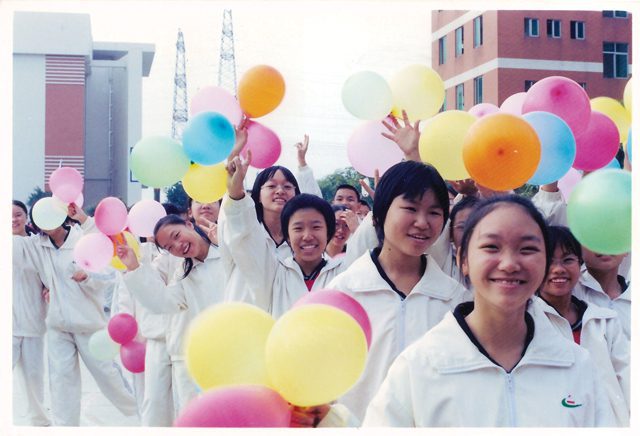 This festival has a magical place in my heart. From August 2004 to August 2005, I lived in the southern Chinese province of Guangdong, in a "little" town called Foshan near the quite large (8.5 million) city, Guangzhou. I taught oral English to middle school students, one high school class, and tutored a handful of kids too. It was one of the most amazing and life-changing years I've had. Not only did I get to live in another county, I got to travel all around China and Southeast Asia, and made a best-friend-for-life, Li Qian (her English name is Cathy). Qian was a "proper" English teacher at our school, meaning she actually had a degree in teaching and knew what she was doing. I, on the other hand, was so clueless and completely terrified going in to that first class (think hyperventilating on the stairs nervous)…but quickly got the hang of it.
Just as quickly, Qian and I grew closer in our friendship. We started going on trips together. We visited Thailand for the first time, zipped off to Hong Kong on numerous occasions, and she arranged Christmas in the Guangxi province in a mountain town called Yangshuo, probably the most touristy and Western village ever…and just what myself and some fellow expats needed for that holiday away from family.
And for their major holiday, Chinese New Year, Qian invited me to celebrate with her family in the Sichuan province.
Li Qian's parents didn't speak English at all, and I didn't do terribly well with Mandarin, let alone the dialect most commonly spoken in her hometown, Nanchong. But we all got along just fine, eating, drinking, and celebrating the coming of another lunar year.
Within China, customs and traditions of the Spring Festival vary widely. Often families will clean their house to clear out bad luck and make way for the good, then brooms and dustpans are stored away on New Year's Day so the good luck won't accidentally get swept out. Homes are decorated with red paper cutouts of Chinese couplets with positive themes of happiness, wealth, or longevity. And buying new clothes and getting a haircut symbolizes a fresh start to the year.
Highlights for me from that amazing Chinese New Year's Eve include buying lucky red underwear the day before (red is an auspicious color and helps scare away evil spirits), eating a huge meal with the family – food covering every part of the table –making sure not to finish everything because that meant you didn't have enough, rolling dumplings with Qian's wai po (grandma) later that night (dumplings symbolize wealth because their shape is like a Chinese coin), wrapping a string of fire crackers around the handle of a broom, holding that broom out a window, and lighting the end of the string, creating a deafening crack, crack, crack that only joined the booms and cracks outside on the streets and throughout the neighborhood. I've never heard anything so loud before or since…apparently making all that noise is also supposed to help scare away evil spirits. Plus it's fun.
For Luther College music professors Xiao Hu (from Wuhan) and Du Huang (from Shanghai), Chinese New Year stateside is more subdued. "Normally we would invite some local friends, especially Chinese friends, to get together, cook a nice meal, and spend an evening watching Chinese TV," says Hu. "Sometimes, we got invited to go to the local Chinese restaurant in Decorah, Great Dragon, by the owner. He would cook a huge, fancy meal for all of his friends, and the kids would run around together, and each will receive a red envelope with you know what in it. Fun!"
That "you know what" is money – early the next morning, New Year's Day, children wish their parents a healthy and happy new year, and get money in red paper envelopes called hong bao. Traditionally married couples or elders give these envelopes to unmarried friends and family or children. It was definitely my oral English students favorite thing about Chinese New Year.
"My niece made more than 6000 yuan last year," says Luther College Chinese professor Hongmei Yu. (That's almost $1000!) From the northern Chinese city, Tianjin, Yu celebrates the festival similarly to Li Qian's family when in China. When she's in the US, though, she'll still have a party with dumplings and food and sometimes even hong bao, but it's not quite the same. "We could not have the fun part, the firecrackers!"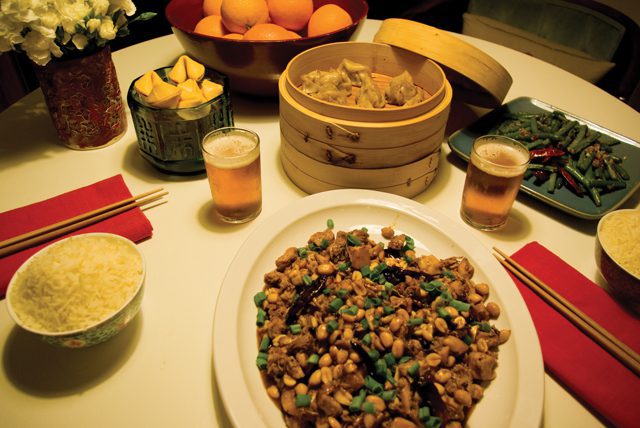 After returning to the US, I have tried to make a Chinese New Year's Eve party an annual thing in our household, including the fun part (the firecrackers…shhh…). It's the perfect time of year to have a get-together: Enough time has passed after Christmas and traditional New Year's Day, and it's still the dead of winter (at least here in the Midwest) so people are more than happy to get out of their houses. If you'd like to bring a little Chinese New Year Fun into your winter, here's what you do.
Send out or email initiations – I like to include the animal of that year, so there would be a sheep on this year's invites. Remind your guests to wear lucky red underwear too!
Plan a simple menu with only one rule – you gotta have dumplings. Look online for food ideas. Chinese cooking isn't generally difficult – it's really quite fun. We also like to order custom fortune cookies, even though fortune cookies aren't a real Chinese thing. You can get 50 cookies with five different personalized messages for less than $40 (we order from fancyfortunecookies.com).
Pick out some fun decorations or make your own (learn how to make Chinese paper lanterns here).
Print some interesting facts or tidbits about Chinese New Year, the Chinese zodiac, or China itself. It's great to learn things at parties and who doesn't love trivia?
Practice saying xin (sheen) nian (knee-en) kuai (kwhy) le (luh)!
Make some dumplings ahead of time (see following recipe). They are a little time-consuming to prepare so we often freeze some in advance and bake/steam those during the party. We also make some veggie ones too (just omit the pork from the recipe) to appease our non-meat-eating friends.
Secure your firecrackers and warn your neighbors! Decorate your place, maybe put on a Chinese-themed movie (I like Mulan or Kung Fu Hustle), chill the drinks, cook some snacks (I like to make Sichuan food because it's my favorite – dry fried green beans and kung pao chicken, plus dumplings are pictured here).
Have fun!
Aryn Henning Nichols loved her year in China and hopes to return one day soon! She hopes you make some dumplings with your family this winter and think about all the great traditions of letting go of the bad and letting in the good for this Chinese New Year! Happy year of the Sheep!
————————————–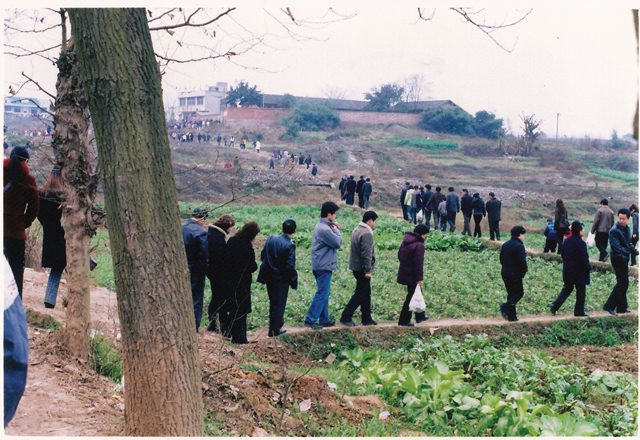 What happens on New Year's Day and beyond?
The year I was in China, on New Year's Day we visited a Buddhist temple – there were so many people heading up the hill, so much incense and ash falling to the ground like snow. People light incense in honor of their ancestors and pray for a prosperous year, and Qian's father added his to the massive pile outside the temple. We then went inside and kowtowed at each deity – there were many, maybe 25 – and after we finished, we had the oranges we bought on the way up blessed, then ate them just outside the door. It was important to eat all of it this time, so as to not start the year off with waste. The same went for the vegan longevity noodles in the "cafeteria" near the temple. Each day over the next two weeks is included in the celebration, although the more old fashioned traditions are starting to fade. The fifteenth day – the Lantern Festival – is still a major part of Chinese culture, though. Lanterns adorn many streets in China, and families walk the street that night carrying lighted lanterns and also light candles outside their homes as a way to guide wayward spirits home.
The Chinese New Year tradition is to reconcile, forget all grudges and sincerely wish peace and happiness for everyone.
————————————–
Pork & Cabbage Dumplings Ingredients:
Pre-packaged dumpling wrappers (find them at your local grocery store or co-op – I use the square ones more commonly used for wontons)
Filling:
1 C ground pork
2 T soy sauce
1 tsp salt
1 T rice wine
1/4 tsp ground pepper
2 T sesame oil
2 green onions, finely minced (save the green parts for the dipping sauce)
2 C finely shredded cabbage (the food processor works well for this)
1 T ginger, finely minced
2 cloves garlic, finely minced
Mix all filling ingredients together in a large bowl.
Set up your dumpling rolling station at your table with a cutting board or other surface to keep your space clean, a bowl of water, the filling, your bamboo steamer (if steaming dumplings instead of baking or frying), and a cookie sheet to hold additional dumplings before cooking.
To roll:
Put one wrapper on middle of cutting board.
Place one tablespoon of mixture in the center of the wrapper.
Dip your fingers in the water and wet the edges of the wrapper all around.
Fold the bottom corner up to the top corner and "crimp" the edges toward the middle tip.
Set tip up in bamboo steamer or cookie sheet.
Repeat until all filling is gone!
This is fun with a crew of people, making it a great family Chinese New Year's Eve tradition!
To cook:
Steam:
Place bamboo steamer over simmering water and steam for 25 minutes.
Bake:
Preheat oven to 375 degrees. Place dumpling on greased cookie sheet and bake for 20 minutes or until slightly browned. Keep an eye on them, you may need to flip sides.
Fry:
Put enough vegetable or peanut oil in shallow skillet to cover the bottom of pan. Preheat pan 'til oil is sizzlin' hot, then place (carefully!) the dumplings in the pan, cooking 7 minutes per side.
Dipping sauce:
1/4 C soy sauce
1 t Siracha or other chili sauce
Remainder of green onion, finely minced
Combine ingredients in a small bowl. Dip in your cooked dumplings. Enjoy!