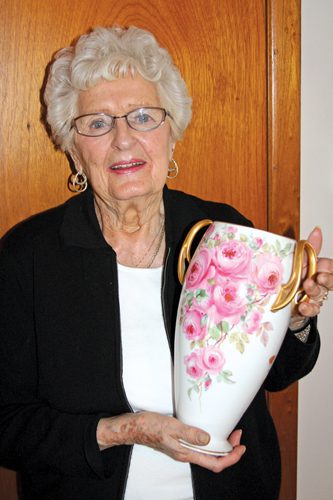 Interview and photo by Ketel Paulsen
Charlotte (Christopherson) Strinmoen is as delightful a woman as they come. She met her first husband, American Carmen Christopherson, at a USO club after World War II and went through the difficulties of getting the permit to marry a foreigner and leave Germany's tremendous devastation behind. Born in a village near Berlin, her father, a cooper and builder of all items of wood decided she would leave for more opportunities in the capital. Traveling across the ocean by a long, awful boat ride – and then across the US to Northeast Iowa (and a large waiting family!) couldn't come quick enough. Born an only child who lost her mother when she was only one, Charlotte came to be among a very large Highlandville family, the Christophersons. When Carmen died in a car accident in 1960 she remarried Lloyd Strinmoen 3 years later, also of Highlandville. The most impressive aspect our talk was the depth of the despair from the war and the lack of materials to rebuild. Charlotte is a testament to loss, love and survival.
What's the best advice anyone ever gave you?
Take one day at a time. Without that I wouldn't be here.
What did you want to be when you grew up and what did you want to do?
When I was small I wanted to be a teacher. At 16, I worked for an interior decorator who ended up accepting the job of camouflaging roofs against the enemy during the war. The job abruptly ended when his trucks were confiscated by the army for the war and his business was bombed twice. I ended up having a very interesting life anyway. My daughter was a teacher and my two granddaughters are now teachers.
Try to describe yourself in one sentence:
I'm a survivor. In 1945, by post-war agreement, the Russians were given Berlin. I'll never forget when the Russians came to our house, our air raid shelter. We had no lights down there. Hitler's bunker was not so very far from where I lived.
Tell us about: Your wedding:
I met my first husband in Berlin because he was stationed there. We were both invited to the USO club in Berlin. He was with the constabulary. It was very difficult to get the permit to marry an American. I was loaned a veil and I bought shoes from a secondhand store –we were married in December of 1947 and left Berlin to join an army troop transport ship for war brides. It was a trip that was supposed to take 9 days but instead the seas were so rough it took thirteen. All the men were abovedeck and the women down below were separated by nationality. Everyone was tossed and piled up on one another by the waves. I never want to go on a cruise. It was bad.
Your favorite memory:
Being able to be married in a half bombed out church in a dress made from the silk of an American parachute. It was even hard to find a church to get married in, one that wasn't destroyed.
If you could eat anything every day for the rest of your life, what would it be?
Chocolate
Lasting Memories:
There is one possession Charlotte is most proud of, a vase she won as a gift from her hometown's land baron.
I carried that vase with me in every air raid. The vase was for a time lost in a suitcase when she and her husband also were separated but luckily it had the address in Highlandville on it. I still can see that suitcase, it was lost a week or more before it finally came. It stands high and beautiful in her home now. In Highlandville I learned very fast to live off the land. I had a big garden. We sold cucumbers to be able to buy baby clothes. Carmen worked for other farmers while Charlotte raised their 4 children.
Her German friends in Decorah are war survivors as well and they get together regularly. It's a lasting joy of her life.