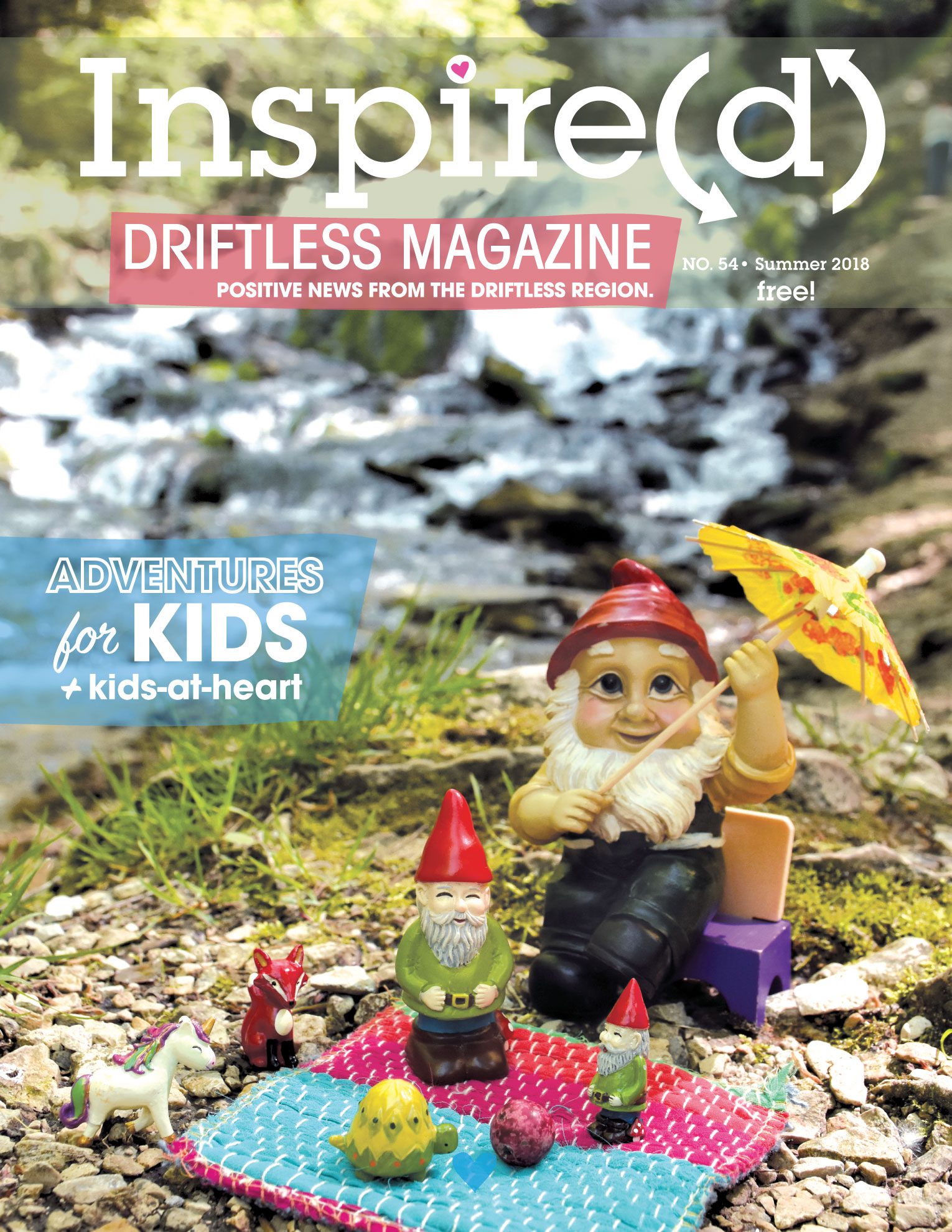 4-H • Dunning's Spring bridge / Stonemason Ted Wilson • Viroqua's Growing for Good • Adventures in the Driftless • Summer "Fill Your" Bucket List • Wabasha's LARK Toys • Sum of Your Business: WW Homestead Dairy, Paper Butterflies, & More!
A note from Aryn:
Thinking back on my childhood, summer was all about adventures. Oftentimes, those adventures were just exploring the woods in my backyard or going down to the nearby creek with my cousins to squish cold mud between our toes.
So there's nothing that brings me more joy than watching my kid run around our backyard, barefoot, hiding behind ferns and playing silly made-up games with her friends, or climbing up the rocks at Dunning's Spring in Decorah. (Read Kristine Jepsen's story about the new Dunning's Spring bridge, and stonemason Ted Wilson on page 42 – it is fascinating!)
This is the stuff of summer, you guys!
Need a little inspiration to get you started? You clearly came to the right place! Check out our Summer Fill Your Bucket List, and some great events you might want to add to your Adventure Calendar this season (ever heard of the Catgut Paddle? It looks awesome!). Adventuring Ideas start on page 34, plus there's a nice round up of resources available for exploring our little corner of the Driftless (pg 64), compiled by recent Luther grad Elizabeth Bonin.
CLICK HERE to read the Summer 2018 issue of Inspire(d) Magazine!
I know one adventure we're adding to our list for sure: LARK Toys in Wabasha, Minnesota. How is it that I've never been to this giant (seriously, it's 21,000 square feet!) toy store? Reading Maggie Sonnek's story about how the current owners took on this "Willy Wonka-style" job – and how it connects to a slower pace of life – was truly beautiful (pg. 55).
Another big part of my childhood summer was 4-H. At the end of the school year, I would pick a pattern with my mom, and together we'd sew a project (inevitably we'd run right up on the fair deadline in July – an early sign of my aversion to deadlines?). I would often submit a photograph or another craft too, or maybe even do a presentation (I got to go to Cattle Congress as a junior member!). I remember painting awesome trash cans with our 4-H club name (the Cherry Valley Chums) for the Allamakee County Fair and working the food booth with fellow members.
(Sidenote: I totally could have entered something crafty with the Paper Butterflies Project Roxie and I put together on page 21.)
So yes: Fair time was the best! I think the Einck kids featured in this issue of Inspire(d) think the same thing (pg. 14)! Sara Friedl-Putnam tagged along with these three Decorah siblings as they took care of some of the animals they're showing at the Winneshiek County Fair – from chickens to dogs to sheep to goats! Going through the livestock barns (and the 4-H building) is one of my favorite parts of the fair, and it was fun to get the background on what it takes to get there, and learn some of the history behind my beloved 4-H organization as well (pg. 14).
We've got lots of other great stories woven throughout this issue too – Growing for Good in Viroqua, Wisconsin (pg. 26), WW Homestead Dairy in Waukon (pg. 51), a wonderful probituary, and more.
We hope you have a great summer, friends, and that this magazine helps inspires you to get out adventuring!
Looking forward,
Aryn Henning Nichols
CLICK HERE to read the Summer 2018 issue of Inspire(d) Magazine!