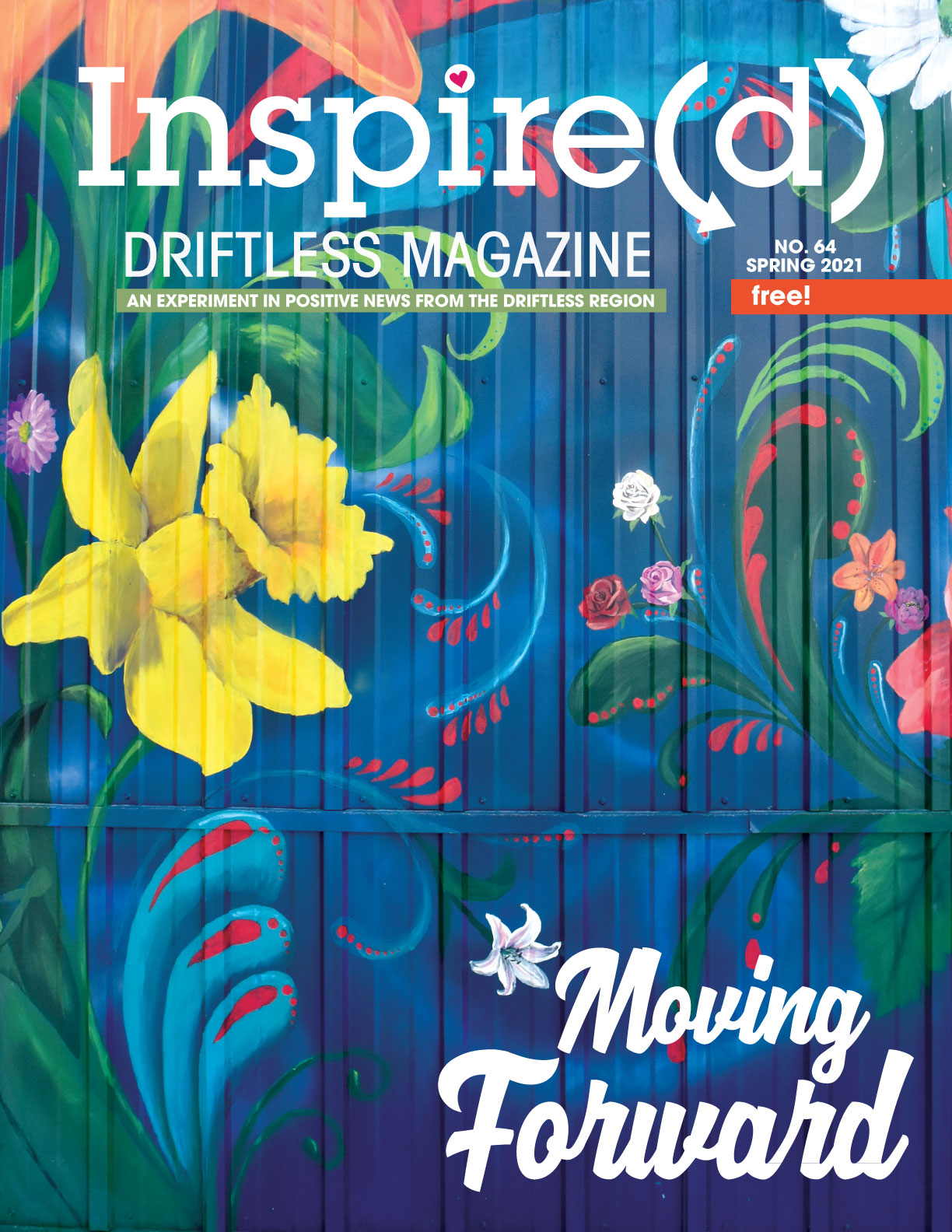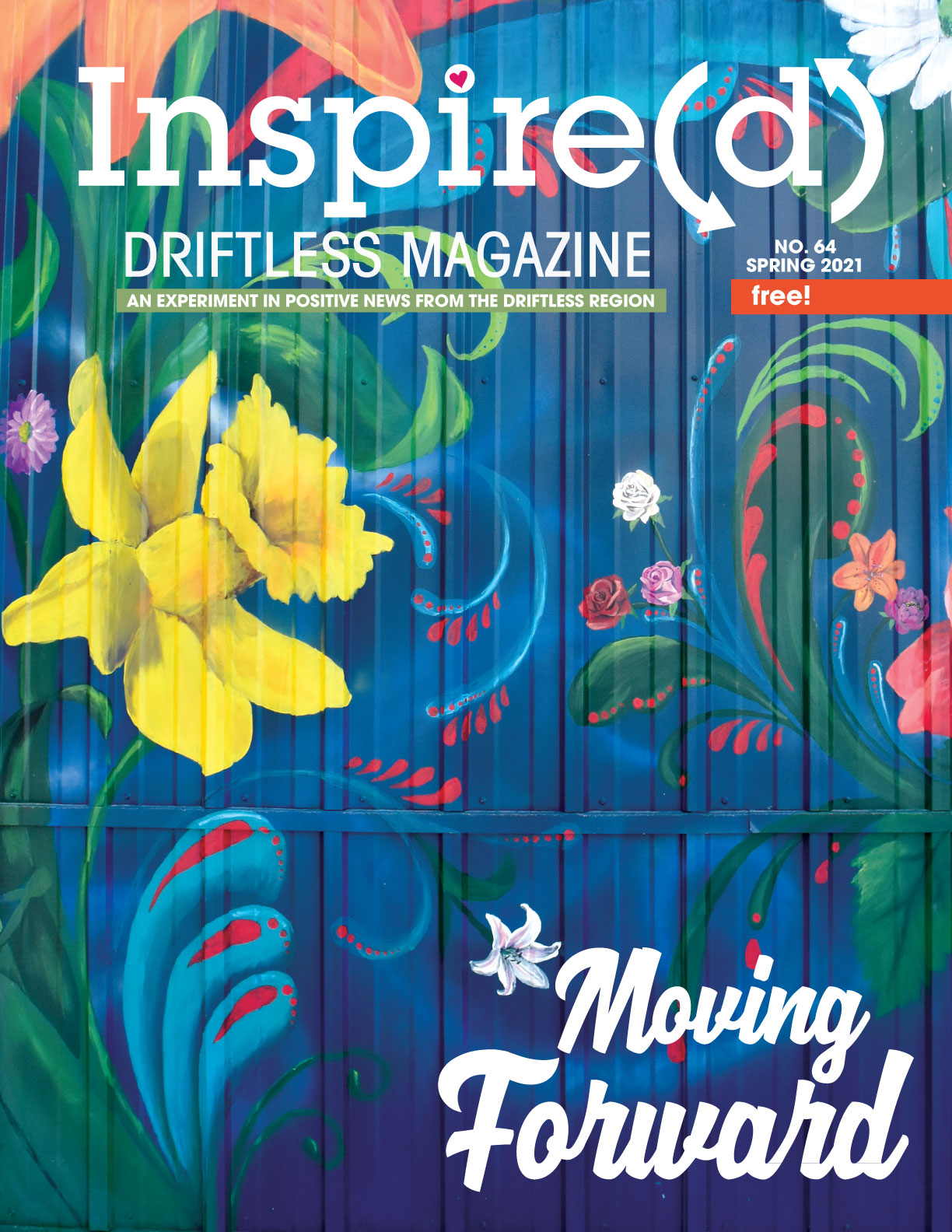 The Spring 2021 Inspire(d) is all about getting out of ruts and finding ways to move forward. Life is full of ups and downs, and we are here to help you navigate those directions. Inside, you'll find great inspiration that will help you decide where we go from here, and how you might get there!
Moving Forward: Strategies + Goals, Driftless Goat Company, greenpenny & Winneshiek Energy District, Community Builders – Brandon LaRue & Jeanene Thicke, the Artists Behind the Murals, Hummingbirds • Outdoor Adventures & More!
Read the whole thing online here!
A note from Aryn: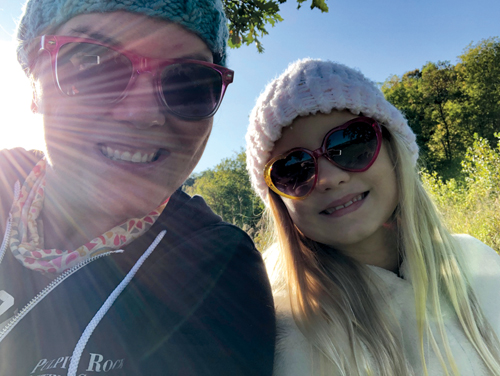 I'm turning 40 this spring! (May 20, woot!) When I turned 20, I started writing decade lists: 30 Before 30, 40 Before 40…you get the pattern. These lists have helped me accomplish goals – from learning to play chess to perfecting all the moves to the Thriller dance to swimming with manatees. The next list I'll write is 50 Before 50. Wah?! How can this be?
Time just keeps on slipping (slipping, slipping) into the future… but at the same time, it can feel like we're stuck in a rut. Especially after the year we've had. Where do we go from here? What's the next step? Sometimes choosing a path or motivating ourselves forward can feel like the most difficult task in the world. And it CAN be really hard. But there's never a better time than now. That's the best time for anything, really. When should I shower? Now! When should I prune that tree? When the pruners are in your hand! When should I apply for that job? How about now? If you try to wait for the perfect moment, all the moments pass you by.
Moving forward starts with the next right decision. Get some tips on how to make that choice from our awesome mental health writer (and area counselor) Olivia Lynn Schnur (pg 22), and ideas for getting out of ruts in my infographic on page 20.
Something else that helps? Literally getting out of the house. We put together some fun, safe options. Outdoor adventures? Read Mary Hyland's story on page 60. Up for a road trip? Check out some of the awesome murals popping up around the Driftless, and before you go, read the backstory behind a few of them in Sara Friedl-Putnam's story on page 34.
I get huge smiles every time I read Craig Thompson's pieces – the man just has a way with words, especially words about birds! Learn about the late spring return of hummingbirds – or hummers, as he called them – and enjoy his wife, Mary's, accompanying artwork on page 56. What a pair!
Spring = tax time as well, and thinking about finances…but have you thought of making your finances green (beyond the color of money, that is)? Learn more about the locally run greenpenny and its relationship with the Winneshiek Energy District on page 28, and mark your calendar (and our checklist) for Earth Day April 22.
One thing I really love about publishing Inspire(d) is getting notes and story suggestions from readers. It always seems to result in the most inspiring tales – which was totally the case when a reader suggested we feature Driftless Goat Company. I so enjoyed hearing about the journey of Peter and Cynthia Ruen and their family as they made their way from New York to Lanesboro in this issue's Sum of Your Business (pg. 14), and also the paths of our Community Builders Brandon LaRue of La Crescent, Minnesota (pg. 48), and Jeanene Thicke of Bangor, Wisconsin (pg. 52).
We thank you for reading, and hope this issue brings you inspiration – to get outside, to enjoy the earth, or explore the region – encourages you to get creative (learn to weave a paper basket from a grocery sack!), and helps you find a way to move forward.
We've got this.
Looking(and moving) forward,


Aryn Henning Nichols